Hiking the Pueblos
Experience the desert offerings of Southeast Oregon's remote range
Mention the Pueblo Mountains and most folks conjure images of Arizona or New Mexico. Try again. Pull out an Oregon map and look east of the Cascades for the town of Lakeview. From there follow Highway 140 east over the high desert to Denio, a small gas stop just south of the Oregon-Nevada stateline. From Denio look northwest. It's here you'll find Oregon's Pueblo Mountains.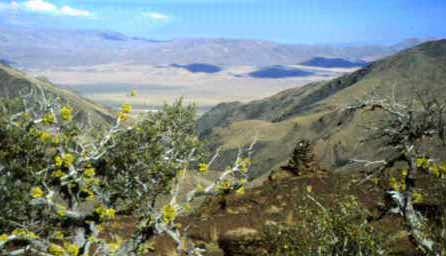 Denio Basin opens up from viewpoints along the Desert Trail.
Actually, the Pueblos are so little known they might as well be in the American Southwest. That's part of the attraction. It's only about 22 miles between Fields and Denio, Nevada, through the Pueblo Mountains along the Desert Trail. The distance isn't overwhelming, but the travel is. There is no trail. Rock cairns serve as guideposts over the semi-arid, mostly treeless high desert terrain. Water is sparse, the heat typically intense. The Pueblo Mountains are a place that defines wilderness.
Water Down, Before Starting Up
Originally the region was called the Puebla Mining District, a name applied in the early 1860s by miners and prospectors. It was later gender-corrected to Pueblo, the Spanish word for city or village. The highest point is Pueblo Mountain, a 8,634-foot peak along the east section of two parallel fault blocks that form the Pueblos. In the northern half, a trough-like corridor provides an easily visible route. Travel is trickier in the southern third of the Pueblos, where the Van Horn and Denio basins are separated by a lava ridge. It's safest and easiest to follow the route outlined on the map, "The Desert Trail Guide to the Pueblo Mountains," available through the Desert Trail Association, P.O. Box 589, Burns, Oregon, 97720.


Pueblos Mountain, at 8,634 feet,
is the Pueblo Mountains high point.
My trek began near Domingo Pass, a short drive from Fields, a hamlet with a combination gas station-grocery store-motel-restaurant known for its juicy hamburgers and ice cream-rich milkshakes. It's best to eat and, more importantly, hydrate before hiking the Pueblos. Water is fundamental, and hard to find. Every traveler needs to know how to recognize water sources, and how to purify drinking water with tablets or a water filter. During periods of intense summer heat, it's wise to travel early, hunker down in a shady area in the heat of the afternoon, and add some extra miles before sunset.
Except for the 5-plus-mile stretch at the north end of the Pueblos -- between the Roux Place springs and a mountainside spring near the McLean Cabin -- water is available at various springs and creeks. For me, there was never enough. No water source was passed without greedily consuming several cupfuls, without refilling all available water containers, or without thoroughly soaking my body and clothes.

Trees frame 10 Cent Meadows.

Explorations Galore

The Pueblos can be traveled in a long day or two, but that's not the reason for being there. Side excursions up Pueblo Mountain, the Van Horn Basin, 10 Cent Meadows and ridge walks along the western ridge offer see-forever views, drainages with beaver-engineered canals and dams, trickling creeks verdant with flowers and, if you're lucky, steep-sloped ridges populated with bighorn sheep.

It's not necessary to be as sure-footed as a bighorn, but Pueblos travelers should be prepared to go cross country and have a working knowledge of compasses and maps. Because there is no "trail," most hiking is along uneven terrain cluttered with stubborn rooted sagebrush or loose volcanic rock or talus.
My north to south route initially followed the ridge line before dropping into the trough near the Oleachea Place, close by the first cairn. Instead of following the Desert Trail, I trekked along a line-of-sight route that angled through Machine Meadow and the Roschene Place before climbing to the McLean Hunting Cabin.
Abundant Wild Life
Mule deer sightings were many, especially near springs at Machine Meadows and, later, at 10 Cent Meadows and creeks in the Van Horn Basin, lined with cottonwoods, aspens and groves of nearly impenetrable willows.
From a camp near a spring -- it's recommended sites be at least 200 feet away -- I spent a day exploring the creeks draining the Pueblos westside -- Willow, Cottonwood and Arizona.
| | | |
| --- | --- | --- |
| Jagged ridges above sagebrush planes. | Twisted tree trunks. | A buck in Van Horn Basin. |
From the 10 Cent Meadows area it's a short but steep walk up Pueblo Mountain where, from north to east, the views include Steens Mountain, the Sheepshead Mountains, Alvord Desert and Trout Creek Mountains. In the open, rolling sagebrush terrain near the meadows, antelope played peek-a-boo while turkey vultures, red-tailed hawks and ravens cruised the thermals.
A canyon west of 10 Cent Meadows was lush with larkspur, lupine, Indian paintbrush, penstemons, cinquefoil, shooting stars, columbines, monkey flowers, asters and buttercups, flowers that attracted numerous song birds and the curious caliope hummingbirds.
Desert Trail, Mines, and Grazing

The changing, steepening terrain south of 10 Cent Meadows led me toward the Desert Trail. Skyline cairns simplified travel, especially along and over the divide between the Van Horn and Denio basins. Today's travelers will encounter few visitors and very little evidence of man. McLean's Hunting Cabin is one of the few structures. Another is "Dan's Bar and Grill," actually an abandoned trailer that was used by miners.


The McLean Hunting Cabin is one of
the few structures in the Pueblos.
The southern Pueblos in the Denio Basin are metamorphic rocks rich in quartz and mineralized with gold, silver and copper. Although few proved profitable, mines are scattered about the region. Historically, Native American habitation in the Pueblos goes back about 12,000 years, based on carbon datings of fire hearths uncovered in some s caves.
Cattle and sheep grazing began in the mid-1860s, when permanent ranches were established along the eastern edge of the mountains. Some cattle still graze in the high mountain meadows during the spring and summers. Miners also played a major role in exploring the region, although their commercial successes have proven meager.

Lee Juillerat at trail's end
in Denio, Nevada.

Map Tales to Share

My visit ended by skidding along steep-edged game trails and, eventually, bushwhacking through a juniper-sage choked route along Denio Creek that emptied at Denio, a small community just a few steps south of the Oregon-Nevada stateline. A refueling stop at the Diamond Inn Bar, a tavern that serves as Denio's social center, marked my journey's final destination. And, ever since, the beginning of another round of show-and-tell map reading.
Click here for details to plan your own trip to Oregon's Pueblo Mountains.
Lee Juillerat
Story and Photos