When You Go

Oregon's Pueblo Mountains
Getting There: There is no "easy" way to reach the Pueblo Mountains. The closest towns to Denio, Nevada, and Fields, Oregon, with airports are Reno, Nevada, about 290 miles by Interstate 80 and Highways 95 and 140, and Klamath Falls, about 164 miles by Highway 140. Reno is served by numerous airlines while Klamath Falls is served only by Horizon Airlines. Car rentals can be found in both cities. Shuttle arrangements are possible by contacting the Fields General Store at (541) 495-2275 or the Diamond Inn Bar in Denio.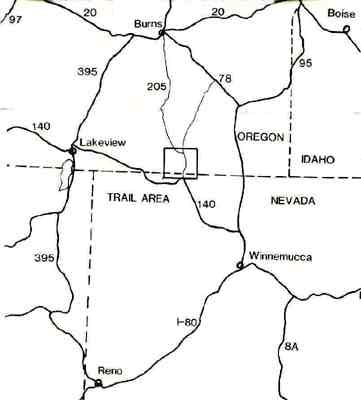 Courtesy:: Desert Trail Association
Staying There: Lodging is sparse in both Fields and Denio, especially with the temporary closure of the Denio Station motel a mile south of Denio. A limited number of motel units are available in Fields, telephone the Fields General Store (541) 495-2275 for information.

The best source for information about the trail through the Pueblos is the Desert Trail Association, P.O. Box 34, Madras, Oregon 97741. Their e-mail address is dta@madras.net. Founded in 1972, the group offers hikes and provides maps for various sections of the trail, including the Pueblos.


Desert Trail rock cairn.
Useful WWW site:
Desert Trail Association: www.madras.net/~dta