Authorʻs Note: The Lookout Fire, which began August 5, 2023, has resulted in the partial closure of portions of Highway 126 and Highway 242, the McKenzie Scenic Byway north of McKenzie, and prompted some evacuations. Included in the closure were the Blue Pool and Sahalie and Koosah Falls. As of August 21, the lightning-caused fire had spread to 11,174 acres. Several campgrounds, including two mentioned in the story, Ice Cap and Paradise, along with trailheads and recreation sites, were also closed. The closures are in effect through September 18, 2023. For updates visit the Willamette National Forest website at https://www.fs.usda.gov/main/willamette/.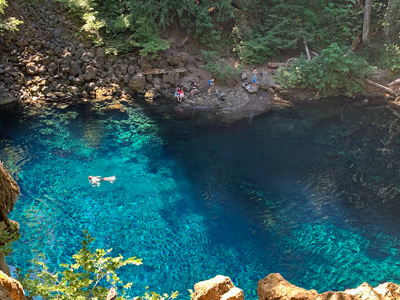 The beautiful Blue Pool

Our original plan was a multi-day backpack along the 26-mile McKenzie River Trail that, as the name implies, follows a portion of Oregon's McKenzie River. What makes the trail tempting, and well-traveled, are its surroundings - thundering waterfalls, lava fields, old-growth forests and its single-most spectacular feature, the incredibly blue-blue Tamolitch Pool, better known as the Blue Pool.

Our backpacking plans changed after my daughter, Molly, who's familiar with the area, suggested that our threesome - Steve Underwood, Danny Hawkes and I - instead spend a couple of nights at a campground upriver, then move to another campground downriver and take a series of day hikes. It was great advice and that's what we did.
| | | | | |
| --- | --- | --- | --- | --- |
| | | | | |
| | Koosah Falls | | Sahalie Falls | |
Several campgrounds along the McKenzie offer reserved as well as walk-in sites. Because we had a several- hour drive, Danny booked a two-night stay at the Ice Cap Campground, which is just south of Clear Lake, where the McKenzie Trail begins. Our large site overlooked the McKenzie River and Carmen Reservoir. Even better, it was just a short walk from the McKenzie Trail, during which we saw two dazzling waterfalls, Sahalie and Koosah,
The McKenzie raging along near
Sahalie Falls

Steve Underwood dwarfed by a
massive fallen log

On our way to Ice Cap, we had briefly detoured to the Sahalie Falls parking lot, which was overflowing with cars. So, instead of fighting the mob, we set up camp, ate dinner, then made the less-than-a-mile stroll to the 80-foot Koosah Falls overlook. Wow! After wandering and gawking, we continued upstream, following the Waterfall Trail another half-mile to Sahalie Falls. When we arrived there, the parking lot was nearly empty. Gone, too, were the crowds at overlooks near and next to the thundering 100-foot-tall falls. The McKenzie was flowing fast and high, with a never-ending stream of whitewater plummeting along the river and over both falls. We continued another half-mile upriver for more views before returning to camp.

Sahalie is a Chinook Indian word that means "top," "upper," "sky," and "heaven," while Koosah translates to "heaven" or "sky."

The next morning we headed for the Tamolitch Pool, better known as the Blue Pool. Most day hikers start from a trailhead reached by driving along the McKenzie Highway 126 to the upper end of the Trailbridge Reservoir, turning west at a "Blue Pool" sign and following signage to a parking area. Instead of driving, we hiked the McKenzie River Trail from the campground and followed it 3-1/2-plus miles to the Pool.
| | | | | |
| --- | --- | --- | --- | --- |
| | | | | |
| | Bicyclist on a narrow bridge | | A more cautious biker | |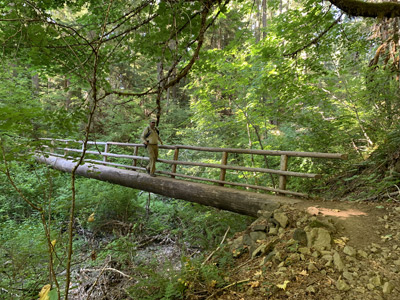 Danny crossing one of several narrow bridges

Just below Carmen Reservoir, the McKenzie disappears, channeling three miles downstream under lava deposited about 1,600 years ago. The was no river, but the trail leads through a lush, little-traveled old-growth forest. We saw no other hikers, but we did encounter mountain bikers, who often ride the 26-mile trail in a single day. This section includes several narrow "bridges" that cross over creek beds.
| | | | | |
| --- | --- | --- | --- | --- |
| | | | | |
| | Looking at the Blue Pool | | The Blue Pool flowing downstream | |
Whether reached and viewed from the north or south, the Blue Pool dazzles. Its blue-green waters defy description. A series of overlooks allow hikers to peer down to its unfathomably beautiful waters. From our vantage we saw people at the pool's edge. Most stayed on pool-side rocks, but some jumped in for brief swims. The Pool's average temperature is a chilly 37 degrees Fahrenheit, cold enough that some people go immediately into shock after jumping in. It wasn't until we returned home that we learned that the Willamette National Forest has banned swimming in the Pool -- and for good reason. During a three-day-period earlier that month, rescue crews had carted off two people and, just a day before our hike, had rescued three others.

While at overlooks, we winced when others, trying to get a unique photo or video, stood on the edge of the slippery overlooks. As I learned later, we had reason for concern. In 2015 a photographer died after falling from the cliff. Two years earlier a University of Oregon student died after diving into the Pool. Those deaths and other incidents have spurred Forest managers to permanently ban swimming, install barriers, and post warning signs.

After enjoying views from several overlooks, we hiked the 3-1/2-plus miles back to camp. As a caution, I recommend shuttling a car to the Pool parking lot, hiking from Ice Cap, then continuing the 2-plus-miles downriver to the parking area.
The day ended with another hike to Koosah and Sahalie, taking slightly different routes that offered closer views of the falls.

| | | | | |
| --- | --- | --- | --- | --- |
| | | | | |
| | Another view of Koosha Falls | | Steve taking a break | |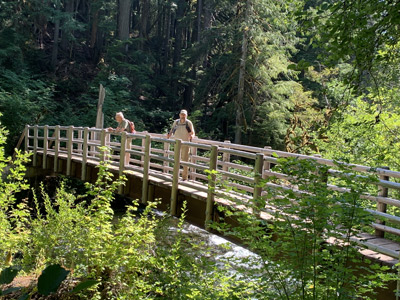 Steve and Danny on a sturdy bridge

The next morning we drove downriver to the Paradise Campground. It's an appropriate name. We didn't find a riverside campsite, but happily settled in another spacious site. After a quick drive to the Belknap Springs Resort, we parked our car and hiked the 4-plus miles mostly through tall trees to our new camp.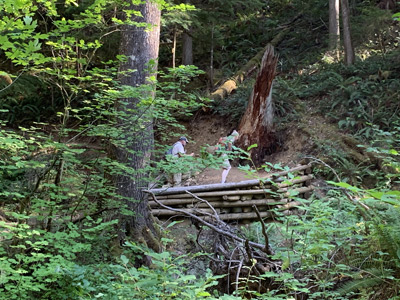 On the trail to Paradise

Our fourth day was our most ambitious. We drove up the Old McKenzie Highway, first to Proxy Falls. The loop hike began with nearly a mile-trek on a trail that goes alongside and through a basalt lava flow that amazingly transitioned to a lush forest, including old growth hemlock and Douglas fir.
| | | | | |
| --- | --- | --- | --- | --- |
| | | | | |
| | Hiking through a lava field | | Upper Proxy through trees | |
A signed detour took us to an overlook for Lower Proxy Falls, a rumbling-tumbling, 100-foot-plus high waterfall.  Back on the trail it was only about a quarter-mile to another junction, this one to Upper Proxy Falls. Upper Proxy is deceptive. The upper section of the 100-foot-plus falls is semi-hidden by trees and brush, before it openly plunges into a deep pool. Proxy is also unusual because water from the falls sinks though porous lava rocks below and into the ground.
| | | | | |
| --- | --- | --- | --- | --- |
| | | | | |
| | Wiggly reflections | | Clinging tree roots, or ivy perhaps? | |
We next headed up the Old McKenzie Highway, which leaves the forest and enters massive black lava flows. Near the summit we stopped at the historic Dee Wright Observatory. Built in 1935 by the Civilian Conservations Corps, the lava rock structure offers panoramic views across 65 square miles of lava. In 1964, astronauts heading for the moon conducted drills on this moonscape-like landscape.
| | | | | |
| --- | --- | --- | --- | --- |
| | | | | |
| | Dee Wright Observatory | | A moonscape landscape | |
| | | | | |
| --- | --- | --- | --- | --- |
| | | | | |
| | View of the Cascades from the observatory | | Peeking through an opening | |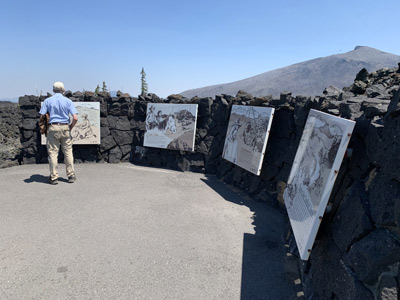 Reading interpretive signs
| | | | | |
| --- | --- | --- | --- | --- |
| | | | | |
| | The Lava River Trail | | Cascades from the Lava River Trail | |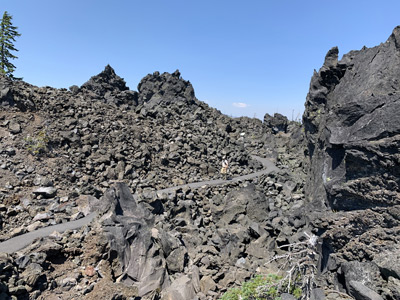 Hiker dwarfed by lava flows
It was just a short walk to the observatory, which has openings that offer peeks of surrounding peaks, including Mount Jefferson, Mount Washington, and the North, South and Middle Sisters. Equally amazing is the Lava River National Recreation Trail, a paved, handicap-accessible loop trail that goes through lava fields. Interpretive signs along the trail, and the trail to Dee Wright, provide information about geologic formations flanking the trail.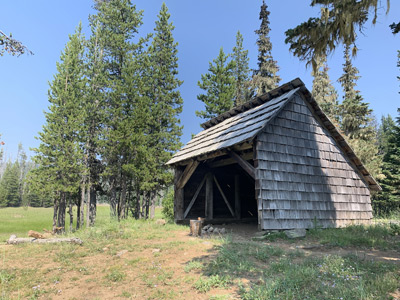 Hand Lake Shelter
Yet another temptation lured us along another roadside trail to the Hand Lake Shelter. It was an easy half-mile walk to the rustic shelter on the trail. It passes through an alpine-mixed-conifer forest before opening into a large meadow near the three-sided shelter that overlooks Hand Lake and distant Mt. Washington.
| | | |
| --- | --- | --- |
| | Wildflowers fill the meadows near the Hand Lake Shelter. | |
We crossed the meadow - one, colorfully vibrant with varieties of wildflowers - to a trail junction. After hiking west for a distance, we doubled back. Curious, once at the junction I continued east. The trail passed above and along Hand Lake's north shore to the edge of a lava flow. There is an historic section of the trail, which crosses the lava and eventually loops back to the shelter.

Here's the history lesson learned too late - Nearly 150 years ago, John Templeton Craig carved a primitive road, the Old McKenzie Wagon Road, through the chunky, blocky lava. Amazing, but there's more to Craig's story. He also carried mail across the Cascades from Craig's Bridge to Camp Polk. While carrying mail near Christmas in 1877, he died in a winter storm. Craig is remembered with a memorial at the site of his tomb two miles west of the McKenzie Highway's summit.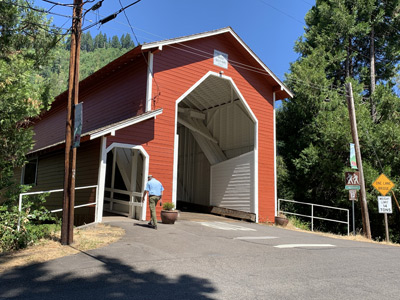 The Office covered bridge near Westfir

By day five it was time to return home. Steve headed off early while Danny and I enjoyed a leisurely morning before heading along the Aufderheide Scenic Byway – Forest Service Road 19 – which connects the community of McKenzie River with Westfir and Oakridge and winds alongside sections of the McKenzie River.

Shortly after our visit, disaster struck. As noted at the beginning of this story, the lightning-caused Lookout Fire began on August 5, 2023, and soon raged out of control, closing road, trails and the campgrounds we had visited. We saw the McKenzie as it was before the fire. At this writing, it's too soon to know what it will be in future. Steve, Danny and I certainly hope for the best for this truly beautiful part of Oregon.  
About the Author

| | | | | |
| --- | --- | --- | --- | --- |
| | Lee Juillerat is a semi-retired writer-photographer who lives in Southern Oregon. He is a frequent contributor to several magazines, including "Southern Oregon Magazine," "The AG Mag," "Range," and "The Cattle Mag." He has written and co-authored books about various topics and places, including Crater Lake National Park and Lava Beds National Monument, and, most recently, "Ranchers and Ranching: Cowboy Country Yesterday and Today." Lee has produced photo-stories for High On Adventure for more than 20 years. He can be contacted at 337lee337@charter.net. | | | |