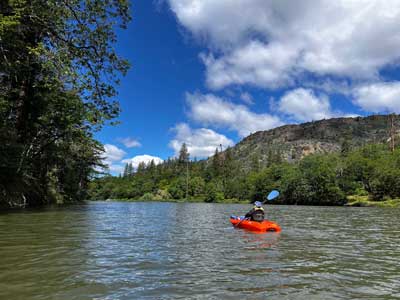 Jay Williams paddling along the Klamath River

Jay Williams has seen and experienced the Klamath River like few people ever have. Or ever will.
In 2022, Williams spent 12 days paddling about 300 miles from one of the Klamath's tributaries to the Pacific Ocean. With four hydroelectric dams scheduled to be removed beginning this year and continuing into 2024, the Klamath is a river that will never be the same. And, when the Klamath is again a free-flowing river, Williams hopes to enjoy new experiences.

"I'm fascinated to see the changes," he says of how the dam removals will impact the river. "It will take on a more natural, wild atmospheric."
| | | | | |
| --- | --- | --- | --- | --- |
| | | Williams is an emergency room doctor in Klamath Falls. | | |
When not paddling or planning another trip, Williams, 44, is an emergency room doctor at the Sky Lakes Medical Center in Klamath Falls, Oregon, near where the river originates. Because his family's home is just steps from Upper Klamath Lake, for several years he stood in his front yard and wondered. Wondered about the rivers—the Williamson, Sprague and Wood—that feed Agency and Upper Klamath lakes, which merge and funnel into the Link River, which flows into Lake Ewauna and, finally, becomes the Klamath River, which weaves its way 257 miles to the Pacific Ocean.
| | | |
| --- | --- | --- |
| | Klamath River family fun time and get-togethers | |
Williams decided to see and experience the river and its tributaries for himself, to learn first-hand where the Klamath comes from and paddle the path it follows. From the headwaters of the Wood River, where he launched his kayak, he channeled the Klamath through Southern Oregon and far Northern California to the river's end.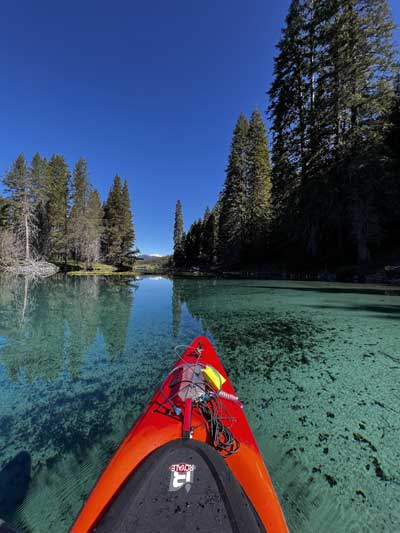 The sparkling clear waters at Spring Creek

"It was less about a kayak trip than experiencing the river. I sought to gain a personal perspective of the watershed and the communities it passes. I really wanted to get a better sense of it for myself," explains Williams, a 1996 Klamath Union High graduate, who with his wife and daughter returned in 2016 to work at the Klamath Falls hospital.

The first leg of his journey began May 25 at the Wood River's headwaters near Chiloquin and ended that day 21 miles down river at Henzel Park on Agency Lake. Day two ended near the south end of Upper Klamath Lake at his home's boat dock, another 21 or so miles.

"That was my shakedown," Williams says, explaining that he had bought his 10-foot kayak only a short time before his departure. Although he is an experienced distance runner, backpacker and climber, kayaking was a relatively new sport. "I guess I feel I became a whitewater kayaker on this trip."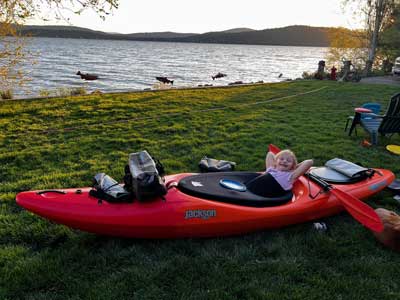 Daisy relaxing on Dad's kayak

For two days Williams stayed home taking care of his daughters, Ruby, seven, and Daisy, four-and-a-half, while his wife, Sarah, a family practice doctor at Klamath Open Door, was at work. "Fortunately," he laughs, "I have a very supportive spouse." It was a welcome break because he was still recovering from a relatively mild case of Covid. "I definitely had my energy diminished."

| | | |
| --- | --- | --- |
| | Pelicans on the Upper Klamath Lake and the Link River | |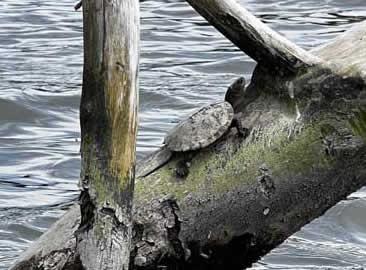 A Pond turtle climbs a broken limb

Back on the water, his next paddle to Keno included a brief detour around the Link River Dam before continuing downstream. "There was quite a lot of flow. The falls were exciting!" He paddled along Lake Ewauna, which becomes the Klamath River, then on to Keno. The next day, after carting his kayak round the Keno Dam, it was back on the river to the John C. Boyle Dam, one of the four dams scheduled for removal.

| | | | | |
| --- | --- | --- | --- | --- |
| | Scouting out a river rapid | | Kicking back on calm waters | |
His shortest mileage day - four miles - on the river, day five was the most "treacherous." Because of low water, he had to carry his loaded kayak around, on and over slippery, pointy rocks to Spring Island below the Boyle's power station turbines.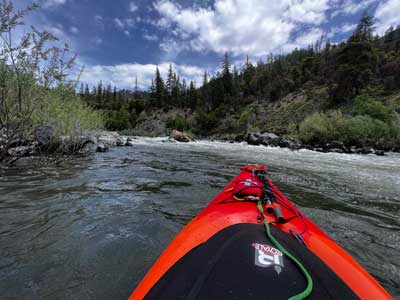 Entering some rapids

Aware of the serious whitewater – including such Class 4-plus rapids as Caldera and others in the Hells Corner section – he joined a commercial rafting group for 12 river miles to the Copco Reservoir. Then it was back in his kayak, again solo paddling. When he reached the impassible Copco 1, Copco 2 and Irongate dams, he wheeled his kayak around them in a portable cart.

Past the dams, the river changed. "That's what I was after—seeing how the river flows."

| | | | | |
| --- | --- | --- | --- | --- |
| | Riverside camp spot | | Overlooking the Klamath flow | |
His daily distances lengthened, paddling several 30-plus mile days as the Klamath's volume was recharged by the inflowing Trinity, Salmon and other rivers. He passed small Northern California communities like Hamburg, Seiad Valley, Happy Camp, Somes Bar, Orleans and Weitchpec, where the river angles sharply northwest toward the coastal towns of Klamath and Requa and empties into the Pacific Ocean.
Along the way, while taking a break just before Ishi Pishi Falls, a Karuk Indian told him the falls are sacred to tribal members. Williams accepted a ride around the falls because, "I didn't want to insult their culture."

| | | | | |
| --- | --- | --- | --- | --- |
| | Under a highway bridge | | Alongside a small waterfall | |
During his 12 river days, Williams saw only three other boaters. One was near the Collins Products mill south of Klamath Falls. The two other boaters figured in an unplanned adventure. After passing them and stopping for lunch, Williams heard frantic voices calling out. The pair's aluminum skiff had overturned, tossing the men, gear and their dog into the river. By throwing out lines Williams was able to pull both men to shore. The dog, however, has not been seen. Afterwards, he accompanied the pair and helped direct them through some rapids.

| | | | | |
| --- | --- | --- | --- | --- |
| | An unexpected visitor | | Passing fallen rocks | |
The weather offered other challenges. After mostly favorable conditions, things changed dramatically his final night on the river with an outpouring of heavy rains. After a very wet night, he made his final 30-mile paddle to the mouth of the Klamath in a downpour. He was soaked, but that didn't dampen his experience.
"All of a sudden I turned this corner and see Highway 101," the road that borders the Pacific Ocean. "I turned another corner and saw a sea lion pop out of the water."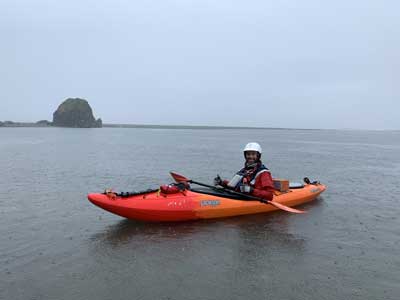 Relaxing in the Pacific

As he continued on, more barking sea lions, along with seals, flopped and dove. But the best sight was seeing his waiting wife and daughters. "I was happy to see them, and to get out of the water and into the truck."
Klamath River rafting; celebrating with his daughters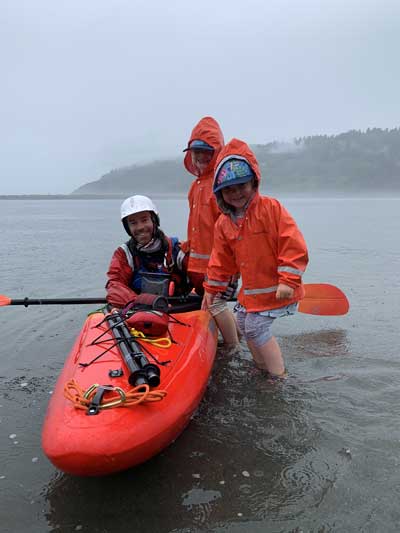 Celebrating with his daughters
His journey is over, but Williams says the memories will last a lifetime. He saw pond turtles, pelicans, deer, geese tending their goslings, herons and, more memorably, bald eagle dive-bombing for fish. Sights seen and experienced only from the water's perspective. "The river has a personality. It can be mad or calm … You go to the end of the river but it feels like the beginning."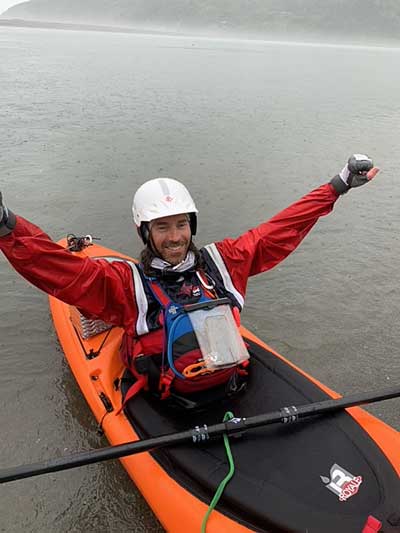 Jay Williams celebrating his successful paddle

Kayaking the Klamath generated unexpected emotions. "It was a feeling not of accomplishment – it was more a sense of connection. It completed my mission in trying to gain a perspective of what this river is," Williams says. "It also gives me that wanderlust to get back out there again."   
 
About the Author
| | | | | |
| --- | --- | --- | --- | --- |
| | Lee Juillerat is a semi-retired writer-photographer who lives in Southern Oregon. He is a frequent contributor to several magazines, including "Southern Oregon Magazine," "The AG Mag," "Range," and "The Cattle Mag." He has written and co-authored books about various topics and places, including Crater Lake National Park and Lava Beds National Monument, and, most recently, "Ranchers and Ranching: Cowboy Country Yesterday and Today." Lee has produced photo-stories for High On Adventure for more than 20 years. He can be contacted at 337lee337@charter.net. | | | |
| | | | | |