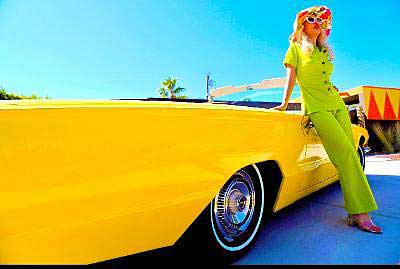 Tracy Turco epitomizes the modernism era of Palm Springs.
PALM SPRINGS, Calif. The release of the 2022 film Don't Worry Darling has once again cast a spotlight on Palm Springs. A playground of the rich and famous since its inception 85 years ago, Palm Springs was always a desert escape with an attitude. One of the most famous aspects of Palm Springs is its devotion to mid-century modern architecture, examples of which can be viewed all over the city today. Reaching back to the mid-1940s, now-famous architects created a vision of what life could be in this desert oasis.
Perhaps the most well-known of these residences, the Kaufmann House, is featured in the opening scene of Don't Worry Darling. The film stars Harry Styles, with Florence Pugh, Gemma Chan and Olivia Wilde—who also directs. But locals and tourists can't just drive up to the Kaufmann House, ring the doorbell and ask to look around. With the exception of the city's huge February festival - Modernism Week - most of these architectural gems are not open to the public. (By the way, Modernism "Week" is somewhat of a misnomer. It currently extends to 11 days of parties, tours and lectures around all things Modernism. People from around the world gather here to become immersed in the largest collection of Modernist
architecture in the U.S.)
| | | | | |
| --- | --- | --- | --- | --- |
| | | | | |
| | Modernism Museum in Palm Springs | | Elvis Presley's boat, Hound Dog | |
With that in mind, local entrepreneur and designer Tracy Turco opened a museum last fall that gives everyday visitors a glimpse of what that era actually was like. The 12,000-square-foot museum is located along the city's main drag, Palm Canyon Drive. The place is hard to miss, with its bright orange and white
façade.
The museum's location exists in what's now known as the Uptown Design District, which is a bit out of the public eye. Next door is the Original Las Consuelas restaurant, where servers can still point out the booth where Elvis used to sit. It is currently rumored that Justin and Hailey Bieber and the Kardashians have dined here. (Kris Jenner, the Kardashian "mom," recently built a property located elsewhere in the
Coachella Valley.)
Most tourists tend to gravitate further down Palm Canyon Drive to the larger and more decorative Las Consuelas, which has an outdoor patio and often features live music.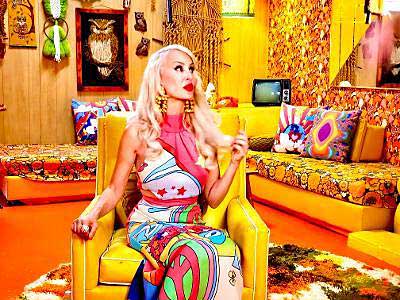 Tracy Turco designs her own fabrics, furniture and clothing.
While Tracy Turco wasn't available when I arrived (she had just had another baby), she is almost as easy to spot downtown as the museum itself. Tall and slender, with long blonde hair, she looks like a Barbie doll come to life. (Yes, there are even real Barbie dolls inside the museum.) She often wears her own clothing designs, which lean toward graphic prints, paisleys, and artful, color- blocked patterns.
| | | | | |
| --- | --- | --- | --- | --- |
| | | | | |
| | The Turco giftshop | | Entrance to the museum | |
She and her husband own several renovated hotels in town, and at least one retail shop. One imagines that her imprint on Palm Springs will hardly end with the museum, but visitors will be grateful at the attention to detail one finds inside its walls. They can look forward to a time-traveling experience (that is, a trip
back to the '50s through '70s). Exhibits are arranged into lovely vignettes. A stroll through the museum is sure to bring back memories for a certain demographic group.

This 1969 shiny red Jaguar is an ode to a long-gone historic era.
The first vignette highlights a 1969 red Jaguar and props that suggest the famed Palm Springs Racquet Club. The vignette also honors the Gabor estate, owned by Magda Gabor and her husband. The three internationally known Gabor sisters lent an aura of seductive glamour to their residence.
| | | | | |
| --- | --- | --- | --- | --- |
| | | | | |
| | Vintage bedroom | | Vintage kitchen | |
Each twist and turn reveals another time capsule to behold. They include a neon-pink eat-in kitchen set on a black-and-white checkerboard-patterned floor, and a "Pink Powder Puff Room" that is a tribute to Playboy bunny and film star Jayne Mansfield, with its overall pink theme and heart-shaped bathtub. It also contains an original oil painting of Magda Gabor.
Elsewhere in the museum is a large roller rink, complete with disco ball. This area is often reserved for private parties. Nearby are hanging chairs with chrome frames and vintage skee-ball machines. No quarters are needed. If you try long enough, you might occasionally score a ball in the 100-point container.
The vignettes are completely immersive, with areas for visitors to sit and pose. Ian, one of the museum's gatekeepers, says he loves to see young people enter the museum wearing clothes from the 1960s. The museum is completely Instagram-able. "They really get a kick out of returning to this era," he says.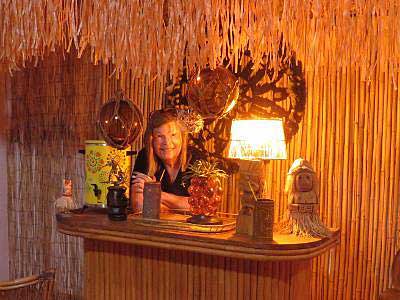 Author Anne Siegel blends in among the thatch-roofed artifacts.
For those without the foresight to bring the "right" looks for their photo shoots, the gift shop includes vintage fashions (culled by Turco), as well as a rack of original designs (also by Turco). One gift shop oddity is a rolled up pink garden hose, with a handle. It looks like a purse, but is supposed to be used as decorative art, according to Ian. There's also a table filled with vintage finds such as a ceramic canister set. Even if you don't enter the museum (tickets are $10), the gift shop is a must-see attraction.
All of the museum's exhibits are from Turco's private collection. When she needs to complete "the look" of an exhibit with a certain wallpaper, for instance, she merely designs her own and has it recreated for the museum. There's a great deal of fun to be found inside the museum's walls and, after all, that's what Palm Springs has always been about.
The Modernism Museum is located at 380 N. Palm Canyon Drive. It is open Thursday through Saturday - 10am to 5pm PST; Sunday - 12noon-5pm. On Sundays, children can visit for free when accompanied by adults. For more information, visit https://www.psmodernismmuseum.com/
ABOUT THE AUTHOR
| | | | | |
| --- | --- | --- | --- | --- |
| | Anne Siegel (seen here at Frank Lloyd Wright's home in Spring Green, Wis.) is a Milwaukee-based freelance theater and travel writer. Her travel stories have appeared in many national magazines and major daily newspapers across the U.S. | | | |