Bakery

You in front, I enter, excited,
am drawn first to the cream puffs,
gold, swollen, white filling
spilling out slender slits. I see
pies steaming off to the side,

want to dive in, especially the cherry.
Huge muffins, then cupcakes lure me,
protuberant domes of pink frosting
obviously eager to be licked.
Warm cinnamon rolls beckon too,

outer spirals tracing their way
to moist centers. I think I hear sirens
beyond the truffles. You seem rapt,
obviously tempted by hot éclairs,
the softest, bulging with cream,

icing dribbled along the top.
By then I am with the brioche,
light, sweet, round, wee,
begging me to use two fingers,
pry apart each delicate crust.

You revive, stretch, sway
your way to baguettes, hover,
choose the thickest, turn to go.
I come behind, a bit sad
our task here was to get bread.
(published by Clover, A Literary Rag)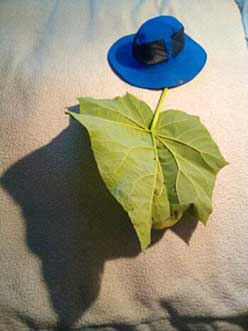 Hat on empress tree leaf
copyrighted Pilgrim photo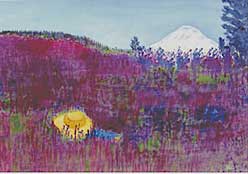 Lavender Field by Mary Dale