I got a chance to try a new pair of fitness shoes from KARU. I jumped at it, so to speak. These are quite an upgrade considering the state of what I usually wear on walks and bike rides.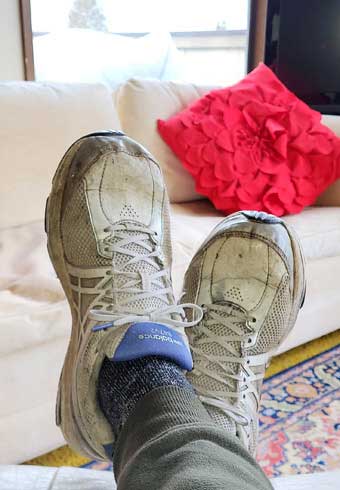 Time for an upgrade
The pair KARU offered didn't come in wide like my feet, and they don't make a biking shoe - biking is my main daily exercise - so I picked what amounts to a general purpose fitness all-day beauty of a shoe that I now wear everywhere except on my bike. Those little spikes on bike pedals that keep your foot from slipping would tear up the bottoms pretty quickly and I want these shoes to last. What I got was a pair of: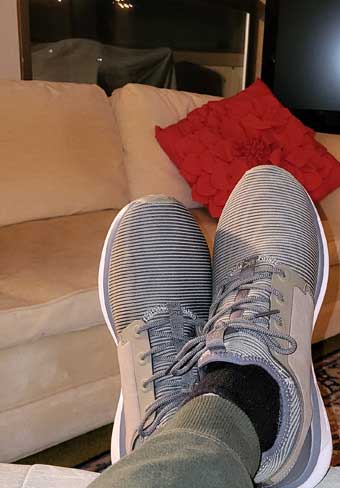 ATOM WIDE, MountainSage-White-SmokeGray
KARU bills all their shoes, and there are many, as problem-solvers for painful feet. That includes about any pain you can think of. KARU boldly states that their shoes are "Recommended for fitness, travel, bunions, exercise, plantar fasciitis, flat feet, heel pain, heel spurs, diabetes, all conditions, all activities, all careers."
Since I have no foot pain - miracle of miracles - I'm no judge of all of these symptoms and circumstances. But the online personal testimonials and reviews make it clear that KARU is really on to something. According to their website, all their supportive shoes have:
KURUCLOUD: Lightweight EVA foam that delivers shock-absorbing cushion with each step.
KURUSOLE: Patented, responsive technology that dynamically flexes to hug and protect the heels.
ULTIMATE INSOLE: Contoured, dual-density foam that provides superior arch support.
And apparently that combination really works to solve foot pain. But let's talk about knee pain here, because that's what I do have.
A chiropractor told me many years ago I could solve my knee pain by wearing Superfeet in my shoes - ALL my shoes. He was right. But here's the deal. KARU shoes are only the second pair of shoes I've worn in the last 20 years where the SuperFeet inserts are NOT necessary. Their insole support is such that my feet don't pronate when I wear them. In my case, pronation causes knee pain, and KARU solved that without special inserts.
So if I were KARU I would proclaim that their shoes are a solution to knee pain as well.
My physical therapist insists I do these activities every day,
along with many others too numerous to mention... Center photos by Lynn Rosen
There is a bit of magic in what makes KARU shoes so supportive. The company asks that you wear their new shoes for 2-3 hours at a time at home for the first week. That gives your entire body - soles of the feet and on up the legs to the spinal column, the neck and head - time to adjust to the upgraded level of support. The real trick however, is that the insoles use your body heat to mold to the shape of your feet over this period of time.
In my opinion, that initial adjustment period is the secret of why they eventually work so well. Tip: If your feet are warm when you put them on, the molding process will be a lot more efficient and ultimately more successful. You basically end up with a pair of over-the-counter shoes that are exquisitely molded to your feet and your feet alone as if they were specifically constructed for your particular feet.
About the Author
| | | | | |
| --- | --- | --- | --- | --- |
| | Web manager Steve Giordano, past president of the Society of American Travel Writers, is a veteran ski and travel journalist & photographer whose work has appeared in newspapers, magazines, books, radio and television and many places around the Internet. He's written numerous travel books. Steve is the designer and technologist of HighOnAdventure.com and was the online and guidebook editor of SkiSnowboard.com. He is a member of the North American Snowsports Journalists Association and can be reached at rsgiordano@gmail.com. | | | |