Examples of Savides' bronze sculptures
As a young boy Stefen Savides was fascinated with birds. Seventy years later that passion hasn't diminished.

"I have been fascinated with birds for as long as I can remember," says the 73-year-old Savides. He credits his mother "who recognized that interest that in me." To encourage her son, she began a Junior Audubon group. Stefan's interest and fascination accelerated. "At age 12," he tells us, "I wanted to do taxidermy." Four years later he taught taxidermy classes in his hometown, Vacaville, California, and eventually worked with more than 80 students much older than he.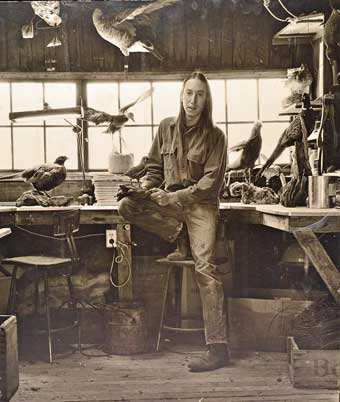 A young Stefan Savides

At age 18, after completing high school, Savides moved to Tulelake, a small town in far northern California. Nearby are several U.S. Fish and Wildlife Service refuges known for their incredible varieties and massive populations of resident and migrating birds. During those years, he lived among birds and honed his taxidermy skills.

"Taxidermy was my life," he says, noting it was his passion for more than 50 years and earned him national recognition.
| | | | | |
| --- | --- | --- | --- | --- |
| | | | | |
| | Mourning doves | | Lifelike owl | |
Nearly 20 years ago, Savides changed his focus. Realizing that taxidermy works have a relatively short life span because of natural deterioration, he decided to instead create avian bronze sculptures. "If you really want to leave your mark, sculpture is the way to go," he explains. "Sculptures, especially bronze, are going to last 5,000 years." He says the transition was eased because, "I pretty much know birds inside out."

| | | | | |
| --- | --- | --- | --- | --- |
| | | | | |
| | Stefan at work | | Taking a break from work | |
That knowledge, like his innate love for birds, is evident in his work, which has earned him numerous awards and honors. His sculptures, large and small, are featured in public galleries, museums and private homes, including his own home in Klamath Falls, Oregon, which is just a short drive to the Tulelake-area wildlife refuges. "This," he laughs, "is where I landed."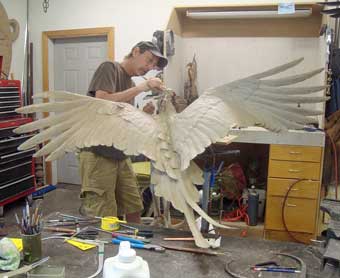 Putting finishing touches on Mamba Samba

Savides' sculptures have found their way to outdoor public locations in several states, including Arkansas, South Carolina, Illinois, Texas, California, Nevada, Missouri and Oregon. Others are in Spain and Africa.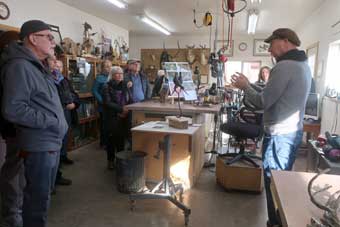 Explaining the sculpting process to visitors

"I love to show them off," Savides says of having others admire and appreciate his creations. He's especially delighted when his sculptures are displayed outdoors—places where they can be seen by a broader public. "Anytime you can have the opportunity to have a public installation it is a huge plus."


The Savides home showcases tabletop sculptures.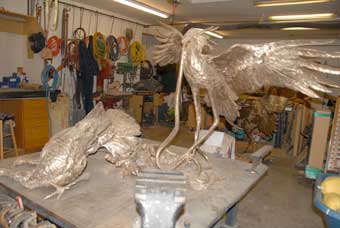 A Work in progress

His home also displays his and others' works. The spacious living room features many of his table-top-sized sculptures along with paintings and art work he's collected from others. Outside is a pond he built that's become a refuge for a wide variety of resident and migrating birds and waterfowl. "I never tire of looking out there and seeing what comes." Behind the house are several aviaries filled with a wide variety of birds. Most importantly for his work, a separate building serves as his studio, where the sculpture-creating process happens. Different rooms are used for wax molding, metalwork, applying the patina and other steps.
| | | | | |
| --- | --- | --- | --- | --- |
| | | | | |
| | Backyard pond is refuge for migrating birds | | Ducks in an aviary | |
Transferring the concept for a sculpture to a finished bronze is a lengthy, exacting process. The months-, or more often years-long process, combines the talents of Savides, his wife, Irena, her son, Joseph Miller, and artist Melissa Sugarman. Stefan creates the sculptures, overseeing each step. Irena does the wax casting and also oversees other critical tasks, such as tracking the status of semi-completed sculptures going to and from foundries, keeping the books as well as stocking supplies and coordinating gallery-related matters. Joe handles metal work and assembly, then Melissa applies her patina skills.
| | | | | |
| --- | --- | --- | --- | --- |
| | | | | |
| | Irena Savides explains her specialty. | | Wax moldings | |
While his table-top sculptures and larger bronzes have found homes in galleries nationwide, Savides' large-scale sculptures are becoming plentiful in outdoor settings throughout Klamath Falls. Featured in the city's downtown areas are a fish, a grebe and flying pelicans at Sugarman's Corner, "Pelican on Parade" near the entrance to Veterans Park, and "Freedom, " outside the Favell Museum of Western Art.  On private land along Upper Klamath Lake, but easily viewable by the public, is a sculpture featuring a pair of bald eagles. The city's newest outdoor bronze, "Western Union," which features a pair of dancing western grebes, is located at Putnam Point, where Upper Klamath Lake feeds into the Link River.
| | | | | |
| --- | --- | --- | --- | --- |
| | | | | |
| | "Freedom" at the Favell Museum | | "Pelican Parade" | |
Currently in the works are three more outdoor sculptures in Klamath Falls. A nearly completed sculpture that will be placed at a new roundabout near the Sky Lakes Medical Center and Oregon institute of Technology features a hawk perched atop steel columns with tree limbs. A second Klamath Falls roundabout will display a larger-than-life-sized bald eagle. The third sculpture, designated for the city's downtown Commons Park, is a 15-foot-long series of three giant pelicans.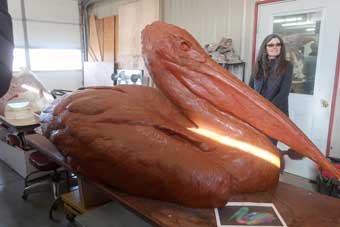 Irena admires one of three pelicans for downtown park.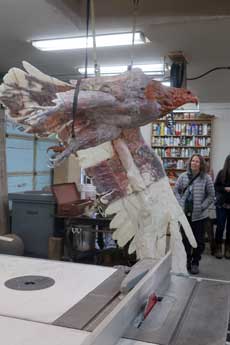 A visitor admires a future sculpture.
Allowing Savides' sculptures to be seen outside by a broader public has been the goal of a volunteer group informally known as Team Savides. Its spokesman, Bob Kingzett, says the group wants to feature Savides' bronzes in several outdoor locations because "We have the finest avian sculptor in the world right here. His sculptures can literally last for thousands of years, for generations to come."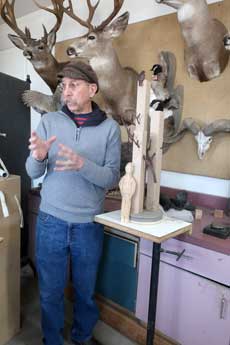 Stefan with scale model of future roundabout sculpture
Through organizations like the Klamath Basin Audubon Society, Sky Lakes Medical Center, Wendt Family Foundation, City of Klamath Falls and others, Kingzett says Team Savides hopes to finance at least one sculpture a year in public settings. Plans also include developing a brochure on a downtown walking tour highlighting the sculptures.

Whether in downtown Klamath Falls or places like the San Luis National Refuge in California, Anaho Island Visitor Center in Nevada, Lakeland College in Illinois or Arkansas State University, several of Savides' finest sculptures are in outdoor public settings, places where they can be seen and admired by the general public for generations to come.
More examples of Sfefan's bronze sculptures
To Learn More

For information about Stefan Savides and his sculptures, visit his website at https://www.stefansavides.com/. He encourages people to visit his home/studio/pond by making arrangements through his website, email at stefan@SavidesSculpture.com, or by calling 541-885-2912. He has been featured in several magazines, including the March 2020 issue of "Western Art & Architecture." His smaller sculptures, including those of desktop-size, are featured and sold at galleries throughout the U.S., including regionally in Oregon at Art & Soul in Ashland and the Rimrock Gallery in Prineville. More than 20 of his sculptures are on display at the Favell Museum in Klamath Falls.
 
About the Author
| | | | | |
| --- | --- | --- | --- | --- |
| | Lee Juillerat is a semi-retired writer-photographer who lives in Southern Oregon. He is a frequent contributor to several magazines, including "Southern Oregon Magazine," "The AG Mag," "Range," and "The Cattle Mag." He has written and co-authored books about various topics and places, including Crater Lake National Park and Lava Beds National Monument, and, most recently, "Ranchers and Ranching: Cowboy Country Yesterday and Today." Lee has produced photo-stories for High On Adventure for more than 20 years. He can be contacted at 337lee337@charter.net. | | | |
| | | | | |