Anticipating a trip anywhere is exciting and can create a few butterflies, especially if you've not traveled there before. Or you are familiar with your destination but this time there's a whole new dimension to your escapade. Perhaps this time you're packing your entire life into a 45-foot shipping container and departing with a one-way ticket in hand.
Butterflies? You have NO idea!
About 7.5 million Americans move out of state every year; nearly half stay within the same region of the country. There are a myriad of reasons for moving: military service, schooling or job, to care for family, swapping city-for-rural or vice versa, a change of climate or just because of a desired change. When it comes to retirees, almost a million of them a year relocate.

WHERE TO GO
For decades my husband Ron and I had yearned for a change, and serious considerations included Bend, OR; Sandpoint, ID; Wasilla, AK; and Puerto Vallarta, MX. But for various reasons, each was ruled out. I'd lived in the Pacific Northwest nearly my entire life, and Ron had spent his entire existence within a ten-mile radius of where he was born.
Rather than shoveling snow, how about a sunset ride on a claw-sail outrigger?
We both kept coming back to where we always felt the most "at home:" Hawaii. It seemed a fantasy that people of our age and average means would make such a move, but this became our objective. Having made numerous trips to various islands over many decades, deciding which was "the one" was fairly easy. Considering weather (Kauai), traffic (Oahu), and number of tourists (Maui), the perfect fit for our new "forever" home was Hawaii Island. Commonly known as The Big Isle, due to being twice the size of all the other main Hawaiian islands combined, it would provide oodles of places to explore, a wealth of culture and history to uncover, and almost every type of geology and climate on one 4,000-square-mile piece of real estate.
| | | | | | | |
| --- | --- | --- | --- | --- | --- | --- |
| | | | Kauai's Mt. Waialeale (left) is one of the wettest places on the planet. Waikiki (above) echoes the big-city vibe and island-wide traffic of Oahu. Visitors flock to the Pools of Oheo on Maui (right). | | | |
I took a certain pride in being a third generation Oregonian on my maternal side. My dad was well known in the ski industry, particularly in Oregon, with his involvement underway before I was born. From pre-school onward my winter weekends were spent at Mt. Hood, and in my teens I started ski instructing, a passion I followed for over a quarter-century. I almost felt like a traitor to consider leaving Oregon, but a new life and new adventures beckoned. After dad and then mom passed, we had no commitments and nothing to keep us from pursuing what our hearts yearned to do.

WHAT GOES
I'm the anal sort that makes lists, and so they began: timeframes, shipping vehicle and possessions, address changes, accounts to close, what to take with us and what to ship. How long might we be houseless and able to reconnect with our possessions; what quantity of toiletries, dog supplies, clothing and so forth to pack in our allotment of four suitcases and three carry-ons (one devoted to laptop and camera gear) plus dog carrier.
A teeny hint of what I had to sort through and the estate seller had to organize.
The house in which I grew up had absorbed my grandparents' home, much of the contents from my folks' cabin on Mt. Hood and dad's ski school office at Timberline Lodge. When dad passed years ago, we cleared out many pickup-loads of items, but things seemed to keep propagating and procreating in the closets, attic, basement, garage and garden sheds. After spending countless long days sorting through and selecting the few items I wanted to keep, an incredible estate seller came to my rescue. While we began majorly downsizing our own possessions, she and her crew spent considerable time organizing everything, held an enormous multi-weekend sale, then removed the few leftovers and left the property ready for market.
We'd always endeavored to not "horde" but forty-five years in the same abode, with a multitude of motorcycles and snowmobiles and RVs passing through our lives, things… just...multiply. We continued to downsize, pack and prepare to move, but in a few cases we may have been too zealous. Selling all three hand trucks left us using my office chair to move boxes around, and yes it would have made more sense to just buy another one, but for Ron it was a matter of principle.

SELLING OUT
We held our collective breath for the soil survey results from our in-ground furnace oil tank: it had leaked. In a repeat of what I'd gone through with mom's house two years prior, I knew to just have this tank decommissioned and convert to gas. Old tank and soil removed; hole backfilled; gas line installed; lawn reseeded; fairly new fully functioning and recently tuned oil furnace replaced with high efficiency gas; electrical panel upgraded and wall re-sheetrocked and painted.
We'd spent over four decades landscaping, remodeling and making improvements
but it was time to move on.
Once our property was finally ready for market, the timing couldn't have been worse coinciding with the fourth Fed Reserve interest rate increase in as many months. People were scared, the market went dead, 30% of potential buyers in our price range were now priced out of the market and the rest were holding off in fear of inflation. Homes just weren't moving while prices continued to inch upward in Hawaii. Ron was ready to give up and start unpacking. I was determined to make our dream a reality and tried to take heart in continual encouragement from friends and realtors: it just takes the right person. Then she materialized.
To vacate for viewings, we'd park down the street where we could still watch the house. Emily didn't seem to spend a lot of time which was a bit disheartening, but we didn't realize she'd already looked at over forty properties and immediately "just knew" this was the right one. We had an offer from her that night.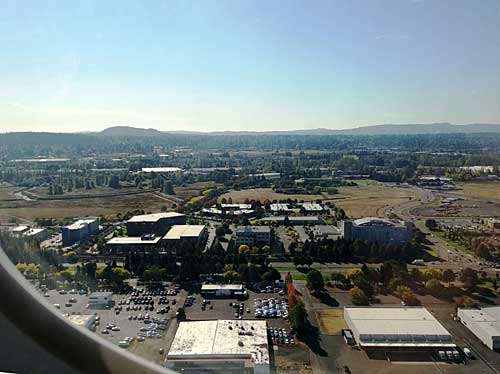 Last view of our former home town
GOING, GOING, GONE
Final moving arrangements couldn't be done earlier because we had to wait for the house to sell to know a closing date. Now I had 30 days to organize shipping, book airline tickets, arrange our dog Kalani's travel requirements, find accommodations, and reserve a rental car. And pack like a maniac.
We'd already decided to fly first class. It was only one way, aging bodies would appreciate the nicer seats, more room for Kalani's under-seat carrier, access to VIP lounges, and two free checked bags per person which were stuffed to the allowable limit with what I hoped would get us by. Plus it would be a celebratory start to our new life.
The only airline that allows a pet in first class is Alaska Air, and then only one per flight. The only way to know if another pet has already been ticketed is call the reservations folks and believe me, Brenda was worth every penny of the booking fee. She snagged the last two available seats within a 10-day window and now I could book vet appointments, submit Kalani's paperwork, and confirm shipping dates.
Getting your fur baby to Hawaii is quite a process, especially if you want to bypass quarantine by juggling a Direct Airport Release (DAR). Titer rabies test, proof of last two rabies vaccinations, flight ticketed, health certificate within ten days of departure, confirmed reservation with Hawaii vet to process arrival, fee and forms with flight and vet info submitted to Hawaii Agricultural Dept. on Oahu to process Neighbor Island Entry, and receive confirmation all within our 30-day deadline!
Just one of our temporary pet-friendly lodging adventures in our quest for permanent housing.
The Turtle House I call the "no alarm clock needed" thanks to four young children, two of pre-school age, who arose at 6:00 every day of the week and started running and stomping nearly endlessly across their home above us, with particular focus on their wooden lanai. Puukala Sunset House was blessed with intermittent internet, perfect when you're trying to buy a home, track vehicle and container shipments, and research your new town.
Trying to string together pet-friendly lodging so close to departure was a definite challenge, resulting in 2 nights @ #1, then 2 nights @ #2, then back to #1 for 6 nights, then #3 for 9 nights, then return to #1 for 9 nights followed by 25 nights at #3. I finally created a separate calendar just to track locations, check-in and check-out dates and times and confirmations. And that only covered the first six weeks!
| | | |
| --- | --- | --- |
| | | |
| | Back in Oregon, watching the trusty vehicle that has taken us on so many adventures disappear down the road was a bit heart-rending. | |
Two days before departure, the movers emptied our house, and the next day we greeted the transport driver who was conveying our truck to the port in Tacoma. It was not reassuring to watch him spend nearly 15 minutes killing the engine, slipping and burning the clutch just trying to load it onto the car hauler. Our vehicle made the trip physically unscathed but the synchros are nearly trashed.
Now houseless and departure day upon us, it was a strange emotion to feel like a visitor in the town we had always called Home. During our layover in Seattle, Kalani invited a constant stream of travelers who were missing their own furry family members, and all three of us happily obliged their desire for a snuggle or two. Jokingly, Ron said next time we should make a sign "$5 for 5 minutes of puppy love".
GOT WHEELS?
I had reserved a "compact" car, but upon arrival the only vehicle available was an under-powered gas-guzzling Dodge Caravan. After a couple of weeks we were finally able to swap it for a Kia whose four doors automatically unlock every time you turn off the key, but when you come back and unlock, only the driver's door is accessible. Not a problem UNLESS someone parks so close that you can remotely unlock the door but no physical way to enter the driver's side. Speaking from experience - take some advice.
It gave us a small feeling of being "whole" again when the 4Runner finally arrived in Hilo, taking five weeks rather than the three quoted by Hawaiian Shippers. We left Kona early enough to be there when the port opened, which was three days after Mauna Loa started acting up, threatening to close Saddle Road, the main route across the island. Dawn was just breaking but I did manage a few pictures of her volcanic uproar at 60 mph out the car window.
Streams of lava from Mauna Loa's fiery lava fountain. Promise kept to self:
pix of 4Runner with its Oregon vanity license plate on the beach in Hawaii.
Sometimes you also need to follow the silly little goals in life.
Driving proved interesting. With no such thing as a city map, Google became my BFF for the first couple of months. That is, when I could hear instructions above hubby constantly hollering "where'm I going? Where do I turn?" above her voice.
A FOREVER HOME
After so many decades as single family homeowners, we relished our privacy but wanted to downsize maintenance and upkeep. About a decade earlier we'd discovered a condo development of single-story stand-alone homes with attached garage right in Kona, but peaceful and surrounded by greenery. I'd been drooling over listings for a number of years, sometimes one or two popping up and then months with nothing. We hooked up with Kris Hazard, a fantastic realtor, who listened to what we wanted, showed us a few other possibilities that matched most of our criteria, but was so pro-active she was preparing postcards with "Thinking of selling? Have cash offer!" to distribute in the development we desired.
Imagine our disbelief when she called less than three weeks after our arrival to let us know the perfect unit was about to hit the market! Upon viewing it the next day, we were overwhelmed with more than we'd ever imagined. After a bit of negotiations, three weeks to the day we landed, our offer was accepted. Our dream was actually coming true!
Serenity becomes an ocean view in front, wild vegetation behind and alongside. There's plenty of courtyard space with just enough landscaping to satisfy my yearn to play in the dirt.
We converted an area of lava and river rock into "Kalani's Park."
SO WHERE'S OUR STUFF?
Our container had been in storage in Los Angeles. So the same day our offer was accepted, I notified Hawaiian Shippers by email and text and voice message to ship it. Another call the next day and they confirmed they'd received my messages but it would "be a couple of weeks" before they could deliver it to the port. Then I could no longer get any updates: had it shipped yet? Where was it? Anticipated delivery date? Our realtor tried to get answers. A friend of hers who had connections at the port in Honolulu tried to find out what was going on. Ron was convinced it had been part of a huge garage sale in L.A. and we'd never see any of it again. I later discovered it had arrived in Honolulu just before Christmas but didn't make it to our Island until February 3, over two-and-a-half months since request to ship. Talk about "island time"...
When our shipment finally arrived from its storage time in LA and holiday sojourn on Oahu, it had suffered a minor amount of breakage. I've yet to get the courage to check out one plastic tote of ceramic Easter decorations and water globes with big red "Fragile" and "Handle with Care" stickers all over it, delivered with a massive amount of duct tape somewhat holding the broken sides together.
Having moved into our new home with nothing more than what was in our suitcases, our angel and aloha-spirited realtor came to our rescue with a bed, some chairs and end tables, dishes and linens to get us by. Internet and cable was installed the day after move-in but with no TVs, my laptop became the entertainment center. Each time I wanted to print or scan something, it was off to the business center. There is nowhere you can rent furniture or office equipment, and TVs have a six-month minimum rental.
Most disconcerting was the loss of some items, at least two boxes as best we can figure. At least I REALLY don't think I packed the big metal yard dustpan, scrub brushes, car wax and machetes with my personal care items and I-can't-recall-what-else. Am most bummed about my Zeiss monocular going AWOL, which has traveled halfway around the world with me for the last 20 years. I was unabashedly giddy to see our TVs, printer, bed and microwave again.
The sunglasses aren't just for cutesy or keeping wind out the eyes, they have UV protection.
She loves her backpack which puts her at "people" rather than ankle level.
SETTLING IN
Kalani's been a real little trooper with the transition. She watched the contents of the only world she's known dwindle during the estate sale, then mostly disappear into boxes, furniture moved onto patio, décor stripped from walls and shelves, and finally a totally vacant property after the movers departed. The next day she watched her truck, the last recognizable piece of her life, disappear around the corner. Her first airplane ride; bouncing back and forth between accommodations. She didn't really understand that this new house was also her forever home until the items she recognized came back into her world.
Happily reunited truck anticipates ski forays to Mauna Kea. Or maybe I'm the eager one,
having swapped out the license plate with the best I could do, another Toyota on Kauai
already sporting Hawaii's "SKIING" shield!
Our 32-year-old, 132,000-mile 4Runner draws a lot attention, sharing Hawaii Island's Most Desirable Vehicle title along with Tacoma trucks. Even most of the police drive white 4Rs. Customizing your rig means installing a massive lift kit and humongous tires, then we show up with one whose paint hasn't been sun oxidized and dressed out in non-rusted chrome. The topper was our Oregon license plate – SKIING – which drew a lot of double-takes, laughs, questions, and at least one photo op I observed.
A funny thought hit me before we moved that at some point someone might ask, "Did ya move that truck from Oregon?" Being a fan of the Blue Collar Comedy Tour (Jeff Foxworthy, Larry the Cable Guy, Ron White and my fav Bill Engvall), the perfect reply popped into my twisted mind: "Nope, found it washed up on the beach and decided to give it a home". Fortunately the young man with his all-black humongous-tired 4Runner who did pop that question immediately "got it"... Here's Your Sign! Did not pull that response with the lady who asked if we had flown the vehicle over, I merely replied that yes, we had shipped it. You have to consider the recipients of your snarky leg-pulling.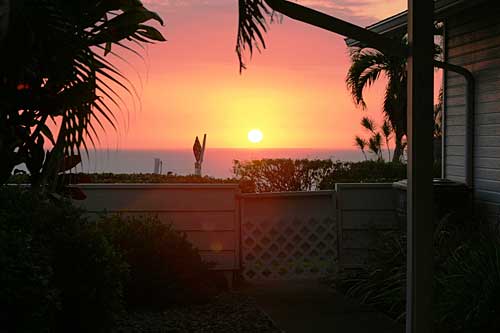 "Just another shitty day in Paradise" (to quote from Jimmy Buffett's "Jamaica Mistaica") I also appreciate the T-shirt that said, "I love living where others dream of vacationing".
Head out shopping or for a nosh and you'll find time evaporates while you "talk story" with total strangers. Locals are mostly laid-back and welcoming and always seem to have time to share news and stories. Visitors are in a jolly mood because they're on vacation, and often interested in the when/why/how of moving to Hawaii. And just like travelers at the airport, they want to ogle and love on Kalani in lieu of their absent furry family member. We enjoy hearing where they call home, what they've been doing during their trip, and sharing tips we've learned that might help them.
It's been a long and strange journey, full of ups and downs, joys, frustrations and trade-offs, but we're very happy we made the move and are still in awe of what we've accomplished. Moving is said to be one of life's most stressful events, mentally and physically exhausting and even traumatic. It is all of that, especially after this many trips around the sun and nearly a half-century in our prior home. But we wake up every day and go to sleep every night appreciative and grateful for the opportunity to be here.
One visitor looked me in the eye and asked, "Are you happy living here?" I spoke from my heart and replied, "Absolutely. No regrets."
With much Aloha, I wish the same for you.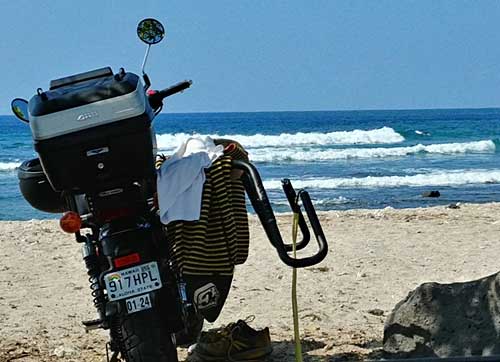 When you only have a two-wheeler and you HAVE to get your board to the surf breaks!
(Pine Trees Surfing Beach)
ABOUT THE AUTHOR
| | | | | |
| --- | --- | --- | --- | --- |
| | Vicki Andersen has been writing about travel, skiing, snowmobiling and motorcycling for more decades than she cares to admit. A third-generation native Oregonian, Vicki had her first skis strapped on her feet at age two by her loving Dad. This eventually led her to 26 years as a part-time Level III Certified Alpine ski instructor. Vicki has been a ski editor, associate editor, regional editor, contributing editor, regional correspondent, staff writer, features writer and/or columnist for numerous publications. An active member of SATW (Society of American Travel Writers) since 2000 and NASJA (North American Snowsports Journalists Association) since 1984. In 2000 NASJA honored her with a rare Lifetime Membership. Over 300 of her stories for more than five dozen local, regional and national outlets have included adventures in Iceland, Fiji, New Zealand, the Pacific Rim from Alaska to Hawaii, and across Central America and Mexico. | | | |