The capes we wear

Superman tattooed on one arm,
Batman taking up the other,

original Wonder Woman on thigh,
you leave her, heinous, behind,

steer for Montana, last best place
to escape. Wine in cooler, extra capes

in the trunk, you hum I'd do anything
for love (but I won't do that),

reach Missoula, Sula, Lost Trail Pass.
You batmobile hard into the Big Hole,

keep sharp lookout for evil in cutoffs.
Wisdom is a speck in the distance.

(published by Mad Swirl; republished in Best of Mad Swirl: 2020)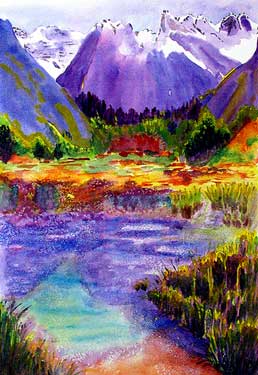 Mountains, painting by Mary Dale