To Exxon 30 years later
(after "To Exxon" 1989)
 
Pipeline, tanker began the sadness.
Your legend as robber baron hangs on,
keeps memories of ebony ice alive, 
 
takes us back to frozen tundra
primed with promises even caribou
knew were lies. We still feel pain
 
receding glaciers can't scrub away.
Recall how we tromped black sand,
piled oil-soaked murres, seals, otters
 
shoulder-high, set them ablaze.
We collected bald eagles fallen
from slick sky, tossed them, too,
 
onto the pyre, watched it outshine 
endless dusk. Puffins staggered in,
vainly tried to preen, white feathers
 
matted down. They wobbled
to Prince William Sound, drooped, 
drowned. At night we burned ice
 
to stay warm. Your lawyers slapped
our backs in bars, bought drinks.
The high court, nine sleek crows —
 
a murder of them — put out of mind
seabirds, over a quarter million,
thousands of otters, hundreds 
 
of seals, whales, all perished, 
their kind never again to thrive.
The court believed your tale: a tragic,
 
terrible event … one for which…
(Exxon) has paid dearly. They found
no reason for a severe fine. Shores 
 
lie bare now, thick oil still oozes
beneath beach rocks. Beach workers,
seabird washers, the Valdez,
 
all, gone. Skimmers, booms, 
the dead, buried deep in black past.
We dream on Arctic nights —
 
lightning strikes, the whole bay
catches fire, flames race to shore,
find you, burn you out of town. 
 
We wake to salted tears and hate,
twin tides coming on schedule
to spread the hidden crude around.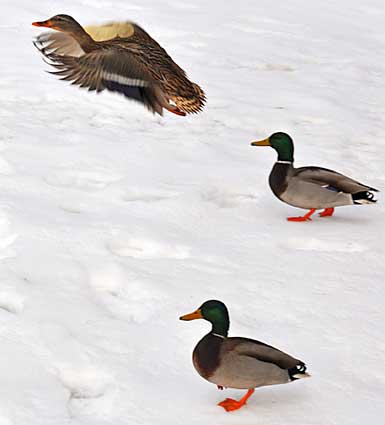 ducks and snow, two left behind