| | | |
| --- | --- | --- |
| | CRUISE COVID PRECAUTIONS | |
| | Story and photos by Yvette Cardozo | |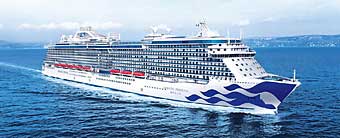 Majestic Princess

In more normal times, boarding a large cruise ship with 3,500 strangers is not exactly high adventure. But in these weird days with the history of Covid-19 infections on cruise ships, yes, it definitely can be just that.
Enter current attempts to keep everyone safe and reassure passengers, all while having a good time. Meanwhile, also presenting vaccination proof, being aware and, on at least a few cruise ships, wearing bracelets or medallions so your location can be tracked. Just in case ....
My last cruise was on a circa 1981 Russian icebreaker in 2001 to Antarctica. Among the more fetching 'tech' items then was a brass arrow set in a semi circle of degree numbers on the bridge to show just how far over we were listing in the Drake Passage. (Scary-far indeed, as it turned out.)
So my recent tour of the Nieuw Amsterdam and Majestic Princess while docked in Seattle, both owned by Holland America Line, was an eye opener to say the least.
| | | | | |
| --- | --- | --- | --- | --- |
| | | | | |
| | Bedroom on the Majestic Princess | | Cruise staff captain on the bridge | |
Cruise lines are frankly worried about ship-wide infections of any sort. This not only includes Covid-19 but norovirus and who knows what else. So there are measures, restrictions, lists of suggestions. And, of course, those medallions.
As you board these days, there are the temperature checks and the usual questions (cough? chills? body aches, etc.) that virtually everyone has encountered entering doctors' offices and such.
Staff and crew this summer aboard Holland America ships ALL wore masks, though passengers are not required to do that or practice social distancing (though if you want to, it certainly is encouraged). This is because the aim is for a 95 percent vaccination rate ship-wide, which is why, this summer, neither ship allowed children under 12.
Gentle safety suggestions are EVERYwhere. In all bathrooms in public areas, there are signs reminding you to wash your hands and use a tissue to open the door.
Gone is the time-honored buffet. Now everything, including coffee refills, is served to you. Air filtration aboard ship is upgraded with special filters and in some areas, ultraviolet lights. And the medical center has HEPA filtration.
| | | | | | | |
| --- | --- | --- | --- | --- | --- | --- |
| | | | | | | |
| | Entry to stateroom | | Activity signup screen | | Tracking medallion | |
Initial ships carried only 60 percent of full passenger capacity. The plan was to gradually ease the percentages upward in successive sailings. There were plans to eventually have 10 round-trip sailings each to Alaska this summer for both the Nieuw Amsterdam and Majestic Princess. In the end, Holland America ships expect to have 83 total sailings this year compared with their last full summer, 2019, of 200.
And yes, the cruise ships are as excited about returning passengers as the public is about resuming cruising. When we, the press group, entered the Majestic Princess for our tour, we walked through a double row of crew, applauding thunderously. This was also done for passengers entering for their initial cruise this year.
Meanwhile along the lines of tech, there are TV screens throughout the ship where you can see what activities (say, games) are available and how many people have already signed up, then decide if you are comfortable with those numbers and if so, join. The usual safety drill is also conducted on the screens so you don't have to crowd on deck with other folks. You can even check the number of people in the dining room. And an app allows you access to all this on your cell phone.
| | | | | |
| --- | --- | --- | --- | --- |
| | | | | |
| | Guests welcomed aboard the Majestic Princess | | Weloming comments by press representative | |
This system incidentally also lets you figure out where on the Majestic Princess you are. (Don't laugh. Even a crewman, fairly new to the ship, admitted he sometimes has to use it.) Then it tells you how to get where you want to go. Remember, there ARE 19 decks on this ship.
The bridge looks like something out of latter-day Star Trek with arrays of screens filled with whatever information is needed. I asked Staff Captain Petar Lesic how many years it took him to master all of this. He said he is still attending classes and has been for 25 years.
Which brings us to those medallions. The medallion is a watch-sized button you can wear on your wrist or on a lanyard around your neck. They are water-, heat-, cold-, and sand-proof. Each medallion is a personal tracker.
The system has been used on Holland America ships since 2017. So it was in place before Covid-19 with the idea of helpfully connecting people on the ship and also allowing them to order things (coffee, snack, forgotten sunscreen) remotely. And it will continue after the virus is gone.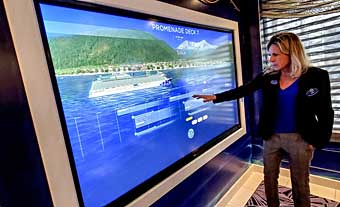 Cruise guide explains an activity signup screen
There are, according to Princess, eight "smart" ships in its fleet with what they call Ocean Medallion technology. People these days are used to doing everything via their phones, so this was developed to be simply one more user-friendly application.
Some of us—of a certain generation—might be a bit uneasy about Big Brother, but we were told this has become necessary for contact tracing if some sickness (norovirus, Covid, whatever) breaks out. We're talking nearly 5,000 people (passengers and crew) in an isolated, closed environment, so it makes sense.
While the tracking system that can be accessed by passengers wanting to find out where family and friends are can be turned off, the tracking by the cruise ship, itself, cannot.

Among other things, the medallion automatically unlocks your stateroom door as you approach. And it can be used to order anything you need ... sunscreen, toiletries, coffee - you get the gist.
| | | | | | | |
| --- | --- | --- | --- | --- | --- | --- |
| | | | | | | |
| | Screen showing deck plan of Nieuw Amstedam | | Snacks available on the Majestic Princess | | Woman snacking on the Majestic Princess | |
An interesting scenario could present itself where you might order coffee to be delivered to your room, then change your mind and head for the pool. Et voila! The coffee finds you at the pool, thanks to the tracker and 6,000 sensors throughout the ship.
What happens if you lose the medallion and some kid picks it up and tries to order a beer? Turns out your security photo (uploaded by you during pre-boarding preparations) is linked to your medallion, and if your face and the photo don't match, the sale won't happen. Also, the minute you let a crew member know the medallion has gone missing, it can be disabled and replaced with a new one. For further protection and security, it is possible to add a PIN number to the medallion.
"The cruise industry has become incredibly important to the economy of cruise ship port cities," said Jan Swartz, president of Princess Cruises. "In Seattle, alone, the cruise industry contributes an estimated $900 million to the economy and supports 5,500 jobs. Cruise ships each year carry 1.3 million of Alaska's two million tourists and contribute $3 billion to its economy," she added.
And so, welcome to 21st Century large ship cruising.