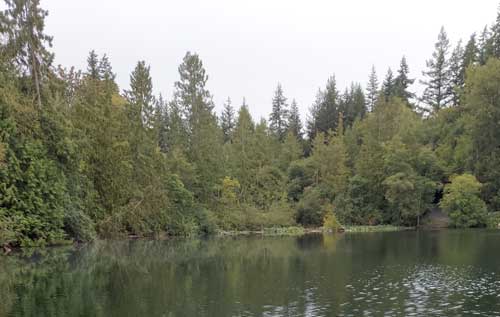 Can you spot the underwater Sasquatch garden in this photo?
Me neither, but it's supposed to be right there at the western end
of Toad (Emerald) Lake in NW Washington State.
As I asked last issue, "Heard any good Sasquatch stories lately?  Do you wonder where they are when you're hiking in the woods?  Do you keep a camera handy just in case?"
Fresh in my new job as a TV cameraman (no camerawomen in those days), my first assignment for the news was to shoot film (no video in those days) of 14 local news reporters and cameramen being led through the wooded mountains of Northwest Washington State on a Sasquatch-finding mission.
The Sasquatch hunter who led us was a very persuasive guy who could ignite enthusiasm with his impossible stories. He had a little box of hair and rocks that he insisted came from Sasquatch and which he said he had insured with Lloyd's of London.
| | | | | |
| --- | --- | --- | --- | --- |
| | He had reeled us in one by one with visions of underwater Sasquatch gardens in a mountain lake, Sasquatch lookout posts along the trail to the Bat Caves where they lived, and the promise of seeing firsthand evidence of gift exchanges between himself and a Sasquatch family. As a group, we traveled first to Toad Lake (tastefully renamed Emerald Lake by nearby property developers) to see the underwater gardens. We could see stuff growing in the shallows, but if that wasn't convincing enough, the Hunter pointed out the sunken logs in the garden which he said were used by the Sasquatch gardeners to anchor their feet under and give them leverage as they toiled in the garden. | | | |
| | | | Sunken logs to anchor Sasquatch feet under while they garden. | |
I knew that my TV cred depended on my coming back to the station with newsworthy film. I didn't shoot any of the gardens because, well, I didn't see any news going on. It wasn't like we were watching the gardeners; we weren't watching anything going on except the Hunter spinning his yarns.
| | | | | |
| --- | --- | --- | --- | --- |
| | | | | |
| | Who is to say this is not a Sasquatch trail? It leads directly to an underwater garden area. | | Here the Sasquatch have blocked an overused trail, and they can post lookouts on the log to keep their woods private. | |
I hoped for more news on the hike up the Chuckanut Mountains to the Bat Caves. But it was more of the same imaginative things that Sasquatch could be doing in places our guide showed us. There was a Sasquatch lookout tree stump, a Sasquatch urinal in a hollow tree stump, but the main thing on the mountain he wanted to show us was the gift exchange at the entrance to the Bat Caves.
The night before he led us up the trail he had left gifts for the Sasquatch. These included a jar of peanut butter, some rock music posters, various packaged food items, and some toys. The toys were put there because he considered himself to be a toy inventor and some of his inventions had actually been manufactured, prototypes actually - not mass production.
Anyway, our guide was bereft to discover when we got to the Bat Caves that nothing had been touched. Not only had the Sasquatch not accepted his gifts, they had gifted him nothing in return.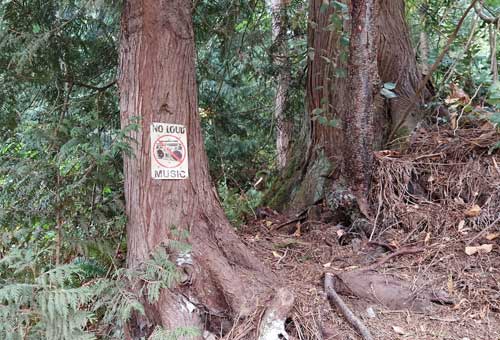 This "No Loud Music" sign frankly puzzles me. I wouldn't think Sasquatch would know how to make a sign, and if loud music bothered them I'm sure they would find other means to deal with it. So likely it was humans who put up the sign. But does Sasquatch music bother humans and do they think Sasquatch can read? I just don't get it, but this is clearly this is an area
heavily used by Sasquatch..
So in short, for my first TV news assignment, I missed the actual news - 14 newsmen being conned by a really good con artist. That would have made a pretty snarky-good story.
Even though we chuckle at a good Sasquatch story now and then, we do stay alert in the woods just in case.
ADDENDUM: Bigfoot fun
BigFoot strongly opposes the new BigFoot Hunting Bill!
In January 2021, Oklahoma Rep. Justin Humphrey introduced a new bill to the state legislature in a proposal to open up licenses for Bigfoot Hunting Season. Incidentally, the illusive BigFoot was last seen in Oklahoma after taking time off from his busy book tour. BigFoot is the star of the best-selling children's seek-and-find and activity book series by D.L. Miller. In this series, BigFoot appears in seek-and-find books such as BigFoot Goes on Great Adventures and BigFoot Goes on Big City Adventures as well as activity books such as BigFoot Fun Book. 
WAIT, THERE'S MORE:
Here is a report on US Sasquatch sightings by state. Briefly:
States with the most sightings: 
1. Washington
2. Oregon
3. West Virginia
4. Idaho
5. Montana 
States with the fewest sightings: 
1. Nevada
2. Rhode Island
3. Massachusetts
4. Connecticut
5. Delaware