VISITING FORT ROCK AND ITS MUSEUM
Time Travel into the Not-So-Distant Past

Story and photos by Lee Juillerat

Fort Rock at sunset
A time machine isn't necessary to retreat to another era. Just visit Fort Rock and the Fort Rock Valley Homestead Village Museum.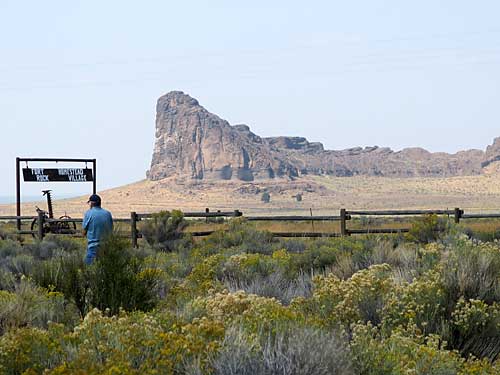 Fort Rock Museum and "The Rock"
Located in southeastern Oregon, Fort Rock and the neighboring outdoor museum represent eras gone by. The region takes its name from Fort Rock, the crescent-shaped landmark that dominates the desert landscape. The massive tuff ring, which has sometimes been called a petrified version of the Roman Colosseum, was created by a series of eruptions an estimated 1.6 million years ago. Because the lava dome in the center of the caldera was underneath a prehistoric lake, instead of sending out volcanic debris over a wide area, it was concentrated in a large ring. Its southern rim was eventually eroded by waves from the lake, creating the amphitheater-like bowl.

More than million years later, hopeful homesteaders settled the high desert region, an area known for its harsh winters and sparse rainfall. The homestead period began shortly after the turn of the 20th Century and peaked in 1912 when families, wanting to own their own land and farms, settled the Fort Rock Valley. The Fort Rock Post Office was established in 1908.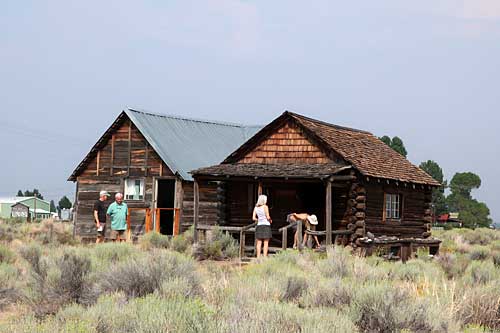 Fort Rock Museum visitors explore the Homestead Village
Lured by promises of rich soils that would yield bountiful crops of cherries, pears, apples and plums along with crops of wheat, rye, oats and barley, settlers populated the valley with a peak population of 1,200 in 1916. But only a year later massive out-migrations began after years of beggarly rains. During much of the early settlement years the precipitation had been unusually plentiful. From 1909 to 1913 the five-year average precipitation was a relatively bountiful 11.61 inches. But those averages spiraled downwards to 7.9 inches from 1914 to 1918, triggering an exodus that left less than a hundred people in the valley by 1920.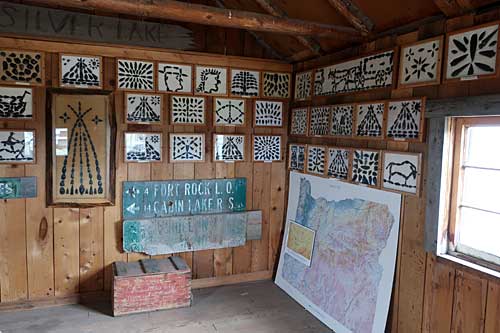 Fort Rocks Museum Artifacts Room
Beginning in 1988, Fort Rock Valley people began gathering remnants of what the disappointed and disillusioned left behind. A doctor's office, several cabins, homes, a school house, blacksmith shop and several other buildings have been relocated at the outdoor museum. Opened in 1988, it's a retreat to times past.
| | | | | | | |
| --- | --- | --- | --- | --- | --- | --- |
| | | | | | | |
| | Fort Rock General Store | | Inside looks the same | | Homestead era necessities | |
Among the buildings that received an historical reprieve is the Fort Rock General Store, which had been used as a store, residence, furniture repair shop and loafing shed for horses until being added to the museum in 2009. Its interior recalls its origins as a general store, the shelves lined with items that homesteaders shopped for nearly a century ago.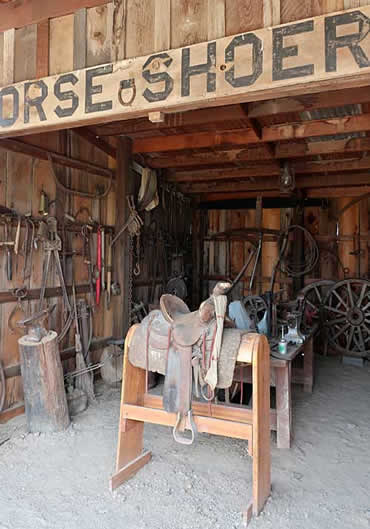 The Blacksmith Shop
Members of the Fort Rock Valley Historical Society, the group that operates the museum, moved the store from its original location four miles out of the small village of Fort Rock in the 1960s. It's the only homestead era store that survived fires that razed the Fort Rock Hotel, livery stable, creamery, newspapers and blacksmith shop. The store is just one of several on the museum grounds and all have histories.
Remembering school days
The Sunset School was made from two homestead buildings placed end-to-end and was originally located six miles east of Fort Rock. Because of declining populations, it was moved to Cougar Valley as a schoolhouse in 1929. It was next moved to Fort Rock in 1953 and used as a Sunday school, but was added to the museum when a new community church was built.
| | | | | | | |
| --- | --- | --- | --- | --- | --- | --- |
| | | | | | | |
| | St. Bridget's Catholic Church | | Inside the church | | Painting of historic church | |
Possibly the village's most recognizable building is Saint Bridget's Catholic Church, built in 1918 in Fleetwood, a former community about 11 miles east of Fort Rock. The church is still used for weddings and memorials. Grants have been used to place the church on a foundation, repair various interiors, and continue the ongoing installation of shingles and siding.
| | | | | |
| --- | --- | --- | --- | --- |
| | | | | |
| | Inside a village cabin | | A child's doll | |
There are other vintage buildings – the Menkenmaier Cabin, Stratton house, original land office, blacksmith shop, Dr. Thom's office, Belletable House, Boedigheimer and Webster cabins, along with old wagons and gas pumps. Preserving homestead era buildings was a goal of the Fort Rock Valley Historical Society founders when they first organized in 1984.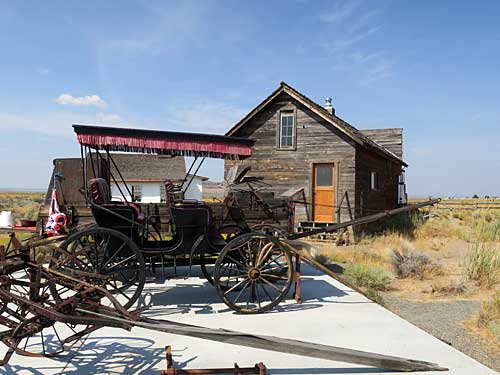 Buggy
Unlike most museums, the buildings are completely open, with no barriers or screens to separate visitors from desks, beds, dining tables, books and others items used by some of those early settlers. Handouts tell stories of each building, such as the Stratton house. It was built single-handedly by Fred Stratton, a carpenter who moved to Fort Rock from Michigan with his family and two sons in 1912. More elaborate is the Belletable house, which was built about 1914 for Alex Belletable and his wife, French immigrants who moved from Philadelphia to Fort Rock. They were regarded the valley's wealthiest homesteaders, and household items and other features reflect that wealth. But after planting three rye crops, and seeing them blow away three times, he and his family left the valley in 1922.
Houses feature classic old wood stoves
Jana Kittredge, one of the museum volunteers, said the museum was created to preserve and protect homestead era structures. She said men like the horse-drawn farming implements and old gas pumps while women like the primitive kitchens and vegetable garden. Youngsters, however, like the old chuckwagon and school but, "Everybody likes to explore the nooks and crannies of these simple homes, church, and school built before electricity arrived here in eastern Oregon's desert. There's a lot to see. We like to have people come and discover."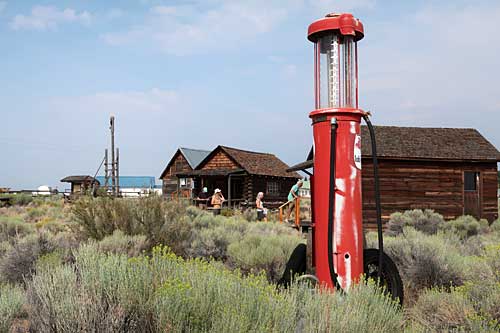 Old gas pump is part of the village
Visible from the museum grounds and just a short drive away is Fort Rock, "The Fort." Now an Oregon State Park, Fort Rock and the museum are places I've visited for more than 45 years, often with first-timers who marvel at the Fort and gain perspectives of days past at the museum. Most visitors explore the park day-use area from the inside by following an old road and hiking trails around its interior. People who climb to overlooks are rewarded with expansive High Desert views.
| | | | | |
| --- | --- | --- | --- | --- |
| | | | | |
| | Fort Rock State Park | | Irregular magma wall | |
An unofficial trail that loops around The Rock's outer perimeter is another path for exploring the park. Hiking outside The Rock offers views of exterior walls where waves from ancient Lake Chewacucan eroded those walls, gradually carving terraces. Wave-cut terraces on the south side of The Rock show historic lake levels of the long-ago lake. Geologists believe the area's predominately south winds gradually eroded the ring's south side, creating the south side's large opening. From the outside looking in, narrow creases in the Rock's outer walls expose short, narrow passages into the erratically hardened magma. In other places, the overlapping, uneven layers of magma create pockets some believe look like three-dimensional faces, animal carcasses or skeletons. Other walls are colored with brilliant yellow and orange-red lichen, and some have sections where escaped gases have created weirdly formed cavities.
Hiking in or around The Rock in any season is an adventure, but fall temperatures are a good substitute for summer's often blistering heat.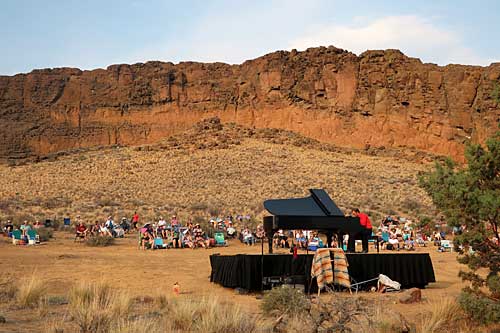 'In A Landscape' concert at Fort Rock
No time machine is necessary to visit Fort Rock and its neighboring homestead museum, but any time of year, it's worth taking the time.
*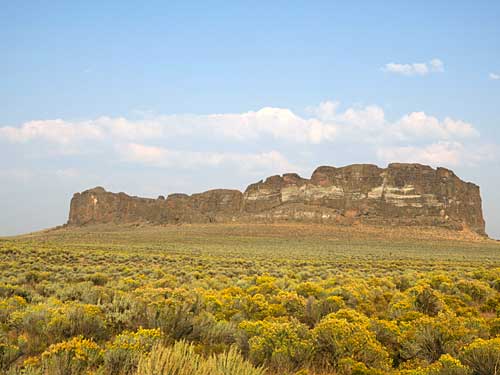 Fort Rock stands out on Oregon's High Desert
The Fort Rock Valley Historical Society Homestead Village Museum in community of Fort Rock is open from 10 a.m. to 4 p.m. Fridays, Saturdays, Sundays and holiday through the October hunting season. The museum is also open by special request. A reception center has restrooms, artifacts displays and a small gift shop. Funding for the historical society and museum comes from membership dues, gift and book sales, donations, grants and entrance fees – currently $5 for adults but increasing to $6 in 2022, and $3 for youth age 6 to 17 and free for youth 5 and younger. For information call 541-576-2251 or visit the website at http://fortrockoregon.com.
About the Author

Lee Juillerat is a semi-retired reporter-photographer who lives in Southern Oregon and is a frequent contributor to several magazines and other publications. He has written and co-authored books about various topics, most recently "Ranchers and Ranching: Cowboy Country Yesterday and Today." Lee has produced photo-stories about U.S. and worldwide travels in High On Adventure for more than 20 years. He can be contacted at 337lee337@charter.net.