| | | |
| --- | --- | --- |
| |  ADVENTURING IN NEVADA AND OREGON'S OUTBACK | |
| | Story and photos by Larry Turner | |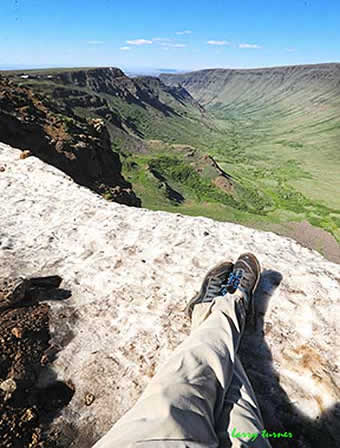 "Ok, gear it down to low, give it plenty of gas and lean forward standing up when you reach the top of the bank," my friend John Paulson calmly yelled out, when he saw my predicament in the stream. I was trying to make my fifth crossing of Kiger Creek on a 4-wheeler when I spun out and rolled back into the creek. At least I didn't tip over, which is dangerous when bushwhacking in the outback. With my limited experience of riding a 4-wheeler, his advice was welcome. I did just as he said, and I catapulted over the bank like a cork from a Champagne bottle! My nephew Max Crawford, who witnessed the event, blurted, "Way to go Uncle Larry! Boy, did you get some air!" I told him that for a moment, I thought that I was on a live buckin' bronc, instead of a steel motorized bronc. We would make 20 stream crossings that day, and each was memorable.
It was June 2021. We were adventuring up Kiger Creek, in Kiger Gorge, Steens Mountain, Oregon...a 23-mile one-way trek by 4-wheeler. We were the first to go in for the new year. Several times we had to power-saw fallen trees and clear them away from the overgrown trail. John, Max and I had single 4-wheelers. Brother-in-law Rob Crawford rode with Johnny Thissell in his brand spankin' new side-by-side with a roof (we were jealous)! Thissell took two days off from his Roaring Springs Ranch watering chores to be our guide. Fred Otley would join us half-way through the ride from his ranch. Fred happens to own a fair amount of the land that we were passing through. Our final destination was on the edge of the Steens Wilderness, delineated by a fence separating public property from private property. Once, Fred and his family owned the Kiger Gorge in its entirety. Land trades with the Bureau of Land Mnagement demarcates the current boundaries.
ALDER CREEK RANCH ADVENTURE
The Kiger Creek expedition was the culmination of a two-week outback adventure which John and I had planned the previous year. We started with an adventure-filled week at Nevada's Alder Creek Ranch, followed by a week at the historic Roaring Springs Ranch outside Frenchglen, Oregon. Rob and Max joined us for part of the Roaring Springs Ranch stay.
John and I had our covid-19 vaccinations earlier in the year, as had our hosts Janet and Buck Johnson, owners of Alder Creek Ranch. ACR is an historic ranch sequestered away in isolated Northwest Nevada, at the foot of the Pine Forest Range. Thirty-plus years ago my late cousin Sam Prescott (along with my brother Randy) was piloting a small plane that crashed above Onion Reservoir (the water rights from this belong to the Johnsons) in this Range. All four aboard miraculously survived.
Via 4-wheelers on gnarly roads, John and I took day trips into the Range to explore, photograph and fly fish. Often, we never saw another human soul. It is a land of grand views, a bounty of wildflowers, lovely quaking aspen stands and more than anything, deep solitude for the mind, heart and soul. We reveled in every day-trip that we took.
In preparing adventures in isolated country such as this, make sure you take along plenty of water, food, first aid kit, a fully charged phone (there is service in the higher open reaches), sunscreen, a wide-brimmed hat (it can get mighty hot), a full tank of gas, binocs and a topographical map...no matter if you travel with a 4-wheeler or in a vehicle. Motor homes and large trailers are a no-no for this neck of the woods! Four-wheel drive is a necessity. The weather was in the 90s every day, so generally, we got early starts for our day expeditions. Note too, that the largest towns (Winnemucca, Burns, Lakeview) for supplies are over one-hundred miles away. Limited supplies can be found in Denio Junction, Fields and Frenchglen.
John had never been to the famous nearby Black Rock Desert where Burning Man takes place and where the world speed vehicle record was set. So one day we set out in his vehicle and made a circle around the Pine Forest Range, mainly via dirt roads. The Black Rock Desert reaches to the base of the southern flank of the Pine Forest. En route, we discovered some old abandoned mines. Mainly though, it was just big open vast country with nary a soul. We saw no deer which was surprising, but we did see a few pronghorn antelope. The out-of-control mountain lion population has wiped out a lot of the deer herds, once famous in this neck of the woods.
When not on our 4-wheelers, we had down time at the ranch to relax and read. Not once did we watch television. We also witnessed and participated in the working ranch life at Alder Creek. The Johnsons have three young adult children who work actively with them on the ranch. It was a pleasure to do camera documentation of their lifestyle which imparts early a work and cooperative ethic that carries on into adulthood. One new surprise at the ranch, from the year before, was the use of the One-Wheel (www.onewheel.com) by all three (Layton, Lane, Mattierose) Johnson young adults for ranch chores and pleasure. "We save a lot of time by using them," said Layton. "And they are a blast!" One day I photographed them roping calves via the one-wheel, probably the first such documentation on the planet.
ROARING SPRINGS RANCH
I always enjoy the drive from the Alder Creek Ranch to the Roaring Springs Ranch. The drive winds between basins at the foot of mountains, including the Pine Forest Range, Pueblo Mountains, Trout Creek Mountains and Steens Mountain. And of course, after leaving Nevada, the first stop is in the little hamlet of Fields, known for their world famous milkshakes - thick and succulent. Store owner (www.thefieldsstation.com) Jaide Downs from Broken Bow, Nebraska, made me a Heath Bar shake, with many broken pieces of Heath in it. I can't count how many calories that I consumed, but boy, was it worth it! Note: in the summer, they often stop making their shakes around 4pm, so make sure you get there early (call 541.495.2275 if you are running late and need to order one) as once that happened to me, leading me into a mild depression!!!
Freshly 'shaked up,' John and I left Fields and made our way to the Catlow Valley where the Roaring Springs Ranch headquarters are located. I had made previous arrangements with ranch manager Stacy Davies to stay in the Rock House. The RSR is not a small fry ranch. It covers a million and a half acres. There are no rooms to rent here, so you'll have to make arrangements to stay in nearby Frenchglen (www.frenchglenhotel.com) or tent/trailer camp in and around Steens Mountain. John was our official chef who prepared many memorable meals, accompanied by some delightful wines brought by Rob and me.
Except for the Kiger Creek expedition (where we spent one night), we took day trips from the ranch, including a drive to the top of the Steens (the highest road in Oregon, 9,733 feet) and made a fly fishing adventure to Fish Lake. A day trip to the top of the Steens is a must! The views are enchanting, limitless, inspiring, and include Wildhorse Lake, the Alvord Desert, the Trout Creek Mountains, and Kiger/Big Indian/Little Indian/Blitzen Gorges. With the unseasonable heat down in the lower reaches, it was a pleasure to be in the higher, cooler zones. I took my inflatable kayak to fly fish Fish Lake. John took a float tube.
KIGER GORGE 23-MILE ONE-WAY EXPEDITION
At the top of Kiger Gorge, we looked all around and made mental map notes for our upcoming 4-wheel journey. We would have the pleasure of knowing it top to bottom within a week's time. I sat on a snowfield and photographed the Pinnacle and other landmarks. We camped below the Pinnacle a few days later.
Our bedrolls, tent, food and gear, we tied on the back of our 4-wheelers. We took a cooler filled with ice, food, drinks. I brought a watermelon. Our 23-mile journey in was challenging, arduous, captivating. It was a pleasure to be along Kiger Creek the entire way as daytime temps reached 100 degrees. Several times, I stopped to cool my face and wet my hat. Wildflowers lined our route the entire way. We placed our camp near the creek in the open near a large aspen stand. All of us went fishing after we set up our tents and camp. I kept a couple of small rainbows for breakfast. Rob made us a steak dinner. The evening stars were enchanting. I set up my tripod and did several time exposures.
We had a leisurely camp morning, then made our way back to the Roaring Springs Ranch Diamond Headquarters. I stopped and photographed some arborglyphs, carved long ago by Basque sheep herders in the bark of aspen trees. Unfortunately (but ultimately fortunately) on the return trip, I had a flat tire a mile before Fred Otley's Ranch. I nursed the 4-wheeler to the ranch, left it there, and retrieved it later that afternoon with a pickup and trailer. John said that had I had the flat deep in the Gorge and we were unable to repair it with the tire kit, it might have been another day or two to get it repaired, as we would have to 4-wheel out and return.
The Kiger Gorge trip wrapped up a lifelong ambition of mine to have explored the entire length of the Gorge. Years ago, I had once gone in from the top by foot and another time by horseback, both times exploring all the way to the Pinnacles, but not beyond. Another check off the Bucket List! Well, not exactly, as next year, we plan on going back in again, but for at least two nights!
Important Info:
https://en.wikipedia.org/wiki/Steens_Mountain
https://www.visitoregon.com/steens-mountain-oregon/
https://onda.org/recommendations/visitors-guide-steens-mountain/
https://onda.org/recommendations/visitors-guide-steens-mountain/
https://www.nevadawilderness.org/pine_forest_range_wilderness
https://en.wikipedia.org/wiki/Pine_Forest_Range

| | | | | |
| --- | --- | --- | --- | --- |
| | Larry Turner is a regional, national and international photographer/writer. His work has appeared in countless magazines and books, including National Geographic Traveler, Travel and Leisure, and Sunset. He is the co-author of the book Mount Shasta Reflections, and his photographs have appeared on many covers. He is an active skier, gardener, fly fisherman,  and adventurer. | | | |