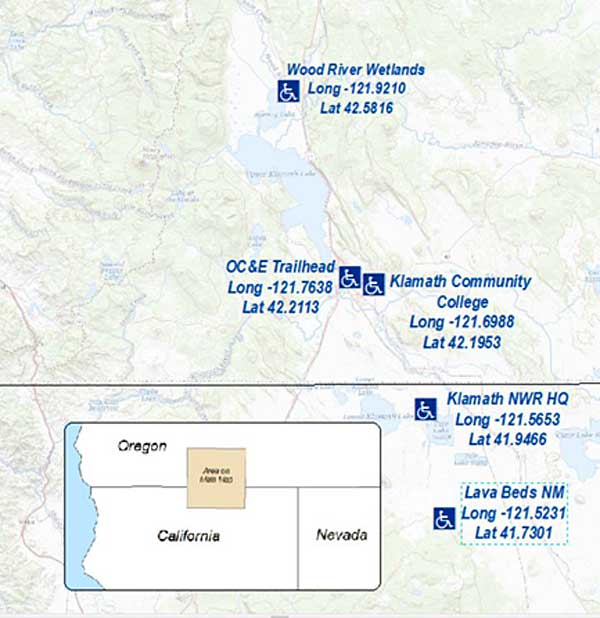 The Klamath Basin is the wild, vast, beautiful country that straddles the 42nd parallel, starting
from the springs in Klamath County Oregon and ending at the Pacific Ocean in California.
We live in the Klamath Basin for many reasons, and outdoor recreation is one of the greatest appeals. My wife Wendy hiked and backpacked almost every trail in the Sky Lakes and Mountain Lakes wilderness areas, sometimes alone, often with her friends, sometimes with me and/or a combination of the above.
These adventures came to an end after a devastating injury in 2001. Or did they…? Although unable to hike steep hills, she wasn't about to give up adventuring, so we found ways to continue exploring. Wendy went from a wheelchair to a walker, then to a recumbent trike, which she wore out, and then to another souped-up recumbent trike.
| | | | | |
| --- | --- | --- | --- | --- |
| | | | | |
| | Wood River picnic table designed to include wheelchair users. | | An ADA-compliant picnic table in use as intended, in the Wood River Wetland Recreation Site. | |
In this piece, I'll focus on places in the Klamath Basin that are accessible to people with mobility impairments, and who use wheelchairs and other mobility devices. We'll start close to home, then work our way out.
But first, a quick overview of what "disability" means. Legally, in the US, it is codified in the Americans with Disabilities Act of 1992. A subsection of this includes Outdoor Developed Areas, which provides guidelines and regulations on everything from picnic tables to wilderness areas.
| | | | | | | |
| --- | --- | --- | --- | --- | --- | --- |
| | | | | | | |
| | Accessible Parking and Trail Signs at Klamath Community College | | Wood River trail users | | Wood River bathroom | |
As an aside, for those of you have never watched the Paralympics, in particular those recently in Tokyo, it can be a most inspiring experience. There is no such thing as a disabled person; there are only people with different abilities. Just ask a Para-Olympian, their families, friends, coaches and supporters.
Exploring the Klamath Basin is for everyone. Let's begin our tour in the heart of Klamath Falls, the region's largest city.
Stretching from Klamath Falls to the Sycan Marsh, the 109-mile OC&E Woods Line State Trail is open to all forms of non-motorized recreation. The last 101 miles, starting in Olene, have various non-paved surfaces with varying degrees of steepness and may not be accessible to all mobility devices. However, the first eight miles, from the main trailhead off Washburn Way to Olene, are paved and mostly flat. Numerous adjacent parking areas offer accessible parking, curb cuts and cross walks.
Just before the junction with Hwy 39, there is a spur from the OC&E that leads to Klamath Community College. By navigating the ADA-compliant sidewalks, users can tie in to a series of fitness trail loops of half-mile, one, and two miles, all well-signed. There is free parking at the college. Not all loops are complete, however, and it is recommended not to go on unimproved sections due to the prevalence of goat head, a weed with thorns that can puncture tires and skin. (I know this from experience.) BEWARE!
| | | | | |
| --- | --- | --- | --- | --- |
| | The Bureau of Land Management's Wood River Wetland Recreation site, northwest of Chiloquin, offers a half-mile paved trail through lush wetlands that leads to the bridge over the Wood River and to ADA-accessible picnic tables and restrooms. Along the way are signed native plant gardens and spectacular waterfowl viewing. | | | |
| | | | | |
Continuing north, Crater Lake National Park offers several accessible adventures . Except for the cabins, all of the commercial facilities at Mazama Village and Rim Village are ADA-compliant, including the Rim Promenade.
There are also several accessible trails in the park. Godfrey Glen Trail is a one-mile loop with minimal cross-slopes and no grade higher than nine percent. Visitors have completed the trail in manual wheelchairs and other mobility devices. The trail begins on Munson Valley Rd. between Mazama Village and Park Headquarters, and winds through old-growth forest with canyon views.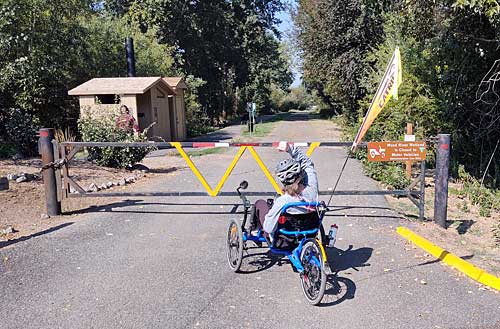 Wood River gate
From the East rim Drive, visitors can explore the Plaikni Falls Trail, one mile down the Pinnacles Road. The first three-quarters of this trail is accessible to wheelchair-users, but the final, short climb to the falls might be too steep. At the end of the Pinnacles Road is the Pinnacles Trail. This flat, wide trail ends at the park's east boundary after one mile. Note: It is not a loop trail. Continuing on the East Rim Drive, the Sun Notch Trail is a short uphill trail that offers great views of Phantom Ship and can be accessible, depending on ability.
Turning south into California, Lava Beds National Monument has an accessible visitor center and accessible campsites. Most of the trails and all of the caves are not wheelchair accessible, but most overlooks offer accessible parking and wonderful views. Along the way from Klamath Falls to Lava Beds is the Lower Klamath Basin National Wildlife Refuge. The visitor center is accessible, as are many of the well-signed wildlife viewing overlooks.
| | | | | |
| --- | --- | --- | --- | --- |
| | | | | |
| | Wood River bridge to accessible trail | | View from the Wood River bridge | |
These are just a few of the many opportunities for ADA-accessible outdoor recreation in our beautiful Basin. As with any visit, do some homework and contact the local agencies for current conditions. Due to wildfires, COVID, and other factors, situations are quite dynamic. As you can see, there is something for everyone here.
Note that the GPS coordinates on the map are approximate, and for reference only. As I tell students in my field geography courses - and everyone, for that matter: Don't trust your safety and life to GPS. Use common sense, and again, inquire locally. With a bit of good planning, anyone can enjoy all that the Klamath Basin has to offer.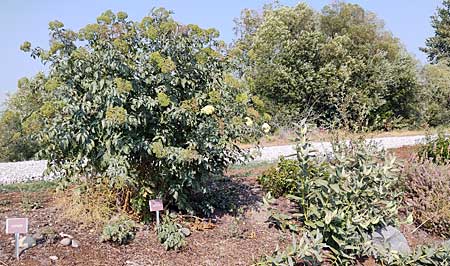 Wood River signed garden