| | | |
| --- | --- | --- |
| | MILWAUKEE BEER | |
| | Story and photos by Yvette Cardozo | |
Does the beer in Milwaukee flow like water?
| | | | | |
| --- | --- | --- | --- | --- |
| | | | | |
| | Kayaking on the Milwaukee River. Note all the bridges...the city has 179 of them. | | Milwaukee beer sampler at City Lights Brewing Co. The flavored beers and ciders have the actual fruit or plant in them. So Dragonfruit has a bit of the fruit added in brewing and coconut porter has actual toasted coconut. | |
Overheard during a recent trip to Milwaukee:
"My jacket smells of beer ... but that's an aphrodisiac in this town, isn't it?"
Yes, Milwaukee IS beer town. Also cheese town and custard town. Folks here KNOW how to find stuff that's tasty.
And, truly, no visit to Milwaukee is complete without a few brewery tours (AND tastings).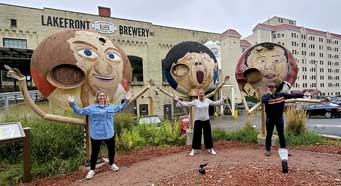 Goofy signs outside Lakefront Brewery
So one day, my friends and I toured some breweries. Three to be exact.
First stop - City Lights Brewing Co. And it turns out breweries brew far more than just "watch the football game" beer.
| | | | | |
| --- | --- | --- | --- | --- |
| | | | | |
| | Inside City Lights Brewing Company's brewery | | Hibiscus key lime hard cider at City Lights Brewing Co. It really does taste like flowers and lime. | |
Ok, I'm a sometime fan of suds. I like beers that are different. Or that pair with, well, different stuff. There were the batter-fried tarantula legs in Cambodia. A bowl of these (tastier than you'd ever imagine) and a pint ... perfection.
So when Calvin Giese, one of City Lights'crew brought out a quartet of Mexican lager, Octoberfest, dragon fruit and coconut porter, I was hooked.
The dragon fruit is one of their hard ciders ... think soda with a kick. I also tasted their hibiscus key lime. Surprisingly, it was not sweet but had a distinct fruitiness with a definite lime aftertaste. The coconut porter made me a lifetime fan. Like the hibiscus lime cider, which does have hibiscus flowers and lime, the coconut porter has flakes of toasted coconut added.
| | | | | |
| --- | --- | --- | --- | --- |
| | | | | |
| | One of City Lights Brewing Company's more unique beers | | Visiting the tower at City Lights Brewing Co. The company originally supplied power to the city and the tower was used to see what lights were working and what was not. | |
The brewery is called City Lights because the works inside their buildings were once used to convert coal to gas, which powered Milwaukee. The bricks are original, from 1901 but the brewery is pretty new, dating to 2019. They offer 13 beers and hard ciders, which they call hard seltzers. And in the short time they've been in business, City Lights has won six competitions and is considered one of the top brewers of the city.
Next, on to Milwaukee Brewing Co., or just MKE (which is also Milwaukee's airline code).
MKE began as a brewpub, but started making its own brews in 1997. Today, it has rotation of year-round ales and over 300 unique seasonal flavors. And some of these, well, I wish I had known to ask for a taste of Citrus Happy Grapefruit. Or especially Louie's Cherry Bounce, which the MKE website describes as "aged an extra two months in bourbon barrels stuffed with Door County tart cherries. The result is a deep amber ale with rich stone fruit and Bourbon character."
I warned you about my, um, unique beer tastes.
| | | | | |
| --- | --- | --- | --- | --- |
| | | | | |
| | Taproom at Milwaukee Brewing Co., also known as MKE | | Production line at Milwaukee Brewing Co (MKE) | |
But I also would have liked to have tried one of their year round releases ... say, MKE Ipa. And their Snake Oil, which is described as a stout (yessss) brewed with cold pressed coffee.
I did try MKE's cream ale which had a surprising sweetness with a lemon/citrus aftertaste and came with a nice creamy head.
Our tour guide, Pat Lafferty, shared a bit of beer history. A recipe for beer was found dating back to 6,000 BC in Mesopotamia. Subsequently, there was the German Purity Law of 1516 which happened because brewers were slipping all sorts of nasty things like sawdust into beer. The law specified that a beer could only include four ingredients: barley, hops and yeast (plus of course water).
Pat recited a bewildering number of barrels that his brewery produces. And just this September, MKE filed a request with the city to up its production to 200,000 barrels a year.
As for Milwaukee's long-time tradition of beer (home of, among others, Schlitz, Pabst, Miller), this comes from Milwaukee's German roots, and apparently the water, which comes from Lake Michigan and is considered really good. Good water certainly helps.
Today, Pat said, the city's tap water is considered second best in the country next to Oregon, though it wasn't always so. A story in 1992 found, how to put it politely ... post-digested organic matter in the Milwaukee drinking water. A flood resulted in a million gallons of waste leaking into the Milwaukee River and 400,000 people got sick. So today, we were told, the water is well filtered before it's used.
| | | | | |
| --- | --- | --- | --- | --- |
| | | | | |
| | Beers offered at Lakefront Brewery | | Lakefront Brewery beer lineup | |
Among the more interesting beer facts ... Anheuser-Busch in St. Louis, MO (think Budweiser) produces something like 11 billion (that's with a B) bottles a year. MKE's yearly production is about 5 million (that's with an M) bottles a year. That makes it a micro brewery, the smallest class which then ramps up to craft and finally, regional.
There are more than 30 breweries in Milwaukee, or as one MKE employee put it, "two or three breweries for EVERY neighborhood in the city."
Hops are added to beer to balance the natural sweetness in the barley, which is the main base of beer. Interestingly, winter beers tend to be more sweet and summer beers more bitter. So summer beers have more hops.
As for carbonation ... those bubbles ... this is added. Porters have less, pilzners and lagers have more.
And someone asked how long a yeast can be used. For a very long time, apparently. There's a beer in Germany still using their original yeast from 1040AD.
Pat also got into the matter of taste.
"Skunky" beer has been what Pat called "light struck." Light, he explained, is the enemy of beer taste which explains why beer is packaged in cans and dark-colored bottles.
And there is the eternal debate over whether what the beer is packaged in influences the taste. The answer: yes and no.
Beer in a can IS likely influenced by the smell of the metal can. But, Pat explained, if you take a beer that comes in both bottles and cans and pour each of them into two separate glasses, they will taste the same.
A final tidbit: Pabst is no longer really a beer. It's a recipe, a label and a trademark. The original Pabst in Milwaukee closed in 1996 after a 152-year run and was resurrected, more or less, in Los Angeles. Exactly what it is today is up for debate. But regardless, its original sign lives on in the middle of MKE's brewery where the "b" and "s" flash on and off. Take from that what you will.
Our final stop was Lakefront, where we got to taste a couple of truly unique flavors. La Gosa Rita (yes, with a G) is called a margarita beer and has, along with the required four ingredients, an assortment of fruit including blueberries, elderberries and ginger. Mostly, it comes off as sour (in a good way) with a hit of fruit.
Then there was the coffee stout. First, overwhelmingly, I tasted coffee, then a kind of sour sweetness. It's odd that those two can co-exist in one drink, but they do.
The mango seltzer IS alcoholic but wow yes, is very mango.
Lakefront also sells Pumpkin Lager in the fall. The brewery's description reads: "Real pumpkin and pie spice join Munich and caramel malts in our brewhouse, then lager for four weeks in our cellar, and come together with all the flavors of a lush pumpkin pie."
The label features a pumpkin with a truly wicked smile. So sorry I didn't get a taste.
And to wrap this up, there is Lakefront's story of the slide.
The old Milwaukee Brewers mascot slide, replaced by...
Photographer unknown



...the new Brewers slide at American Field. When Brewers baseball team has home run, Bernie the mascot goes down the slide.
Photo by Scott Paulus/Milwaukee Brewers
There was, we were told, a huge mug and slide at Milwaukee County Stadium and originally, the team mascot would launch himself down a giant slide into the mug (sans beer) if the Brewers baseball team had a home run. Eventually, the slide-into-a-giant-mug event morphed to a slide-into-a-barrel and finally today at American Family Field, onto a landing pad shaped like home plate. To this day, the mascot slides into home plate for every home run.

And for $150 ($175 on weekends), you, too, can experience the slide on select days. It's best, though, if you don't fear heights. The thing hangs way up there, towering over the bleachers.

Replica of infamous Milwaukee Lakefront Brewery giant mug that the team mascot once slid into after Brewers home runs
Milwaukee Tourism: https://www.visitmilwaukee.org/
Brewers slide experience: https://www.mlb.com/brewers/ballpark/bernies-slide
City Lights Brewing Co: http://citylightsbrewing.com/
Milwaukee Brewing Co: https://mkebrewing.com/
Lakefront Brewery: https://lakefrontbrewery.com/
| | | | | |
| --- | --- | --- | --- | --- |
| | Yvette Cardozo, writer/photographer, skies, scuba dives, cycles, and eats most interesting foods. She has skied in India, scuba-dived the Arctic and Antarctic, run a dogsled team above the arctic circle, and submits photos to Getty Images. A member of SATW (Society of American Travel Writers), TJG (Travel Journalists Guild), and NASJA (North American Snowsports Journalists Association), Yvette's stories appear in the Chicago Tribune, NY Post, Miami Herald, and Dallas Morning News, among other newspapers and magazines. | | | |