Steeped Coffee
When you're out on the trail, hiking and/or camping far from your favorite barista, what's one of your biggest cravings? A darned good cup of coffee? Well, crave no more – Steeped Coffee to the rescue.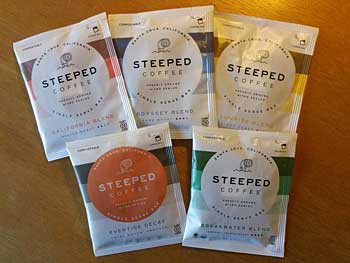 Steeped Coffee brand offers five different roasts
from mild to dark, plus decaffeinated.
This specialty coffee in a single-serve bag is a simple concept. If you can make tea, you can make Steeped Coffee. All you need is a source of hot water and a cup or glass. The big difference lies in the exquisite hand roasting of premium direct trade specialty coffees from around the world packaged in compostable materials with a nitro-seal which removes oxygen, the enemy of fresh roasted coffee for sure. The bags are ultrasonically sealed with no glues, staples or wasted materials for maximum steeping. And there's no powder here – only real coffee. Here's the simple answer to really good coffee anytime, anywhere. No machines, pods, equipment or extra plastic packaging – just darned good coffee.
| | | | | | | |
| --- | --- | --- | --- | --- | --- | --- |
| | | | | | | |
| | First, open the compostable packaging and put the Steeped Bag in your cup. | | Next, pour hot water over the Steeped Coffee Bag. | | Then, leave the Steeped Bag in the cup for preferred taste/strength. Drink after five-plus minutes. | |
Prices and roast choices differ, but you can have a 30-pack box delivered every five weeks for $30 a box. Free ground shipping for all US orders. For more information about pricing, combinations of different roasts and other coffee-related mugs and pots, visit https://steepedcoffee.com/.
(BTW, even coffee snobs love this coffee.)
DrySee Waterproof Bandages
You've just had a surgery, an invasive procedure or you just had a wee accident cutting up tomatoes for your campsite dinner. Bandage time. And preferably, it's a waterproof bandage.
Fortunately, and especially for those of you venturing out in the wilderness, a new waterproof bandage is now available designed to protect your incision or cut and keep it dry while showering, washing your hands, or otherwise getting the area wet.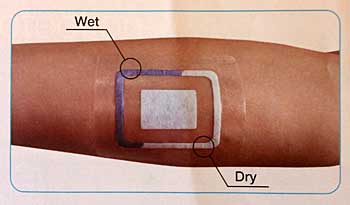 The perimeter band changes color
when that outside part of the bandage gets wet.
The bandage is clear so you can readily see the color change on the perimeter band and change the bandage once the pad over the wound changes color too, signaling that it's now wet and needs to be changed. You can also see by a color change if the wound is weeping or bleeding which also signals a bandage change. Here's how it works.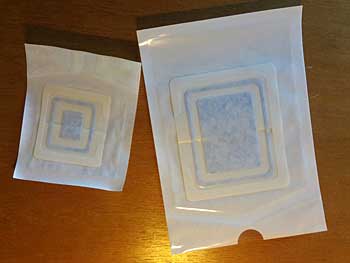 DrySee waterproof bandages come in three sizes,
two shown here: 2"(left), 4"(right) and 5"x10" (not shown.)
DrySee bandages reduce the likelihood of secondary infection and eliminate the need for unnecessary dressing changes. Not only can you shower right away, but you can control your own wound care and reduce the possibility of callbacks to staff or doctors because of complications. Bandages usually last for up to four days. All in all, they're a good thing.
Prices differ for different sizes and quantities, but for a box of six 2" bandages, $19.95; a box of four 4" bandages, $19.95, with free shipping. For more information, visit www.drysee.com.
Old Trapper Beef Steak

We all know it as beef jerky, but Old Trapper's kippered Beef Steak gives the old-fashioned jerky new meaning. Founded 51 years ago in the back of a small roadside grocery store on the outskirts of Tillamook, Oregon, Old Trapper has become the country's second-largest beef jerky manufacturer. Now located in Forest Grove, Oregon, their product uses only the leanest strips of beef, freshest seasoning ingredients and real wood-fired smoke. It's the perfect 'grab-and-go' for any outdoor activity or adventure.

Prices differ for different products, but for a box of 12 kippered steaks, $24 plus $7 shipping. For more information, more product choices, and more lore, visit oldtrapper.com.

Two flavors of Old Trapper Kippered Beef Steak – Peppered and Old Fashioned.
It also comes in Teriyaki.
Ravean Hand Warmer/Power Bank
The cork-covered, hand-friendly Ravean hand warmer/power bank in its attractive packaging.

The Ravean hand warmer/power bank comes with a lanyard and
USB-C/USB-A charging cord.
Yes, both hand warmers and power banks have been done and done and done before. But the Ravean combines the two devices into one with solutions to these issues of remote power and heat that are as stylish and durable as they are warm and cozy. An elegant solution for a chilly outdoor adventure.
| | | | | |
| --- | --- | --- | --- | --- |
| | On one end of the Ravean hand warmer/power bank, you'll find the heat level indicator light on the left, the on/off bar next to it, and four battery power indicator lights to the right. On the other end of the hand warmer/power bank, under a silicone end cap, you'll find ports for charging the warmer itself and for charging other devices. | | | |
| | One end of the Ravean device. | | This device charging itself. | |
| | | | | |
| --- | --- | --- | --- | --- |
| | | | | |
| | | | | |
| | One device charges another. | | The same device warms a hand. | |
The Ravean hand warmer/power bank charges electronic devices such as mobile phones and other devices like this small bike headlight, fits comfortably in the hand (or pocket), and warms according to low-to-high heat settings.

Details:
A sleek portable electric hand warmer that doubles as a power bank.
• 3 heat settings and up to 8+ hrs of heat
• Heats up to 140 degrees F
• Charges small mobile devices up to 1.5+ times
• Cork-wrapped aluminum shell to help retain heat
• Weather resistant

The Ravean Hand Warmer/Power Bank is available online from their website: product, $39.99; shipping $11.50. For more specific information, visit https://ravean.com. (What a great gift for an outdoor adventurer!)
| | | | | |
| --- | --- | --- | --- | --- |
| | Lynn Rosen is an Emmy award-winning TV broadcaster, producer and director, and has been on the Journalism and Theatre faculties at Western Washington University in Bellingham, Wash. She's also a theater critic, travel writer, published author, fearless skier and belongs to the American Theatre Critics Association (ATCA) and the Society of American Travel Writers (SATW). | | | |