SPRING BREAK: SKI SLOPES to the GRAND CANYON,
and STOPS ALONG the WAY (Post Vaccination Meanderings)

Story and photos by Larry Turner
It's nearly May 2021 as I write these words, fresh from a near-month sojourn skiing June Lakes and Mammoth, and soon thereafter, welcoming the warmth of Death Valley National Park. Next, on to Kanab, Utah for a week to explore the red rock country of this region which includes Northern Arizona. I received my J&J one shot covid vaccination in early March.
It was a cold morning when I left my Southern Oregon home, but temperatures warmed up as I got closer to Walker, California where I spent my first night in the charming Toiyabe Motel (https://toiyabe-motel.business.site/). I was traveling with my '96 GMC pickup, 'Rocinante,' and full camper, 'Further In.' I wanted to 'motel-it' so that I could watch the extraordinary NCAA Final Four game between Gonzaga and UCLA. The game was won by a last second three-point shot as the buzzer sounded. Unfortunately my Gonzaga team would lose the final game against Baylor. I enjoyed the Toiyabe immensely with its soaking tub, knotty pine walls and expansive courtyard.
JUNE MOUNTAIN, CA
After a leisurely Easter Day morning, I packed and made my way to June Lakes (www.junemountain.com) where I had an absolutely delightful afternoon of spring skiing. Many skiers and boarders were wearing shorts and t-shirts. It felt great to be in the embrace of the sun after recent chilly Oregon weather. I skied non-stop all afternoon, finishing the day with the double diamond Pro Bowl. It was a challenge with ice, but doable. Most of the afternoon snow was kind corn snow. I was the last customer at the June Meadows Chalet Antler Bar, slowly downing a nice local amber ale on the spacious deck outside with stellar views of the Sierras and Mono Lake. I must have felt 10 feet tall and bullet-proof as I decided to ski off the double diamond IQ Run to my parked vehicle. I conceded to a more 'diminished IQ' on my part as the ungroomed run was pure noisy ice and I took my first fall of the ski year with the first missed turn. Deliberately, I made my way down, overheating myself as I reached the parking lot. Whew! I'm not going to do that again!
June is a great little mountain, uncrowded, with great views and generally splendid skiing. Anyone 12 and under skis or boards free here. It is a family mountain. People are friendly, and it is just an absolute joy to ski. Matterhorn, Schatzi and Gunsmoke are my favorite runs. Powder skiing here can be divine, as I've experienced in the past.
After skiing, I sought a place to camp for the night, took the June Lakes Loop, went on to Mono Lake, turned around and eventually found Owens River Road which was initially paved, then led to gravel. I saw numerous rigs camped in the pines, but I elected to go to a large open area, isolated and surrounded by mountains. The dramatic sunset in this Range of Light was worth the extra drive. I set up my tripod outside to photograph evening stars, but I was so tired that sleep came quickly and easily. I awoke to beautiful first light, clouds and a spectacular view of Mammoth Mountain which I would ski for the next two days.
MAMMOTH MOUNTAIN, TRUE SPRING SKIING/BOARDING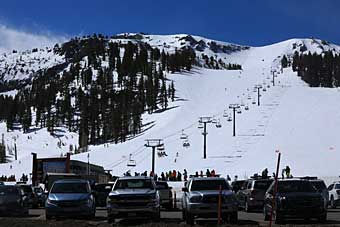 Mammoth (www.mammothmountain.com) is one of my sweetly favorite ski mountains in the world. It lives up to its name with a vast and a variety of terrain. And it is one of the greatest spring skiing/boarding areas in North America, largely, thanks to the fact that the season goes through May and Memorial Day, which is wisely marketed as their Second Season. Mammoth gets a tremendous amount of snow, yet it is adjacent to warm high and low desert country. My buddy Pete Smit and I stayed at Brown's RV Park in Bishop (www.brownscampgrounds.com) adjacent to a golf course with daytime temps in the 70s. Mammoth Lakes is 42 miles away, a drive through breathtaking country, including enchanting views of the Sierras and Nevada's White Mountains. I made a mental note at Brown's to select camp #74 in the future, with its privacy and grand views. Also I made note of the homemade pies available in the camp office. I took a piece each of blackberry and pecan for self indulgence après ski life!
My first ski day was filled with snow, sleet, sunshine and fierce winds ... so strong (up to 65 MPH) that the gondola was closed most of the day. I paid $30 to park at the main lodge as all free parking areas were full or too far away for walking.
The second Mammoth ski day was epic. Not a cloud in the sky and nary a breeze! I parked along the road at The Mill and took a short hike to the lift. I knew that it would be my last ski day of the 2020-21 season, so I skied non-stop, a day that included several gondola rides to the 11,053' Mammoth Mountain Summit. I skied all ends of the mountain, west to east and north to south. I experienced a variety of ski conditions from brutal ice to velvety corn spring snow. The west and northwest sides of the mountain were my favorite with fewer people and grand views of the Minarets. After my last run, while walking back to 'Further In,' I saw many families and friends enjoying the end of their ski/board day with tailgate gatherings.
DEATH VALLEY NATIONAL PARK
Pete and I had made camping/RV reservations for Panimint Springs Resort (www.panimintsprings.com). We selected rv campsite #61 and it was the best ever. We parked both 'Rocinante' and his large trailer in the spot, giving us deep privacy and an endearing view looking east. The first evening, I made liliko'i (passion fruit) margaritas and we ate poke, guacamole, a mango salad and chips, then talked until the stars appeared. Temperatures were perfect and the night sky scintillating! Pleasantly tucked away in my 'Further In' camper bed, I read some Mary Austin and noted these words from her: "For all the toll the desert takes of a man it gives compensations, deep breaths, deep sleep, and the communion of the stars."
The following several days were largely camp days, filled with hikes, reading, hammock-relaxing, food, drink, conversations. One day we drove to the trailhead of Darwin Falls and hiked to this unique water and green offering in the desert.
The Panimint Springs Restaurant had been changed around from my stay there three years earlier. It is now a Mexican restaurant and all of the beer taps from years earlier are gone except for four. I missed the charm of the old restaurant and bar, but was still able to purchase (though not on tap) my all-time favorite beer: Deschutes Brewery's Abyss.
We broke camp on the fifth day and headed to my sister's place in Kanab, Utah. As we drove through Stove Pipe Wells, I was filled with memories of my late wife, JJ, and our son Steen's spring-break encampments there. Some of her ashes my son and I had spread years ago in our favorite Stove Pipe camp from those bygone years.

KANAB, UTAH, SOUTHERN UTAH NORTHERN ARIZONA
We arrived in Kanab in the late afternoon and settled in a crowded rv park near downtown. The following day, we moved to my sister Brenda's paved driveway which was a thousand percent better. The first evening we joined Brenda and her daughter Katie for a wonderful dinner at the Rocking V Cafe where Brenda was employed as the general manager. Later Brenda would quit her job and drive back to Oregon with me.
The following week-plus was simply awesome as we explored the land around and beyond Kanab, including Bryce Canyon, the Grand Canyon, Lake Powell, White Pocket, the Toadstools, Pipe Springs, Lonesome Ranch, slot canyons, off-road trails on 4-wheelers, a buffalo ranch, California condors, the Vermilion Cliffs, and more. It was epic! Also, I got reacquainted with an old cowboy friend Rocky Rains (and met his delightful partner Gina) who was once the Levi Strauss cowboy in a world-wide advertising campaign, thanks to images of mine seen by an ad agency in NYC. I became Rocky's agent, and famous fashion photographer Richard Avedon did the shoot. Additionally, Pete and I became instant friends with locals Ron Camp (who led us on a 4-wheeler expedition above Kanab) and Sam and Pat Cullinane (authors of the book Marriage: From Miserable to Magnificent) who, among other things, do Ted Talks. Sam accompanied Pete and me on day excursions to Bryce Canyon, the Grand Canyon, Toadstools and White Pocket. We started calling ourselves The Three Amigos. We had a rollicking good time together.
Endless travel stories can be written about this region of America, which offers some of the best scenery on the Planet. I'll write more extensively on the places we visited in my next HOA travel piece. During our trip to this remarkable zone, mask mandates were lifted in both Utah and Arizona. However, many places still had the mask mandate signs on their establishment-entering door. Many places treated it as optional. I mainly went without a mask wherever I traveled. Not once was I asked to put on a mask. If masks were requested on their front door, I wore one. It has become my habit now to carry a mask in my front pocket. On the horizon, in my opinion, I see mask-free traveling.

Important Information:
www.visitsouthernutah.com
www.lakepowell.com
https://www.nps.gov/deva/index.htm (Death Valley National Park)
www.visitmammoth.com
| | | | | |
| --- | --- | --- | --- | --- |
| | Larry Turner is a regional, national and international photographer/writer. His work has appeared in countless magazines and books, including National Geographic Traveler, Travel and Leisure, and Sunset. He is the co-author of the book Mount Shasta Reflections, and his photographs have appeared on many covers. He is an active skier, gardener, fly fisherman,  and adventurer. | | | |