I'm not sure what I expected to find in Branson, MO. I knew about its strong faith-based focus, its patriotism, and its hordes of Midwesterners.
| | | | | |
| --- | --- | --- | --- | --- |
| | | | | |
| | Novelties at Dick's 5 and 10 | | Branson killer ice cream sundae | |
And not much else.
What I didn't expect was the foot-stomping fun, the quality of the shows, the sweetness of it all.
But when you realize Branson, MO, has 42 theaters, 112 shows a day during high season and a population of 10,000 (though eight million visitors a year) you get an idea of the town's specialty.
The shows are really good. Branson's not a place where washed up has-beens crawl off, but a town many performers have come to as their prime choice.
Some of those shows could hold their own on Broadway. The Jonah production (Jonah and the Whale) had enough animals to fill an ark, a 300-foot wrap-around stage and a ship bigger than the Santa Maria that moves back and forth, rotates and opens.
They announced before the show started that "some liberties" had been taken with the original story. I don't think a skunk figured into the Bible version and I'm fairly certain Jesus didn't time-travel to comfort Jonah. But the production was jaw-dropping.
When I told a local how impressed I was with the acoustics in these various theaters, she said, well, it's because they're fairly new (think early 2000's) and have state of the art sound systems. I could understand every high-pitched, squeaky word spoken by a child actor in the Jonah show, which is more than I can say for our top theater where I live in Seattle.
And there's a lot more...a quaint main street with, among other things, an old-time dime store that will gobble up more of your time than you expect; cafes with singing servers who, seriously, can carry a tune; a nature park with buffalo, deer, longhorn cattle, neat history and soothing waterfalls.
And, of course, Silver Dollar City, Branson's answer to Disney.
As for the shows, you can find just about any type of performer you want...country & western singers, bluegrass musicians, magicians, impersonators, a showboat full of singers and dancers and not one but two theaters with Chinese acrobats.
Chinese acrobat performance in Branson
First for me was the Six Brothers who really are brothers (with four more non-singing bros in the family), and are billed as "an orchestra of human voices." Their performance ranged from impersonations of Elvis and the Beach Boys to vocalizations (think drums only they're doing it with their vocal chords). Kevin is the one with the spiked hair and his voice leads the group.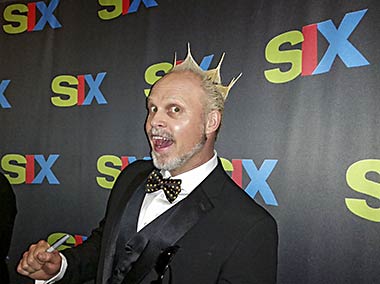 Keven, one of the Six Brothers
Clay Cooper's Country Music Express was down home, foot stompin' music, along with a guy twirling six shooters alongside Clay and his preteen son doing tandem lasso tricks.
But even more entertaining was the way so many shows reached out to the audience. Every set or so, the performer of the moment would hop off the stage, wade into the audience and single out several of the inevitable couples celebrating their 50th anniversaries. One of the shows I attended even had cameras sweeping the audience so folks could wave.
And of course, EVERYone sells CDs of their performance.
I loved the Showboat Branson Belle, which served up dinner along with magicians, dancers and (yes more) impersonators. Honestly, the real Beatles never sounded that good. We were a month too early for the upside-down violinist but I caught her act in Seattle once and until you've heard her do Vivaldi's Summer, hanging upside down from silk ropes...well, catch her show if you can.
| | | | | |
| --- | --- | --- | --- | --- |
| | | | | |
| | Singing act on the Showboat Branson Belle | | Flag reflection on the Showboat Branson Belle | |
But the showstopper for me was that Jonah production in the Sight and Sound Theater. The place looks kind of like a castle, is new enough (2008) to have the latest sound systems and specializes in faith-based shows (Noah the Musical, Joseph and more). Between the animals, the animatronics, the pyrotechnics and 3D video imaging, it IS impressive.
At the end of the show, the cast invited the audience to come down front and join them in a prayer session. And that is part of what Branson is, along with fierce patriotism. Before I went, a friend told me that at noon the town gets to its feet to pledge allegiance to the flag.
Not exactly. But in four shows, there was the one prayer session, a pledge to the flag and a medley of patriotic tunes. Not a single show failed to ask present and former soldiers to stand for a round of applause. Plus the Branson Landing water, fire and light show ended with the national anthem.
Branson is well known down the center of the country but what put it on the map was a 60 Minutes feature in the '90s. Then things really started taking off in the early 2000's. Interestingly, the recession didn't hit as hard here as you'd expect.
| | | | | |
| --- | --- | --- | --- | --- |
| | | | | |
| | Sound/light/fire show at Branson Landing | | Giant barn swing at Silver Dollar City | |
"We're 100 miles from a lot of major metropolitan areas," Lynn Berry of the Branson CVB explained. "People who might have gone on a more distant vacation decided to just drive to us."
Meanwhile, perhaps not well known outside the area is the beauty of the landscape. It's dense hardwood forests, rolling hills and highways that cut deep clefts into artfully layered sandstone rock.
"Many people don't think of Missouri as a fall color destination but it's gorgeous here come late October," she added.
Plus fall is shoulder season, which means less choking traffic, which is so thick in summer there are color-coded road detours (yellow, blue, red) so people can avoid the main drag, Hwy. 76.
| | | | | |
| --- | --- | --- | --- | --- |
| | | | | |
| | Pottery making demo at Silver Dollar City | | Candy making at Silver Dollar City | |
Summer is family time with kids...LOTS of kids. Shoulder seasons (spring and fall) are when the retirees come by the car and busload. The performers know it. The retirees know it. And it's all good fun.
Witness the MC at the showboat:
"Um, we know some of our audience is on the elderly side so we're careful to make sure the stage lights aren't too bright. (Pause for effect.) They tend to want to walk towards the light."
And the place roared with laughter.
Beyond the shows are other things you shouldn't miss:
* Dick's 5 & 10. Located along Main Street, this place has (by count of Steve Hartley, one of the family owners) some 50,000 individual items. There are model cars, more Hello Kitty purses than you ever knew existed, Elvis Presley drink glasses, joke undies, souvenir baby T-shirts of the "My Daddy Drives A Tractor" variety, toys from the "olden" days and, of course, bacon soda pop, which comes plain or with maple flavor.
"People come in and spend seven or eight hours going from aisle to aisle," Hartley added.
* Mel's Hardluck Diner. Located in Grand Village, a kind of southern antebellum style shopping center. The decor of Mel's is 1950s. Its claim to fame (along with gargantuan ice cream sundaes) is its root beer milk shakes, huge hamburgers and the singing servers, who audition for the job and are really good.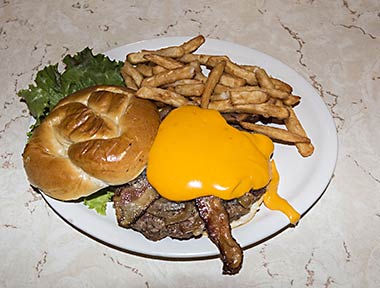 Pretzel hamburger and fries at Mel's Hardluck Diner
A side note about singing talent in Branson: even our bus driver was good, belting out a hearty (and on tune) bass as we boarded our bus one day. "Some of our singers have done really well on American Idol," I was told.
* The Titanic Museum. The museum on the outside is the front half of the ship and on the inside are recreations of everything from staterooms and menus (third class dinner was biscuits and gruel while everyone else had actual food) to heartbreaking individual stories, staff in period costumes and fascinating artifacts. Of the survivors, 97 percent of first class women made it while only 25 percent of all third class passengers survived...it pays to be rich.
* Ziplining. ANY ziplining. There are a dozen ziplines in the Branson area, perhaps more ziplines in one area than anyplace else in the US. We did Branson Zipline Canopy Tours at Wolfe Creek Preserve, which has great scenery, neat history and one of the kindest, gentlest ziplines I've ever been on.
Short drop at the Branson Zipline
* Dogwood Canyon Nature Park, 10,000 acres of waterfalls, caves, hand-built bridges, a replica of an 1800s church that hosts weddings and, at the end, a wildlife preserve that you visit via tram with deer, buffalo and longhorn cattle.
* Silver Dollar City, Branson's Disney-like park set to an 1880's theme. It started in the 1950s as a cave tour (the cave tour is still there) but quickly evolved into a period theme park when the owners realized more people were visiting their mock western town than the cave. Today there are 100 crafts people, a dozen-plus shows, 30 rides and seven festivals, making it one of the top amusement parks in the US.
The adrenalin junkies will love Outlaw Run, the world's only double-barrel roll wooden coaster (thanks to steel topping on the rails), the Giant Barn Swing and (urp) Wildfire, a 12 story steel coaster with a top speed of 66 miles per hour and five loops, rolls and corkscrews.
Crafts people include a blacksmith, candy making, pottery making, a working gristmill and much more. Shows range from Bluegrass and country & western to folk music, vaudeville and, on occasion, even opera.
In the end, I was exhausted, way overfed with comfort food and happy. Yeah, I would go back. In a second.
| | | | | |
| --- | --- | --- | --- | --- |
| | | | | |
| | Branson Grand Village Shopping Center | | Giant roller coaster at Silver Dollar City | |
INFO
Branson is a year round destination with the busiest months being July and November. Spring and fall are shoulder seasons, when more retirees come and the crowds are far lighter. Summer is prime family vacation time. Fall colors here (late October - early November) can be spectacular.
This place is a bargain. Just about every shop, hotel and restaurant gives out coupons for free stuff and show discounts. Failing that, the town map has 115 coupons on its back. The Jonah show's priciest ticket is $50. Something like this in Vegas would easily run three times that. And Silver Dollar city has a three-day, two park ticket for $100. Meanwhile, other than an optional $10 extra fee to jump the show lines, usually the only extras you will spend there are for food, gifts and souvenirs.
Though there is a small airport in Branson, most flights go into Springfield, about an hour's drive away. Then you need to use airport shuttle service or rent a car.
LINK TO PHOTO DIARY:
https://plus.google.com/u/0/116146064817580609744/stories/8e7a62b2-2cf9-3f43-a81d-ab781429b07814d514650fd?cfem=1
CONTACTS
Branson - http://www.explorebranson.com/
Silver Dollar City - http://www.silverdollarcity.com/
Dogwood Canyon Nature Park - http://www.dogwoodcanyon.org/
Dick's 5 & 10 - http://www.dicksoldtime5and10.com/
Mel's Hardluck Diner - http://melshardluckdiner.com/
Branson Zipline Canopy Tours - http://www.bransonzipline.com/
Titanic Museum - http://www.titanicbranson.com/
| | | | | |
| --- | --- | --- | --- | --- |
| | | | | |
| | Bison at Dogwood Canyon Park | | Blacksmith at Silver Dollar City | |