Many of my friends and acquaintances become snowbirds and head south for the winter for warmer climes, as that is good for what may ail them, such as the wintertime blues. I become a snow-lover and head to the mountains for healing and taking care of what may ail me, or as in most cases, to prevent ailments that may come along out of winter complacency and lethargy. My favorite late winter and early spring place to go for this form of good medicine is Whistler-Blackcomb, North America's premiere ski and snowboard destination.
My ski buddy John Paulson and I are all giddy, like adolescents on our first date, when we start heading north from our respective Southern Oregon homes. Worries start falling away like autumn leaves the closer we get to the Canadian border. Once we cross, worries flat-line. Our first order of business is to turn off our cell phones. An epic vacation (and in my case as a photographer/writer a working vacation) is about to begin.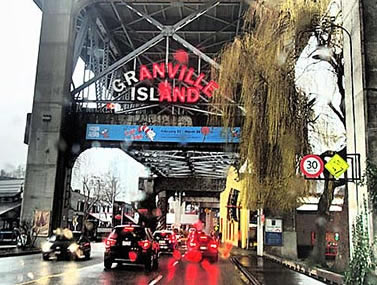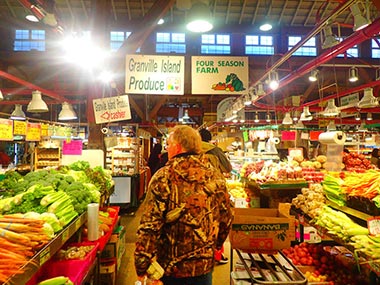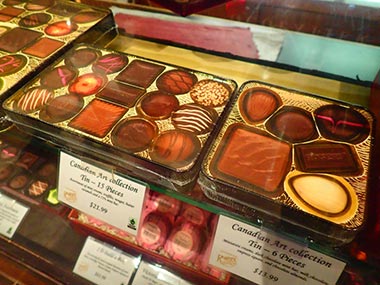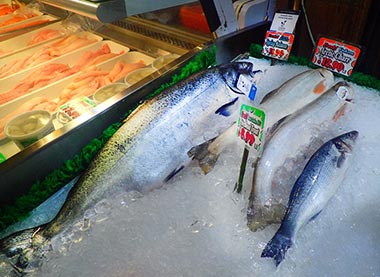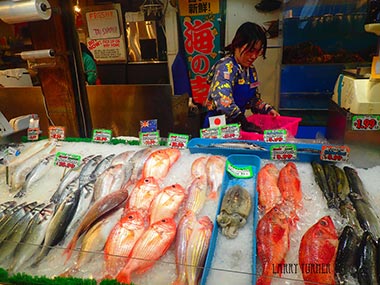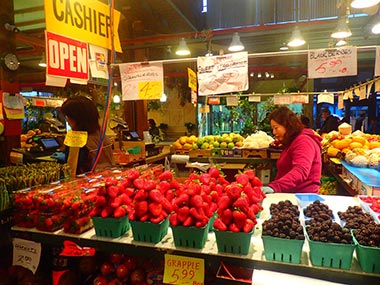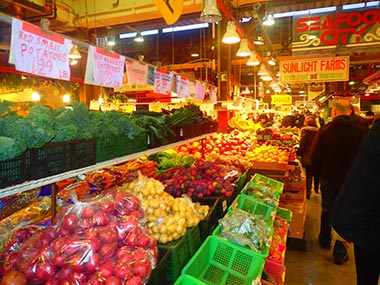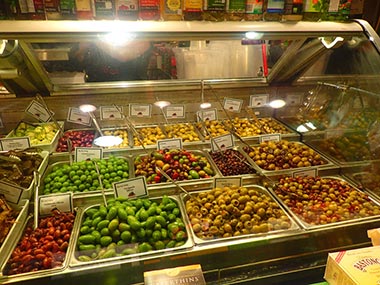 GRANVILLE ISLAND
Our first traditional stop upon arriving in Vancouver, BC, is a visit to Granville Island with its colorful and robust farmer and fisherman's market along with a treasury of boutiques, galleries, restaurants, entertainment and kid's shops and activities. It is a favorite place for locals and tourists alike. We do some food shopping—especially for fresh fish—for our World Mart Whistler condo and I always pick up a few gifts for my son and family. We'll have lunch either at Edible Canada Bistro or Tony's Fish and Oyster Cafe. And of course, there are pastries to get for the road and beyond at Bon Macaron Patisserie and Stuart's Bakery. Granville is one of the few places where I can find my favorite poppyseed pastries. On the way back to our vehicle, I always sample a few brews at Granville Island Brewing Taproom (John abstains since he is always the driver) and purchase a couple of bottles for aprés ski life. Granville Island's Public Market (www.granvilleisland.com) is open 7 days a week, 9am-7pm. Put it on your to-do list when traveling in this beautiful neck-of-the-woods. You'll never regret and odds are, you'll become Granville Island groupies just like John and I.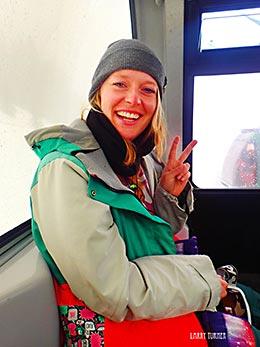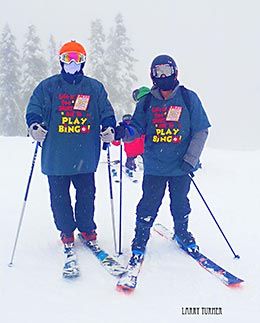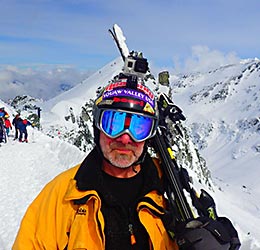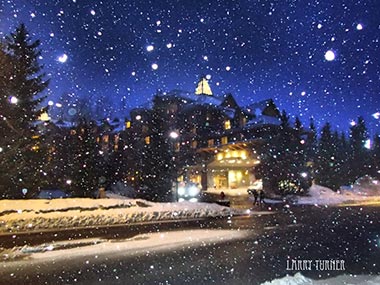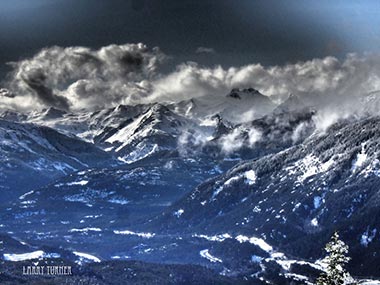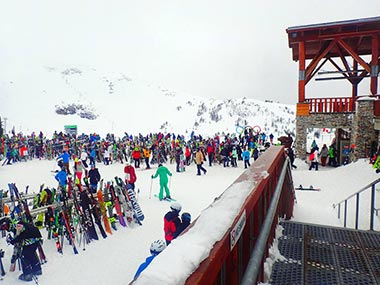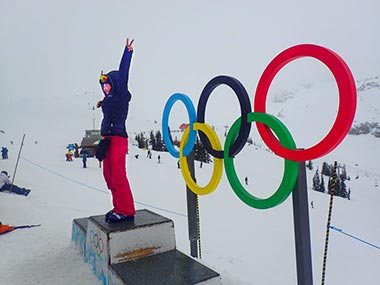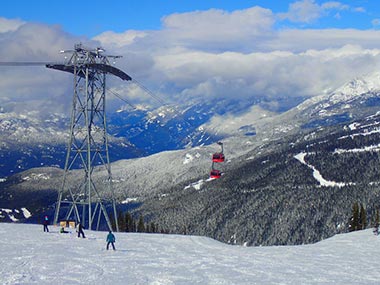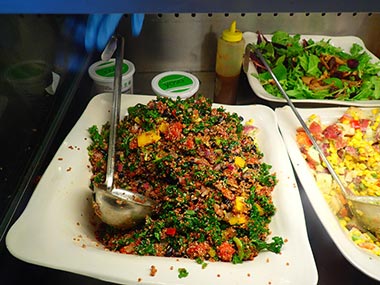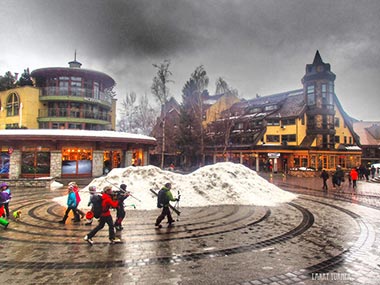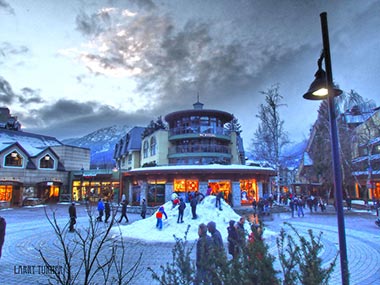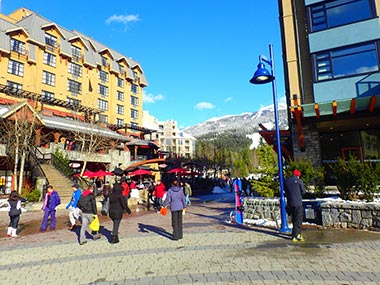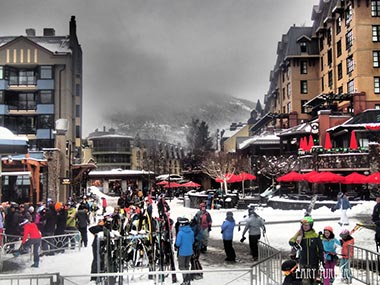 WHISTLER-BLACKCOMB
"Whistler-Blackcomb never disappoints," says John as we drive on Hwy 99 along the Straights of Georgia. "Amen," I reply. Entering Whistler Village and our lodging at www.whistler-cascadelodge.com, we are like kids in a ski candy store, eager to sample the many offerings of this extraordinary area. Quickly, we unload and get set up in our room. John always gets the bedroom and I the foldout sofa in the living room. I like it because I'm next to the fireplace and I have great window views. We live like kings in our week to ten day stay, supplying ourselves with great food and drink. We mainly do our own cooking to save money, but we also eat out on occasion, and always have lunch somewhere on the mountain when skiing. The Chic Pea and vegetarian Raven's Nest are my favorite eateries when skiing Whistler Mountain, and Crystal Hut and Horstman Hut when skiing Blackcomb. After getting settled into our room, we eat sumptuous leftovers from Granville Island and chase it with a glass of wine. This we follow by slipping into one of the two hot tubs outside. Before retiring in preparation for our first ski day, I come across a Whistler map titled The Wonder Routes.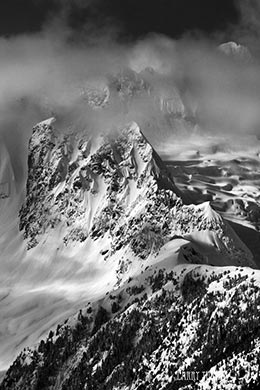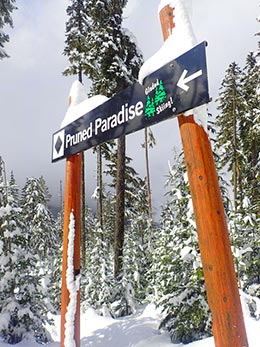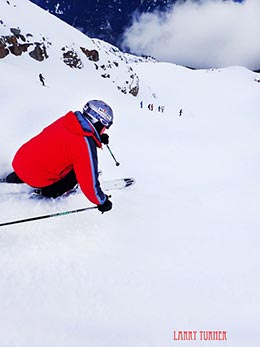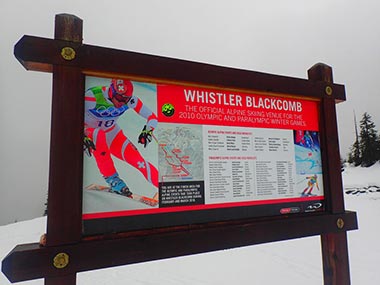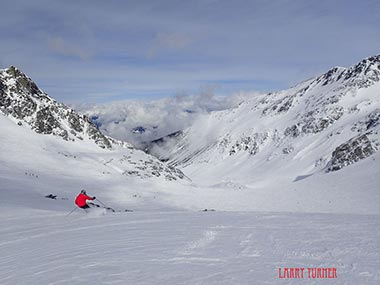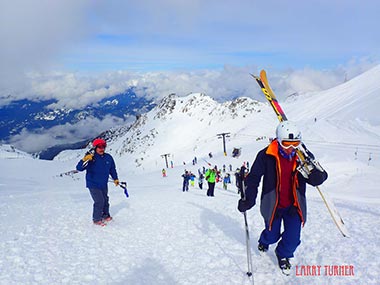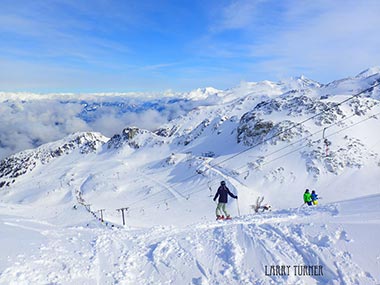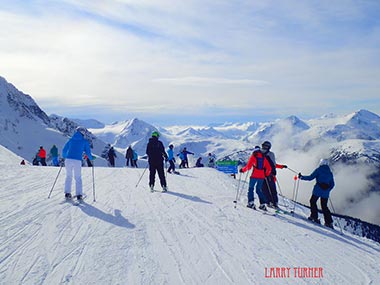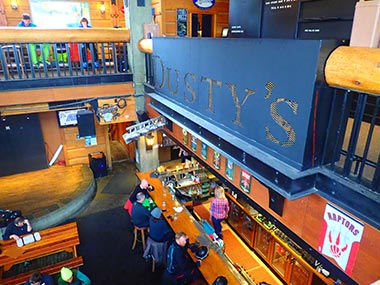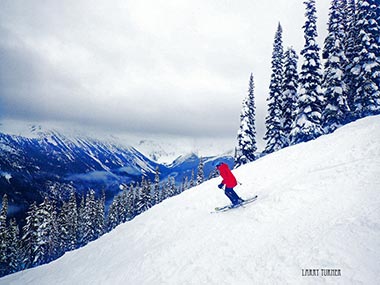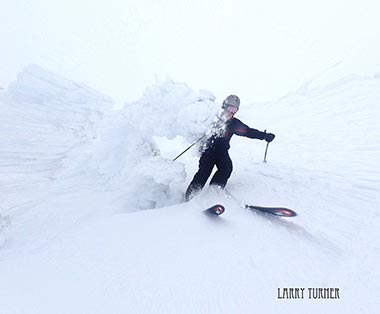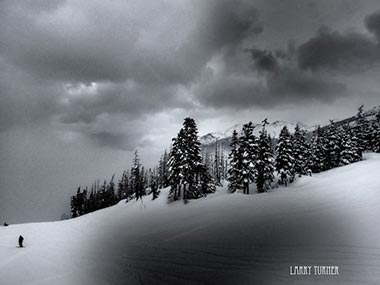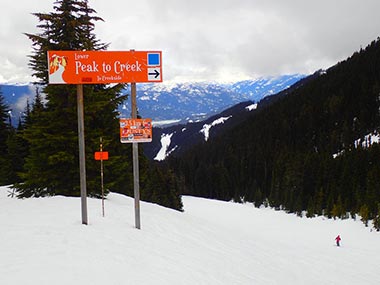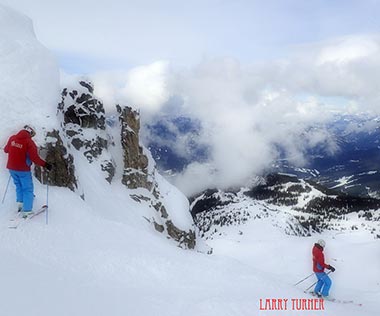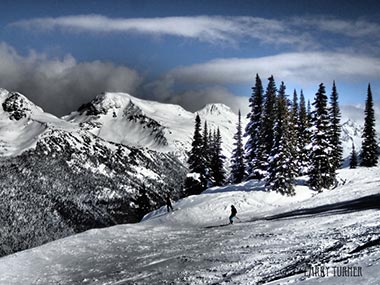 THE WONDER ROUTES
Whistler-Blackcomb is so vast that they have two maps which you should keep in your ski or board jacket. There is the extensive main mountain map with all of the runs. Then there is the relatively new supplemental map called The Wonder Routes with eight choices named Harmony Sampler, Crystal Ridge Sampler, Top of the World Route, The Steeps Sampler, Size Matters Route, Gold Metal Route, Family Certified Route and the Powder Stashes Route. You get the picture: You choose the routes best suited for you and your party. It is a mixed bag of possibilities. For the hale and hearty—and advanced/experts—you can ski/board all these routes in a week or less. All of these possibilities are connected by Whistler-Blackcomb's famous Peak 2 Peak Gondola. If it is your first time, have the patience to board the gondola that has the glass bottom for mesmerizing views below you. Every gondola has 360 degree views and if it is a sunny day, it is no less than a scenic piece of heaven when making the crossing. Peak 2 Peak is open for summer visitors, too.
In 2017, I experienced all of the routes except Powder Stashes, although I did a couple of black diamond Powder Stash runs from Expressway to Where's Joe. I also did both Whistler and Blackcomb's longest runs, each 7 miles, Blackcomb's Green Road down Easy Out and Whistler's Peak to Creek. I've always loved Peak to Creek - one of the Size Matters Routes - as it takes me to my favorite restaurant/bar on the mountain: Dusty's Bar and BBQ. There I always get a chance to have a hearty brew/lunch while watching a March Madness game. Last year was especially nice as my Oregon Ducks made it to the Final Four and I was able to watch segments of two games in Dusty's.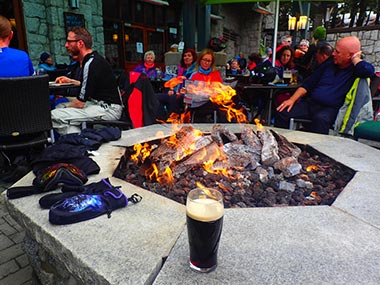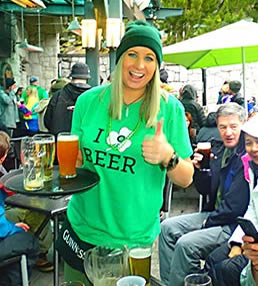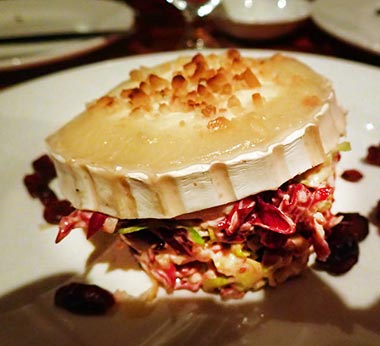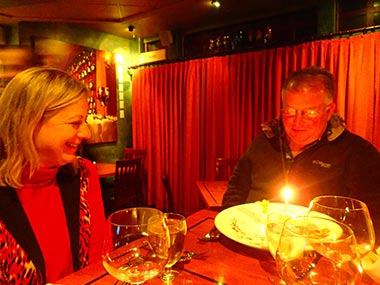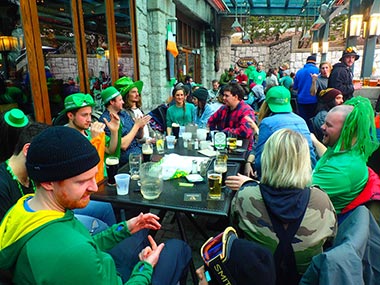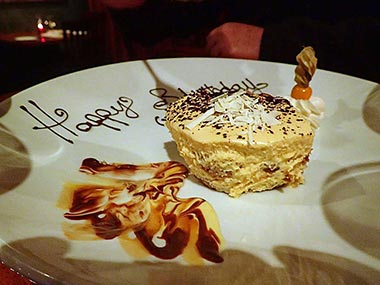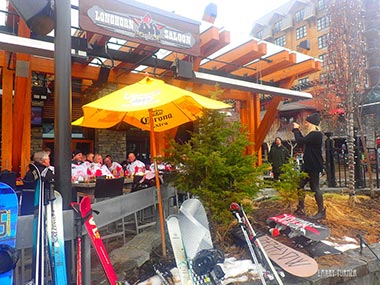 ACTIVITIES, DINING
There are a gazillion things to do when visiting Whistler other than skiing and boarding. Some recommended websites for tapping into these adventuring possibilities: www.whistlerblackcomb.com, www.faqwhistler.com, www.canadianwilderness.com, www.superflyziplines.com, www.tagwhistler.com, www.whistlertastingtours.com, www.scandinave.com, www.whistlerchamber.com.
Every year that I go to Whistler, I like to add at least a couple of new dining spots to my eating and drinking repertoire. In 2017 I added the Italian restaurant Quattro and Alta Bistro. John and I, along with his lady friend Jean, loved Quattro with its Venetian interior, fireplaces, open kitchen, great wine list, and delectable dishes. We went there to celebrate his birthday. My dining started with APPETITOSI STUZZICHINI's CAPRINO CON PERA ASH RIPENED GOAT CHEESE, WHITE BALSAMIC AND PEAR, MICRO GREENS, PORT REDUCTION followed by BRACIOLETTE D'AGNELLO ROASTED LAMB RACK, GRAINY MUSTARD CRUST, CANDIED FIG AND FRESH THYME SUCCO. Yummy! I love what owner Antonio Corsi says about his restaurant: "The most important things in life are sharing simple meals with friends, cooking with fresh ingredients, drinking joyously, and living with abbondanza." I have no qualms with that philosophy!
Right across the street from our lodging is Alta Bistro, specializing in modern and French cuisine. What a find! I can't believe I've passed this up over the years. Their CHARRED DUCK BREAST TARTAR and ROASTED ALBERTA ELK are foodorgasmic, as is their dessert DARK CHOCOLATE & ORANGE GANACHE.
A mainstay that we always go to on St. Patty's is the Dubh Linn Gate Irish Pub in Whistler Village at the base of Blackcomb's Excalibur Gondola. It is a raucous place on March 17th and if you don't want to get pinched, have some green showing somewhere! Their pub grub is great for replenishing spent ski calories and they always have my favorite beer on tap...yep, Guinness.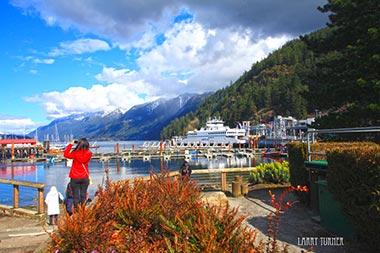 HORSESHOE BAY
Over the years driving to Whistler, I've always seen the sign and wondered about Horseshoe Bay. Last year, John and I stopped for the first time and I was pleasantly swept away by the intimate location where ferry boats depart and arrive in a picturesque setting. It is a great place to take a break, stretch your legs, eat lunch (which we did at a fish and chips place), peruse galleries, photograph and people-watch. A lot of Vancouver families were out the sunny Sunday when we arrived. Like Granville Island, we may make this our must-stop when returning from Whistler, and maybe one of these days, we'll take a ferry to Vancouver Island from here to add more adventure to our annual pilgrimage to the best skiing in North America.