OAHU: THE GATHERING PLACE

Story & Photos by Vicki Andersen
Birthed by volcanic fires deep in the earth's crust, her nickname "The Gathering Place" has held true from the time she broke through the sapphire surface of the Pacific Ocean. Third in size amongst her sister islands, millennium passed while wind- and sea-borne seeds and living creatures made their way to this magical place. Their gathering eventually populated the lush land with fragrant and useful plants, and filled the seas and forests with magnificent fish and birds.
| | |
| --- | --- |
| | |
| THE ROYAL HAWAIIAN'S ROYAL GROVE | HAWAII'S STATE FLOWER: THE YELLOW HIBISCUS |
Explorers from the Marquesas Islands are known to have arrived by at least the fifth century, then more people gathered in this tropical paradise when large numbers arrived from Tahiti in the 700s. Oahu became part of the Hawaiian Kingdom when Kamehameha the Great defeated the island's warriors in 1795. By 1800, the importance of Honolulu's harbor was understood, and it became a critical port as whale, fur and sandalwood traders gathered here to carry out their business. By 1850, King Kamehameha III had moved his seat of rule from Lahaina to Honolulu.
Workers poured in from China, Japan, the Philippines and Portugal to work the booming sugar plantations and mills. By the time U.S. forces overthrew the Hawaiian monarchy and annexed the islands in 1898, her new master realized the value of Oahu as a strategic military base. Through all this upheaval, Honolulu remained the focus and power in the region until, upon Hawaii's statehood in 1959, it became the state capital.
In the midst of its snail-paced traffic and towering high rises, I feel that I could be in almost any big city on the mainland. It just doesn't project that soothing caress of Aloha for which Hawaii is justifiably legendary. But as the place where businessmen and politicians gather to conduct the work of running a state that comprises a chain of islands stretching over 1,500 miles, it is understandable that Honolulu is not a Lahaina or Hanalei.
| | |
| --- | --- |
| | |
| MAMALA BAY SAILORS | DIAMOND HEAD |
This is not to imply Honolulu has no personality of its own. Softly rustling palms, the fragrance of plumeria floating on the trade winds, and rejuvenating glimpses of the cerulean Pacific lapping at the boundaries of the city leave no doubt where I am.
Oahu is small enough, just under 600 square miles, that setting up headquarters in Waikiki makes it effortless to explore the island on easy day trips. In Honolulu you have access to all the amenities of a large city: banks, medical care, library, art galleries, an endless variety of restaurants offering every cuisine you can imagine, stores and shopping centers that define the meaning of shop-till-you-drop, and a variety of accommodations to suit any visitor.
In reality, Waikiki is a gathering of beaches which stretch for over two miles along the southeastern fringes of Mamala Bay until ending at Diamond Head, a volcanic tuff cone towering 760-feet above the Pacific. It was here, among a 10,000-tree coconut plantation and bountiful taro fields, alongside fertile fishponds and streams abundant with shrimp, Hawaiian royalty gathered to build their palaces and summer residences.
| | |
| --- | --- |
| | |
| WAIKIKI'S KAHALOA & ULUKOU BEACHES | BEACH TOYS ALONG WAIKIKI |
Now this area has become a gathering place for kamaainas (locales) and kanakas (native Hawaiians) to mix with malihinis (tourists) in the stores and eateries, on the sand and in the surf. Business people, briefcase in hand, scurry along to their office. Surfers, delicately balancing their means of wave-riding atop their heads, weave their way through traffic while headed for a nearby break. Sun-tinged tourists pulling wheeled coolers piled high with towels and toys advance with the determination of lemmings to their jump-off point into Waikiki's watery playground.
Surfers bob just beyond the waves, while brightly colored tubes peeking above the water give clue to snorkelers viewing life below the waves. Vendors tender surfboards and boogie boards, inflatable mattresses and fluorescent float tubes, massive sun umbrellas and beach mats. Purveyors of catamaran sails and outrigger canoe rides entice folks to play on the water, if not in it.
| | |
| --- | --- |
| | |
| WAIKIKI SIDEWALK | BEACH LANDSCAPING |
Kalakaua Avenue, described as "Miami's South Beach without the attitude and Nice's Promenade des Anglais with better waves and year-round sunshine," separates the multitude of stores, galleries, and high-rise hotels from a sidewalk which curves along the periphery of the sand, dotted with lush landscaping, waterfalls, streams and ponds. Folks gather under covered pavilions to talk, eat, play chess, or watch the Waikiki scene unfold.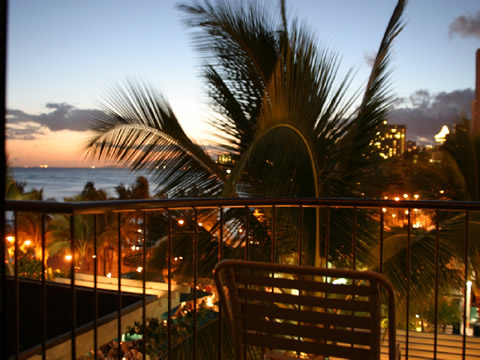 SUNSET OVER WAIKIKI
Nighttime in Waikiki is a mélange of couples young and old, small clusters of friends, multi-generational families, groups of giggling Japanese girls followed by ogling gaggles of pubescent Japanese boys. Vying for attention are street entertainers who challenge my sensibilities with their motionless depiction as Living Statues, enthrall me with their artistic renditions in charcoal and watercolor, and captivate me with a wide genre of melodies and tunes.
Kapiolani Park, separating Waikiki from Diamond Head, was created in 1877 by King Kalakaua to honor his wife, Queen Kapiolani. The Park is home to a zoo, aquarium, polo and archery fields, hibiscus garden, tennis courts and picnic sites. Catch the Royal Hawaiian Band at one of their free Sunday performances at the famed Waikiki Shell outdoor bandstand. This Park is worth taking some time away from the beach to explore.
| | |
| --- | --- |
| | |
| DUKE KAHANAMOKU STATUE | KAHUNA STONES |
My favorite stretch along Waikiki is Kuhio Beach. Every day at sunset, the Kuhio hula mound is the gathering place to enjoy a quintessential conch-shell-and-torch-lighting ceremony and hula performance. About the time I've become somewhat jaded about the development around me, this ritual reminds me why these Islands exert such a mystical pull on cynical folks.
Sunset isn't the only time Kuhio puts me in touch with the area's Hawaiian roots. The bigger-than-life-size bronze statue of Duke Kahanamoku, Olympic swimming gold-medalist in 1912 and 1920 and surfing's foremost ambassador, is continually draped in aromatic and colorful lei. As I gaze upon the four Kahuna Stones nearby, I ponder the legend that says each of these enormous rocks were infused with the mana of four great kahunas from Tahiti. It's probably a good thing they're protected by a fence or they'd be worn down from visitors trying to gather a little mana for themselves.
MIGHTY MO'S TURRET NUMBER 1

(photo courtesy of ussmissouri.org)
Other nearby monuments commemorate more recent history, and there is a large gathering of them in Pearl Harbor. While the USS Arizona Memorial has welcomed millions of visitors, many others are still discovering "Mighty Mo" located about a ship-length from the Arizona. Launched in 1944, the USS Missouri was the world's last battleship, designed for speed and firepower. This 58,000-ton behemoth, as long as three football fields, saw action in WWII, Korea and Operation Desert Storm. But the Missouri is most remembered and revered as the location where General MacArthur accepted the Japanese surrender in September 1945. Now decommissioned and refurbished, standing beneath her nine 16-inch barrel guns (just part of her armament capabilities) inspires a mixture of awe and unease. Originally controlled by an analog computer designed by Henry Ford, these babies could launch 1,800-pound shells over 23 miles with pinpoint accuracy.
| | |
| --- | --- |
| | |
| ATLANTIS SUBMARINE & SOME UNDERSEA LOCALS (photo courtesy of Atlantis Adventures) | ATLANTIS SUBMARINE DROP ZONE |
Slipping beneath the ocean in an Atlantis submarine, I gazed upon a gathering of marine life that I didn't expect to find just offshore from Oahu's big metropolis. White-tipped reef sharks, green sea turtles and spotted manta rays swam in a leisurely ballet, while moray eels poked their heads out of the silt. Trumpet fish, lemon butterfly fish, bluestriped snapper and countless other finned critters flitted by my viewing port in large, iridescent clusters that took my breath away. Submerging to a maximum depth of 120 feet, we passed ancient lava flows, sunken ships and aircraft, and other artificial reefs which are quickly becoming covered with coral heads, providing more habitat for denizens of this aquamarine world.
| | |
| --- | --- |
| | |
| SEGWAY RIDERS MOUNT UP | SEGWAY RIDERS GLIDE THROUGH MAGIC ISLAND |
I didn't know my next adventure would gather a crowd of curious and amused onlookers. Fulfilling a long-time desire, I headed to Segway of Hawaii for an introduction to these novel but practical personal transporters. Designed and adaptable for use by physically challenged folks, they are a kick in the hinny! After a thorough orientation on how to go, stop and turn, we headed down sidewalks and across streets to Magic Island. Gliding smoothly and effortlessly along, I couldn't hide the silly grin on my face as I observed perplexed passersby watching us stream along. This has got to be the best way to commute: tooling along the sidewalk, touring Waikiki, waving to a multitude of fellow beach-lovers, free-ranging through Kapiolani Park. You can fall off a Segway if you're determined enough, but you can't fall over thanks to its self-balancing stabilization system. When I found out the all-terrain model tackles sand, dirt and even snow, I envisioned one of these machines nestled amongst my stable of dirt bikes and snowmobiles.
| | |
| --- | --- |
| | |
| SUNSET BEACH | BYODO-IN TEMPLE |
Despite all the enticements of Honolulu and Waikiki, visitors to Oahu need to venture beyond these urban boundaries and gather some memories of what else the island has to present. The North Shore's massive winter waves lure surfers from around the globe, yet in summer the gentle waters are a swimming and snorkeling paradise. Waimea Bay is home to the largest surfable waves on the planet, regularly reaching 20-30 feet and sometimes 40! At the Banzai Pipeline, magnificent tubes beguile experienced riders. Whether you attempt it yourself or just enjoy watching masters put themselves to the test, this is the place to be entertained. Boasting the longest white-sand beach on the island, the two-mile stretch at Sunset Beach is the perfect place to observe spectacular sunsets.
Backdropped by the verdant emerald Koolau Range, the Valley of the Temples is home to the Byodo-In Temple. Built in 1968 to commemorate the arrival of Japanese immigrants 100 years earlier, it is a faithful reproduction of a 900-year-old Japanese temple. Ring the enormous three-ton brass bell, then enter the temple to gaze upon the giant Buddha surrounded by offerings of flowers and incense. Outside, hundreds of koi gather in shimmering groups in the massive pond, so numerous the scene is a blur of orange and white and black. The Temple's serene and contemplative atmosphere is a welcome respite.
| | |
| --- | --- |
| | |
| BALCONY VIEW FROM THE WAIKIKI BEACH MARRIOTT | |
Among the 130-plus hotels and resorts gathered in the Waikiki area, a good choice is the Marriott Waikiki Beach Resort & Spa. Located directly across from Kuhio Beach and just a block from Kapiolani Park, it's a bit less hectic at this end of Waikiki yet still within easy walking distance of countless stores and shopping centers, cafés and clubs. The breakwall at Kuhio, built to keep the beach from eroding, forms a tranquil place where novices can swim and snorkel without testing the untamed waves.
| | |
| --- | --- |
| | |
| SHRIMP TRUCK | SMOOTHIE TRUCK |
Just outside Kahuku, I stopped at a gathering of roadside lunch trucks (ubiquitous around the North Shore) and ordered a plateful of locally farmed shrimp and a fresh pineapple-papaya-coconut smoothie. As my lips began to numb and my nose tingle from my hot-and-spicy choice (the menu does warn: #2 - Hot and Spicy - "Super-Hot" No Refund), I began to seriously comprehend how quickly I could adapt to island life. Yes, I could easily gather up my belongings and join the centuries-old migration to these enchanted Islands.