ROAMING MEXICO'S YUCATAN PENINSULA

story & images by Vicki Andersen

For thousands of years, seashells accumulated and coral fossilized upon the ocean floor. When the sea level receded at long last, it exposed 136,700 square miles of limestone ringed with nearly 1,000 miles of soft, cool, white sand beaches. Unique flora and fauna evolved in near isolation to include 8,000 species of plants, 600 varieties of birds and 1,200 kinds of butterflies. One of the most distinctive pieces of real estate on Earth, the Yucatan Peninsula is home to an astonishing diversity of amazing archaeological sites, beautiful old Colonial cities, secluded coastlines, and luxurious beachfront resorts.
| | |
| --- | --- |
| | |
| XLAKAH CENOTE AT DZIBILCHALTUN | SACRED CENOTE AT CHICHEN ITZA |
Because limestone is porous, in most areas any ground water sinks through the surface of the land to form underground rivers. Over time, parts of the limestone has weakened and collapsed to reveal the crystalline water coursing below. Called cenotes ("seh-NO-tays"), these are amazing places to swim and dive, often teeming with fish and featuring some of the longest underwater cave systems yet discovered.
| | |
| --- | --- |
| | |
| COLORFUL BLOSSOMS | CEIBA TREE ROOTS SPREAD ACROSS JUNGLE FLOORS |
| | | |
| --- | --- | --- |
| | | |
| BROMELIADS GROW EVERYWHERE | PALMS IN BLOOM | STRANGLER FIGS OVERTAKE LARGER NEIGHBORS |
The Peninsula is comprised of three Mexican states - Campeche to the west, Yucatan in the north and Quintana Roo on the Caribbean side, with the geographic peninsula extending into northern Guatemala. The northern portion of Campeche is dry and arid while the southern section is covered with rivers, lakes, and thick rainforests. The State of Yucatan is a huge plain covered with jungle and bushes, underground rivers and cenotes, and numerous lagoons near the coasts. Low, semi-dry jungle dominates the interior of Quintana Roo, with over forty lagoons and countless cenotes scattered about the region feeding stands of tropical forests.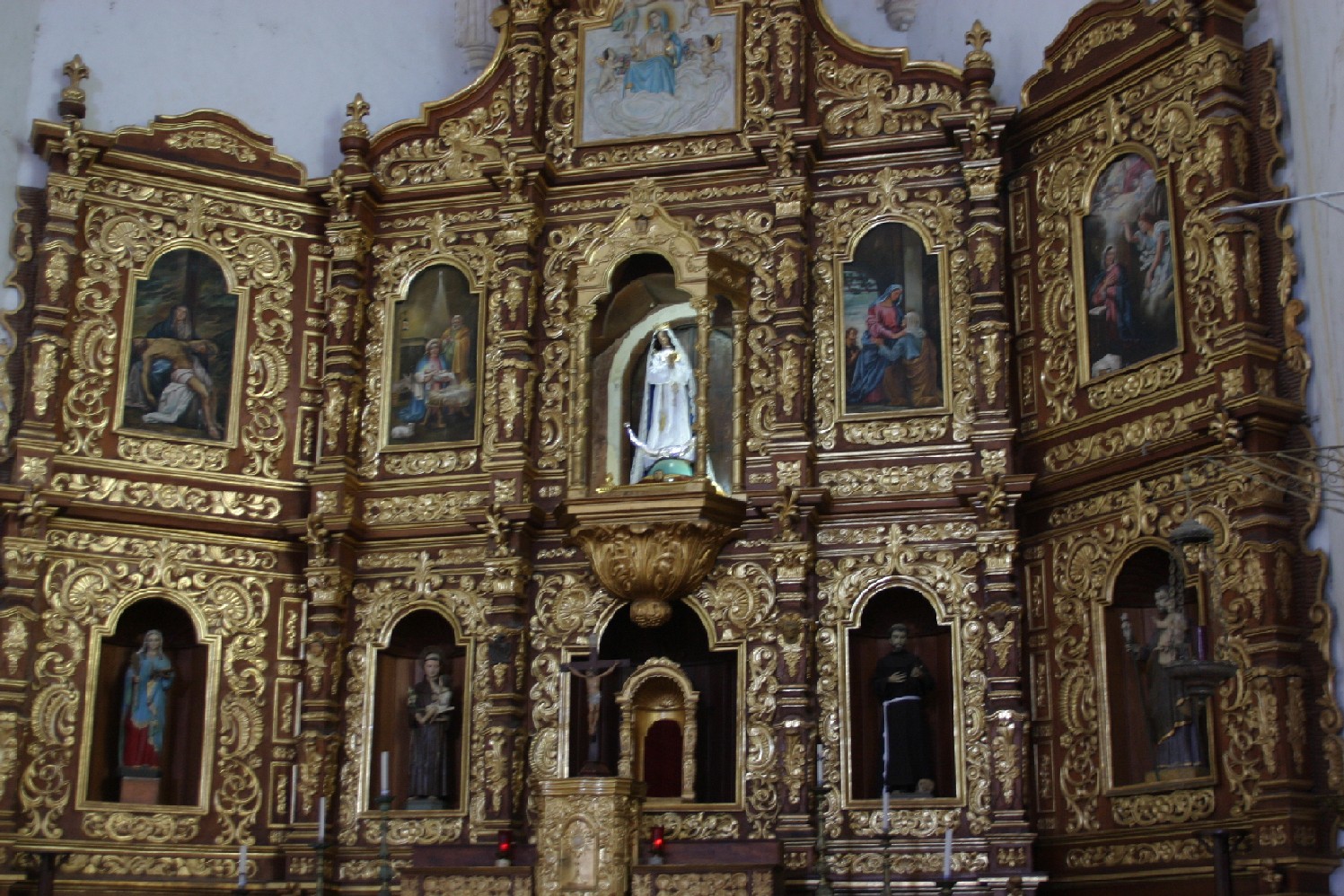 BASILICA SAN ANTONIAO DE PADUA RETABLO IN IZAMAL
This land has been home to various cultures over the last several millennia, most notably the Maya. They built incredible structures whose magnificence overwhelm modern visitors. When the Spaniards and their priests arrived in the early 1500s, they subjugated the native populations and overlaid their stunning cities with colonial churches and public buildings and mansions, many of which are still in use.
| | |
| --- | --- |
| | |
| HOUSE OF THE DOVES AT UXMAL | DETAIL OF UXMAL'S NUNNERY QUADRANGLE |
| | |
| --- | --- |
| | |
| MASK DETAILS FROM THE CODZ-POP AT KABAH | ARCH OF LABNA |
Archaeological evidence points to Uxmal, one of the largest Maya cities of the Yucatan peninsula, being inhabited by at least 600 BCE, and by the 8th to 10th centuries it had become a great economic and political center of power over a vast area. It and a number of nearby sites are famous for an architectural style that features stylized masks of their curled-nosed Rain God and elaborate geometric stone mosaic designs.
| | |
| --- | --- |
| | |
| MERIDA'S PLAZA MAJOR | PORT CITY OF PROGRESO |
State capital of Yucatan and largest modern city on the Peninsula, Merida was founded on the ruins of a Maya ceremonial center and became one of the conquistadores' first strongholds in New Spain. A charming and elegant city of palm-lined plazas and lively markets, her captivating 16th and 17th century white colonial mansions gave rise to her nickname, the White City. Main square and heart of the city, the Plaza Major is bordered by five of the most important buildings in the city, and a focal point for handicraft shops, restaurants and hotels. Located an easy drive north is the town of Progreso, situated on the Gulf of Mexico and offering a laid-back style and uncrowded beaches.
| | |
| --- | --- |
| | |
| CHICHEN ITZA'S BALL COURT MARKER RING | UBIQUITOUS IGUANAS |
Undoubtedly the most famous and most visited of all Maya sites, Chichen Itza is a must-see even if history isn't your passion. You can no longer climb most of its pyramids and temples, and trinket hawkers clutter many of the pathways, but the Pyramid of Kukulkan (a marvel of astronomical engineering) and Chichen's massive ballcourt (the largest known ballcourt in existence) are among the hundreds of structures that have been extensively restored. It's also home to the Sacred Cenote from which over 35,000 objects have been retrieved, including figurines, objects of gold and copper and jade, clay vessels, miniature bells, and the human remains of 42 identifiable individuals.
| | |
| --- | --- |
| | |
| ZOCALO MERCHANTS IN VALLADOLID | LIFE-SIZE FIGURES ON EK BALAM'S ACROPOLIS |
Valladolid was built in 1544 on the site of the first city in the Yucatan to be conquered by the Spanish. It's the perfect location to slow down and experience a typical and authentic small Mexican town with many little markets and beautiful Colonial architecture and cathedrals. Outdoor bartering around the Zocalo (main plaza) is an enjoyable pastime and rewards with hand-crafted treasures. A trio of picturesque local cenotes provide great swimming holes.
The Maya inhabited nearby Ek Balam for some 2,000 years, one of the longest occupations in the northern Peninsula. It's Acropolis, among the tallest ancient structures in the Yucatan, is decorated with stunning stucco work on many of its terraces and entryways. Several full-figure human figures are so artfully detailed, you can make out the braids in their hair and the patterns on their loincloths.
| | |
| --- | --- |
| | |
| CANCUN'S PLAYA EL MIRADOR | SUNSET OVER NICHUPTE LAGOON |
First settled by Maya royalty in 250 CE, Cancun was a small fishing village of 120 inhabitants before blossoming into a major tourist destination developed by the Mexican government. If it can be done over, on, in or under water, you can do it here. The 18-square-mile Nichupte Lagoon, a mix of fresh and salt water, separates old Cancun (El Centro) from Isla Cancun, about a 15-mile stretch of resort and shopping center developments connected at each end to the mainland by bridges. The multi-hued Caribbean Sea defines the eastern edge of the island, pulverizing the limestone into chalk-white beaches that never get hot under the tropical sun.
South of Cancun is the Riviera Maya, a 100-mile stretch of coastline with fishing villages, tropical parks, intermittent resorts, beautiful grottos and unspoiled beaches. Offshore, within swimming distance or a brief boat ride, the Palancar Reef serves as a breakwater to calm the waves lapping the shoreline. Second largest reef system in the world, it provides bountiful fishing opportunities as well as prime snorkeling and diving locales.
| | |
| --- | --- |
| | |
| TULUM'S EL CASTILLO | CARIBBEAN SEA LAPS THE COVE AT TULUM |
There are two sides to Tulum: the small pueblo where tourists can dine and shop, and the ruins of an ancient Maya port city. One of the most important commercial centers of its time, when the Spanish first saw it poised atop the 40-foot bluff above the sapphire Caribbean, they considered it as large and beautiful as Seville. Because it was built during the decline of the Maya's greatness, the architecture is somewhat shoddy and it lacks the stunning ornamentation of most other Yucatan sites, but its easy accessibility and stunning location do justify a visit.

In timing a trip to the Yucatan peninsula, keep in mind the proximity to the coast determines the temperature and humidity you'll encounter. In summer, the Gulf and Caribbean areas stay cooler due to trade winds, while interior jungles are humid and hot. November through March are generally very pleasant with blue skies, cool northern winds, less rainfall, and more moderate temperatures.
Regardless the time of year, you'll encounter a countless variety of animals and birds roaming the jungles and rainforests, explore historic villages and cities of the modern and ancient Maya, and wander the cobblestone streets of thriving Colonial centers founded by the Spanish. You'll bask on the white sands and frolic in the warm waters of the Gulf Coast and the Caribbean. You will return with a new appreciation and understanding of our southern neighbor and the ancient cultures that molded much of its development, and memories to share and savor the rest of your life.
Vicki Andersen may be reached at: skicat1@comcast.net.