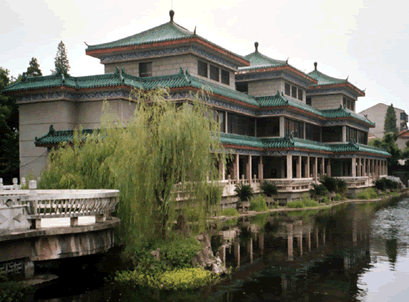 Museum of Jinzhou in Jinzhaou, Hubei Province

The museum has two parts: the Kaiyuan Taoist Monastery characterizing the elegant and simple Taoist architecture and the exhibition hall. Founded in 1958, the museum has a collection of 120,000 items, most of which are lacquer ware. This region is known for its intricate and beautiful lacquer work. Lacquer trees grow in abundance in this province and are tapped for sap. Varnish is collected like maple syrup and mixed with natural oil to preserve the color. The large gift shop has a stunning selection of many pieces reasonably priced.

Hubei Provincial Museum, Wuhan
More than 7000 bronze chime bells were unearthed from the Chu State on the nearby river plain and grace this collection.
| | |
| --- | --- |
| | These 65 bronze musical bells were found arranged just like this in a perfectly preserved tomb. They are estimated to be 2,400 years old and weigh 500 kilos. One is flat, the others are arched and each has two tones. The museum gives performances of Chu chime-bell music on replicas of these treasures and dancing by actors and actresses wearing Chu costumes and hair-do in their lovely on-site theatre. |
| | |
| | |
| --- | --- |
| This intricate piece of work is - believe it or not - a wine jar made in the lost wax process which originated in China. | |
| | |
Wuhan, the capital city of Hubei Province, was settled 6000 years ago in the confluence of two rivers, the Yangtze and the Han, which divide the city into three parts. This major Chinese metropolis serves as the gateway for travel upstream to the Three Gorges or downstream to Shanghai.

The Three Gorges Dam in Wuhan at the confluence of the Yangtze and Han Rivers

| | |
| --- | --- |
| | With the mandate to prevent annual flooding, improve waterway transportation and provide clean energy, China is building the Three Gorges Dam, the most powerful dam ever built in the world and the largest undertaking since the building of the Great Wall 2000 years ago. The projected finish date is 2009. The Chinese predict that a touristic bonus of this dam will allow year round cruising on the Yangtze to view the scenic wonders of the world's largest valley |
Cruising on the Yangtze River to experience the Three Gorges

| | |
| --- | --- |
| One of the many deluxe cruise ships on the Yangtze to cruise the Three Gorges. Notice the hillside village in the background, an example of the thousands of such towns that are now and will be under water once the Three Gorges project is finished. Millions of people have been relocated to higher ground in newly constructed hi-rise developments. | |
| | |
| --- | --- |
| | Side view of the Yangtze Angel, one of many five-star cruise ships visiting the Three Gorges in the Yangtze River Valley which comprise Qutang Gorge, Wu Gorge and Xiling Gorge. The luxury cruise can take anywhere from four to 10 days, depending on the distance traveled. Many cargo-carrying barges also ply the Yangtze.sen, the passage is much wider and the currents not as swift. |
| | |
| --- | --- |
| Millions of years of geological events resulted in the creation of the three limestone gorges with extraordinary views of mountains, peaks and passes. | |
| | |
| --- | --- |
| | The Three Gorges is a national treasure among the natural wonders of China. The Yangtze River cuts through 120 miles of the Qutang, Wu and Xiling Gorges. This is a tow path alongside the river in the Xiling Gorge where men used to walk the narrow passage, towing vessels up river. It was the longest, narrowest and most treacherous passage of rapids, shoals and gorges on the Yangtze. Now that the water has risen, the passage is much wider and the currents not as swift. |
| | |
| --- | --- |
| The "Ghost City" atop this mountain is reputed to have been the residence of the King of Hades. | |
| | |
| --- | --- |
| | A small village along the Three Gorges cruise. Rising water will eventually submerge this town with the completion of the third phase of the dam. Residents will be relocated. |
| | |
| --- | --- |
| Traditional sampans carrying wares, freight and people are an everyday sight on theYangtze. | |