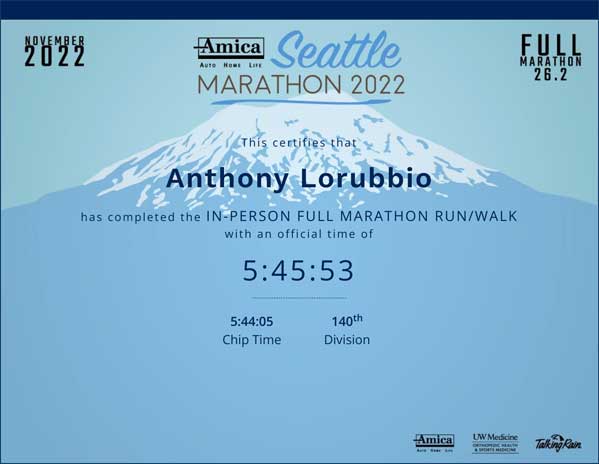 Lorubbio succeeded in his attempt to run the Seattle Marathon with his mouth taped shut. His
only training was breathing: @oxygenadvantage's High Altitude Simulation breathwork.
Here's what Lorubbio says about his race:
After arriving at the starting location (Husky Stadium in Seattle), I did the @oxygenadvantage's high altitude simulation breathwork to warm up. I felt very comfortable and 'in the zone' with my mouth taped shut. Similar to ujjayi breath in yoga, it was like the breath became my portal to look inward.
The running became a meditation; I was letting the sounds, people, and signs zoom right on by, as I was solely focused on my steps and breath. I actually had no idea how far I had run…until I almost ran into a sign that said Mile 11. This was the first moment I realized how far I'd gone…which I thought was pretty crazy, considering 11 miles is four miles longer than any run I'd done in my life prior to that.

Given I was wearing barefoot (@vivobarefoot) shoes & without having run to train, I was particularly curious how my calves/quads would hold up to the pounding of running…and all seemed to be going well. However, not long after mile 12, my right quad began to feel noticeably tighter. Then my left hamstring seized up in a massive cramp, stopping me in my tracks.
I shuffled to the side and began to stretch out the muscle, breathing, & relaxing into it. I then attempted to stretch out my quad, and this movement sent my hamstring cramping once again. It was at this point that I realized this was going to be a test of survival & preservation.
My approach to this marathon was not a physical 'test' of some kind or a task I 'have' to do as a natural progression on my fitness journey, or something to do that I could then have "bragging rights come Monday" (as I heard someone say on the course). Instead, it was just another beautiful opportunity to use the incredible body I have to move naturally & cooperatively with others in an amazing place.
It was not me and my thoughts vs. my body and its limitations. It was my mind working in tandem with this amazing body to persevere and learn and become more connected. And even now, in the time of this writing as my body is sore and achy, I am SO GRATEFUL for it.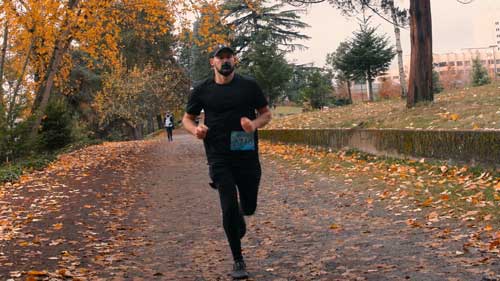 About the Author
| | | | | |
| --- | --- | --- | --- | --- |
| | Web manager Steve Giordano, past president of the Society of American Travel Writers, is a veteran ski and travel journalist & photographer whose work has appeared in newspapers, magazines, books, radio and television and many places around the Internet. He's written numerous travel books. Steve is the designer and technologist of HighOnAdventure.com and was the online and guidebook editor of SkiSnowboard.com. He is a member of the North American Snowsports Journalists Association and can be reached at rsgiordano@gmail.com. | | | |