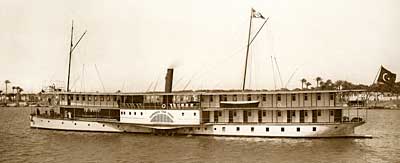 Thomas Cook steamer Rameses the Third.
From Max Junghändel and C. G. Rawlinson,
Egypt: Heliogravures after Original Views (1893)
Imagine travel vacations 150 years ago. Who did that? And if people did do that, where would they go?
Maybe you've got a war-time business, a boat that plies the Nile taking soldiers to Khartoum. But once the war is over, how do you continue your busines and attract civilian passengers?
Thomas Cook & Son—the world's first tour company—had exactly that problem and solved it with an enticing photo portfolio of 27 pictures of Egypt.
Does this suggest that tourism and colonialism might be linked?
Western Washington University's Special Collections Librarian Michael Taylor has curated a most unusual exhibition composed of historical travel photographs and commentary that suggests travel photography began for promoting recreational tourism and to foster capitalistic colonialism in "new" areas of the world.
The exhibit is viewable in person at the university library's Special Collections and is online at https://heritageresources.omeka.net/exhibits/show/looking-abroad .
The exhibit appears to say that tourism and travel photos were of course used as promotion, to increase tourism, but also to set a psychological stage for the expansion of empire via capitalism.
This exhibition explores the larger social and political context of photographs created between about 1870 and 1920 as tourist souvenirs or to promote tourism in areas that few Europeans or Americans had ever visited just for fun.
From Taylor's introduction:
"There is an old saying that the camera never lies. We all know it isn't true, and yet every day, we encounter photographs—in the news, in social media, in marketing—which we do not ask enough questions of, and which may be misleading.
"Through exploring the larger social and political context of photographs created as tourist souvenirs or to promote travel at the height of Western colonialism, this exhibition is an an opportunity to practice viewing photos with a critical eye. Why were these pictures created? What are your initial assumptions about the people or places portrayed? Does more information fundamentally change the way you see the images? Whether you are looking at photographs from long ago or just yesterday, these are important questions to ask."
Featured regions in the exhibit include the Middle East, Mexico, Japan and the Pacific Northwest. There is also a section on an Ottoman response to orientalist photography, and one titled National Dress: Preserving the Past, Fashioning the Future. A section on international expositions of the time shows that photos on display of world cultures were highly choreographed and sensationalist to show their subjects as hopelessly primitive and unlikely to fare well in modern societies. For example, a family of Alaska Natives, sitting with a dogsled in front of a tent covered with reindeer skins, appears directly opposite a photo of the Palace of Electricity and Palace of Transportation at the St. Louis World's Fair of 1904.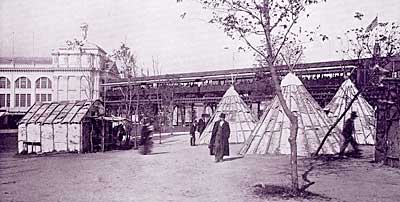 "A village of Penobscot Indians," from The Magic City:
A Portfolio of Original Photographic Views of the
Great World's Fair and its Treasures of Art.
Philadelphia: Historical Pub. Co., 1894.
The exhibition is online at https://heritageresources.omeka.net/exhibits/show/looking-abroad and for anybody within range of Bellingham, Washington, the exhibition is available for viewing in Special Collections (Wilson Library 6th floor) to June 9, 2023. Hours: Monday through Friday from 11:00am to 4:00pm or by appointment (closed weekends and holidays).
About the Author
| | | | | |
| --- | --- | --- | --- | --- |
| | Web manager Steve Giordano, past president of the Society of American Travel Writers, is a veteran ski and travel journalist & photographer whose work has appeared in newspapers, magazines, books, radio and television and many places around the Internet. He's written numerous travel books. Steve is the designer and technologist of HighOnAdventure.com and was the online and guidebook editor of SkiSnowboard.com. He is a member of the North American Snowsports Journalists Association and can be reached at rsgiordano@gmail.com. | | | |