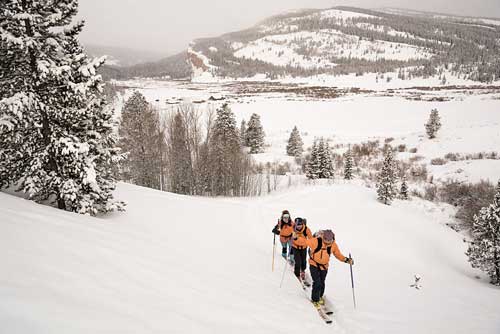 Darwin Ranch in Wyoming (reached via Jackson Hole Airport) has developed a winter program of backcountry skiing (https://www.darwinranch.com/skiing). This is a new offering to add to the ranch's decades of summer hunting, hiking, horseback riding, fishing and floating.
The new operation is located in Bighorn sheep country at 8,200 feet elevation. It's remote—a 25-mile snowmobile ride to get there—and has no neighbors. Darwin Ranch is so off the grid it has no cell phone service. It's an isolated in-holding inside the Bridger-Teton National Forest.
The skiing terrain is unlimited mellow, and of course, untracked. Darwin Ranch offers a mix of backcountry tours (self-propelled and snowmobile access), cross country (small groomed trail system), and snowshoeing. Elegant-rustic accommodations include the lodge and renovated cabins heated by wood stoves with modern plumbing. Pre/post trips are possible in the Jackson Hole region, including Yellowstone National Park and touring in the Tetons. Trips last a minimum of 4 nights, include room for up to 8 people in your group, and cost $750 pp/pn, all-inclusive.
| | | | | |
| --- | --- | --- | --- | --- |
| | | | | |
The Darwin Ranch is one of the few surviving homestead in-holdings in a US Forest that has not been subdivided. It has a long history of homesteading, guest ranching, and supporting the western lifestyle that dates back to the turn of the century. It was first home to a fur trapper and trader by the name of Fred Dorwin. The ranch was later renamed Darwin on a misprinted document and the name stuck. Darwin Ranch was recently nominated to the National Register of Historic places—an important recognition of its rich contribution to the history of the mountain west.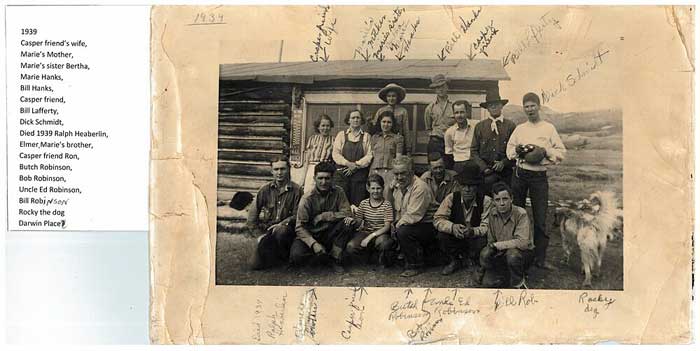 For an outline of what a stay at Darwin Ranch might be like, see https://www.darwinranch.com/skiing. If you have any questions, feel free to reach out to oliver@darwinranch.com. Otherwise, book a stay online: https://www.darwinranch.com/booking.
About the Author
| | | | | |
| --- | --- | --- | --- | --- |
| | Web manager Steve Giordano, past president of the Society of American Travel Writers, is a veteran ski and travel journalist & photographer whose work has appeared in newspapers, magazines, books, radio and television and many places around the Internet. He's written numerous travel books. Steve is the designer and technologist of HighOnAdventure.com and was the online and guidebook editor of SkiSnowboard.com. He is a member of the North American Snowsports Journalists Association and can be reached at rsgiordano@gmail.com. | | | |