Viral in Norway
(with a nod to Alex Vouri)

City street, fine brasserie, slip inside,
find a seat. Shake piled snow
 
off cuckold. Sip Pernod,
study the menu, name its font.
 
Not Arial, Gil sans. Feast on lamb,
frog legs, foie gras, Pastis gascon.
 
Top it off — coffee, St. Rémy,
crème brûlée. Close your eyes,
 
dream a new lover arrives.
You move to Provence, become

a chef. Tweet recipes. In bed.
In French. The Mistral blows sheets
 
of phyllo dough down the street.
Your dream life goes viral in Norway.

(published by Sleet Magazine)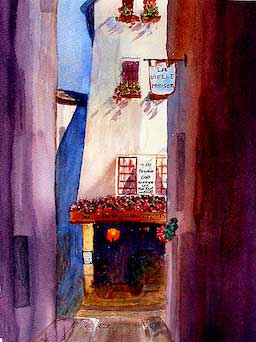 La Viella Maison by Mary Dale