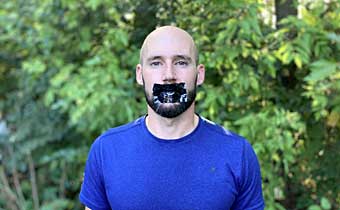 Anthony Lorubbio, training for his marathon
So here's this guy, Anthony Lorubbio, who at this moment is training to run a marathon by not running, but instead by practicing breathing entirely through his nose. That's right, he's a nose breather and he intends to run November's Seattle marathon with his mouth taped shut.
A nasal marathon. Pretty wild, right? But he got the idea from this: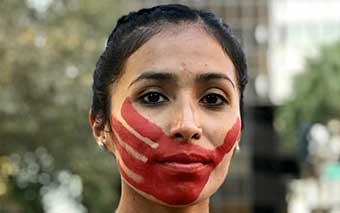 A red hand over the mouth is the symbol of the MMIW crisis.
Shown here is runner Jordan Marie Brings Three White Horses Daniel.
This is a fundraising run for Lorubbio, to raisie awareness and money for the Missing and Murdered Indigenous Women crisis. You can learn more about MMIW here or review the Missing and Murdered Indigous Women and Girls report.
Lorubbio is also an Oxygen Advantage breathwork instructor. He's learned techniques to train his body to run nasally. With the image in mind about MMIW's red hand covering the mouth of Indigenous women, the marriage of these two concepts came together.
Lorubbio recalls, "I realized that the MMIW symbol, a hand over the mouth, and the concept of nasal breathing for endurance paired seamlessly together." From there, the choice to run a marathon and fundraise for MMIW fell into place.
Lorubbio knows he's pushing the limits – both in his approach to train for and run a nasal marathon, but also in this delicate subject for many in the indigenous community. "I realize that I am a white male attempting to do my part in building awareness of the MMIW. I can only hope that this endeavor is received with the level of reverence and respect that I intend it to be."
For more about the nasal marathon go to https://www.recaltravel.com/nasalmarathon/.
Watch here for a 22-minute explanation of Lorubbio's Monday Morning Breathwork plus a practice: https://www.youtube.com/watch?v=LfrVLYO1nf8
But wait - there's more:

Lorubbio also runs an adventure/recalibrate yourself travel company called Recal. It's a company that specializes in Mindful Adventure Travel as a way to combat the effects of burnout. He founded it in 2021. Under his direction, Recal has designed guided, retreat-style trips that help people reconnect with nature in an immersive way by utilizing mindful and adventurous experiences in the outdoors. With the use of mindfulness, in particular breathwork, attendees are able to center themselves, renew their collective sense of energy, and recalibrate their mind and body.
| | | | | |
| --- | --- | --- | --- | --- |
| | | | | |
Anthony Lorubbio's Recal trips aim to fix the disconnect between how we live today vs. our evolved bodies and minds.

In addition to regular outdoor adventuring activities, Recal trips can include:
• Breathwork, with a dedicated focus on the Wim Hoff Method;
• Meditation, aimed to help you clear your mind and refocus your attention;
• Trying new local foods, especially locally owned establishments that support communities and their economies;
• Decompressing, such as getting a massage or soaking in a tub, and;
• Reading, such as in the hotel room or the outdoors.
Recal combines adventure travel with breathwork and other mindfulness practices to create retreat-style trips to help combat the effects of burnout. Trips are co-hosted by a group of independently-owned, racially inclusive, and sustainability-minded outfitters, in tandem with a Recal Mindfulness Coach. Check out the current trip offerings here: https://www.recaltravel.com/.
Postscript:
Did he do it? Did Lorubbio complete the run as intended with his mouth taped shut?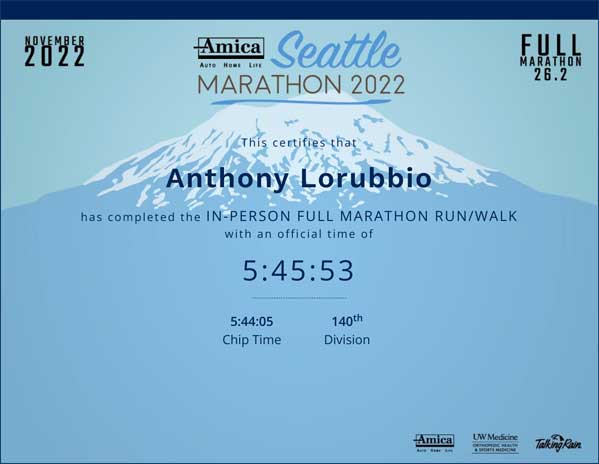 Yes! He finished in quite a respectable time too, with the added self-induced challenges of running in barefoot shoes and fasting (mostly). Our January 2023 issue will feature Lorubbio's race experience in his own words. You can't imagine...
About the Author
| | | | | |
| --- | --- | --- | --- | --- |
| | Web manager Steve Giordano, past president of the Society of American Travel Writers, is a veteran ski and travel journalist & photographer whose work has appeared in newspapers, magazines, books, radio and television and many places around the Internet. He's written numerous travel books. Steve is the designer and technologist of HighOnAdventure.com and was the online and guidebook editor of SkiSnowboard.com. He is a member of the North American Snowsports Journalists Association and can be reached at rsgiordano@gmail.com. | | | |