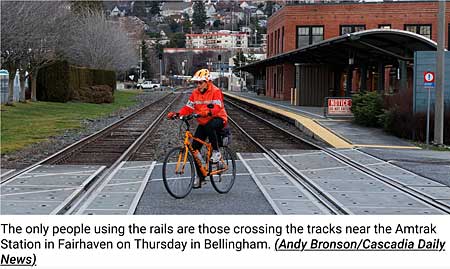 The author makes the front page of a new local paper but is not identified.
This is a very cautious crossing on his regular street bike...
THE PROBLEM(S) OF BUYING AN EBIKE
Well first, let's get this out of the way: an e-bike is an assisted living device. It has a motor powered by a battery (about one-third horsepower), and to some extent your legs and feet. Propulsion comes from your pedaling that signals the motor to engage - to assist your pedaling. You do have a choice in how much of that engagement you want, from none to a lot. Some e-bikes don't require you to pedal at all. Those motors get their signal from a hand throttle.
Think about that. E-bikes join a long list of senior helpers like walkers, wheelchairs, canes, beds that fold and tilt, toilet seat risers, uplift seats and ramps, just to name a few. A friend refused to buy an e-bike that she couldn't lift because she would need a ramp to wheel it into her van. That was just too much to absorb at her age - 70-something.
| | | |
| --- | --- | --- |
| | The author checking out a couple of ebikes | |
That wouldn't be a problem for me, because since she made that decision, lighter e-bikes have arrived. I tried one recently that weighs only two pounds more than my regular street bike. The motor has three levels of engagement, from a wee bit of assistance to enough to power you up a steep hill with a lot of work on your part. That's because if you're not working, neither will the motor. The bike will actually get up to 28 mph but you have to work like a dog to achieve that speed on the flats. As the ad says, this bike won't keep you from arriving at work all sweaty, but it sure does flatten the hills on your way. Feeling a bit like Superman is not an exaggeration.
All this (over)thinking and the test ride itself kind of convinced me to buy the bike. But then we got to another big problem: the price. The bike I tested sells for ten times more than I've ever in my life paid for a bike. That's quite an existential leap. I'm a child of the 60s with the ideology of green living. You know, waste not, want not. Use things till they break, then fix 'em and use 'em some more. I have friends who would hang fresh-washed plastic baggies on the line to dry so they could be used again, and again, etc.
| | | | | |
| --- | --- | --- | --- | --- |
| | | | | |
| | Inspirational pump park in Bellingham, WA | | Inspirational mural by Yale Wolf | |
As if that weren't enough to hold me back, my parents were children of the 30s - you know, The Depression. They didn't hoard food and supplies and sew cash in the curtains as other relatives did, but they knew how to pinch a penny, and that lesson wasn't lost on me. Even when I find a great deal on Levis at Costco, I can't help but remember buying them for $5 when I was a kid.
But back to the bike. I haven't yet decided to buy it, and I won't unless I can overcome the hurdles presented here: the fact that it's an assistance device and its price is way out of my line of thinking. What has to change here are my lines of thinking. I'll let you know how it comes out.
Meanwhile, just for fun, here's a 2015 overthought alarmist commentary on the coming scourge of ebikes:
https://www.velonews.com/assisted-living-what-does-the-rise-of-e-bikes-mean-for-cycling/
| | | | | |
| --- | --- | --- | --- | --- |
| | | | Personal mobility device; not for your Saturday morning group donut rides to the next town over. | |
| | Sunox Screecher | | | |
Perhaps the ultimate ebike for seniors is the Sunox Screecher, a four-wheeler with a canopy made of solar cells. It can accellerate from zero to 15 in five seconds:
https://www.startupselfie.net/2020/10/31/sunox-screecher-solar-power-assisted-personal-mobility-device/
| | | | | |
| --- | --- | --- | --- | --- |
| | | | | |
| | Not much bike repairing going on here | | Walk your bike when conditions warrant | |
| | | | | |
| --- | --- | --- | --- | --- |
| | | | Web manager Steve Giordano, past president of the Society of American Travel Writers, is a veteran ski and travel journalist & photographer whose work has appeared in newspapers, magazines, books, radio and television and many places around the Internet. He's written four travel books. Steve is the designer and technologist of HighOnAdventure.com and was the online and guidebook editor of SkiSnowboard.com. He is a member of the North American Snowsports Journalists Association. He can be reached at rsgiordano@gmail.com | |