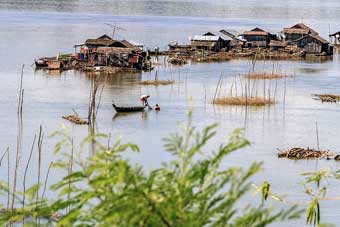 Floating Vietnamese fishing village at the southern tip
of Koh Trong Island across the Mekong River from
Kratie, Cambodia. To get around laws forbidding
Vietnamese from owning land in Cambodia, these
Vietnamese families live on floating houses just offshore.
So many times, in so many places, you say, "Gee, I wish I had been there ... before."
Well, Koh Trong IS before. And the way to see it is by ox cart.
The island of Koh Trong sits off the small Cambodian city of Kratie. Neither is exactly on the beaten path.
Kratie's claim to fame is its extremely endangered fresh water dolphins ... large creatures that look amazingly like gray beluga whales and surface for mere seconds. You can take a local boat for a couple of dollars and watch them peek up to breathe and try (without much success) to photograph them.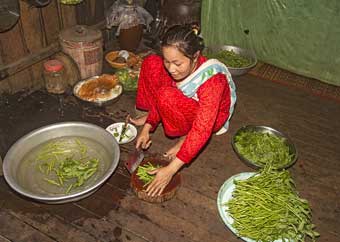 Young woman prepares morning glory stems
and spinach for dinner on Koh Trong Island
across the Mekong River from Kratie, Cambodia.
But, honestly, this isn't what is best about the area. No, it's the offshore island, Koh Trong, which lives squarely in some other, far past century.
No cars, though there is the occasional tuk tuk (a kind of motorcycle rickshaw) and lightweight motorcycle. But mostly, there are the ox and horse carts on the outside, and no air conditioning and marginal electricity indoors.
And there are the people ... sweet, welcoming, friendly and more than willing to share a pomelo with a stranger.
Young girl on Koh Trong Island across the Mekong River from Kratie, Cambodia
The island, itself, is little more than a sandbar, maybe 200 yards wide at its thinnest part and about three miles long. The road, which hugs the coasts in an oval, is less than six miles total. You could also ride it by bicycle, which a lot of people do.
So, we set off. But first, I had to get into the cart. We're not talking some tarted up tourist thing with handy steps but, rather, a platform on a cart behind two oxen, padded with a mound of rice straw and covered with a woven straw mat. Getting in for someone a bit arm-strength-challenged meant backing up to the cart, pushing down and wiggling on. Once seated, the two of us (meaning myself and my long-suffering husband) rumbled off counterclockwise down a dirt path going west, then south.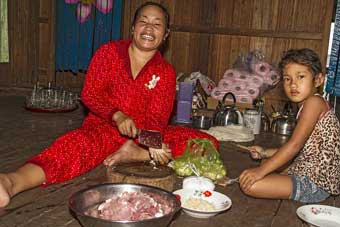 Young woman prepares pork, garlic and vegetables
for dinner on Koh Trong Island

First, there were the rice fields. This was a bit into the dry season, so it wasn't water-filled paddies so much as grassy fields with the occasional person who wielded a curved scythe. They would slice, grab, toss. It's hard, hot, dirty work. But rice is the mainstay of Cambodia's diet and everyone who can grab a chunk of land grows it.
Then we came to the island's Khmer Buddhist temple, a bit more simple than most but still with lovely tiles, a few pillars and of course, gorgeous murals inside.
The far side of the island is even less developed than the side nearest Kratie. Here is where you find widely-spaced houses, built on stilts in the Khmer style with a large central room upstairs, thin wood slat floors and not much else.
| | | | | |
| --- | --- | --- | --- | --- |
| | | | We stopped to stretch our legs and wound up in a family's front yard. Sothy Pov, her three kids and elderly grandmother were doing what anyone in this heat does in mid day ... resting in the shade. Her four-year-old daughter immediately smiled, then giggled when I took her picture and then showed it to her. Mom came out holding what looked like a small coconut but turned out to be the island's main fruit, a pomelo. It's kind of like a grapefruit but drier and less sweet. And in that heat, it just hit the spot. We were invited upstairs. The houses sit on stilts with nothing more than hammocks below. The living area is up a set of steps that are more like a ladder. And inside, the family's 91-year-old grandmother sat, pulling on a rope to swing Sothy's infant daughter in her hammock. | |
| | Man making rice noodles on Koh Trong Island across the Mekong River from Kratie, Cambodia. Rice is soaked overnight, then squeezed into a paste and pounded into a snooth dough. Then it's put into molds and squeezed through to form noodles, which are dunked in boiling then cold water. | | From here, we rumbled on, shaded by thick trees and passed the occasional horse or ox cart. The road soon turned back east and we headed for the island's other Buddhist temple, this one Vietnamese. | |
Off shore, we could see the Vietnamese floating village. Since Vietnamese people aren't allowed to own land in Cambodia (there were a LOT of nasty wars between the two nations), they build houses on rafts and fish for a living. From shore, we could see people in tiny canoe-like boats poling themselves from house to house, sometimes spreading fish nets but mostly just resting.

Okay, now it was time for coffee. Coffee here, like in Vietnam, is incredible. The beans are ground fine and the coffee is made thick and rich, then poured over sweetened condensed milk. If you can be sure the ice is clean (meaning made from boiled or bottled water), iced coffee is best. There's a hit of chocolate to all of this. But mostly, the flavor lingers on your tongue, seeping into your taste buds with all its deliciousness.

From here, we went to visit a noodle factory. As with so many things in Cambodia, "factory" here meant a local family has thrown up a palm-thatched roof under which they laboriously create rice noodles by hand. First, they grind rice to a powder, then pound it with water into a ball of paste, which is stuffed into a mold with holes. As this is pressed, thin noodles ooze out and are then dropped into boiling water. Yes, it is hard, hot, steamy work. And the noodles are soft and go perfectly in any soup.

Rice wine with plastic model of cobra snake sold as a souvenir sitting on a painting of a local rural Cambodian scene. The real thing is sold to 'cure' coughing and for virility.
Heading north again, we made our way past more stilt houses, the occasional small shop, and finally came to our bed for the night ... one of Koh Trong's four homestay houses. Rice wine with plastic model of cobra snake sold as a souvenir sitting on a painting of a local rural Cambodian scene. The real thing is sold to 'cure' coughing and for virility.

It's actually run like a bed and breakfast, with everyone (in this case a dozen French tourists and us) sleeping on mats in the great room. Think youth hostel, Cambodia style.
Dinner that night, as always, was wonderful ... stir fried morning glory greens with chunks of pork, fish soup with radish greens, rice and pomelo for dessert. All washed down with Cambodia's lager style Angkor beer.
The next morning, it was back to Kratie, where we sampled more great food, more incredible coffee and, of course, more temples.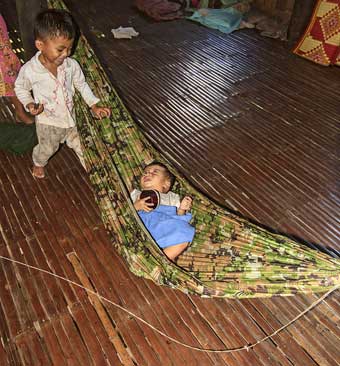 Young boy rocks his baby sister in hammock
in their simple house on Koh Trong Island
MORE INFO
Cambodia has two seasons ... wet and dry. Avoid the wet season (June - November) at all costs. Many roads, even main ones, are dirt and under construction. The mud can be axle deep.

Cambodia is not far from the Equator. It is HOT and steamy and temperatures can reach 100 degrees, especially during wet season. If you can, stay in hotels with pools.

Don't expect slick organization. This country was taken back to the stone age by the Khmer Rouge in the late 1970s. Most people over 40 don't even know what year they were born. It's been a slow recovery. But, cell phone signals are everywhere.

The US dollar is the main currency. There really is no need to change large amounts of money. But make sure to bring a LOT of small bills ($1s and $5s) and they must be in perfect shape. No one will take any bill if it has the smallest rip. Ask for new, crisp bills at your bank.

Cambodia tourism: www.tourismcambodia.com/
ABOUT THE AUTHOR
| | | | | |
| --- | --- | --- | --- | --- |
| | Yvette Cardozo is a writer/photographer who loves adventure and the outdoors, specifically skiing, scuba diving and cycling. If it involves interesting food (ethnic delicacies, high arctic "country food," molecular gastronomy and whatever else is interesting or weird), so much the better. She has skied in Kashmir, India, scuba dived both the Arctic and Antarctic, run a dogsled team above the arctic circle and more. She is a member of SATW (Society of American Travel Writers), TJG (Travel Journalists Guild) and NASJA (North American Snowsports Journalists Association). Her stories appear in the Chicago Tribune, NY Post, Miami Herald, Dallas Morning News, among other newspapers, along with Just For Canadian Doctors, Sport Diver and several international magazines. | | | |