Dawa Sherpa Full-Zip L3 Fleece
| | | | | |
| --- | --- | --- | --- | --- |
| | | | | |
| | Mr. Adventurer wears his warm Sherpa Fleece Hoodie indoors during single-digit temps outdoors. | | Mr. Adventurer keeps warm outdoors in his Sherpa Fleece Hoodie in sub-zero temps after a snowstorm. | |
As soon as the package came through the front door and was opened, Mr. Adventurer donned this fuzzy Sherpa Fleece Hoodie and for the past few weeks has rarely taken it off. (That's when other family members sneak in to put it on!)
He wears it inside throughout the day and evening, and outside under a ski jacket into the single-digit temps and snow banks. It's the main layer under a shell for a cold bike ride to town. This Sherpa is serving this Mr. Adventurer on so many levels that he hardly knows what he did without it. And, by the way, it washes like a dream - no pilling, no worn out elbows, no shedding - just perfection. The fully-zipped zipper does rub against the neck, but here's hoping that detail will be fixed down the production line.


This Sherpa Fleece insulates and breathes in any weather.
Photo courtesy of Beyond Clothing Systems
The Sherpa fleece uses what the company calls "The BEYOND® Layering System. It's an 8-layer technical survival clothing system, designed to provide breathability and fast drying across every layer, protection from the elements, and functionality in climates as low as -70°F.

BEYOND states that "A system is only as good as its breathability: if it doesn't breathe, then your moisture has nowhere to go and you'll be drenched in your own sweat. Weather protection won't help if you're already wet, and insulation won't count for much either if you're soaked and it's cold outside.

We have a hunch everyone in the family may be getting their own Sherpa Fleece.

Dawa Sherpa Full-Zip L3 Fleece, $80
https://beyondclothing.com/products/mens-dawa-sherpa-fleece-k3-jacket?variant=32505150570558

Gloves In A Bottle Hand Shielding Lotion

Have you been washing your hands a bit more frequently for the past two-plus years? Finding those paws getting a bit raw and scratchy? Dry and unattractive? Here's just the remedy to bring your skin back to the normal it once was: GLOVES in a BOTTLE.
Unlike conventional moisturizers, Gloves in a Bottle is a 'Hand Shielding Lotion' that protects and repairs your hands from irritation, dryness, and severe cracking.  This light-weight, non-greasy formula absorbs immediately and leaves your skin feeling instant relief.  And it doesn't wash off. It just sinks in and does its job.

It works on more than just COVID-washed and over-used hands. It soothes and repairs dry, cracked skin; eczema; psoriasis; dermatitis; bleeding and broken skin, and can be used on any exterior skin, including your face. This dermatologist-approved formula is used by medical professionals, mechanics, kayakers, bikers, rock-climbers, skiers, gymnasts, and well...anyone who uses their hands! That would be all of us, to be sure. It also comes in larger bottles as well as a small travel size, so you can easily throw it into your backpack and take it with you wherever you go.

"The Holy Grail Moisturizer" Gloves In A Bottle Hand Shielding Lotion for Dry Skin

Non-greasy Gloves in a Bottle protects and helps heal dry, irritated, cracked skin, psoriasis and eczema.

3.4 oz tube (shown) $14.30
Travel size, 2 oz tube $9.50
www.glovesinabottle.com

Ultrapress Water Filter and Purifier Bottle
| | | | | |
| --- | --- | --- | --- | --- |
| | | | | |
| | The replaceable filter cartridge on the Ultrapress lasts for 300 passes or about 40 gallons of water. | | All important instructions for use and purification information is clearly printed on the detailed packaging. | |
Outside your comfort zone in uncharted waters, so to speak? This Ultrapress water filter and purifier could save your outdoor adventure, and maybe even your life.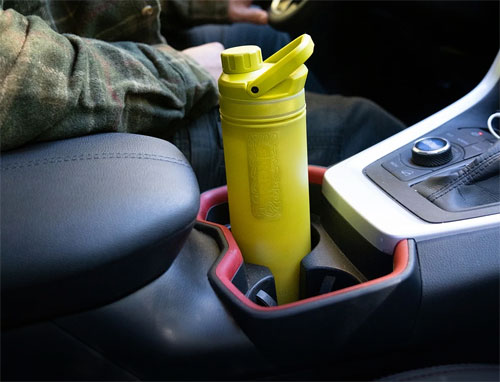 This convenient, attractive carrier fits and goes wherever you need it.
Photo courtesy of Grayl
As their website proclaims - "It's compact, fun, and ridiculously easy to use. The 16.9oz UltraPress® Purifier Bottle fits into any pack pocket (or cup holder), requires zero setup, and makes safe, great tasting drinking water in a mere 10 seconds (3L/min). On-the-go filtration and purification for the hiker, backpacker, camper, emergency prepper or global traveler seeking fast-flow purified water for chugging, filling hydration reservoirs, or cooking. Simply—Fill. Press. Drink.™"
This filter has quite the scientific pedigree. It removes all waterborne pathogens including virus (e.g.
Rotavirus, SARS, Hepatitis A, Norovirus), bacteria (e.g. E. coli, Cholera, Salmonella, Dysentery) and
Protozoa (e.g. Giardia, Cryptosporidium, Amoebae). It filters particulates (sediment, microplastics) and
adsorbs many chemicals, pesticides, herbicides, heavy metals, VOCs, flavors and odors. The purifier
cartridge is replaceable, so the life of this device is basically infinite.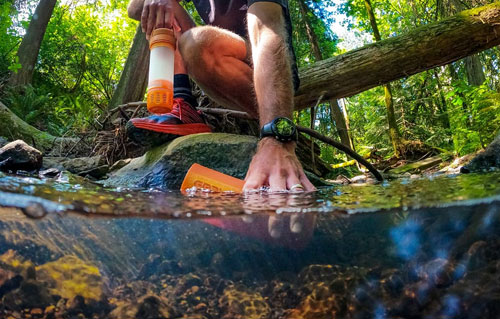 So easy to use. Just scoop dirty water and prepare to press and purify.
Photo courtesy of Grayl
Using this bottle is so simple and easy, you'll wonder where it's been all your camping/hiking/
adventuring life. And, by the way, it will even withstand a 10' drop (full of water) onto concrete and not
leave you dehydrated nor dealing with a broken bottle. It's tough on so many levels.
Here's how it works:

Grasp the FlipCarry™ Handle with one hand and the Outer ReFill with the other, then pull apart. A quick twist helps to start the separation.


Scoop from a stream or lake, or fill from any bathroom sink or rustic hostel tap.

Twist the SimpleVent® cap 1/2 turn to allow air to vent during purification process. Using your body weight, press with a steady downward force.


Fast and easy; makes safe drinking water in 10 seconds - anywhere.

Many colors offered, all 16.9 fl oz/ 500 ml capacity. Replaceable filters available.
$89.95

Once your water has been scooped, it takes only 10 seconds to press and purify.
Photo courtesy of Grayl
PlaneAire Hand Sanitizer and Cleaner
Aren't we all weary of washing our hands forty times a day, hand sanitizing every time we go outside our home bubble and touch something "else," making sure that our hands are clean enough to make a sandwich or a cup of tea? Well, do not despair. There is something that might even make you smile. A lovely woman with the same weariness has come up with a saving product called PlaneAire, and it will change the way you look at those bottles of alcohol-based spritzes called hand sanitizers/cleansers.

PlaneAire Wipes are made from essential oils, aloe and other plant-derived ingredients.
These packets easily slip into a pocket and may save you from some unwanted
germs and viruses.

Yipes are for winning over your younger adventurers. How could they resist using these cute wipes?
"Finally, a hand sanitizer that doesn't smell like tequila. The product really disinfects, dries fully, quickly and leaves no sticky film that makes my hands feel dirtier, which a lot of cheap options always do. Sometimes you pay a little more for things that are so worth it. The aloe and glycerin leave your hands moisturized with no residue. The fragrances are all very pleasant and quite refreshing."
PlaneAire® is a woman-founded and -owned small business in Princeton, NJ. Made in the USA, all ingredients are plant-based whenever possible and responsibly sourced. All products undergo extensive laboratory testing, even when it's not required, but are never tested on animals.
| | | | | |
| --- | --- | --- | --- | --- |
| | | | PlaneAire Wipes are individual packets of surface and hand cleaners. A box of 12 is $9.99. There are numerous sanitizing products available from PlaneAire, but another main 'take-it-with-you-everywhere' product is the hand sanitizer which comes in at least nine fragrances and will never dry out your skin or smell like tequila! This gel acts more like a moisturizer that sanitizes and smells darned good. Choose from orange-pineapple, herbal, lemon-carrot, lemongrass, red and black raspberry, 3-mint, cardamom, tangerine-coriander and sandalwood. Prices vary according to size, but the standard 2 oz squirt bottle is $6.99 with larger bottles for refill available. Visit their website for discount deals and more information. https://www.planeaire.com | |
| | Plane Aire hand sanitizers come in many different fragrances - all pleasant and gentle on your skin. | | | |
onX Off-road Adventure App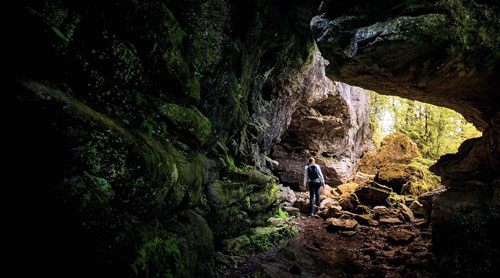 When you might be lost, the onX app could help save your trip - and/or your life.
Photo courtesy of onX
If you're a back-country camper, hiker, backpacker or enjoy spending time off-road and off the grid, the onX Off-road Adventure App might be just the perfect addition to your navigation systems. With this app you can find trails for hiking, trekking, 4x4s, ATVs, dirt bikes, snowmobiles across the country. Tap any trail for information such as open and close dates, difficulty ratings, and even trail photos.You can also save maps to your phone or tablet, track your trips, save for future reference, and share them with friends who also have the app.
Eric Siegfried founded onX to help hunters map their trails and land ownerships.
Photo courtesy of onX

The onX map system lets you know where you are and how to find your path.
Photo courtesy of onX
Another valuable feature this app offers is information about land ownership across the country. Tap to find public land, like national parks and forests, as well as private land owner names, boundaries, and acreage with Elite. You can also customize your own maps and sync with CarPlay or Android Auto.
Onx was initially founded in 2009 by Eric Siegfried to help hunters see public land boundaries while in the field. Its application has spread widely to help all kinds of outdoors and backcountry adventurers.
This is the app for you if you love traveling off the beaten path. For more information, pricing and details, visit their website. https://www.onxmaps.com
Lark Adventurewear's PJs
PJs couldn't be cuter, more cuddly
and soft - bamboo knit fabric.
Photo courtesy of Lark Adventurewear

These PJs could also layer under
cold-weather snowsuits.
Photo courtesy of Lark Adventurewear
Don't forget to pack the soft, warm Bamboo knit PJs for the kids when you're getting that camping gear together. Whether traipsing through the woods on a crisp fall day or cuddling up next to the campfire, it's important for the littlest adventurers to be comfortable and cozy. A mom was disappointed that she wasn't able to find clothing for her own kids that wasn't doused in chemicals or ecologically friendly. So she started her own company to change all that. She says:
"Lark Adventurewear's PJs are made from the company's proprietary Softek™ bamboo knit fabric and are:
• Temperature regulating - perfect for layering on cool fall evenings, great for sweaty sleepers and kids with sensitive skin.
• Stain-resistant - kids can rumble and tumble around in the grass without parents stressing about stains.
• Sustainable - can be worn all year-round thanks to long-lasting, high-quality material, and the designs in our new Game Day collection are gender-neutral -- making them great hand-me-downs.
• Parent-approved - created by a mom with kids' comfort and ease for parents in mind.

She also says that this Softek™ fabric is buttery soft, temperature regulating, easy to wash, and UPF 50 sun safe.
One set of PJ's is $27. For more information and further clothing options, visit their website.
https://www.larkadventurewear.com
| | | | | |
| --- | --- | --- | --- | --- |
| | Lynn Rosen is an Emmy award-winning TV broadcaster, producer and director, and has been on the Journalism and Theatre faculties at Western Washington University in Bellingham, Wash. She's also a theater critic, travel writer, published author, fearless skier and belongs to the American Theatre Critics Association (ATCA) and the Society of American Travel Writers (SATW). | | | |