CAPTURING ACTION AT RANCH RODEOS
Photographer Mary Hyde Preserves History

By Lee Juillerat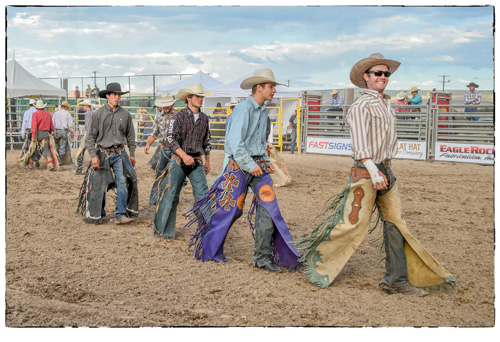 Rocky Mountain Bull Bash, Idaho Falls, Idaho

Growing up on her family's BK Ranch near the tiny Southeastern Oregon community of Beatty, a young Mary Hyde learned and lived the ranching lifestyle. Part of her fond memories are going to ranch rodeos, rodeos where real-life cowboys show their skills.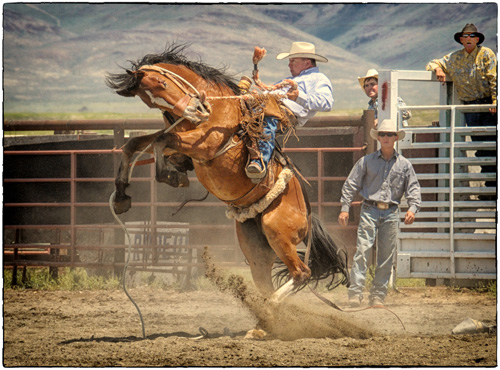 George Barton, McDermitt, Nevada

"They don't look like Hollywood," Hyde says of the buckaroos, men and women taking a break from their ranch work, who compete in events that often mimic their day-to-day chores. "These are people who do a lot of riding for work. This a part of the West people don't know about."
Will James Roundup, Hardin, Montana

Glenn Shelley, Jordan Valley, Oregon

Madras Ranch Bronc Riding,
Madras, Oregon


Hyland Wilkenson, WSRRA-National-Finals, Winnemucca, Nevada

Hyde, 76, has been documenting ranch rodeos for decades. Unlike professional rodeos, ranch rodeos mostly feature team events using skills used in everyday ranch life, such as team roping, tie-down steer roping, and even trailer-loading. For ranch bronc riding, for example, riders use their own working saddles and hang onto his or her rope.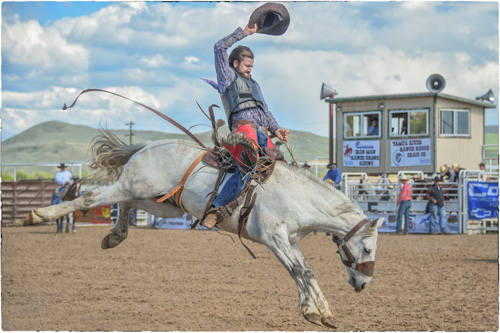 Iron Man Ranch Bronc riding, Craig, Colorado

In ranch rodeos, teams of cowboys or cowgirls from different ranches compete against each other in events based on their everyday work. Ranch rodeos differ from the better known PCRA (Professional Rodeo Cowboys Association) style rodeos because ranch rodeo contestants are not professional rodeo cowboys who tour from event to event with possible lucrative paydays but, instead, are usually full-time ranch hands who compete in annual ranch rodeos for fun and for bragging rights. Ranch rodeo events mostly mimic tasks commonly performed on a ranch, and their equipment and tack are those used during everyday ranch work. Instead of competing as individuals, the contestants in ranch rodeos often compete as a team representing the ranch they work for.
| | | | | |
| --- | --- | --- | --- | --- |
| | | | | |
| | Jordan Valley Rodeo | | Iron Man Bronc Riding, Craig, Colorado | |
| | | | | |
| | | | | |
Will James Roundup, Hardin, Montana
"Everybody you see in my photographs are ranch people, people who work on ranches. These are people who are still riding horses almost every day of their working lives," Hyde says of her focus. "This is the West I am looking for, people in the old-style rodeos."

Hyde and her images have been featured in magazines, including "Range" and "Western Horseman." In recent years Hyde has been self-publishing books such as ZX Ranch Branding, Jordan Valley Big Loop, Trout Creek Branding, Will James Roundup, and nearly 35 other books, most with about 270 to 500 full color photographs.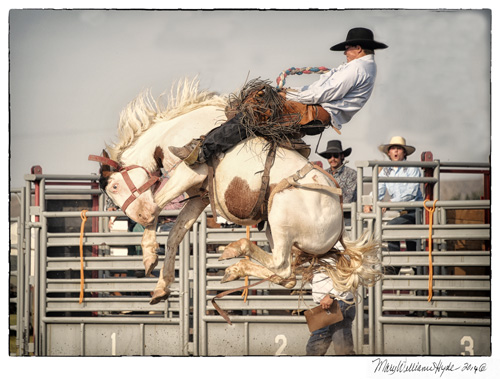 Will James Roundup, Hardin, Montana
Because of her ranching background and early exposure to ranch rodeos, Hyde is admittedly biased. She regards pro-rodeos as "too predictable, they're uninteresting to me." She finds ranch rodeos as more authentic. In the bronc riding, for example, "The horses are younger and wilder. The stock is wild and usually fresh off the range. They're not jump-and-kick. They'll go sideways or kick."
| | | | | |
| --- | --- | --- | --- | --- |
| | | | | |
| | Shelman Ranch Horse sale Traditional Ranch Bronc Riding exhibition, Glen Shelley | | Glen Shelley's Mother's Day Ranch Bronc Riding Bronc, Burns, Oregon | |
| | | | | |
| | | | | |
Glen Shelley's Mother's Day Ranch Bronc Riding, Burns, Oregon
Hyde is also a fan of traditional big loop roping, where competitors use 50- to 85-foot-long ropes. Once horses are caught, the long ropes allow ropers to carefully slow a horse down instead of jerking them down. This latter is a visually more dramatic method used in pro-rodeos that can injure animals. "Having good horse-roping and -handling skills is an essential part of what Great Basin buckaroos need for managing the large herds of horses typical of the big desert ranches, where lots of horses are needed to ranch-work seven days a week. Horse-roping events showcase these skills."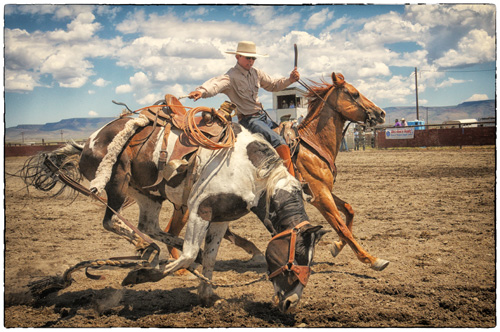 McDermitt, Nevada rodeo
It took several years to gain the confidence of ranchers, but Hyde is now a fixture at events around the West. Among her favorite ranch rodeos are those in Hardin, Montana; Burns, Oregon; and McDermitt and Winnemucca, Nevada. Ranch rodeos on her 2022 calendar include Big Loop Rodeo in May, McDermitt Ranch Rodeo in July, and Jefferson State Stampede in Montague, California, in August.
Shelman Ranch Horse sale Traditional Ranch Bronc Riding exhibition, Glen Shelley

Will James Roundup, Hardin, Montana



Madras Ranch Bronc Riding,
Madras, Oregon
Along with photographing ranch rodeos, brandings and related activities, Hyde in recent years has placed an emphasis on wildlife and waterfowl. But, because of her background and her own years of riding and working horseback, ranch rodeos, with their wild and unpredictable action, are close to her heart – and part of her life. "I think history is important," Hyde says of the fragile, some say dying, ranch traditions. "This is why I'm doing this. This is an historical record of a period of time. It's not that I just go see ranch rodeos. With my photography I can share them with the world."
| | | |
| --- | --- | --- |
| | Madras Ranch Bronc Riding Madras Oregon | |
 To Contact Mary Hyde
 
Contact Mary Williams Hyde by telephone at 541 883-7456, by email at mary@maryhyde.com, or her at 2705 California Ave. Klamath Falls, Oregon 97601. She has several websites, including www.maryhyde.com; https://buckaroocountry.smugmug.com; www.facebook.com/mary.w.hyde; www.facebook.com/BuckarooCountry/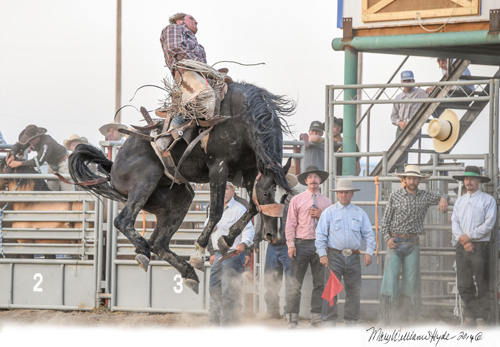 Will James Roundup, Hardin, Montana

 
About the Author
| | | | | |
| --- | --- | --- | --- | --- |
| | Lee Juillerat is a semi-retired reporter-photographer who lives in Southern Oregon and is a frequent contributor to several magazines and other publications. He has written and co-authored books about various topics, most recently "Ranchers and Ranching: Cowboy Country Yesterday and Today." Lee has produced photo-stories about U.S. and worldwide travels in High On Adventure for 20 years. He can be contacted at 337lee337@charter.net. | | | |