CLEAR CREEK, OREGON - CLEARLY DIFFERENT
Running Rapids Rubber Duckie Style

Story and photos by Lee Juillerat
This was different.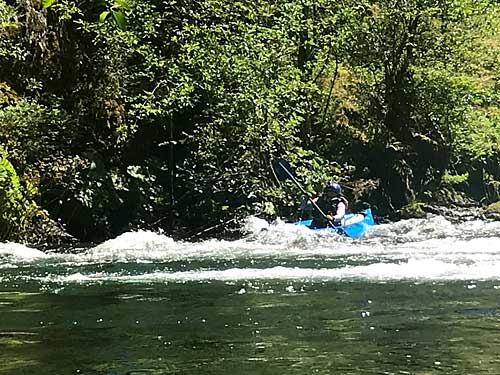 Running the rapids!
Years ago I eagerly aimed my whitewater canoe into Class 4 and 5 rapids on the Rogue, Salmon and other big water rivers. More recently I've mellowed, claiming the front seat in paddle rafts through bursting whitewater on the Illinois, Cataract and Upper Klamath rivers. In between I've kayaked calmer but scenically beautiful areas like the Haida Gwaii in British Columbia and Glacier Bay in Alaska.
But this was different. Clearly different.
| | | |
| --- | --- | --- |
| | Carrying Rubber Duckies to the put-in | |
After descending 200 feet on a trail carrying our small, maneuverable inflatable rafts, or "rubber duckies," from the appropriately named Slippery View River Access, the water we reached was evocatively different. Its clarity was amazing. Translucent. Bottomless. Crystalline. No wonder it's named Clear Creek.
Clear Creek is a little-known tributary of the lower Klamath River. Few people know it exists. That's part of its allure.

Set in a deep canyon, the downstream distance from the Slippery View put-in to the Klamath is a little more than four miles. Four miles of crystal-clear water that rumbles and meanders with twists and turns through a narrow channel gouged into a shear canyon cloaked by a thick forest canopy and, because the timing was right, colorful blooming wildflowers.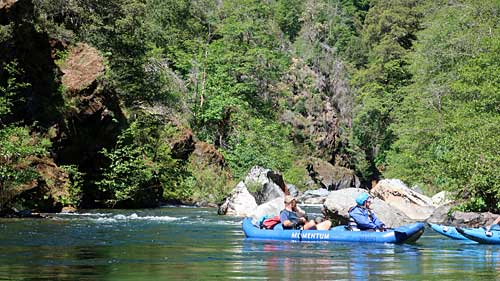 Enjoying calm waters
Clear Creek is no broad, glacial carved passage. In sections it's only about 10-feet-wide. While not regarded as seriously challenging, Clear Creek flows quickly, shifting angles as it rambles downstream, providing paddlers with both continuous challenges and serene pools to rest for the next series of riffles.

Clear Creek was the main attraction of a three-day kayaking trip from a riverside base camp along the Klamath River south of Happy Camp, California, last spring. Depending on the winter snowpack and melt off, Clear Creek trips begin in April or May, and last only into early summer. It's a short season, but paddling Clear Creek is an experience not to be missed.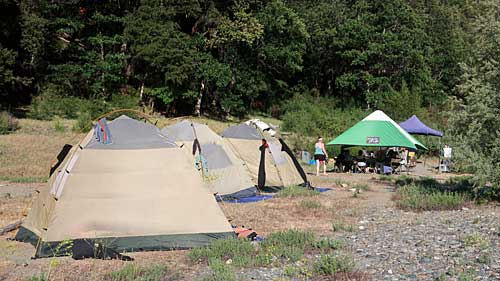 Riverside camp
Our first day began from Indian Creek to our glamp-site about 10 miles downstream. Although the Klamath parallels Highway 96, the road is mostly unseen, partly because the wide-flowing Klamath is flanked by tall trees – a mix of ponderosa pine, madrone, various oaks and firs. The paddling often entailed gently watching-the-river-flow, but there were enough big, bouncy rapids to require focus and attention.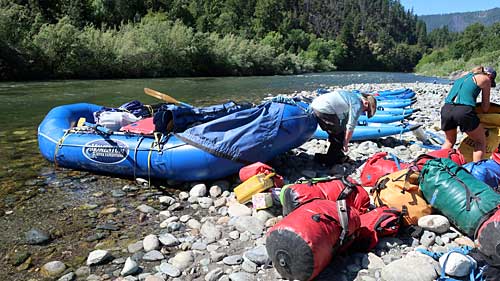 Readying the 'duckies"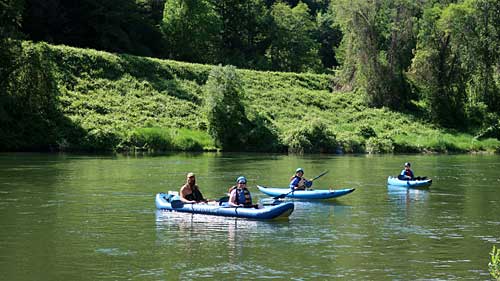 Waiting to go
At times I wasn't attentive enough. While paddling Rattlesnake Rapids, a series of thumpy up-and-down waves drenched my boat, and I flew out of my duckie. It was my first, but not my last, involuntary swim. Before our trip ended, only one of seven kayakers didn't take a quick dip.

The whitewater along that section of the Klamath was fun and challenging but not dangerous. The riverside delights were plentiful, and included turtles sunning themselves on rocks. Truly fascinating was the birdlife - Canada geese, mallards, turkey vultures and, more frequently, osprey soaring in overhead thermals.

Along a laid-back stretch, nature started happening. An osprey flew above, alternately soaring upstream and downstream, searching for fish. It momentarily hovered then - Whap! It abruptly angled 45 degrees, plunged smack-dab and disappeared into the river. Seconds later it re-emerged, holding a small fish in its toes.

Dramatic, yes - but then the real drama began. A bald eagle suddenly appeared overhead, flying like a fighter jet towards the osprey. Bald eagles are beautiful, majestic birds, but they are opportunists. It had watched the osprey, saw it make its successful dive and catch, and now it wanted the osprey's fish. We watched as the eagle and osprey put on an aerial display, whipping back and forth, the osprey's flashy maneuvers matched by the determined eagle. Eventually the osprey, overpowered by the speedier and stronger eagle, yielded, dropped its catch and flew away. The eagle scooped the fish from the river, clutched it in his talons and jetted away with its mid-day meal.
| | | | | |
| --- | --- | --- | --- | --- |
| | | | | |
| | Preparing dinner | | Sumptuous lunch choices | |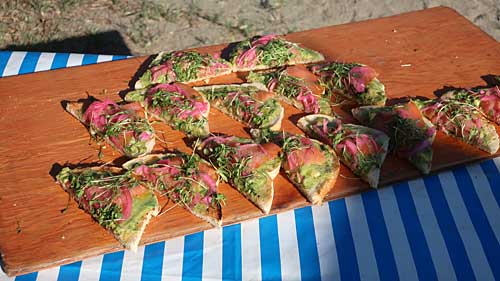 Meal time treats
Our meals were less dramatic. I was part of a group hosted by Momentum River Expeditions, a small guide-owned and -operated rafting company based in Ashland, Oregon. A trio of guides led the way on the river and creek, and, without the raptor drama, created and served delicious meals.
| | | |
| --- | --- | --- |
| | Doing the Clear Creek limbo | |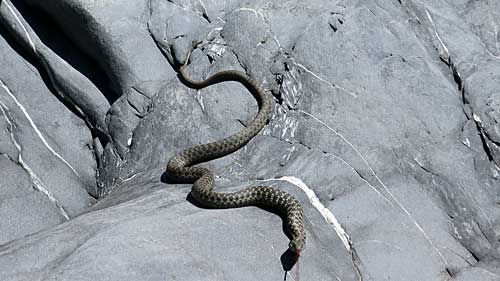 An unexpected visitor
Before lunch during our Clear Creek day, at one squeeze-through section, our group took turns doing limber-river-limbos, bending to slip under a tree hanging only a foot or so above the creek. Because of extremely low water conditions we sometimes paddled frantically over rock-butt-rumpy sections. After lunch, two channels were so shallow we carried rafts to passages with just enough water that we could paddle. Back in the duckie after one of the portages, we blazed a new passage, generating a cacophony of noise from suddenly freed, rumbling-tumbling rocks while careening down the drop.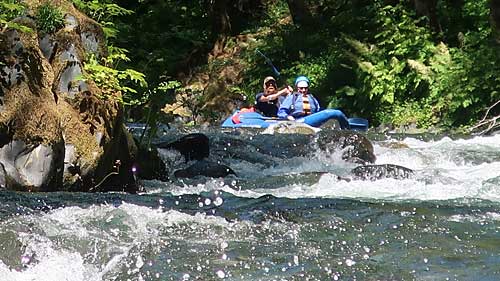 Running a rapids
Clear Creek eventually flowed into the Klamath, where we paddled back to camp. The trip was three days of joy, from the exhilaration of the rapids to the kick-back time at camp to experiencing the nature of nature. But traveling Clear Creek was the clear favorite.

Momentum's Clear Creek paddles begin near the far Northern California town of Happy Camp, the "home" of the legendary Bigfoot. If you're spending a night in Happy Camp before or after the Clear Creek paddle, take a walk around town. Featured are wood sculptures, including several, naturally, of Bigfoot.

| | | | | |
| --- | --- | --- | --- | --- |
| | A towering Bigfoot | | A hunky Bigfoot | |
Located 60 windy road miles from Yreka, the region is surrounded by the Klamath Mountains, The town of about 1,000 is located along California Highway 96, the Bigfoot Scenic Highway along the 263-mile long Klamath River.

The name, Happy Camp, is a misnomer. Happy Camp wasn't always happy, having cycled through boom-and-bust periods and, in recent years, devastating forest fires. Before being settled by miners in the mid-1800s, the area was populated by Karuk Indians who relied on the Klamath's salmon runs. Before Happy Camp became an incorporated town, infighting by miners over Gold Rush claims and cultural clashes between miners and the Karuk resulted in the area being known as Murderer's Bar.

So where does the name Happy Camp figure in? One account says a party of miners simply proclaimed that the area's prospects looked promising and declared their choice of settlement to be a "happy camp."

If You Go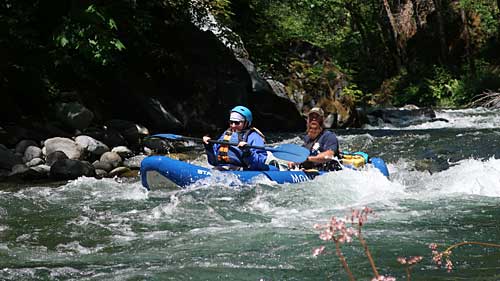 Getting wet on Clear Creek
Clear Creek and several other river excursions, from gentle family outings to expeditions for serious, experienced boaters, are available from Momentum River Expeditions. For information visit their website at www.momentumriverexpeditions.com or call 541-488-2525.

About the Author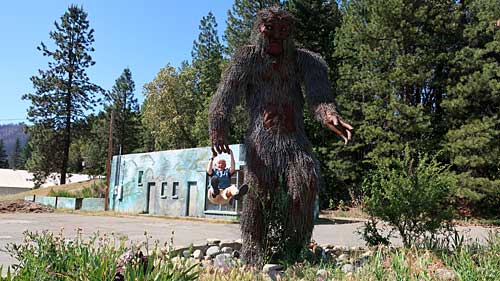 Lee swinging with Bigfoot
Lee Juillerat is a semi-retired writer-photographer who lives in Southern Oregon. He writes for newspapers, magazines and is the author of books about Crater Lake National Park, Lava Beds National Monument and, more recently, "Ranchers and Ranching: Cowboy Country Yesterday and Today," which features stories from a 40-plus year period. He can be reached at 337lee337@charter.net.