| | | |
| --- | --- | --- |
| |  MONTANA AND WASHINGTON: AN AUTUMN… AND A KIDNEY TRANSPLANT | |
| | Story and photos by Larry Turner | |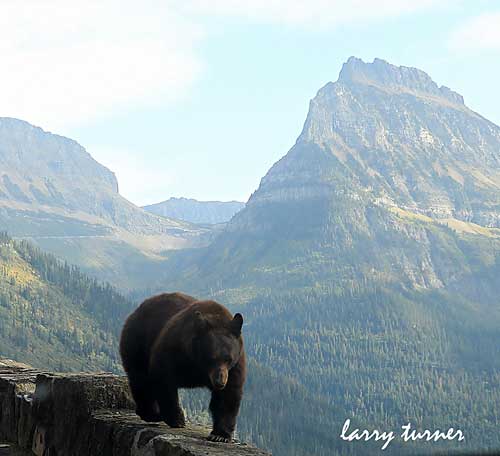 I arrived at midnight on my birthday, September 16, 2021, on a flight between Medford, Oregon, and Glacier International Airport, Montana. My son Steen and his girlfriend Alex Hart picked me up. I was ecstatic to be in Montana again, and especially eager to spend time with my beloved son whom I had not seen in months. I was happy, too, to be away from the forest fire smoke that had plagued my region nearly all summer, as the two largest fires in the nation burned in my home county of Klamath (Bootleg Fire) and south of me in California (Dixie Fire).
My son treated me to a sumptuous gourmet meal later that evening at the www.cafekandahar.com where he is the Chef de Cuisine. I had bison tenderloin as the main course, preceded by smaller entrées of forest mushrooms, living butter lettuce and grilled octopus. Dessert was crème brûlée, always my favorite wherever I travel. It was a four-course wine dinner. A few days later on the 19th (their final day of the summer business season), I treated myself to yak in a fig sauce, halibut lox, French onion soup (the best that I've ever had), spinach malifatti, elk tenderloin and a delightful Triguedina Cahors' 2014 Malbec French wine.
MONTANA/WASHINGTON ADVENTURES AND A FRIEND'S KIDNEY TRANSPLANT
A dear friend of mine was donating a kidney to a friend of hers in a yet-to-be scheduled University of Washington Medical Center operation. I flew to Montana on a one-way ticket, with no return date, as I had committed myself to care for her upon her hospital release. At the end of the first week with my son, the surgeries were scheduled for October 6. I booked a one-way flight to Seattle for October 4. In the meantime, my brother-in-law Rob Crawford decided to join Steen and me in Montana for some fly fishing and explorations for a week. Normally Rob's yearly fly fishing journey is to New Zealand's South Island, but covid restrictions have placed a damper on that for the last two years.
Upon meeting Rob at the airport, our first adventure was to Glacier National Park. It was his first Montana visit. He was especially excited as his Dad was born in Ronan, Montana, less than 100 miles south of Steen's residence, and he had never been there. I had already been in Glacier, traveling to the Going-to-the-Sun Road, just a day after my arrival. With perfect fall weather, the park had a robust number of visitors, but much fewer than during the summer tourist season when a reservation system had to be implemented because of the crowds.
MONTANA AUTUMN
In my first outing to Glacier, I had the trepidatious pleasure of photographing a grizzly up close. Before the sighting, I was getting ready to pull out from a tight one-vehicle rest stop on the Going-to-the-Sun Road. Out of nowhere, the grizz came strolling down the road, straight toward me. I stopped, grabbed a few shots and quickly slipped into my vehicle. The brown-cinnamon grizz climbed onto the rock highway retainer wall and kept walking directly toward me. I took a number of photos as it literally came up to my passenger door, then exited over the wall. Whew! Wildness. Beauty. Poetry. Glad that I had the protection of my wheels. Later I would photograph two Rocky Mountain goats and a pair of bighorn sheep...the first time in my life that I'd seen them together.
It was a bluebird early autumn Montana day when Rob arrived. Big hugs were shared, then we led Rob to his accommodations for the week: Columbia Mountain Cabins outside Columbia Falls (406) 897-3372 )...a true Montana rustic cabin experience well worth one's time. Wild deer and turkey roam the property, and an occasional bear can be seen.
Rob unpacked his rental car, then joined us in Steen's rig. We headed to Glacier with a brief stop at Glacier Distilling Company | Coram, Montana, a five-star stopover for sure. We tasted a few of their excellent spirits and headed to the park. Our first stop was at Apgar Village with mesmerizing views of McDonald Lake and several peaks of Glacier National Park. We had a bite to eat. All of us got a kick out of their business sign 'cocktails to go.' Yes, I did purchase one, as I was a non-driving passenger.
"I had no idea about the immensity of this scenery," remarked Rob, as we drove the Going-to-the-Sun Road all the way to Logan Pass and beyond. It was dark when we dropped Rob off. "Sleep in," I told him. We can start anytime you wish tomorrow."
Rob joined us for breakfast the following day, then he and I ventured off to Flathead Lake, Polson, Ronan, and Jocko River on the edge of the National Bison Range. We met Shay Whitworth, a First American member of the Flathead Tribe. Generous with his knowledge and stories, Shay recommended some places to explore. A few days later, we went back and successfully fly-fished the picturesque Jocko, and caught several rainbow and brown trout. We also photographed a large bison bull.
RIVERS TO RUN
Montana is famous for its fishing and rafting rivers. We experienced three: the Flathead River, the Middle Fork of the Flathead River and the Missouri River. Steen's dear friend and former roommate Peter O'Hearn took Rob and me on a fly fishing float of the Flathead. It was a magical and perfect autumn day as we floated and fly-fished from south of Columbia Falls to Kalispell. Two days later dear friends and veteran river rafters/former guides Mary and Dennis took us (along with their son Shawn) on an equally unforgettable float of the Middle Fork.
Steen joined the two of us, along with Steen's Cafe Kandahar owner/executive chef Andy Blanton, for several days on the fabled Missouri River outside Wolf Creek. We stayed at www.wolfcreekangler.com cabins. We had two days of fly-fishing while floating the river and one day of wading. It was joyous and unforgettable, especially fishing with such fly patterns as the Kelly Gallop Sex Dungeon. During our last day, Steen and I waded an isolated section of the river together and both of us caught and released memorable big-bodied rainbows. Mine took me to the backing line on my reel before I was finally able to land it. It was a father-son fishing day never to be forgotten in this land of a River Runs Through It.
The day we fished the Jocko River, Rob and I stopped by the extraordinary Ninepipes Museum – of Early Montana History, between Ronan and Saint Ignatius. Rob spent some time with the museum founders and traced some potentials on his family's area history, including his granddad Alphonse who worked in the area as a government surveyor in and around 1909. The museum is chock-full of regional and Montana history. The exhibits (including many old photos) are world-class. While in this area, make sure you stop at the Amish Stutzmans Country Market just outside Saint Ignatius for food items and as good a sandwich as was ever made.
WASHINGTON STATE AUTUMN AND A KIDNEY DONATION
It was hard to leave Montana as the tamaracks were just beginning to change. Autumn was nearing its zenith. But some things are more important than the landscapes that you love during your favorite season of the year. A friend's remarkable gift of sharing a kidney to help a friend extend and make her life better (for three years she had been on dialysis 10 hours every day) is certainly a priority. The surgery went perfectly and both the donor and recipient responded extremely well. I stayed at Marriott's Residency Inn in Seattle's University District for a week, walked to and from the hospital, and visited with both patients.
Strolling through the University of Washington campus in autumn was a pleasure to the eye as autumn colors in the deciduous trees pulsed against the background of evergreen trees. Below the hospital, I ventured along the walking and hiking paths of Portage Bay which is part of Union and Washington Lakes. The sumac trees were stunning with orange marmalade and pomegranate hues. To my delight, yachts, sailboats, fishing boats, paddle-wheel tour boats and the rowing crews from the University of Washington passed across the bay under the backdrop of bright sunshine and broken white sheet clouds. The Agua Verde Cafe, a floor above the Agua Verde Paddle Club became a favorite stopover for Mexican food and drink...and soothing views. Sunday, after the surgery, a group of a dozen small white main sail mast boats quietly slipped into the bay and like a ballet—with a gentle wind—circled and glissaded past one another, resembling damselflies that I have seen on summer trout streams.
Lisa, the kidney recipient's sister, invited me to join them at a Thursday night NFL football game, the Seattle Seahawks against the LA Rams. Lisa and I took the Sound Transit Light Rail to Lumen Park. It was exciting to say the least. Covid mask protocol was in place and we had to show proof of covid vaccination to attend. I always keep my Johnson & Johnson vaccination card in my wallet. After the game, as we headed back to the room via the light rail, I felt as though I were on a subway in Tokyo with wall-to-wall people - in a covid petri dish!
TRAVELS FROM OLYMPIA, INCLUDING MOUNT RAINIER
While my cousin (the kidney donor) was recovering at her mom's Olympia, Washington, home, we made several day adventure excursions which included hikes up to five miles (doctor's orders to walk and hike). We explored the wonderful Olympia Port harbor area (Anthony's Hearthfire is a must for food, drink and view), Washington's Capitol building and grounds, nearby Boston Harbor, the enchanting Point Defiance Park outside Tacoma, downtown Tacoma, and took a day trip to Mount Rainier. The dahlia and rose gardens at Point Defiance are world-class, not to be missed. The waterfront area between Tacoma and Point Defiance is invigorating and charming...a great place for extended walks, and also for consuming fresh seafood. Some recommended stops: Ram Restaurant and Brewery, Harbor Lights, Duke's Seafood, The Lobster Shop, and to purchase fresh fish, the highly recommended Northern Fish Company. The Olympia Seafood Company is my go-to spot to purchase fresh seafood in Olympia.
A great day trip from Olympia is the picturesque small community of Boston Harbor (www.bostonharbormarina.com and https://www.facebook.com/bostonharbormarina/). We walked the charming wooden boat docks, relaxed on their benches with splendid views, had lunch on the cafe's patio and enjoyed several hours of autumn repose.
| | | | | |
| --- | --- | --- | --- | --- |
| | Larry Turner is a regional, national and international photographer/writer. His work has appeared in countless magazines and books, including National Geographic Traveler, Travel and Leisure, and Sunset. He is the co-author of the book Mount Shasta Reflections, and his photographs have appeared on many covers. He is an active skier, gardener, fly fisherman,  and adventurer. | | | |