HAVING THE HOTS FOR YACHATS (Gem of the Oregon Coast)
Hiking, Sightseeing and - Yummers! Eating

Story and photos by Lee Juillerat
My plate was empty. I must have been looking a bit forlorn because my daughter, Molly, said, "It's OK Dad, there's more. Lots more."

So I refilled my plate. And when it was empty, I refilled it again. Then, because I didn't want to seem like a pig, when I went into the kitchen, I dished up more mussels from the pot, forked the meat out of the shells and popped them into my waiting mouth. Yummers! And, because no one else was around, and because there were still many more mussels - what the heck - I created a neat new pile of freshly-emptied shells.

Earlier that day Molly and her husband Andy Hamilton had been scouring the rocks near Neptune Beach State Park searching for the delectable molluscs. They'd returned with a humungous bucketful. That evening they cleaned and opened the shells, steamed them in a pot with noodles, herbs and some veggies, then served them up for dinner.

Mussels galore!
| | | | | |
| --- | --- | --- | --- | --- |
| | | | | |
| | Liane and Rusty | | Molly and Andy | |
The mussels feast was the culinary highpoint of a day that began with a pre-dawn walk, followed by breakfast with my friend Liane and her dog Rusty. We were spending a long weekend in Yachats, the "Gem of the Oregon Coast." Because of the Covid-19 pandemic, Liane, Rusty and I were in one house while Molly and Andy and their two dogs, Ruby and Loki, had a separate, detached unit with its own kitchen, sleeping area and bathroom.

Good weather is never a given along the Oregon Coast. Any time of the year, but especially in winter and early spring, weather conditions can flip 180 degrees within a matter of hours. Our stay was for only a few days so even a single day of clear skies needed to be savored and well-used. It was.
| | | |
| --- | --- | --- |
| | Water flowing into the Devil's Churn | |
After breakfast, Liane, Rusty and I headed off to the nearby Cape Perpetua Scenic Area, which is managed by the Siuslaw National Forest. Because Liane was recovering from hip replacement surgery, no long hikes or beach walks were possible for her. So, from a Highway 101 parking area, we followed a walkway down switchbacks and rock stairways to spots overlooking the Devil's Churn.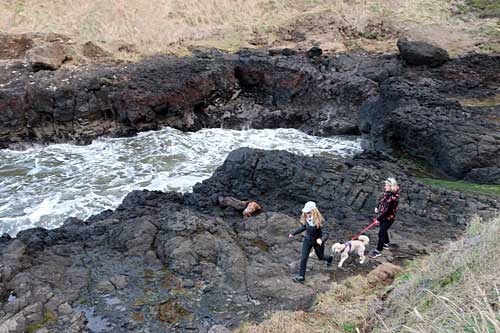 Hiking alongside Devil's Churn
What's the Devil's Churn? It began as a fissure in the volcanic rock and, over millennia, transformed into an 80-foot-wide chasm. At even moderately high tides, incoming ocean waves smack into waters rebounding out of the channel. During times when the Pacific Ocean is more turbulent, the colliding waters create explosive outbursts of hundreds of feet of high water and foam – the Devil's Churn.
| | | | | |
| --- | --- | --- | --- | --- |
| | | | From there we continued past tidepools to other remarkable sights. Like the Devil's Churn, this section of the Oregon Coast has been shaped by years of waves relentlessly pounding and crashing on rocks, continually cracking and reshaping the ragged basalt coastline. A short walk away we found Cook's Chasm, where thousands of years of thudding waves have widened fractures and created a cave. When the top of the cave collapsed, left behind was the chasm and its spouting horns. | |
| | Cook's Chasm | | | |
| | | | | |
| --- | --- | --- | --- | --- |
| | Among the collapses is the Spouting Horn, described as an ocean geyser. Incoming waves funnel seawater and air into the cave. Then, as the pressure builds, water and foam burst spectacularly skyward like a detonated geyser, leaving misty clouds that linger airborne before collapsing and evaporating. | | | |
| | | | Sprouting Horn sprouting off | |
| | | | | |
Another type of fascination was revealed at Thor's Well, called by some as the "Gate to Hell." The hellish well is a 20-foot-deep offshore hole in the basalt rock. As the tide recedes, the hole becomes visible. As it fills and overflows, the well spits out bursts of water.
| | | | | |
| --- | --- | --- | --- | --- |
| | That same day, after returning for lunch, Molly and I headed out for another trek, one that took us past the Amanda statue and along the Oregon Coast Trail to the Cape Perpetua overlook. We drove south of Yachats to a parking area off Highway 101 and followed a trail that eventually reached the north face of Cape Perpetua and its summit. The section, known as the Amanda Trail, is dedicated to a blind Native American Coos woman. Amanda and other Natives were incarcerated during the reservation years of the 1860s. She had been separated from her daughter and placed on the former Alsea Sub-agency reservation that stretched from Cape Lookout to Siltcoos. Before being taken to the reservation she had been living with a white man who was the father of her child. Natives often ran away from the reservation because of alleged incidents of abuse. Amanda - who was found by Army troops looking for runaways - and others were forced to walk barefoot over the brutally rugged, rocky shoreline and over Cape Perpetua's basalt landscape, which caused her feet to bleed profusely. A U.S. soldier wrote in his diary, "Amanda tore her feet horribly while being led around the Cape leaving a trail of blood..."  | | | |
| | | | Amanda's Statue | |
The Amanda Statue, a short distance from Highway 101, is the main feature of a small amphitheater-like setting, The statue which has become a shrine, is intended to memorialize Amanda and to build greater awareness, understanding and appreciation of the history of the local Native American people.
| | | | | | | |
| --- | --- | --- | --- | --- | --- | --- |
| | | | | | | |
| | Be bear aware | | Trailside mushrooms | | Bubbling creek | |
From the Amanda Statue, the trail gradually ascended about 900 feet along ancient logging roads and through a mixed old- and second-growth forest of Sitka spruce and western hemlock. After a creek crossing, the trail followed switchbacks up the adjacent ridge, crested in another mile and opened up at the Cape Perpetua overlook. Instead of continuing north another one and three-quarter miles to the Cape Perpetua Campground and visitor center, we doubled back to and past the Amanda statue and our car.
| | | | | |
| --- | --- | --- | --- | --- |
| | | | | |
| | Black Turnstone Bird | | Even the gulls take care | |
The importance of taking advantage of clear skies was evidenced the next day. When I headed out for a pre-sunrise walk the following morning, screaming winds were accompanied by heavy rains that soaked my pants, raincoat and even the inner down jacket. But unexpected surprises made it worthwhile—frequent sightings of Black Turnstone birds. As their name indicates, they flip over stones, rocks, shells and seaweed in search of flies and fish eggs and noisily hammer open shellfish with their chisel-like bills. Fun to watch, and hear.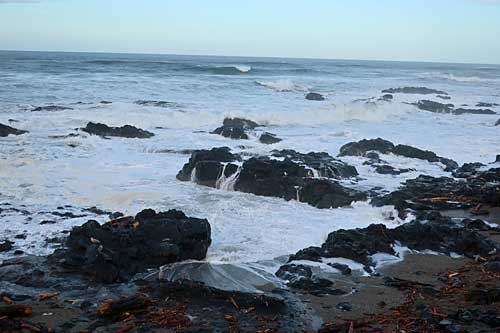 Along Smelt Sands

Later that day, during a lull in the rain, Molly, Andy and I added on to the distance of my morning walk. Along the nearly mile-long Smelt Sands State Recreation Area, a marker recounts the story of two teens who died in 2011 when an unexpected sneaker wave wiped them off the rocks. They drowned in the powerful surf. We continued on as the trail crossed a grassy area in front of the Adobe Resort onto private residential property, sometimes following side streets before eventually joining Ocean View Drive. The weather had cooperated, but on the way back the rains had returned
| | | | | |
| --- | --- | --- | --- | --- |
| | | | | |
| | View from atop Cape Perpetua | | Historic CCC structure | |
That afternoon, after a lull in the rain, Liane and I drove up to the Cape Perpetua Lookout. Whether reaching the overlook by hiking or driving, it's a worthwhile journey. The shelter was built by the Civilian Conservation Corps in 1933, served as an observation post and hosted a coastal defense gun during World War II. On clear days, panoramic, unobstructed views from the main overlook and too-often overlooked shelter provide a vantage 800 feet above the Pacific. And on days like the one we experienced, it's possible to see sights 70 miles south and 40 miles out to the horizon and ocean.
| | | | | |
| --- | --- | --- | --- | --- |
| | | | | |
We visited other sights, ate more tasty seafood from neighborhood restaurants and equally relished front window views of pounding waves. On the drive home we took short walks and made occasional stops along Highway 101 towards Reedsport before heading inland. There's much to see, including Carl G. Washburne Memorial State Park, the Oregon Dunes National Recreation Area, Sea Lions Cave, and the Heceta Head Lighthouse, which began operation in 1894 and remains Oregon's brightest light

| | | |
| --- | --- | --- |
| | | |
| | Shifting sands | |
| | | |
| | So much to see, and never enough time. | |
About the Author

Lee Juillerat is a semi-retired writer/photographer who lives in Southern Oregon, His travel, outdoor and other stories appear in newspapers and magazines, including Alaska Beyond, Range, and the AG Mag. He is the author of books about Crater Lake National Park, Lava Beds National Monument and, most recently, "Ranchers and Ranching: Cowboy Country Yesterday and Today." He can be reached at 337lee337@charter.net.