| | | |
| --- | --- | --- |
| | TRAVELING DURING COVID | |
| | Story and photos by Yvette Cardozo or as attributed | |
    Random thoughts on air travel and recent visits.
    Flying back from Atlanta where I FINALLY visited grandkids ... I was on Alaska going home to Seattle. My son Larry was on American flying home to Los Angeles. Both carriers have onboard wifi that lets you text (for free) anywhere in the US using Facebook Messenger. So he's heading for LA, I'm heading for Seattle and we're "talking real-time" in the air. About his cryptocurrency purchases.
    And then there was the pancake machine in the Alaska lounge. Press a button and a small pancake slides down and out of the rollers right onto your plate. Way more tasty than I expected.
    Just how 21st century can you get? There are times, like then, that I feel like a newly-arrived Somali refugee trying to figure out an elevator.
    But, as they say ... wait ... there's more.
    Thanks to Covid, Alaska Airlines is no longer serving food in coach. A cheery announcement before boarding warned folks to BYO. It was a five-hour-plus flight. Up in first (how I snagged that is a separate story) we got pre-packaged wraps. No human hands (at least onboard) touched our food. I wonder if this is going to stick going forward. The wrap was tasty (and gargantuan), but I missed the hot food.
| | | | | |
| --- | --- | --- | --- | --- |
| | | | | |
| | Mt. Rainier from the window of our flight coming into Seattle | | Such cool hair. Flight attendant on Alaska Airlines heading for Seattle | |
    The other surprising thing on both flights was the lack of an entertainment screen on the back of the seat in front of you. Alaska offers movies, TV shows, and more via their free wifi. A flight attendant explained the screens are gone because it saves the airlines thousands in maintenance and extra weight. But unless you relish watching a blockbuster movie on a five-inch phone screen, you need to bring your own large screen ... tablet or laptop.
    As for my gift of first-class ... I normally fly coach-plus because my legs are ridiculously long and I just can't endure five hours with my knees crammed against the seat in front, resulting in me making the flight with one leg in the aisle, the other in my neighbor's storage area.
  But ... Alaska had increased the premium fee so much and lowered the 1st class fee so much that for $70 extra one way, I flew with the privileged. RT Seattle to Atlanta for $738 including all taxes and fees. Last summer when we needed an emergency ticket from Los Angeles to Atlanta in coach, granted it was the Fourth of July week, it was well over $1,000. Actually closer to $1,500.
    My grandkids live in Woodstock, GA, which is, among other things, best known for sending kids back to in-class learning before practically anywhere else in the country and is staunchly GOP.
    So remembering mask resistance in many similar areas, I was stunned at how many people were wearing masks. Like, EVERYONE.
    Also a bit amused about one difference I had forgotten about between the deep south and the northwest. I was describing Covid restrictions at local ski resorts ... lunch in your car, masks on the lifts, and more.
Masking up at Big White Ski resort. Photos courtesy Big White Ski Resort
    My grandson's fiance's mom looked at me a bit wide-eyed over dinner. You're STILL skiing? She is at least 20 years younger. But yes ... I decided to sit out this year's sandwiches-in-the-car routine and am saving my season pass for next year. I really should have told her about Ralph, who was still cycling in his mid-90s, as was my friend Marshall. Not to mention my senior ski group buddies, some of whom have 10 years on me. It's so common out here, you forget we're not exactly like much of the rest of the country.
  One final thought about the south, at least where I was ... Waffle House vs IHOP. IHOP, how far you've fallen. Granted, I have a bit of bias since my grandson Will cooks at Waffle but, honestly, the grits (yeah, of course, I had my long missed soul food) at WH were mouth-wateringly amazing. And over at the competition? Flavorless.
    Will admitted they put an unholy amount of butter in their grits but, well, no amount of butter would have saved the tasteless gruel at IHOP, where, also, the pancakes were mealy. Sigh.
    The family hiked a bit, toured thrift shops where we scored a $200, four-foot-tall dollhouse for $20, had a baby shower and so much more.
    It was, honestly, fantastic to be normal again.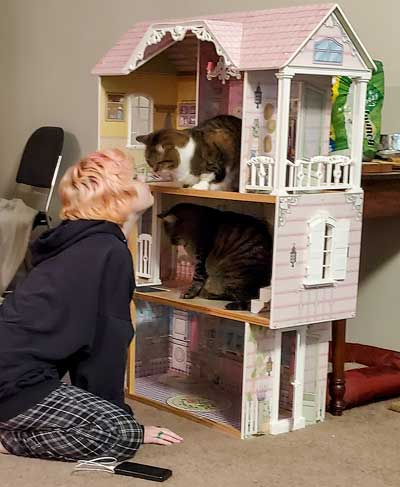 Our thrift store find...granddaughter, kitties and dollhouse