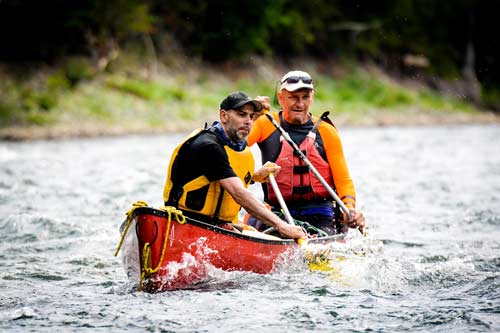 Rapids can be great fun on a boat, raft, kayak, or canoe, or even when you're swimming. However, no matter how you're moving through the water, it's essential that you know what rapids are up ahead. Rapids can be extremely dangerous if you aren't prepared or skilled enough to navigate them safely. The good news is that most charted waterways have a grading or classification given to their rapids to provide insight into what you can expect.
Rapids are classified according to how dangerous they are, and what kind of skill level you need to make your way through them safely. This classification method is universal, so you can use it as a baseline all over the world. From this classification, you can tell what the river's level of difficulty will be. With this knowledge, you can gauge whether you have the skill to make it through.
These are the standard classifications that make up the international scale of river and rapid difficulty rating system:
Class I Rapids
This is the easiest of all the rapid classes, and even a complete beginner should be able to make their way through these rapids without too much trouble.
You'll see gentle swirls in the water, and the rocks and other obstructions will be easy to maneuver around. If you're rafting and come out of your boat or kayak, the water won't be moving so fast that you get swept away. The obstacles in the water will not be too much of a threat when you swim to shore or back to your vessel.
Class II Rapids
The rapids in this class are slightly bigger and more turbulent than Class I. However, you'll still be able to find clear and easy channels through them to successfully make it out the other side.
A novice in water sports should be able to navigate all obstacles comfortably. But it's probably best you know your vessel and are comfortable steering and maneuvering. It can take some skill to get you through the small waves and rocks that are characteristic of this level. If you capsize on Class II rapids, you should also be able to swim to safety with ease.
Class III Rapids
Now we come into a moderately difficult level, where the rapids will be faster and there are waves that you will need to ride. A more experienced paddler or person steering the vessel can still avoid the obstacles in the water.
The current will be quite strong, making it more dangerous if you capsize and find yourself in the water. However, self-rescue is still possible in the water for stronger, more confident swimmers. Beginners should not try a Class III rapid without the instruction and guidance of someone more experienced.
Class IV Rapids
These rapids are firmly in advanced territory, and anyone who's not confident in their vessel and doesn't have experience shouldn't attempt this class of rapids. The water will move very quickly over larger, more complex obstacles. You can expect larger waves and some sudden drops on the other side of obstacles.
You'll need to move through the rapids quickly and confidently to make it through without capsizing. If you go overboard, self-rescue is difficult. It's a good idea to go in a group so that others can assist anyone who lands in the water.
Class V Rapids
In this class, the water is usually very turbulent, and the twists and turns somewhat unpredictable.
Only experts should attempt this level of difficulty. Even then, it's advisable to get out of your vessel and inspect the rapids before you head over them.
A guide or expert in the area will be able to help you get the lay of obstacles beneath the fast-moving water. However, you can't expect the best route to remain the same as the waters and currents shift. It's important to note that the ferocity of the water coupled with hidden obstacles mean that swimming is dangerous, and self-rescue is incredibly difficult.
Class VI Rapids
In this last class of rapids, the speed of the water is at its most dangerous. Only experts should take on this level of rapid, and only in a team with support on standby.
The waves will be high, the water will move very quickly and swirl unpredictably, and it will hide many of the obstacles. Capsizing in this situation is incredibly dangerous and could even be fatal. It's definitely recommended that you and your team take a hike and view the rapids from land first, and leave spotters on the shore to call out obstacles as you tackle them from the water.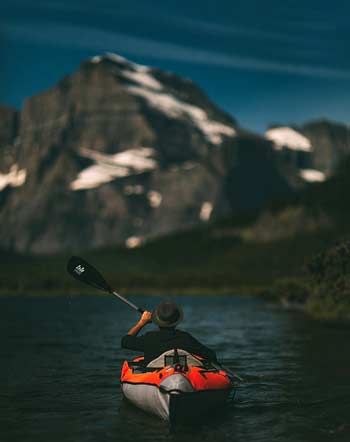 Research Your Route Before You Hit The Water
The fact that these classifications are universal makes it easy to work out how difficult a particular route is going to be, and what kind of skill level is necessary. It's up to you to read up about the waterway before you head out and ensure that you're suitably prepared for your adventure.
When doing your research, remember to consider what time of year you'll be on the water. This is because the same section of a river can be Class II at one time of year, and Class IV at another. Tides, rainfall, and other factors can all impact how fast the water moves, or how well it covers the rocks and obstacles along the way.
It's also important to bring proper safety gear. Life jackets are a must at all times. Helmets, whistles and other gear become necessary the more advanced or dangerous the rapids get. You may also want to hire a guide or talk to a local to help you out with your planning. Just make sure you research what you need, and stay safe while out having fun! White water rapids are fun and challenging, but as with all bodies of water, you must always prepare for whatever dangers lurk beneath.
Author Bio: Mark Armstrong is a full-time globe-trotting kayaking junkie and avid angler. Making his way across the world, one rapid at a time. With his passion for the outdoors, adventure, and being on the water, Mark has kayaked thousands of miles on more than five continents.
| | | |
| --- | --- | --- |
| | | When he's not thrill-seeking and kayaking rapids, you can find him taking in the serene calmness of the outdoors while fishing on, you guessed it, a kayak. When he's not out paddling on the water he's the chief editor for Kayak Guru, where he writes about anything and everything kayak, fishing, and SUP related. |