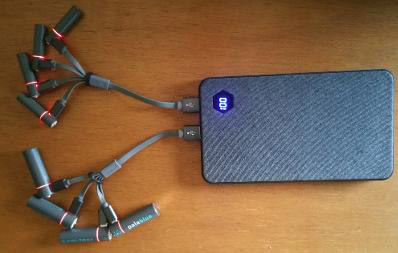 Our favorite charger charges our favorite batteries. Bonus!
Now, with the COVID-19 virus influencing our vacation and travel plans, the great outdoors has become our venue of choice for gatherings and lots of recreation. As a result, we're all tending to pack along with us more than just the tents, tarps and trail maps. Cell phones, laptops, lights, cameras and GPS devices, all operated by batteries that need changing or - better yet - recharging, have become necessities for outdoor adventurers. We've found a pair of favorites in these categories - paleblueearth.com AA and AAA batteries that plug into our favorite eggtronics.com charger. Both devices are completely rechargeable.
The Laptop Power Bank can charge
multiple devices at the same time.

Even mini-vacuums can get running power from the Power Bank.
This Eggtronic 20,000mAh high-capacity Laptop Power Bank charger will keep your gadgets charged when there isn't a wall outlet for miles. (Fully charge this charger before you leave on your trip.) The portable charger, designed to power miultiple devices while on the go, comes equipped with two USB-A ports to recharge phones, tablets and cameras. It also has a 45W Power Delivery USB-C port that will fast-charge compatible laptops, including MacBookAir© and MacBook Pro© - up to 15 full charges. The 4˝ x 7˝ x 1/2˝ power bank is covered in soft, water-repellent linen canvas and has a built-in LED indicator light that instantly tells you how much battery life is left on the charger in one clear bright blue number. It even charged and operated a mini-computer vacuum to clean the pine needles off our keyboard.
Eggtronic 63W Laptop Power Bank / Canvas - Grey USB ultra Fast Battery $69.99
| | | | | |
| --- | --- | --- | --- | --- |
| | | | | |
| | When batteries need a charge, they light up red when plugged in. | | When batteries are charged, they turn green for go. | |
Pale Blue Earth has developed rechargeable Li-Ion (lithium) household batteries that can be recharged via USB connection. And what a godsend to all of us who go through boxes of AA, AAA and other batteries for our radios, flashlights, bike head/tail lights and other numerous devices and tools that we need on travel adventures and even use everyday. As the company says - "If you've got a power bank, or any other USB power source, you've got battery power." These batteries charge in about two hours and hold steady until the battery is fully depleted.
According to the company's release, more than three billion batteries end up in landfills every year. Despite the growing availability of battery recycling, most people don't do it. Traditional rechargables were inconvenient as they required clunky chargers, taking eight-10 hours to recharge and suffered from fast battery drain. Pale Blue Earth rechargeables are the perfect match for adventurers who want power off-the-grid, or an easier way to ditch the disposables for a more sustainable lifestyle.
AA USB Rechargeable Smart Batteries - (4 pack) $29.99
AAA USB Rechargeable Smart Batteries - (4 pack) $24.99
See links to websites for more choices.