| | | |
| --- | --- | --- |
| | KEW GARDENS: LONDON'S AMAZING BOTANICAL KINGDOM | |
| | Story and photos by Lee Juillerat | |
Like others, Lee's travels were restricted for most of 2020. With time to spare because of the pandemic, he spent some of his suddenly-free time digging up photos, notes from his journal and memories of his October 2019 visit to Kew Gardens in London. The two days in Kew were part of a longer trip that included 2-1/2 weeks in Wales.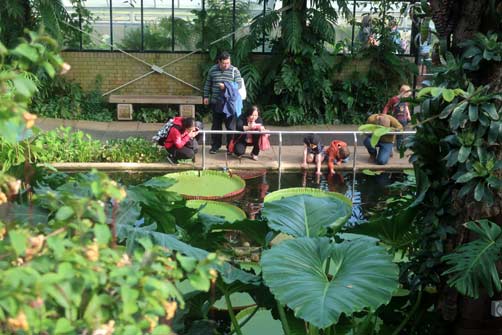 Visitors of all ages appreciate Kew Gardens

It was our second day exploring the gardens of Kew. One day hadn't been enough. Even after a full day of meandering about Kew Garden's 300 acres, we were nowhere near satiated. There was so much more to see.

Officially known as the Royal Botanic Gardens, Kew is known for housing the "largest and most diverse botanical and mycological collections in the world." As we learned, seeing is believing.

My friend Liane and I were visiting areas of London before re-reuniting with my daughter Molly and her husband Andy. After traveling for 2-1/2 weeks in Wales, my mother's home country, Molly and Andy were spending a few days in Paris before reconnecting with us for the flight home. Liane and I had spent a few days near London's city center and had set aside a few days in the London Borough of Richmond upon Thames, an elaborate title for a borough, a district of London that's near the Kew Gardens.
| | | | | |
| --- | --- | --- | --- | --- |
| | | | | |
| | Solenostemonke | | Latana | |
Visiting Kew Gardens is experiencing disbelief. More than 50,000 species of flowers, trees, shrubs in lavish gardens and multi-personality botanical greenhouses are part of the expansive and historic gardens. More than 1.35 million people visit Kew, a UNESCO World Heritage Site, in an average year. Most visitors spend a few hours. We spent two very full days – and wished we could have stayed longer.
| | | | | |
| --- | --- | --- | --- | --- |
| | | | | |
| | Amazing sights in the Waterlily House | | Argentine Cactus | |
As I wrote in my journal about our first day's visit, "We stayed more than six hours at Kew today. Huge! Impossible to take it all in, and we didn't try to." Our first-day highlights included the Princess of Wales Conservatory, which was opened in 1967 by Diana, the Princess of Wales. Inside are 10 computer-controlled micro-climate zones, containing mostly such dry and wet tropics plants as orchids, water lilies, cacti, lithops, carnivorous plants and bromeliads, with cactus outside.
| | | | | | | |
| --- | --- | --- | --- | --- | --- | --- |
| | | | But probably my day-one's favorite was the Treetop Walkway, a 660-foot walk that rises 59 feet above the ground in a tree canopy. As advertised, the walkway floor lightly sways in the wind. | | | |
| | Treetop Walkway | | | | Stairway | |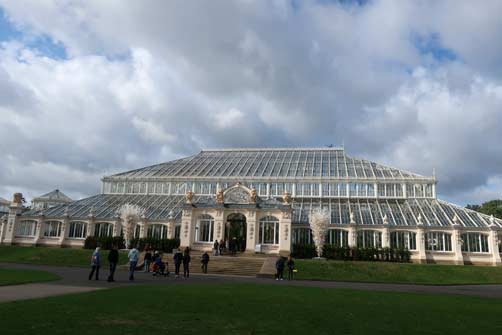 The Temperate House
| | | | | |
| --- | --- | --- | --- | --- |
| | | | | |
| | Palms and ferns | | Dale Chihuly glass sculpture | |
We also visited the Temperate House, which according to guides is the "world's largest surviving Victorian glass structure." It features plants and trees from the world's temperate zones.
| | | |
| --- | --- | --- |
| | Kew's woodlands feature trees from around the world. | |
Featured outdoors were acres of woodlands, with trees from many corners of the planet, more than 2,000 species and upwards of 14,000 trees. I'm no forester, so I thank the Kew Guide. It spells out varieties like the empress tree from Japan, unusual beeches, Chinese fringe tree, American ash, magnolias, dogwoods, Italian and dozens of maples, oaks, Atlas and other cedars, hickories, black walnut, crabapple, pear and a mind-numbing variety of evergreens. There were varieties of conifers, including grand stone pines, which are valued for their edible pine nuts. Most familiar were giant redwoods in the aptly named Redwood Grove. Included among the redwoods is Kee's tallest tree, a coastal redwood that's nearly 131-feet tall, the height of a 13-story building. But for those who have visited Redwood National Park along far Northern California's coast, the Kew redwood is miniscule compared to the park's cloud-touching behemoth 377-foot-tall redwood.

But the tree that captured my imagination was a Fagus Beech, a large deciduous that can grow up to 100-feet tall. It's native to central and south Europe woodlands and was taken to America by European colonists in the 1700s. Its history is fascinating, but I haven't stopped thinking it's the perfect name for the hero of a series of detective books, an investigator who isn't afraid of going out on a limb in the name of justice.
| | | | | |
| --- | --- | --- | --- | --- |
| | | | | |
| | One of many caladiums | | Colorful orchids | |
Our second day included visiting Mr. Beech, and also the Kitchen Garden with its diverse collection of plants and, amazingly, apple trees strung along a fence line. Known as espalier apple trees, the trees can be planted closer together than normal, which allows several apple trees to grow in a smaller space.
| | | | | |
| --- | --- | --- | --- | --- |
| | | | | |
| | Glowing Hive | | The Hive | |
We slowly meandered through other gardens – the Rock Garden, Davies Garden and Kitchen Garden. Evoking other feelings was The Hive, described as "a multi-sensory experience designed to highlight the extraordinary life of bees." It's an open air, 56-foot-tall structure with around 900 LED lights that glow and fade. Inside, the Hive's soundscape hums and buzzes like a gathering of googleplex honeybees. It's a place that has to be seen and experienced to be believed.
| | | | | |
| --- | --- | --- | --- | --- |
| | | | | |
| | | Dozens of orchids | | |
We walked through areas flowering with endless varieties of magnolias, trails blooming with colorful varieties of rhododendrons, and The Orangery, which has no oranges or other citrus plants because it is too dark and has since been converted to a restaurant. More sights – the Bamboo Gardens, Minska House, Bonsai House, the Great Pagoda, Nash Conservatory, and the woodlands surrounding Queen Charlotte's Cottage. But one of Liane's favorites, seen from a view platform, were the sprawling compost heaps. Kew has one of Europe's largest compost heaps made from green and woody waste from the gardens and manure from the stables.
| | | | | |
| --- | --- | --- | --- | --- |
| | | | | |
| | Ducks and swans hope for handouts | | Peacock showing its colors | |
More walks through verdant woods, including some that led to the Sackler Crossing bridge, a double-curved bridge made of granite and bronze which crosses Sackler Lake. It connects two art galleries, the Temperate and Evolutions Houses, and Bamboo Garden. As we walked across, swans and ducks hurriedly paddled toward us, hoping for handouts. After crossing, a friendly peacock showed its colorful feathers.

Only later did we appreciate Kew's history, one that dates back to at least 1759 and, earlier than that, includes British royals like Edward I, Henry VII, and George II. When formally established, Kew was intended "to make sense of the world through reason and science," assisted by explorers who traveled the world collecting plants. Among the plant collectors was Sir Joseph Banks, who joined Captain Cook's expedition to the South Seas from 1768 to 1771 and became Kew's first unofficial director.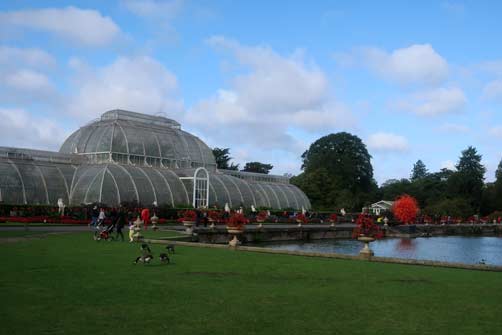 The Palm House

Over the years Kew has evolved and been redesigned. The elegant Palm House, for example, seen from the Victoria Gate entrance, was built between 1844 and 1848 and has been frequently upgraded and overhauled. In 2018, a five-year-long, nearly $55.5 million upgrade was completed at the Temperate House.
| | | | | |
| --- | --- | --- | --- | --- |
| | | | | |
| | Japanese hibiscus | | Pumpkins and squash | |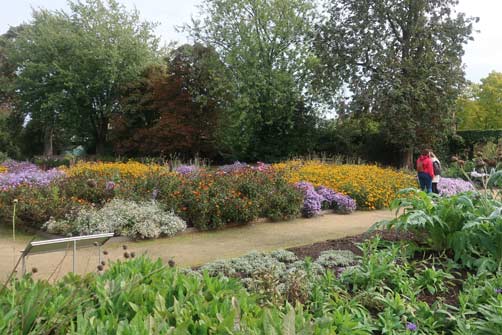 Strolling lush gardens

But the value of Kew can't be measured in American dollars or British pounds. For casual visitors it's a jaw-dropping array of multi-colored, traditionally- and wonderfully- shaped flowers and plants, of towering trees and incredible architecture. But Kew is also a seed bank, preserving plants at risk of extinction, a place that promotes sustainable plant use and seeks to connect science with policy—a place where taxonomists discover and document new species of fungi and plants. Visually, it's a place to stimulate the imagination by creating a sense of awe and wonder.

We thought we had been given some bad advice when it was suggested we spend two days at Kew Gardens. Three or four, or five would have been wondrous, and even better if spread over the year. No matter how many days are spent, visitors will leave Kew dazzled and dazed.

About the Author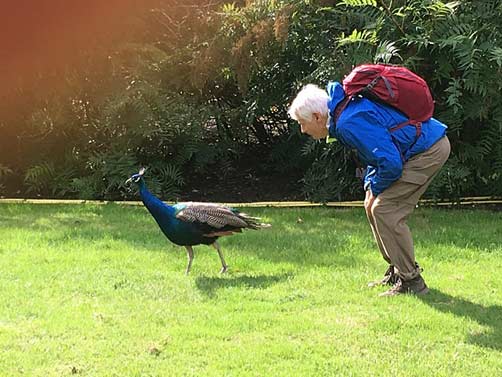 Lee and the peacock

Lee Juillerat is the retired regional editor for the Klamath Falls Herald and News in Southern Oregon. He is the author of two books about Crater Lake National Park, one of his favorite places, and more recently, "Ranchers and Ranching," a collection of more than 150 stories about, of course, ranchers and ranching. He has taken annual swims in the lake for more than 40 years and has cross country skied and run around the Crater Lake on its Rim Drive. Lee is a regular contributor to several magazines and has done stories for Horizon and Alaska Airlines inflight magazines for many years. He has been writing stories about places as diverse as Peru, Switzerland, Wales, Chile, New Zealand and all regions of the U.S. for High On Adventure since 1997. Send me an email.