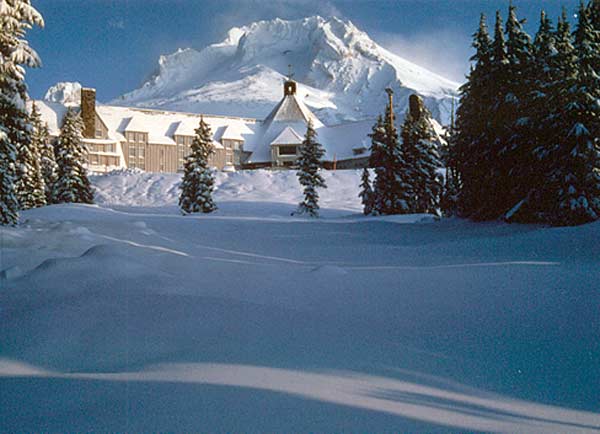 Mt. Hood's Timberline Lodge

A state filled with mystery and paradox, Oregon is home to one of the world's most immense stretches of temperate coastal sand dunes, but also one of the few places on earth you can ski lift-served slopes year-round. It houses the most authentic Chinese garden outside China, and the only academically accredited school in the US that also concentrates on skiing, snowboarding and skateboarding.
Lift-served skiing arrived in America in 1978 when Timberline Lodge fired up the Palmer chair.
The China Gate is the symbolic entrance to Portland's China Town, setting for the Lan Su Chinese Garden.
Oregon gave birth to the first wiki website and computer mouse, and familiar brands including the Leatherman multi-tool, Nike and Pendleton. Today's recognizable Hacky Sack was trademarked in Oregon, and an Oregon-born magician/inventor first envisioned the Erector Set. Folks as diverse as chef James Beard and The Simpsons creator Matt Groening, Nike founder Phil Knight and actors River Phoenix and Lindsay Wagner, are Oregon-born.
Perhaps because -- or in celebration – of such a unique environment, Oregon also has the most marijuana dispensaries per capita in the US.
If you're ready to indulge your wanderlust again and live near the West Coast, consider a road trip to Oregon, a state filled with natural beauty and, being slightly larger than the United Kingdom, plenty of room to spread your wings and explore.
| | | | | |
| --- | --- | --- | --- | --- |
| | | | | |
| | Columbia River kiteboarders, sailboat | | Diamond Lake snowmobiling on Mt. Bailey | |
Water sport opportunities abound in lakes and rivers across the state, including Hood River's stretch of the Columbia River which is often referred to as the Windsurfing Capital of the World. Diamond Lake's snowmobile options include wide open boulevards, challenging sections to the top of 8,376-foot Mt. Bailey, and jaunts to Crater Lake a mere 12 miles away.
There are endless opportunities to grab some gear and get your burn on: hiking and mountain biking, rock climbing and horseback riding, dirt biking and four-wheeling, snowmobiling and snow sliding, paragliding and land sailing, swimming and scuba diving, windsurfing and paddle boarding, waterskiing and all manner of boating, camping and fishing, beach-combing and golfing, crabbing and clamming, fossil and rock hunting.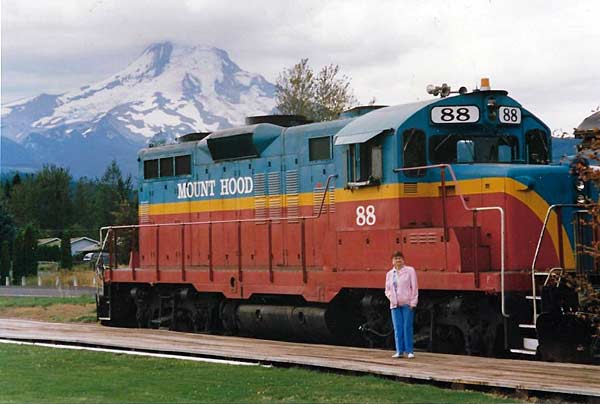 Mt. Hood Railway, Parkdale
The Mt. Hood Railroad skirts the Hood River through a valley into the shadows of its namesake mountain and offers scenic excursions, brunch runs, murder-mystery and western train robbery dinners, and the magical Polar Express.
If you want to visit "touristy" places, there are museums, interpretive centers, wineries and breweries in abundance. Hop aboard a river cruise or whitewater outing on the Columbia, Willamette, Snake, Deschutes or Rogue Rivers. Train excursions include scenic, historic, themed dinners and holiday experiences. Be sure to check health restrictions and CDC guidelines regarding these adventures.
If you desire a more solitary pursuit during challenging travel times, Oregon offers an abundance of options to indulge your enthusiasm and passion. There are 47 official wilderness areas, 11 national forests and six state forests for hiking, fishing, camping and other outdoor activities. Sixteen designated scenic byways explore the deserts, rivers and Pacific Coast, and six designated tour routes focus on places of interest such as waterfalls, vineyards and covered bridges.
HUNTING HISTORY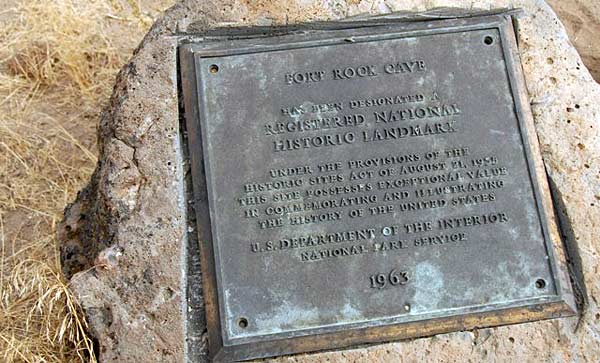 Fort Rock Cave (photo by Lee Juillerat)
In the late 1800s, 70 sagebrush sandals were discovered in Fort Rock Cave in Central Oregon, carbon-dating to around 10,000 years ago. 70 miles away in Paisley Caves, the byproduct of someone's meal is dated to be around 12,300 years in the past.
Oregon's first visitors arrived from Asia by way of the Bering Land Bridge about 15,000 years ago. Early settlers concentrated along the coast, around numerous rivers and in fertile valleys where game and edible plants were abundant. By the time European explorers arrived in the 16th century, nearly 200,000 people called present-day Oregon home, gathered in dozens of tribes and spoke 60-70 languages and dialects. Coastal groups may well have seen the 1543 Spanish expedition that made note of the Rogue River, or Sir Francis Drake who explored the central coast in 1579, spending time in Whale Cove repairing his ship the Golden Hind and naming the area New Albion.
Oregon's Native Americans are now organized into nine federally recognized tribes, seven of which have established reservations. After their early population was decimated by European diseases and warfare with soldiers and early settlers, by 2010 their population numbered one-half that of 300 years ago. Now their reservations comprise about 1.3% of Oregon land.
| | | | | |
| --- | --- | --- | --- | --- |
| | | | | |
| | Warm Springs trail ride | | Warm Springs trail ride Powwow dancer | |
The Museum at Warm Springs keeps the rich culture of that group alive with language, song and crafts. Each year the Warm Springs tribe re-creates a 3-day trail ride, and members of all ages participate in traditional powwow dancing. Explore the effects of the Oregon Trail upon the eastern Oregon tribes at the Museum at Tamastslikt in Pendleton.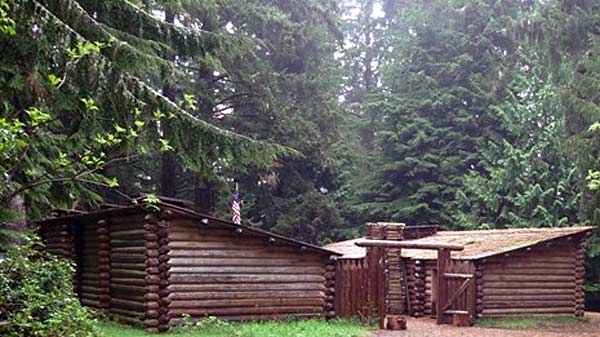 Fort Clatsop National Memorial (photo courtesy National Parks Service)
When Lewis and Clark's Corps of Discovery set out to explore the newly acquired Louisiana Purchase and lands beyond, their journey ended where the Columbia River empties into the Pacific. Fort Clatsop National Memorial (above) is a 125 acre replica of the outpost where they hunkered down for the winter of 1805-06. A few miles south in Seaside, using specs from the team's diary, the Lewis & Clark Salt Works commemorates the location where the expedition set up a camp to render 1,400 gallons of saltwater into 3½ bushels of, according to Captain Clark, "… excellent, white and fine" badly needed salt.
In 1811, New York financier John Jacob Astor sent members of his Pacific Fur Company to establish Fort Astoria, the first permanent settlement west of the Mississippi. It was captured by the British during the War of 1812 but later returned to the US. Eventually it would be home to the first post office west of the Rockies, and the first US Customs House.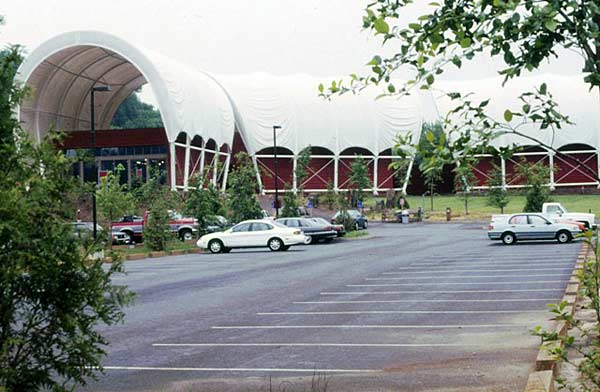 End of the Oregon Trail Interpretive Center
Resembling a train of Conestoga wagons, The End of the Oregon Trail Interpretive Center commemorates the Trail's official terminus in Oregon City.
Wagon trains started rolling on the Oregon Trail in the 1830s, eventually drawing nearly 400,000 immigrants across the longest overland migration trail in North America. About one-fifth of them travelled the entire 2,170 mile trail to its official terminus in Oregon's fertile Willamette Valley where crops of fruits, vegetables, nuts, flowers, nursery stock and vineyards flourish.
Traces of the original trail can be found at interpretive sites in eastern Oregon and along the Columbia River Gorge, including the National Historic Oregon Trail Interpretive Center on Flagstaff Hill near Baker City. Seven miles of ruts carved by the heavily laden wagons can be viewed at nearby Virtue Flat, and at Blue Mountain Crossing Interpretive Site north of La Grande. Perhaps the state's most dramatic ruts can be found at Well Springs north of Pendleton, a pioneer campsite, and alongside the freeway near Biggs Junction where a set of tracks are etched into the hillside above the Columbia River gorge. It is a humbling experience to try and imagine the journey people like my maternal great-grandparents endured seeking a better way of life.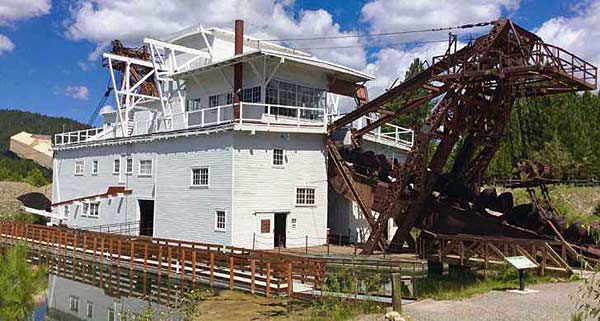 Sumpter Valley Dredge State Heritage Area (photo courtesy Oregon State Parks)
The last remaining gold dredge, which extracted over $10 million in gold from the Powder River, can be explored at the Sumpter Valley Dredge State Heritage Area.
In the mid-19th century, prospectors discovered gold in southern and eastern Oregon. The area around John Day and Baker City eventually drew nearly 2,000 Chinese miners who established a thriving community and outnumbered white prospectors 3-to-1. $26 million in gold was extracted from just the John Day region, while three dredges worked the nearby Sumpter area.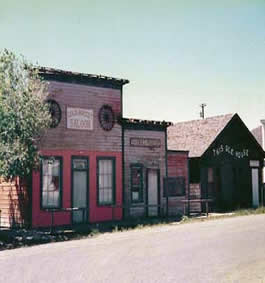 Shaniko - Oregon Ghost Town
Once the wool capital of the West, Shaniko is now just one of more than 200 abandoned towns scattered across the Oregon landscape, that boasts the most ghost towns of any state in the US Baker City, although a city of nearly 10,000, features the largest intact 19th-century streetscape in the American West including more than 100 buildings on the National Registry of Historic Places.
Timberline Lodge, Mt. Hood
(photo courtesy Timberline Lodge)

Pee Chee folder, Magic Mile chair lift


Timberline's Magic Mile was the world's second chairlift, the longest at 4,950 feet, the first with metal towers, and provided the inspiration for the image on school children's Pee Chee folders.
A National Historic Landmark and perhaps Oregon's most iconic structure, Timberline Lodge is also a hotbed of history and history-making firsts. Built by the WPA/Civilian Conservation Corps at the 6,000-foot level of Mt. Hood, the state's tallest peak, its construction lead to the development of the first "snow cat,"a marvel able to pack its own weight while it scooted along at 25 mph and tackled grades up to 40%.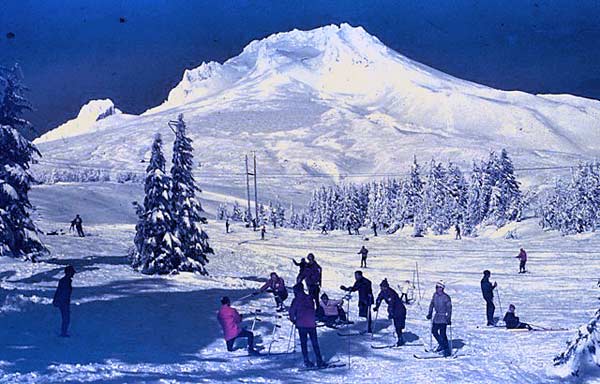 Summit Ski Area amputee classes (photo by John Hoefling)
Summit Ski Area, also on the slopes of Mt. Hood, is the oldest continually operating ski area in the US, and where the Portland JC Ski School launched America's first amputee ski program (above) in the late 1950s.
Mt. Hood has been the inspiration for other noteworthy accomplishments. It was among the first in the US to organize a ski patrol and possibly first in the world to accept women. Besides serving as the testing ground for Portland-based winter sports clothing manufacturers Columbia Sportswear and White Stag, it was the launching ground for local Hjalmar Hvam's creation of the world's first reliable "safety" binding for skiers.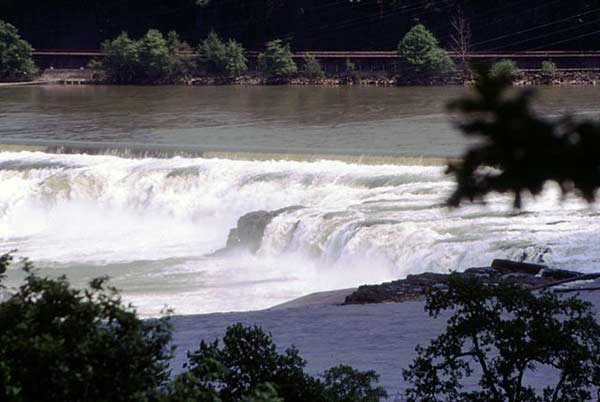 Willamette Falls power transmission
The first long-distance power transmission in the country ran 14 miles from Willamette Falls to light downtown Portland's streets in 1889.
A few other historic "firsts" to which Oregon lays claim: First City Market Inspector in the US appointed in 1905, marking the start of the consumer protection movement. Three years later Portland hired the country's first female Civil Service police officer. First bottle bill in the US passed in 1971, and while there's no documentation which state first declared all their ocean beaches to be public, Oregon's 1913 law declared the entire coastline from low to high tide open to everyone. Oregon remains one of only two states where you can't pump your own gas, but there's no sales tax and you can enjoy a ride on Portland's streetcars, installed in 2001 to become the first US city to introduce a modern transportation line.
GEOLOGIC DAZZLERS
The colliding Pacific and North American plates not only propelled the Coast Mountain range into existence, the resulting friction heated basalt rock deep in the earth until it thrust its way to the surface to form the Cascade Mountains. The geographical and geological treasure trove left behind still astonishes scientists and visitors.
John Day Fossil Beds, Clarno Palisades
(photo courtesy NWIA)

John Day Fossil Beds, Painted Hills


The John Day Fossil Beds are composed of three distinct sections: the Clarno Unit near Fossil, the Painted Hills near Mitchell, and the Sheep Rock Unit near Dayville. Greatly eroded volcanic ash layers of the Painted Hills (above left) reveal a dramatic palate of colors. The Clarno Palisades are a hardened mix of volcanic ash, rock and water, and overlook a vast and rich collection of fossils.
Flora and fauna flourished in the woodlands, jungles and savannas once covering the eastern portion of the state, leaving behind a wealth of fossils and formations. The John Day Fossil Beds are touted as one of the world's richest and most complete fossil records of prehistoric life from the Cenozoic Era, when massive mammals became extinct and small species began to evolve. Active field investigations are still in progress and have thus far uncovered more than 100 different species.
Thunderegg, Oregon's state rock
(photo courtesy Travel Oregon)

Eagle Rock


Only when you slice into a Thunderegg, Oregon's State Rock, is its treasure revealed. A rich resource for the eroded remnants of hardened volcanic ash deposit known as a "tuff," Eagle Rock near Prineville is a popular rockhounding destination for discovering agates and thick seams of black chalcedony.
In addition to gold deposits, other sought-after by-products of Oregon's volcanic past are gemstones including one of the country's most famous deposits of Sunstone, a translucent feldspar beauty produced by basalt flows. The state contains the world's richest deposits of Thundereggs, formed in igneous rhyolite rock. It is also one of three states with significant deposits of opals including a 315-carat whopper unearthed in the late 1980s, a result of hot water dissolving silica in the volcanic rocks, which also creates beautiful agates.
`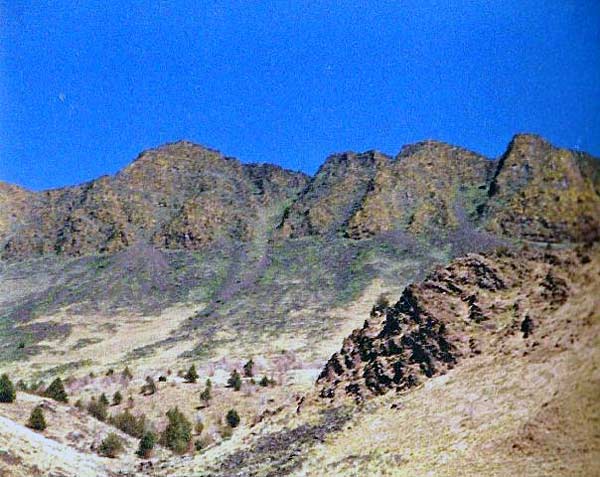 Abert Rim fault line
Eastern Oregon is speckled with spectacular geological formations. Extending more than thirty miles, Abert Rim is the longest exposed fault line in North America, and at 2,500 feet is it one of the highest in the US. About two hours southeast of Bend, Glass Buttes' two 6,000-plus-foot peaks are packed with gem-quality obsidian.
The Christmas Valley Backcountry Byway, a 102-mile loop through high desert country, leads past volcanic craters, lava flows and fossil lakes. Archaeological digs are still underway in many areas, and recent discoveries have included 43,000 year old mammoth tracks.
| | | | | |
| --- | --- | --- | --- | --- |
| | | | | |
| | Fort Rock | | Crack in the Ground | |
(photos by Lee Juillerat)
One of Christmas Valley's most prominent features is Fort Rock, 4,460 feet in diameter and rising nearly 200 feet above the surrounding plain. Called a tuff ring, the low relief volcanic cone surrounds a "maar" or shallow crater caused by the explosion of groundwater mixing with magma. The Valley basin contains about 40 tuff rings and maars. Eight miles north of Christmas Valley, Crack in the Ground is a 2-mile long, 70-foot deep tension fissure formed by an earthquake 1,100 years ago. If you're hot, head for the bottom where the temperature drops about 20 degrees.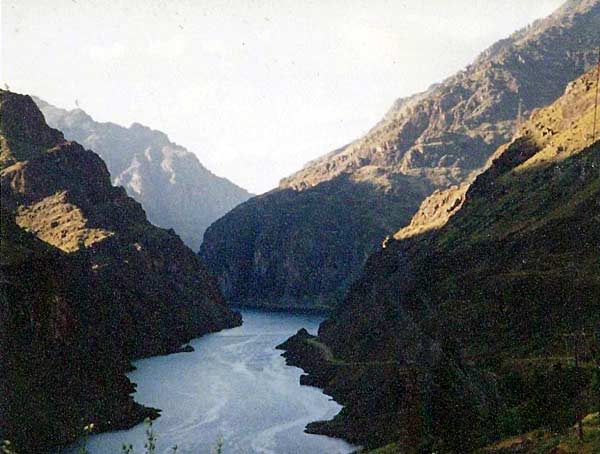 Hell's Canyon, Snake River Gorge
Continual erosion by its namesake river combined with geological uplift of its rim, the ongoing elevation change in the Snake River Gorge is one of the most striking on the planet.
Forming Oregon's eastern border with Idaho, the Snake River Gorge is part of Hells Canyon National Recreation Area, where a third of its 652,488 acres is declared wilderness. Plunging nearly 8,000 feet, it is the deepest river-carved gorge on the North American continent. Since the Snake River began carving through the volcanic ground around 6 million years ago, rock as old as 320 million years has been exposed.
Central Oregon is dotted with lava tubes, lava and ice caves, and hundreds of cinder cones. Its moonscape appearance was perfect for use as NASA's moon missions training ground in the 1960s. When Apollo 15 lunar module pilot Jim Irwin walked on the moon, he left a rock gathered from the area in which they had trained.
| | | | | |
| --- | --- | --- | --- | --- |
| | | | | |
| | Newberry Crater, Paulina Lake Newberry Crater | | Big Obsidian Flow | |
The Central Oregon Cascades (above left) pepper the horizon beyond Paulina Lake. Winding its way across a square mile of Newberry's Crater, the Big Obsidian Flow is the world's largest and one of the youngest flows in Oregon forming the same time as the Crater.
The nearly 500-square-mile Newberry National Volcanic Monument, where three fault zones meet, is packed with waterfalls and mountain lakes, ash flows and obsidian fields, and nearly 5,000 small volcanoes and cinder cones. At its heart is Newberry Crater, created about 1,300 years ago when Mt. Newberry collapsed into a 5-mile wide caldera which became 1000-acre 180-foot-deep East Lake and 1,531-acre 250-foot-deep Paulina Lake. Both Lakes still contain hot springs, a testament that its volcanic past is still seething deep below.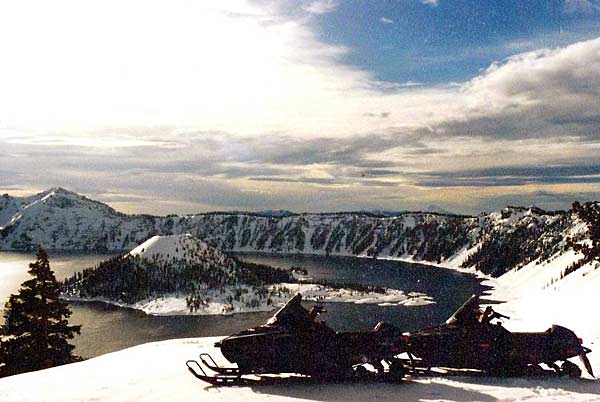 Crater Lake, Wizard Island
Wizard Island peers 764 feet above the surface of Crater Lake. A sacred place of power to the native Klamath tribe, shamans forbid most to even view its waters.
Another result of Earth's volcanic fury can be seen in Southern Oregon's Crater Lake, formed nearly 7,700 years ago when Mt. Mazama blew away about 5,000 feet and scattered ash as far as Saskatchewan. Collapsing into a 21-square-mile, 2,000-foot-deep caldera, it filled with water and became the deepest lake in the US, second deepest in the Western Hemisphere and seventh in the world. Its water is among the clearest anywhere in the world.
The majestic Cascade Range forms a 260-mile long spine through Oregon and includes many dormant volcanoes, countless high alpine lakes, and hiking opportunities including the Pacific Crest Trail.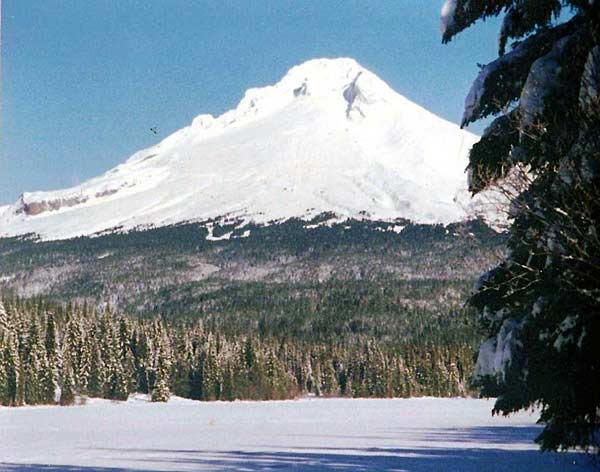 Mt. Hood, Trillium Lake
Mt. Hood, Oregon's tallest at 11,245 feet, is generally acknowledged as the second-most-climbed mountain in the world after Mt. Fuji. This dormant beauty last erupted in the 1790s, and her slopes hold 12 glaciers and snowfields.
| | | | | |
| --- | --- | --- | --- | --- |
| | | | | |
| | Mt. Jefferson | | Mt. Washington | |
Last erupting over 1,000 years ago but considered potentially active, 10,497-foot Mt. Jefferson (above left) is home to five glaciers and is ranked a Class 4 (hard-to-difficult with technical sections) climb. Main access to craggy-topped Mt. Washington, rising 7,795 feet within its namesake 54,278-acre Wilderness, is off the Pacific Crest Trail.
| | | | | |
| --- | --- | --- | --- | --- |
| | | | | |
| | North and Middle Sisters | | Broken Top | |
Oregon's second largest Wilderness, the Three Sisters is home to the North Sister (10,085') & Middle Sister (10,047') (above left). Just east of South Sister (10,358') is Broken Top whose 9,177-foot peak shows extreme evidence of deep glacial erosion.
| | | | | |
| --- | --- | --- | --- | --- |
| | | | | |
| | Mt. Bachelor | | Mt. McLoughlin, Lake of the Woods | |
Mt Bachelor (above left) is an explosive-type stratovolcano atop a more predictable-type shield volcano. Chairlifts unload at the 9,068-foot summit which allows nearly 360-degree skiing and hiking possibilities. Mt. McLoughlin peers 9,495 feet above Lake of the Woods, popular with folks who like to fish, boat and hike.
Even Portland's cityscape is punctuated with Powell Butte and Rocky Butte, cinder cones from the state's volcanic past. It is also home to 636-foot Mt. Tabor, the only extinct volcano within the city limits of an American city.
| | | | | |
| --- | --- | --- | --- | --- |
| | | | | |
| | Oregon Caves | | Oregon Dunes | |
(photos courtesy Travel Oregon)
Oregon's unusual geography continues with features like the Oregon Caves and Oregon Dunes. Discovered in 1874, the Oregon Caves are carved from solid marble and contain the deepest Douglas Fir tree root in the world. Oregon Dunes National Recreation Area runs for 41 miles along the coast between the Siuslaw River and Coos Bay. Its 31,500 acres includes shifting sand dunes, grasslands, marshes and forest lands, three lakes, and is a nesting sites for snowy plovers.
In the next part we'll explore Oregon's watery wonderlands, places to enjoy the critters and flora that call the state home, and just what makes Portland so "weird." In the meantime, check out the following stories for more background on Oregon's history, geology and enjoying some of her outdoor pursuits.
Northern Oregon Coast: Lewis & Clark Meet the Pacific
Oregon's Mt. Hood Ski Saga
Timberline Lodge
Creation of the Cascade Mountains
Digging Ancient Dirt: The John Day Fossil Beds
Skiing the Volcano: Mt. Bachelor
Snowmobiling Moon Country