During these times of unrest and crises, we all look to maintain our active lives and seek new and healthy adventures. To that end, we bring you the reviews of a few simple solutions and enhancements to our restricted travel plans and health concerns that just might make life a bit more enjoyable. After all, we really are all in this together.
NOSWEAT®
When you're out on the trails or in your own home gym exercising and raising your heart rate, sweat happens. The NoSweat's design together with Dri-LID technology incorporated in their hat/helmet band absorb forehead sweat and clear your line of vision. The liner can be used in hats, helmets, hard hats and now, also in PPE shields or visors for health workers. It keeps sweat out of your eyes, fog off your glasses and reduces your need to wipe/touch your face or clean PPE shields with harmful chemicals.

Application is simple, like a bandaid: peel the label, place the band inside your headwear, stick along the edges and then—once the NoSweat band becomes fully saturated—replace. But unlike a bandaid, usually three to five uses of the NoSweat headband are suggested. Caution - don't cut your liner to fit since the embedded sweatlock beads will leak and the liner won't work. Enjoy your sweat-free workout or protect yourself and others.

$9.99 (3 pack) - $35.99 (25 pack)
www.nosweatco.com
PediPocket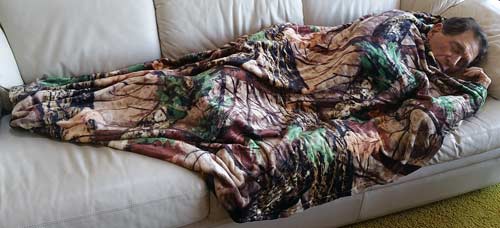 PediPocket blanket with pocket for your feet

Here's a genius way to keep your feet warm and toasty when you're just sitting while cool air flows along the floor. My first thought was, Hey - I could have come up with this! But of course I didn't. It took a woman in Alabama who was so tired of cold feet, and her husband's and sons' too, to figure out how to use a sewing machine and craft a new kind of blanket. It's a blanket with a foot pocket, now known as "the blankie" in our house, but with a difference.

Called a PediPocket, there is a pocket for your feet, as the name implies. It's not just the bottom of the blanket folded up and stitched, but rather crafted with sewn-in triangles to resemble a big monk's hood but for your feet. Either lying down or sitting, you just pull the bottom of the blanket over your feet and snug them in. You no longer have to reach down to tuck the blanket under your feet to keep them warm. And the blanket, made of silky, smooth fabric, is plenty long, so your shoulders are covered too.

The fleece PediPocket comes in 3 sizes - kids through extra large - and 21 colors, $49.99 to $89.99.
www.pedipocketblanket.com

Slip feet into the pocket...
iLive PortableTouch Light Wireless Speaker
For all those wonderful outings into the parks, the backyard or on your deck, this portable speaker will bring sound and light to all those adventures. You can also use this speaker/light at home for a night light or, heaven forbid, when the power goes out! Plug in to your computer, your iPod or smartphone.

The light has three levels of brightness. To turn on the LED lantern, use two fingers to gently tap the top of the light. Tap once for high, twice for medium and three times for low and four to turn the light off.

It connects to your device via Bluetooth, audio cable (Aux in) or from a Micro-SD memory card. With Party Plus mode, you can pair two speakers together for your own surround sound. Also use for your handsfree speaker phone. The rechargeable battery life/play time averages nine hours. No bigger or heavier than a water glass or beer can, the Touch Light can go with you anywhere you travel.

$49.99
www.iliveelectronics.com
Safe Catch.Elite Pure Wild Tuna
When you're planning a camping trip, an RV journey or a nearby backyard picnic, one of the best go-to staples to include are packets of Safe Catch Pure Wild Tuna. These pouches contain three ounces of an easy-carry, easy use, pre-cooked, delicious source of pure wild tuna with 24 grams of protein and only 110 calories. It's also certified Kosher.

This skipjack tuna is wild and sustainably caught without FADs or long lines. It claims the lowest mercury levels in tuna of any other brand and tests as pure as wild salmon.

Mercury-tested, slow-cooked and hand-packed, each pouch only needs to be kneaded and squeezed, then opened and eaten. Put a few packs in your camping supplies or backpack and enjoy when you're out on an adventure or mix up some sandwich filling for an at-home picnic.

$35.99 per case of twelve 3-oz. pouches
https://www.safecatch.com
The Happy Labs Muscle and Joint Salve
When we're out there recreating, excercising, making the effort to keep fit and stay healthy, sometimes we overdo or meet up with mishaps. Happy Labs Salve to the rescue of sore and aching muscles and joints!

This concentrated CBD salve contains no THC, but includes, among many other organic ingredients, coconut, jojoba, lavender, rosehip and neem healing oils. As directions say: "Slather and smear this salve to soothe sore spots. Now say that three times fast!"

Instructions also suggest that this shea butter-based organic salve be applied liberally to sore and aching muscles and joints, that you then sit back, relax and notice how this affects your body. Caution: avoid using on broken skin. $95.00 1.7 oz 900 mg CBD, CBD isolate

Please visit the website for more detailed information about their sources, production and lab procedures.https://www.thehappylabs.com
Personal note: I recently had a bike crash resulting in a broken clavicle needing reconstructive surgery. My daily use of this topical salve has remarkably relieved pains and aches during my recovery as I progress through physical therapy and a return to normal excercise. I have taken no pain medication whatsoever since a few days following surgery and have been able to function comfortably without ingesting even over-the-counter chemicals.