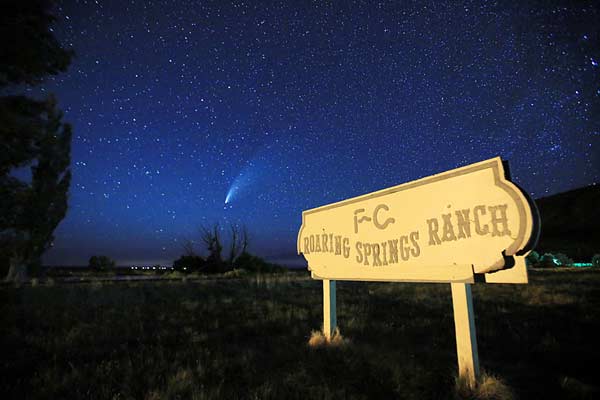 Neowise Comet
"Are you alright?" my brother-in-law Rob Crawford asked as he witnessed me doing a face-plant into the river, deep in untracked Steens Mountain country in remote southeast Oregon. I replied, "Hell no, but I'm not dead yet! Let's find our exit canyon!"
We were on a back-country fly fishing expedition that had always been on Rob's bucket list. I told him later that it "had never been on my bucket list, but I'm crossing it off anyhow!"
It was late July 2020 and the world was locked in a CV-19 grip. We were far removed, practicing social distancing to the extreme. Light was fading fast and we were trying to find our exit canyon. Earlier in the day, we had driven down gnarly dirt roads that eventually petered out near the head of this one canyon which would also be our exit canyon. Rob had an old handmade map given to him years ago by a friend. This friend (now deceased) talked about the remarkable fishing in this remote stream - as long as one was willing to be placed in harms way of rattlesnakes and rugged country.
Entering and Fishing the Main Stream Canyon
After parking the pickup, we hefted light packs of minimal fly fishing gear, food and water, and then bushwhacked our way across country with plans to enter the streams canyon several miles downstream. Rob had gone in several years earlier entering and departing via the side canyon. He encountered three rattlesnakes near and along the stream. The sun was bearing down on us as we hiked through juniper, mountain mahogany and pine country. My back was soaked with sweat when we finally entered the main stream canyon. In the distance I heard thunder and lightening and saw clouds on the eastern horizon. Momentarily, I imagined getting ourselves trapped in a summer maelstrom.
Making our way down to the stream's edge was a challenge as it was steep and strewn with near impenetrable vegetation at times. Rob charted the path, doing a good job at finding the easiest of all of the hard routes. We were in the terrain normally traveled by mountain lion, bighorn sheep, bobcat and deer. The scenery was beautiful and we were elated to think that we were the first visitors this year to this seldom-visited place - which I've intentionally left unnamed.
Water Immersion
Clothes, shoes and all - when we reached the stream, we immersed ourselves in the water to cool off from the heat. Both of us consumed our packed sandwiches and then we commenced to fish. With barbless hooks and dry/wet flies, we caught fish just about every cast as we moved upstream, trading holes as we went. All trout were released. It was obvious that they were not used to any human fishing presence. Both of us love fly fishing and we were in the extreme of this as far as wilderness/back-country fishing goes. I've been in the heart of some Alaska wildernesses and this was no less the same, except that this was just a one day outing!
We pretty much stayed in the river, wading in our hiking shoes and pants. The scrubs and tree growth along the banks was so thick that walking the banks was near impossible ... which was fine with me, as that reduced the odds of rattlesnake encounters. I thought of my late father who was from Alabama who told me many fishing water moccasin stories. At least our western rattlesnakes give you a warning and they do not reside in water!
I was so caught up in the catch-and-release fishing that I barely heard Rob's words: "We'd better stop fishing and make some time as our exit is farther than you think." We began to high tail it as the day was closing fast. We had been in the water a canyon mile when I slipped. We would be in it another mile before we found our exit, including times with water up to my neck. We passed up a lot of fishing holes during our hasty departure, including those with a few that revealed trout upwards of 19 inches. We knew full well that we might get trapped, having no choice but to spend the night, which in some ways would have been fine and dandy, except for those damned snakes! We were fortunate to not have seen any that day.
My hiking shoes were not the best water shoes in the world. Both of us found strong alder branches to use as makeshift walking staffs. One blessing was that clouds overtook the bleating sun. Around every bend, we were expecting our exit canyon. False canyons were like false peaks in high altitude mountaineering, and we experienced several. Rob and I both wished that we would have topped off our water bottles.
Finally nearing sunset, we found the exit, the first true side canyon that we came across. "I think that this is the one," stated Rob. "Damn right it better be," I replied. I have him by ten years, so my get up and go was more like it had got up and went!
Both of us submerged ourselves in the river, knowing the trek out would be huff-and-puff hot. Actually it ended up being better than I thought compared to the river boulder trek that now lie behind us. As we came across someone's rock tombstone near the top of the canyon, we were thankful that there would not be two fresh tombstones added!
A half a mile before arriving at the vehicle, my right leg seized up with cramps. I immediately took a package of electrolytes and consumed the remainder of my water. I dealt with it all the way to the rig and to our eventual destination, the Rock House at the Roaring Springs Ranch where dinner was waiting for us, prepared by our personal chef John Paulson.
2-3 Week Social Distancing Sojourn
My ski buddy John Paulson and I had talked about a 2-3 week southeast Oregon sojourn the year before. When CV-19 hit, we inked it in stone and added northern Nevada to the mix. I made arrangements for a few day's stay with friends of mine who own the beautiful Alder Creek Ranch, nestled at the base of Nevada's Pine Forest Range. The stay was so great that we extended it to a week.
I've always been a hiker/biker/horseback-rider but never a four-wheeler. That changed at the Alder Creek Ranch as John had brought along a trailer with his two four-wheelers. Nearly everyday, we explored the back-country from the ranch. The four-wheelers were perfect for seeing new country as all of the roads from the ranch are gravel, dirt, cow and game trails.
During our adventure sojourn, we explored (and fished) Onion Reservoir, Knott Creek Reservoir and Blue Lake which we hiked into after parking the 4-wheelers at the trailhead. I carried a cooler in my 4-wheeler rack filled with ice, food and drinks. John had a tenkara fly rod and I had strapped on my fly rods in a blue sheath. The roads in the Pine Forest would drive a priest to cursing. Both of us had near tip-overs on the 'road to hell and back' going to Knott Creek ... and to make matters worse, I had left the plug to my kayak (that both of us were going to fish from) in my pickup a hundred miles away! Needless to say, our brief bank fishing there dealing with moss and weeds rendered us nada. However, where the creek comes into Onion, John was catching and releasing trout with every cast. We saw trout in lovely Blue Lake but they were tight-lipped on biting. The hike was extraordinary, though, through aspen forests in this glaciated country. Wildflowers were everywhere we went in the Pine Forest.
Brother/Cousin Plane Crash in the Pine Forest
| | | | | |
| --- | --- | --- | --- | --- |
| | | | | |
| | | | | |
In the area where John and I were exploring in the Pine Forest, my brother Randy, cousin Sam Prescott, (pilot), classmate Danny Duncan and friend Jerry Mckoen had survived a plane crash 30 years earlier. I spoke with Randy before departing on the journey and he said it took place a mile or two above Onion Valley Reservoir. "Sam told us that we were going down because we could not get enough lift to cross the mountain top," he recalled. "We came down in the sage and rabbit brush, missing the canyon wall by a few feet which probably would have killed us all. The prop of the Cessna eventually caught a large area of brush and flipped the plane over. The hardest part was getting out of the seat-belt while upside down, but we survived with no major injuries, just cuts and bruises. And thank Heaven, the plane did not catch on fire! Additionally, two paramedics from Reno and their families were camping and witnessed the crash. They made their way to us, and then transported us to Denio Junction. Our friend Lee who owned the store was a pilot and he offered to fly us back to our home in Malin. I think you can guess our reply to that offer!"
John and I surveyed the area when we fished Onion, and we each pointed out a few places where we thought they may have crashed. We were thankful that we were in 4-wheelers as we pondered what their thoughts might have been leading up to and during the crash.
Neowise the Comet
During the last night of our Alder Creek Ranch stay, I went out with Janet Turner Johnson (she and her husband Buck own the ranch) and two of her three children to witness the Neowise Comet phenomenon, which had been discovered in late March 2020. It was breathtaking. I took numerous photos that night and ended up shooting practically every night during our remaining sojourn. Along with Alder Creek, the best photographs I took were at and nearby the Roaring Springs Ranch.
Steens Mt. and Roaring Springs Ranch
After departing Alder Creek, we headed to the famous Roaring Springs Ranch along Catlow Rim in the southern Steens Mt. En route we stopped for a milkshake at Oregon's Fields Store. Mine was the yummy thick decadent Reese's peanut butter. John went with blackberry. Masks were required in the store and only one member of each party was allowed in. Food could be ordered, but one had to eat outside or take it to go as their restaurant was closed to inside seating. Ditto for the milkshakes. An odd world this pandemic has caused, and especially odd in such remote places as this.
The Rock House at the Roaring Springs would be our glamping home for the next week plus. From there, we traveled to the top of the Steens, Oregon's highest road at nearly 10,000 feet. One remarkable day, we adventured 30 miles round-trip on R Springs property via 4-wheelers. We had the country all to ourselves and had two outings to the R Springs Diamond property where we fished Kiger Creek and saw the Wild Kiger Mustangs. We spent a day on the Alvord Desert, witnessed gliders flying and landing, and enjoyed the adventure with Rob who joined us for five days. For two days I photographed cowboy work on the ranch, including documenting Boy Scouts from Washington who participated in a branding.
We did all of our own cooking except for one evening when we joined ranch manager Stacy Davies and his wife Elaine for a sumptuous steak dinner at their place.
During this entire trip we came across fewer than a hundred people. We felt compassion for people in most parts of the world and their CV-19 confinement, and felt blessed that we live in areas of few people, surrounded by vast empty landscapes to explore.
IMPORTANT INFO:
https://en.wikipedia.org/wiki/Pine_Forest_Range
https://en.wikipedia.org/wiki/Steens_Mountain
https://en.wikipedia.org/wiki/Alvord_Desert
https://en.wikipedia.org/wiki/C/2020_F3_(NEOWISE)