Okay, I admit it, sometimes Oregon's weather isn't anything to brag about. Yes, it rains but that's why much of the state is lush and green. And snow can pile up deep in her mountains, particularly in the Cascades which average 300 to 500 inches a year. Crater Lake National Park was buried under 822 inches of snow in the winter of 1948-49, and in 1996, Laurel Mountain was drenched by more than 204 inches breaking the calendar year rainfall record for the lower 48 States.
Oregon's precipitation and snowmelt flow into more than 6,000 lakes and 112,000 miles of rivers, spreading life-sustaining liquid across the state. Over 2,100 miles of designated Wild and Scenic Rivers, second only to Alaska, provide waterways ripe for exploration. Even the State's name is thought to originate from a Native American word meaning "River of the West."
| | | | | |
| --- | --- | --- | --- | --- |
| | | | | |
Granddaddy of its rivers is the Columbia (above left), a 1,243-mile-long waterway whose final 300 miles forms the border between Oregon and Washington. The sandbar where it collides with the Pacific Ocean is notoriously known as the Graveyard of the Pacific, one of the world's most hazardous entries into a commercial shipping channel that has claimed more than 2,000 large ships in the last 300 years. By contrast, the 120-foot D River in Lincoln City, connecting Devil's Lake to the Pacific Ocean, is one of the shortest in the world. Its source is a mystery, the Metolius River bubbles into view in a meadow at the base of Central Oregon's Black Butte (above right) to form one of the largest spring-fed rivers in the U.S.
Oregon has a long list of designated Wild and Scenic rivers offering a mix of bucolic scenery and challenging white water. Rated a Class III, the Deschutes River (above left) tosses in both as it carves its way 252 miles through the Cascades before joining the Columbia. The border between Oregon and Idaho, the Snake River (above center) normally sends more water through Hells Canyon than the Colorado River transports through the Grand Canyon. The Rogue River (above right) was one of the country's original eight rivers named in the Wild and Scenic Rivers Act of 1968.
| | | |
| --- | --- | --- |
| | (Image above center courtesy of Travel Southern Oregon; above right courtesy of Visit Central Oregon) | |
Many of these rivers and streams plummet over the landscape creating more than 200 year-round waterfalls, sometimes clustered in spectacular displays. The Historic Columbia River Highway passes a dozen waterfalls including Oregon's highest, Multnomah Falls (above left), which plunges 620 feet in two tiers into the Columbia River. Highway 138, aka "Highway of Waterfalls," features more than a dozen along the Umpqua River including 120-foot Toketee Falls (above center) and 272-foot Wasson, southern Oregon's highest. Rimmed by colorful 20-foot cliffs formed from millions of years of erosion, Steelhead Falls (above right) near Smith Rocks State Park is popular with swimmers and cliff- jumpers.
| | | | | |
| --- | --- | --- | --- | --- |
| | | | | |
| | Photo by Lee Juillerat | | | |
Due to Oregon's underlying volcanic activity, many rivers and streams hold another treasure: hot springs. Ranging from resort-type accommodations to natural pools along meandering waterways, four dozen of them are scattered across the state. Rock pools at Umpqua Hot Springs (above left), situated on the Highway of Waterfalls, boast an overlook of their namesake river for visitors soaking in 110-112F bliss. McCredie Hot Springs (above right) in the Central Oregon Cascades near Oakridge is another easily-accessed no-fee collection of pools where 120F springs in Salt Creek flow into shallow basins.
Courtesy Astoria-Warrenton Area
Chamber of Commerce
With all this water comes a need to cross it, provided by more than 7,000 bridges. Among the standouts is the Yaquina Bay Bridge (above left), her graceful arches back- dropped by the Pacific Ocean making it one of the most photographed in the world. The 4.1mile-long Astoria-Megler Bridge (above right) crosses the Columbia River near its merger with the Pacific. The longest continuous three-span truss bridge in the world - also able to withstand winds up to 150 mph - was the final section of the Canada-to-Mexico highway system when it opened in 1966.
| | | | | |
| --- | --- | --- | --- | --- |
| | | | | |
| | Courtesy Lincoln County | | Courtesy of Travel Oregon | |
Oregon celebrates 54 enclosed passages, the largest number of covered bridges in the West, with tour maps and a designated Covered Bridges Scenic Bikeway to aid in their exploration. Built in 1914, 66-foot Upper Drift Creek Bridge near Lincoln City (above left) is Oregon's oldest remaining covered bridge. Office Bridge at the south end of the Aufderheide National Scenic Byway (above right) crosses the North Fork of the Middle Fork of the Willamette River with a 180-foot span, longest in the state.
Gray Jays welcome visitors to Tilly Jane Campground on Mt. Hood,
while river otters find Hells Canyon an excellent place to call home.
Wildlife thrives thanks to Oregon's abundant water, and countless sanctuaries and reserves are set aside for them. There are 18 terra firma-based National Wildlife Refuges and three Marine sites including the Oregon Islands, created in 1935 to encompass 1,853 islands, rocks and reefs along the coastline.
One of the world's largest and most photographed offshore monoliths, 235-foot Haystack Rock in Cannon Beach (above left) is a protected Marine Garden and part of the Oregon Islands National Wildlife Refuge, surrounded by rich tidal pools and a rookery for four species of birds including tufted puffins. The Sea Lion Caves north of Florence is one of the largest sea caves in the world, the only Steller sea lion rookery in the continental U.S. and the only year-round colony in North America.
The Klamath Basin, stretching 300 miles, is one of the top birding destinations in North America, home to over 350 species in 47 locations including thousands of migratory birds and waterfowl in the Klamath National Wildlife Refuge. On the shore of its namesake lake, the 183,000-acre Malheur National Wildlife Refuge draws 120 species of birds.
| | | | | |
| --- | --- | --- | --- | --- |
| | | | | |
Nearly 5,000 wild horses roam across southeastern Oregon, especially in the Steens Mountains where a herd of Kiger Mustangs were discovered in 1977. DNA testing revealed them to be direct descendants of the horses brought by Conquistadors nearly five centuries ago. Bighorn sheep and one of North America's largest herd of pronghorn antelope roam the 270,000-acre Hart Mountain National Wildlife Refuge. Eastern Oregon's Elkhorn Wildlife Management Area is home to Rocky Mountain elk, while a sizable herd of Roosevelts can be seen in the Dean Creek Elk Viewing Interpretive Center. There is also a 10-15,000-head herd at Jewell Meadows Elk Refuge; both are in the Coast Range.
| | | | | |
| --- | --- | --- | --- | --- |
| | | | | |
| | | | | |
Almost three dozen fish hatcheries ensure native runs and provide stock for many of the state's rivers and lakes. Bonneville Fish Hatchery (rearing pond above left), Oregon's largest facility, oversees Chinook and Coho salmon, steelhead and white sturgeon. These species plus rainbow trout are also raised at many other locations. A fisherman on the Snake River (above right) reaps the rewards with a sturgeon on his line.
Many of Oregon's rivers twist and turn through wooded regions like Crane Prairie (above left).
Crops including peaches, apples and cherries prosper in the Hood River Valley (above right),
which produces more winter pears than anywhere else in the country.
It's not just wildlife that benefits and flourishes from all this water. Combined with rich volcanic earth from Oregon's geological past and alluvial soil deposited by massive ice age floods, vegetation prospers. Consequently, forestry and agriculture top the list of industries. Nearly half the state is covered by forest, not including 700 Christmas tree farms whose 6.5 million conifers make it the #1 producer in the country. More than 90% of them are shipped to holiday revelers outside the state.
Oregon is home to the tallest identified Douglas fir in the U.S., towering over 327 feet, and the world's largest known myrtlewood, a species native only to a narrow strip of terrain in Oregon and northern California. A number of groves near Myrtle Point (note the name...) pay homage to this beautifully patterned and richly colored hardwood. The Beaver State, nicknamed for the abundance of these industrious animals in past centuries, celebrates this verdant growth with 11 National Forests, 361 State Parks, a National Scenic Area, a National Grasslands, and 63 Nature Conservancy locations.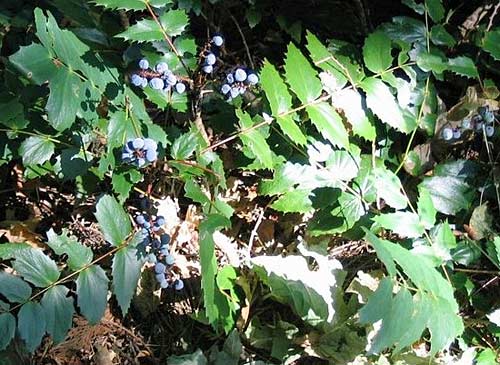 Oregon is the only state with an official Nut -- the Hazelnut, aka Filbert, and grows 99% of America's production of these nutrient-rich nuts. The state Flower, Oregon Grape (above), produces a medicinal berry used for upset stomach and infections. More blackberries and boysenberries are grown in Oregon than in any other state, but the most prized juicy Oregonian nuggets are marionberries, a marriage of two blackberry varieties that tied the knot at Oregon State University in the mid-1950s. And - 100 years ago - those same hallowed halls brought us the maraschino cherry as we know it today.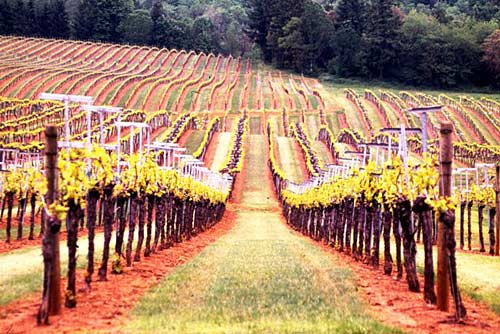 Vineyards at Sokol Blosser Winery produce world-class Pinot noirs
in the rich volcanic soil of the Willamette Valley.
Grapes sought by oenophiles are found at more than 700 wineries tending over 30,000 acres in five main wine regions, the Willamette Valley being the largest. There are 18 appellations in Oregon, a state which shaped the most rigorous labeling regulations in the nation. Regarded as one of the premier Pinot noir-producing regions in the world, those from the Willamette Valley receive big Thumbs Up from connoisseurs and critics. And it should be easy to find a cheese pairing at the Tillamook County Creamery, North America's largest dairy processing facility whose material source feed in the lush pastures near the Oregon coast.
| | | |
| --- | --- | --- |
| | Portland's downtown skyline at dusk (above left) viewed from the Willamette River. The Morrison Bridge (above right) was the first in Portland with colored floodlights (image courtesy of Multnomah County). | |
The 187-mile-long Willamette River is one of the few north-flowing rivers in the U.S. and a major tributary to the Columbia River as it courses through a dozen cities including Portland. The State's largest metropolis is criss-crossed by rivers and streams, punctuated by hills and old volcanic cones, and dotted with wetlands and parks. Proud of its decades-long rally cry to "Keep Portland Weird," the dubious honor of having the country's most strip clubs per capita and its male population sporting an abundance of mustaches and man-buns may indicate it has succeeded.
The city caters to thirsty residents and visitors with 58 breweries inside the city limits and 84 around the metro area. The Oregon Brewers Festival, the country's largest gathering of independent craft brewers, rejoice in being one of a handful of states that grow all the needed ingredients to brew beer. Again, looking out for our gastronomic enjoyment, Oregon State University inaugurated the nation's first endowed professorship in fermentation sciences.
Mergansers (above left) and Great Blue Heron (above center) are a common sight around Portland's rivers (images by Larry Turner). Rose-Tu and her calf Lily are results of the Oregon Zoo's
world-renowned Asian elephants breeding program.
Over a half-dozen wildlife refuges pepper the urban landscape. Located on the Pacific Flyway, the Tualatin River National Wildlife Refuge is visited by nearly 200 species of birds including mergansers and great blue herons, and home to reptiles, amphibians, fish, plants, and 50 species of mammals. The 2,000-acre Smith & Bybee Lakes Wildlife Refuge is the largest protected wetlands within a U.S. city. The Oregon Zoo's Asian elephant breeding program is the most successful in the world producing 26 live births in the last half-century.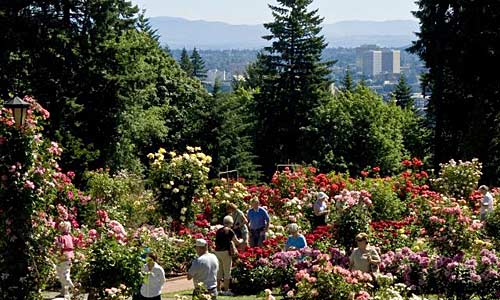 Image courtesy of Travel Portland
Portland's parks include Mill Ends, world's smallest dedicated park at just two feet across, and the expansive 5,200-acre Forest Park, one of the largest urban forests in the U.S. The International Rose Test Gardens (above) is the oldest continuously operated public rose test garden in the U.S., one of the largest, the only one still evaluating roses from around the world, and the only one in North America allowed to present its own awards to roses from around the world. The 5.5-acre Japanese Gardens is considered one of the most authentic Japanese gardens outside that country. Powell's City of Books, the largest independent book store on the planet, lures visitors who inevitably pick up a tome or two to enjoy lazing away an afternoon on a grassy lawn.
Oregon's watery paths certainly lead to a discovery of an amazing abundance of beauty, animals and plant life.