Faraway places have a special allure. There's a sense of anticipation, of the unknown, of something different about visiting places that require a journey. But sometimes that longing to travel means missing equally alluring places closer to home. I live in Southern Oregon and I'm continually boggled by people who haven't been to Crater Lake National Park, an easy drive from cities like Klamath Falls, Bend, Roseburg, Medford and even Portland.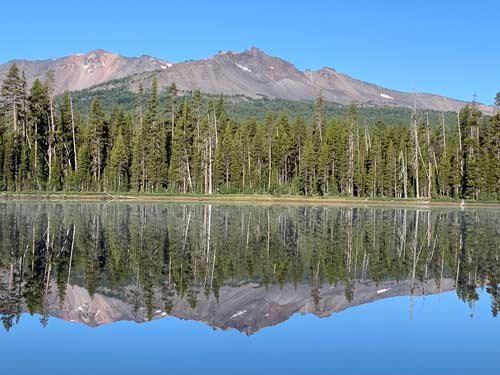 Diamond Peak from Diamond Peak Lake
I've been to Crater Lake to sightsee, swim, ski and hike hundreds of times, but I'm guilty of overlooking other close-to-home temptations. A recent five-day backpacking trip revealed delights in a nearby backcountry gem, the Diamond Peak Wilderness. Located in the Southern Oregon Cascades, the wilderness area spans 52,611 acres. Along with 14 miles of the Pacific Crest Trail, the wilderness includes another 38 miles of trails, including the 10-mile long Diamond Peak Trail. Over the years I'd made several day hikes into sections of the wilderness, including the summit of Diamond Peak, a wondrously ragged 8,744-foot mountain that was created by volcanic activity and carved into its current form by glaciation.
My backpacking trip with my longtime hiking buddy Steve Underwood began with a bang. As we headed towards the railroad tracks that separate the parking area near Odell Lake's Shelter Cove Resort from the actual trailhead - Whoa! – a black bear appeared, slowly ambling through the brush, apparently searching for huckleberries. It stopped long enough to look at me looking at him. Shortly after I yelped, "Stevie! Bear!" it nonchalantly disappeared into the thickets. Quite the introduction to a trek that had barely begun.
| | | | | |
| --- | --- | --- | --- | --- |
| | We encountered no more bears during our five days, but saw many other memorable sights. Once across the railroad tracks, we bared left at a junction that offered a trio of choices - the Pacific Crest Trail, the Yoran Lake Trail and the Trapper Creek Trail, which was the route we took. The first several miles alongside tumbling, rumbling Trapper Creek was pure delight, enhanced by sights and sounds of the creek as we hiked through a forest of bearded hemlock, white fir, Douglas fir and, closer to Diamond View Lake, picket-like lines of lodgepole pine. | | | |
| | | | Tumbling Trapper Creek | |
After about five and a half miles, we left the trail and hiked cross-country to a campsite on Diamond View Lake's west side, our base for the next two nights.
| | | | | |
| --- | --- | --- | --- | --- |
| | | | That afternoon I stepped into the lake's waters for what I hoped would be a refreshing, cleansing swim. Easier said than done. Diamond View, like other lakes we passed, was water starved. Worse, its shoreline was a swamp of quicksand-like muck. Plodding out to water deep enough for swimming was sloppy. For more than 50 yards the lake level was only inches deep, causing my feet to sink up to my ankles and knees in the sloshy glop. Eventually I did swim. Then, while returning to shore, dragonflies flew like F-15 fighter jets, seemingly on reconnaissance patrols as they circled and buzzed around and – ZIP! - zoomed just inches from my face, | |
| | Pond offers mirror view along Trapper Creek | | | |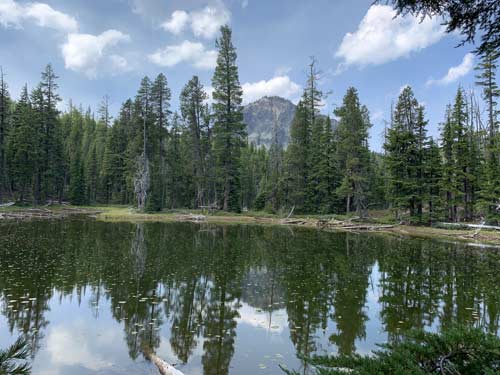 Staggering view from Stag Lake
The next day was a 10-plus miles out-and-back day hike past Saddle Lake to beautiful Stag Lake, where the views of cliff-faced Lakeview Mountain were, appropriately, staggeringly dramatic.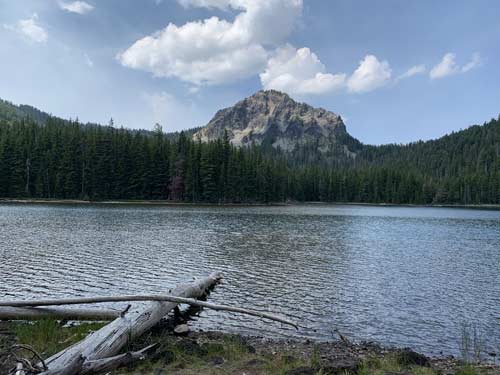 Lakeview Mountain from Diamond View Lake
After two nights at Diamond View Lake, with no attempt for a second swim, it was six-plus miles to Rockpile Lake. Portions of the forested trail, like the trail to Saddle and Stag lakes, were littered with fallen trees. On the way we stopped at aptly named Mountain View Lake, pausing to enjoy its dizzying views of the craggy, serrated ridges that are part of Diamond Peak.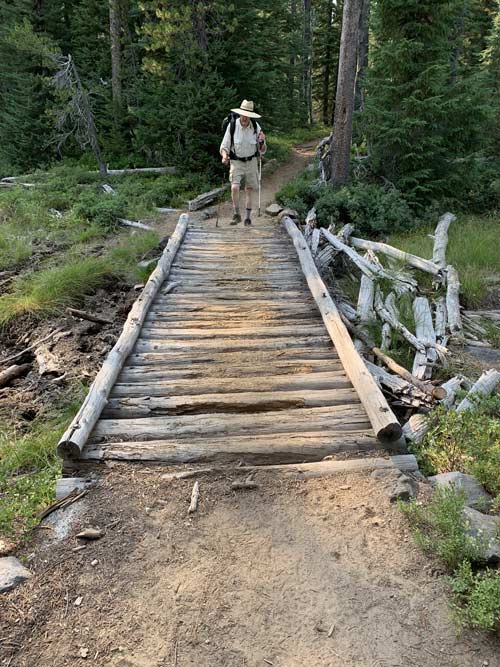 Steve crossing a trail bridge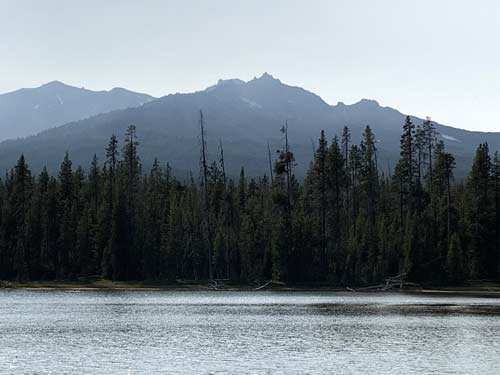 Diamond Peak from Mountain View Lake
We had our choice of Rockpile or Marie lakes, but chose Rockpile at the recommendation of backpackers we had met at Diamond View Lake. There were no obvious rockpiles, but the swimming was excellent in Rockpile's deep, shimmeringly clear blue-green waters.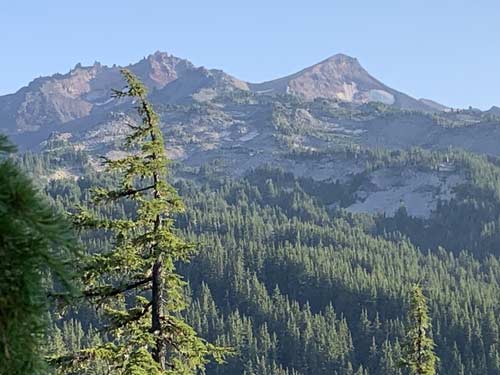 Saw-toother peaks and glaciated ridges.
The trail from Rockpile Lake to Divide Lake, another seven and a half miles, mostly follows the Pacific Crest Trail. The PCT often receives priority trail maintenance because of its high volume of through and section backpackers. Without hurdles we cruised along the trail before - Surprise! - Diamond Peak burst boldly into view. It's a section of trail that generated flashbacks of hiking in the Sierra Nevadas with sweeping, panoramic views of Diamond Peak and its saw-toothed peaks and glaciated ridges.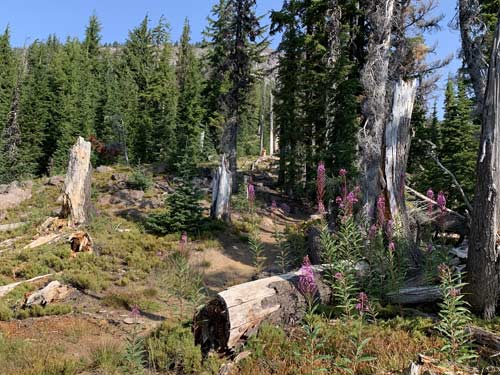 Wildflowers along the trail
Diamond Peak is a geologically young—less than 100,000 years old—shield volcano with heavily glaciated sides. Its 8,744-foot summit is flanked by three lesser summits, which geologists say consist of mostly basaltic andesite. Years ago, hiking with other friends, Stevie and I reached Diamond Peak's top by following a climber's trail up one of the peak's main ridges to a false summit, then weaving along a narrow ridge to its true top. It's a rocky, challenging route that requires no technical skills or equipment, but is highly exposed.
| | | | | |
| --- | --- | --- | --- | --- |
| | | | | |
| | Yoran Mountain towers over Divide Lake | | Divide Lake offers great swimming | |
It was eight-plus miles from Rockpile Lake to Divide Lake, a short steep up and down detour off the PCT. The rewards included breathtaking views of Mount Yoran, a 7,100-foot volcanic plug that towers like a massive thumb above Divide Lake. Geologists say Yoran is an eroded shield volcano composed of basalt and andesite. The views were jaw-dropping, and so was swimming in the lake's refreshing waters. Divide Lake got its name because hundreds of years ago one large lake was divided into two smaller lakes.
| | | | | |
| --- | --- | --- | --- | --- |
| | | | | |
| | Views of rugged cliffs. | | Steve cooking dinner. | |
Afternoon sun and evening sunset create different moods.
Our final day began with a return to the PCT and, in about two miles, a signed trail to Yoran Lake (previously it was not signed), yet another deliciously beautiful watery gem. A lakeside opening provided yet another wide-sweeping view of Diamond Peak and its picket fence array of crenelated ridges. We followed the Yoran Lake Trail past Lake Karen and yet another sparkling blue, unnamed lake, and gradually lost elevation while weaving through stands of six-foot tall and taller beargrass and bear-free patches of tiny, ripe huckleberries.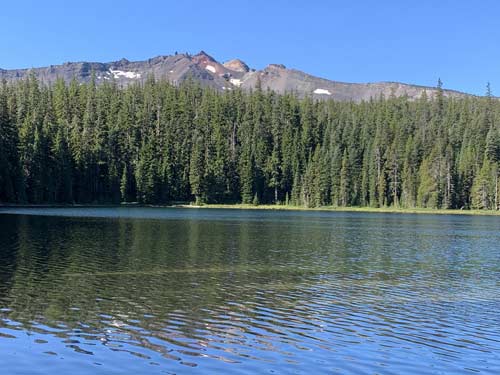 Diamond Peak from Yoran Lake.
Sights along the Yoran Lake Trail.
As had happened every day, we passed occasional hikers, some with dogs. Preparing to greet an oncoming hiker with two dogs, I did a double-take – the hiker was my daughter, Molly, with her pups, Ruby and Loki. Molly, who had our itinerary, said she'd hoped to meet and surprise us. And that she did.
The following mile-plus was filled with happy chatter through the hemlock forest and, shortly before the junction with the Trapper Creek Trail, a not-for-the-fainthearted crossing of a narrow wooden bridge.

Returning to Trapper Creek.
That afternoon, after Stevie and I devoured oversized hamburgers and copious fries at the Shelter Cove Resort, I told Molly about the rambling bear Stevie and I had seen five days earlier, just minutes after bearly, err … barely starting our trek. So it was a surprise and a fittingly appropriate delight when, after COVID-19 dictated months of not touching, that my trip ended with the best of all possible endings, a bear hug with Molly.
When You Go
Caution: The Diamond Peak Wilderness is beautiful, but there's a time and a season for day hikes or backpacks. Because of its elevation, the area is snow-covered much of the winter, often from November until spring. Hiking or backpacking is not recommended until late July or August because the region is heavily impacted by blood-sucking mosquitoes. For information about the area, which has sections in two national forests, contact the Deschutes National Forest and-or the Williamette National Forest websites.
About the Author
Lee Juillerat is a semi-retired reporter-photographer who lives in Southern Oregon and is a frequent contributor to several magazines and other publications. He has written and co-authored books about various topics, most recently "Ranchers and Ranching: Cowboy Country Yesterday and Today." Lee has produced photo-stories about U.S. and worldwide travels in High On Adventure for 20 years. He can be contacted at 337lee337@charter.net.