It was a trip we almost didn't make. My friend Liane had been feeling punky, with good and bad days. For a few days the trip was on, then maybe, then probably not, then, "Let's Go." With my car loaded with a tent, sleeping bags, a comfy sleeping pad, camp stove, several days of snacks, breakfasts and dinners, and clothing for whatever weather awaited us, we were off to Death Valley National Park.
| | | | | |
| --- | --- | --- | --- | --- |
| | | | | |
| | Hiking the hills | | Passing under a natural bridge | |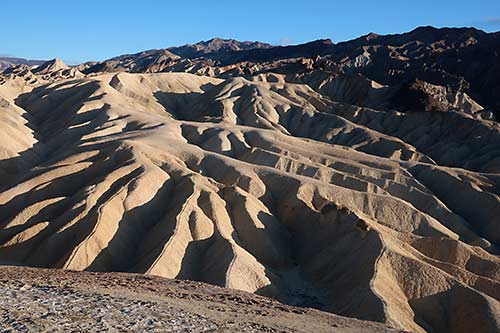 A weather of ever-changing, ever-fascinating landscapes


It was mid-March. Concerns about the spreading coronavirus, COVID 19, hadn't yet reached a peak, but there was a spiraling sense of concern and, as the days progressed, fear. Because of those fears, Liane contacted her physician who, after hearing her symptoms, said no visit with him was necessary.
A colorful canopy of colorful wildflowers
We're glad we went.

Our visit was abruptly shortened when, after returning from a great day of hiking and touring, a note on our campsite's picnic table, and the other 91 campsites at the Texas Spring Campground at Furnace Creek, informed us that the park's network of campgrounds were being closed. That we needed to be out by noon the next day.
| | | | | |
| --- | --- | --- | --- | --- |
| | | | | |
| | Artist's Palette | | Naturally unnatural hills | |
A night earlier we met for dinner with Mike Reynolds, Death Valley's superintendent. Mike is a friend from the years when he was the superintendent at Lava Beds National Monument. Over pizza and beer, he told us things were fluid, with changes directed daily, almost hourly, from the National Park Service's regional and national offices. After two or three nights at Texas Spring, Liane and I had planned to head north for a few nights at the Mesquite Springs Campground.

Maybe next time.
Why it's Called Death Valley

The name, Death Valley, isn't enticing. But on visits made to Death Valley National Park over the past – my golly – for 50-plus years it's always offered something inviting, new places to explore, new things to experience. Death Valley is a lively place that, happily, doesn't live up to its name.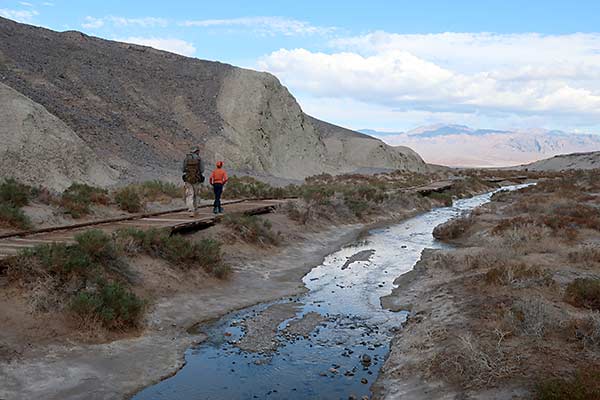 Salt Creek boardwalk

Its name, according to one version, comes from a group of travelers who were on their way to California's gold fields in 1849. It wasn't a pleasant visit. As they departed the scalding hot desert expanse, "We took off our hats and, then, overlooking the scene of so much trial, suffering and death, spoke the thought uppermost in our minds, saying, 'Goodbye Death Valley.' "

Mid-summer is not the time to visit Death Valley. Temperatures soar above 120 degrees. There's little shade, few opportunities to escape the life-sapping heat. From May through September the average daily high is 100-degrees plus, with April and October days typically 90-plus.
| | | | | |
| --- | --- | --- | --- | --- |
| | | | | |
| | Borax Works wagons | | 1880s Borax Works memories | |
Parts of the pleasures of visiting Death Valley – in the spring – are its attractions. There are the must-sees – Badwater, at an elevation of 282 feet below sea level the lowest point in North America. Zabriskie Point, an overlook with an ever-evolving display of colors at sunset. Salt Creek, with a wooden boardwalk through a salt marsh and teeny, rare, inch-long pupfish that blitz up and down shallow riffles. The Harmony Borax Works, what remains of a historic mining site where 20-Mule Team wagons, that from 1883 to 1888, hauled borax 165 miles to the Mojave Railroad Depot.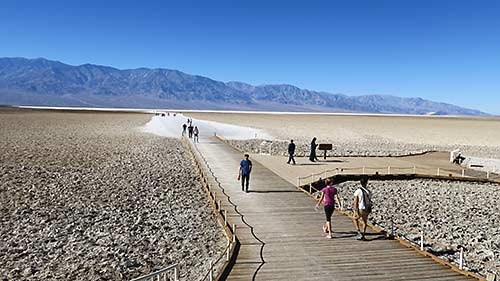 Badwater, 282-feet below sea level

I had seen those attractions and more on previous visits, but Liane was making a first-ever visit. And, thanks to my friend Mike Reynolds, there were new surprises. In Death Valley, a park that spans 3,336,000 acres – the largest national park outside of Alaska – that's not surprising.
Colorful delights along the way to Darwin Falls
| | | | | |
| --- | --- | --- | --- | --- |
| | | | Our first surprise came after entering the park from Lone Pine. Several miles before Panamint Springs, which has lodging, a campground, general store, gas station, a restaurant and bar, an unsigned turnoff on a rocky gravel road recommended for 4-wheel drive or high clearance vehicles – my Subaru Pathfinder had no problem – leads about 2-1/2 miles to a parking area and trailhead to Darwin Falls. From the trailhead, it's about a mile-plus to the falls. The trail changes from an old road to the ever-narrowing Darwin Canyon with plutonic rock walls, cottonwoods and willows. It passes alongside Darwin Creek, with some rock scrambling required to get to the falls and pond. Tucked within the desert, the 20-foot falls are a refreshing delight. As the water tumbles down, it divides at a pyramid-shaped rock, appearing like an upside-down Y. Caveat - enjoy views of the pool below the falls but resist temptation and don't jump in. The water serves as a source of drinking water for the Panamint Springs Resort. | |
| | Darwin Falls | | | |
And, in case you're wondering, Darwin Falls, like the nearby town of Darwin, are named for Dr. Darwin French, 1822 to 1902, a rancher, miner and explorer.
A Not on the Map Waterfall

Working up Willow Creek Canyon
Willow Canyon doesn't appear on the park map or in the Death Valley Visitor Guide. There is, however, a park handout, "Sidewinder & Willow Canyon," that includes driving directions to both with details on the route and a map. We chose to hike up Willow Canyon, about 2-1/2 miles one-way with a 1,000-foot elevation gain, because of the promise of a waterfall. We weren't disappointed.

Most of the few folks we saw at the parking area, which serves both unsigned trails, were heading to Sidewinder, a 2-mile one-way hike that features dark slot canyons and natural bridges. Instead of heading south, we aimed northeast around the base of the gravel hills. A little-used path helped us feel confident. Following the map, we hiked up the major wash that drains from Willow Canyon, which is named for the inaccessible springs that feed water-loving willow trees in the canyon's upper reaches.

The hike becomes more interesting at the base of Smith Mountain, where the route enters what eventually becomes a narrow gorge. We saw lizards hiding and, when exposed, flittering on the vertical rock walls, walls that with some imagination take on the shapes of hauntingly ghoulish faces, scar-faced in desperate need of dental repairs - and other walls poxed with holes and erratic fractures.

Near the base of Smith Mountain, where the trail narrows into a slot canyon less than 15-feet wide, the entrance was littered with the ribs, vertebrae, pelvis, hip bones and other remnants of a long-dead critter, possibly a bighorn sheep, and, adding to the mood, steep walls with seeps of quartz the color of blood.

The reward is Willow Creeks Falls, where a 50-foot waterfall slithers down the steep, impassible wall.

Slithering Willow Creek Falls
| | | | | |
| --- | --- | --- | --- | --- |
| | | | | |
| | A side trail to the Red Cathedral | | A dry waterfall | |
| | | | | |
| --- | --- | --- | --- | --- |
| | | | | |
| | On the Golden Canyon-Gower Gulch loop | | On the trail | |
Other hikes revealed sights – the Mesquite San Dunes, Golden Canyon, Desolation – along with a slow drive along Artists Drive and a quick walk at the Artists Palette. But plans to spend a few nights at the Mesquite Spring Campground near the park's north end were scuttled with the sudden campground closures and with it, our hikes around the Ubehebe Crater Rim, Fall Canyon, The Racetrack, Wildrose Peak and others.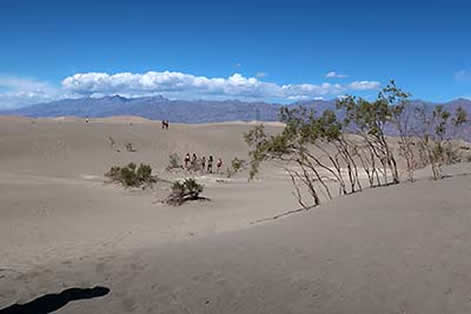 The Mesquite Sand Dunes

Not long after we returned home, Death Valley National Park's gates were closed. When they'll reopen remains unknown. And, if they do this summer, the region's crippling heat will likely discourage visitors until temperatures moderate in November.

Even a shortened visit to Death Valley National Park was life- affirming. There's much we did see, and even more left to see. Maybe next year.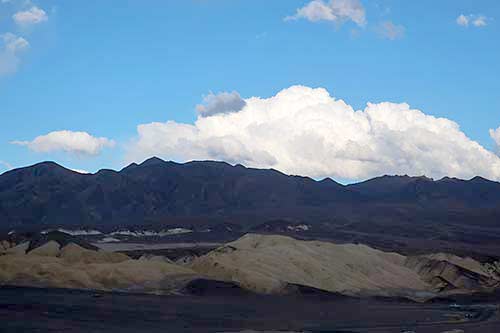 Clouds over the Funeral Mountains

If You Go

For information, visit the Death Valley National Park website at nps.gov/deva or call 760-786-3200 between 8 a.m. and 5 p.m. There are several excellent hiking guides. Two we found useful were both Falcon Guides – "Best Easy Day Hikes Death Valley National Park" and "Hiking Death Valley National Park."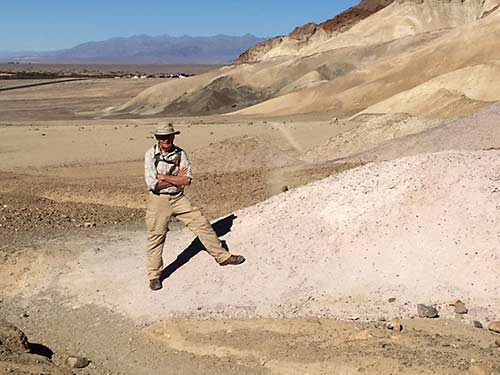 After a day of hiking

About the Author

Lee Juillerat is a semi-retired writer/photographer who lives in Southern Oregon. His travel, outdoor and other stories appear in newspapers and magazines, including Alaska Beyond, Range, and the AG Mag. He is the author of books about Crater Lake National Park, Lava Beds National Monument and, most recently, "Ranchers and Ranching: Cowboy Country Yesterday and Today." He can be reached at 337lee337@charter.net.