The cool February morning air soothed my body and I felt relaxed as my daughter and I left Abu Dhabi on our way to the edge of the Empty Quarter – Arabia's vast desert of endless dunes. The ultra-modern highway leading westward from the city gave no indication that soon we would be driving through a region of blowing sand – once crossed only by poverty-stricken Bedouins eking out a bare existence in an arid wasteland.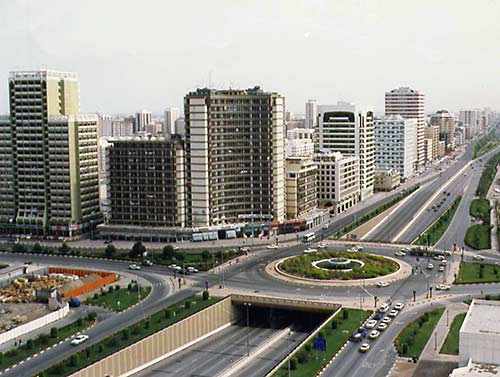 Abu Dhabi view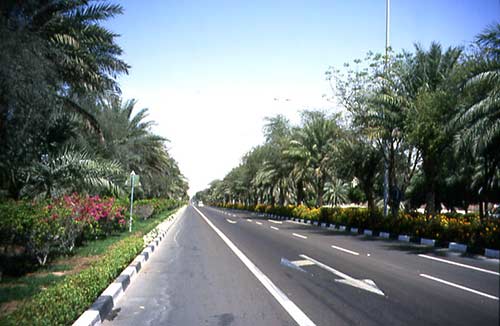 Entering Madinat Zayed
Behind us were Abu Dhabi's wide avenues, edged by thousands of palm trees and endless flowering shrubs, overshadowed by eye-catching villas, majestic palaces and towering skyscrapers sparkling in the sun. It was as if we were leaving a fantasy, yet living world. One can hardly believe that where all this greenery and these fairy tale structures now stand, a little less than 50 years ago, there was only a land of blowing sand.
Fouad, our driver was upbeat, not about the ultra-modern city we had left but about the desert that we were going to traverse. "If you've never been in the desert, you'll remember this day!" Trying to impress us, he continued, "Two days every week I take tourists on this tour and I've never had any complaints. In fact, many who join in this trip often get their friends to take the same tour."
Boastful about his knowledge of the sands and his appeal to women, he kept us entertained with stories of his desert exploits and about the untold ladies from Europe and the Americas who had fallen for his charms. I could see that he was an excellent tourist guide who would never let his group be bored. No doubt, it makes the price one pays for the tour easier to bear.
Fouad, whose family had emigrated from Syria to Nigeria, lived in that African country until his early 20s. There he had learned English, which he spoke with a heavy but understandable accent. Knowledge of English had served him well when his family came to the United Arab Emirates. He had joined the army, worked in the oil fields and, in the last half dozen years, led a life he enjoyed – taking tourists on desert tours. He sent money to his wife and children now living in Syria, but, as he would have everyone believe, he led a Don Juan's life with some of the women whom he met on his desert tours.
On both sides of the road, as we drove, were huge machines: some were leveling, while others were fertilizing the barren soil and criss-crossing it with an intricate watering system – readying the land for tree-planting. Slowly pushing back the desert sands, the government of Abu Dhabi is, at a breathtaking speed, greenifying the desert countryside.

It is a costly effort, not only preparing the sandy soil, but also for the constant upkeep after planting, since every tree and bush needs to be watered forever. Apparently, the billions of dollars from the oil reserves of this once totally desert country are being wisely spent – a legacy which future generations will, no doubt, appreciate.

Leveling the desert
As we drove along, Fouad talked about the many benefits enjoyed by the U.A.E. citizens, such as free homes given to newlywed couples, free schooling and health care, no taxes and a good number of other goodies – once promised by the now debunked Communism in the former Soviet Union, but put into practise by a benevolent tribal Arab kingdom.
About 50 km (31 mi) west of the Abu Dhabi, we turned inland, still on a paved but narrower road. Another 30 km (18 mi) further on, past the Abu Dhabi refuse dumping ground, we were on a desert trail. Our Nissan Patrol four-wheel drive, under the skillful handling of Fouad, now showed its worth. It took even the hardest of bumps in its stride, hardly causing us any discomfort. The air conditioning worked perfectly, and we scarcely felt the inconvenience of traveling on a desert track.
The further we drove southward, the more the dunes grew in size – some appearing as large as small hills. Near the petroleum station of 'Asab, we stopped at a Bedouin encampment. But alas! There were no Bedouin Arabs, only hired Pakistani migrant workers who were looking after the animals.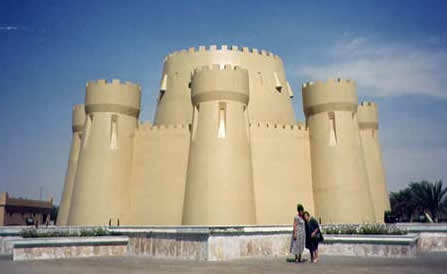 On way to Liwa, replica of UAE Fort Madinat Zayed Park
Nowadays, very few nomads remain. The modern sands are criss-crossed with pipelines and the ships of the desert are now trucks rather than camels. According to Fouad, the owners of the few animals that remain now live in their villas amidst the greenery of Abu Dhabi.
The two workers we saw never even walked over over to greet us. Apparently, the days when an Arab Bedouin would rush out to welcome a passing stranger and then butcher his choicest lamb or baby camel in the passerby's honour are gone forever. The luxuries of the modern world have seduced the desert Arabs and others have taken their place.
After photographing a group of camels, we left to ride the dunes. Soon we were in the middle of the colourful sands – seemingly changing colour from white to a reddish tone and at times blending together to form other hues.

We stopped awhile to walk in the ocean of dunes in order to feel the vibration of the desert. Here, on the edge of the Empty Quarter, the desert of deserts, the stress of modern life was not to be found in the rolling fine sand with the consistency of powdered snow. I could feel only emptiness, silence and beauty as we remounted our Nissan.




Sand dunes in the UAE
"Do you have strong hearts?" Fouad asked as he manoeuvred the four-wheeler to the top of a dune. "Why?" my daughter asked. A moment later, she cried out, "Oh no!" as she looked down before us. I followed the scope of her eyes. The Nissan was standing atop a dune with, perhaps, a 40m (130 ft) near straight drop. I was startled and my heart began to beat faster.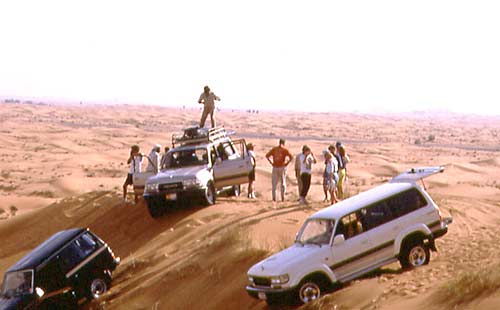 Sand Duning
However, riding the four-wheeler down the almost vertical face of the dune gave me a feeling of exhilaration, but not so my daughter. As we drove up and down over a dozen dunes, some with drops of over 100 m (328 ft), she would cry out wanting Fouad to stop. He would laugh again and again as he skillfully manoeuvred his four-wheeler through crescent-shaped depressions – some with a few date-bearing palms – then up yet another dune.
Many times, I thought, "This is it. We're stuck!" Nevertheless, in the nick of time, we were on our way again. Fouad seemed like a little boy who was playing with a new-found toy – not many people are so thrilled with their work.
Other tour operators have excursions that take tourists sand-skiing on these dunes – to experience a warm glide down one of the most fascinating landscapes in the U.A.E. This sport has been attracting a keen band of followers among visitors. The equipment used is identical to that used in snow skiing except for protective cold-weather clothing that, for sand skiing, is more in line with beachwear.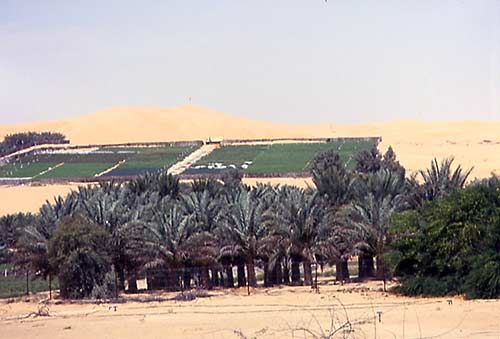 Greenhouses and Agriculture
About 230 km (143 mi) southwest of Abu Dhabi, we left the world of shifting sand and were again on a paved road in the heart of what is known as the Liwa Oasis – a series of 52 villages. I was thinking of the endless barren waste – romantic to those of us who only come for a visit – when Fouad turned and stopped at a gas station, seemingly out of place amid the surrounding desert sands.
No sooner had we come to a halt then three young Tunisian men, working in the U.A.E., ran up asking for help to tow out their auto, stuck in the nearby sands. In a few minutes, Fouad had attached a rope to their vehicle and easily pulled them to firmer ground.
One of the men, Ali, who had been to Canada, where I live, strongly shook my hand. "Thanks! Thanks for allowing your driver to help us."
"Why did he thank me?" I asked Fouad as we made our way along a well-paved desert road. "Usually tourists, since they pay good money for the trip, do not want us to go out of our way to help others. But I always try to help." He grinned as we drove down a hill into a green valley below.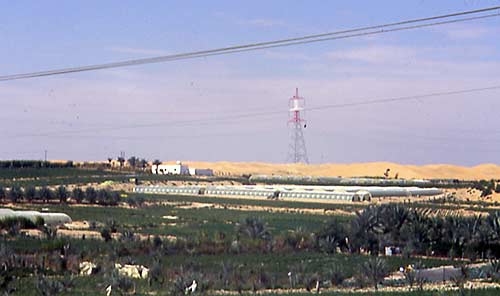 More greenhouses and agriculture
The desert was now forgotten as we passed through valley after valley filled with fruit orchards and vegetable fields, overshadowed by newly built villages and large schools atop the edging hills. In this part of Abu Dhabi, one can feel that the desert is being tamed in an organized fashion.
| | | | | |
| --- | --- | --- | --- | --- |
| | | | During the past decade, the face of the countryside has been dramatically altered. The government has utilized the oil wealth to drill artisan wells, fertilize the sand and build modern homes that are given free to those who wish to work in agriculture. As a result, the once-desert land is filled with farm after farm, appearing like emeralds set in the reddish sand. | |
| | Liwa greenification | | | |
At the Liwa Resthouse, smothered in greenery, in the village of Naferra, the Indian manager, Rajan, was all smiles when we entered. "We have prepared for you a tasty meal of Gulf food," he beamed.
It was a gourmet repast of meat, rice and nuts, along with half a dozen side dishes. I wondered what the Bedouins who roamed this part of Arabia only a few decades ago, always on the edge of starvation, would have thought of all this food placed before us. But the world has changed. Bedouins now glory in a world of affluence and travelers, as they enjoy riding the sands, have no idea of the harsh life the nomads once endured crossing these dunes.