Yes, George Washington really did sleep here.

George, destined eventually to become the first US president, landed in Barbados at age 19 with his older brother, Lawrence, who had tuberculosis. Exactly what made them think someone with a breathing problem would do better in a tropical climate with air sometimes hot and moist enough to cut with a knife, is unknown.
But land they did. George stayed six weeks, his brother stayed five months.

George was a strapping lad ... he still had all his hair and teeth, was ruggedly handsome and six foot two. The house he and Lawrence occupied has been restored and each winter (January to April) visitors can experience "Dinner With George."

George Washington bedroom during his Barbados stay
So a slew of us at a convention went. "George" was there, as were others who played the part of house slave servants, for this was 1751 ... 82 years before England, which possessed the island, abolished slavery.
| | | | | |
| --- | --- | --- | --- | --- |
| | | | | |
| | Servants play chamber music during dinner | | House servant pours water | |
A servant man and woman sat by the dining hall door, playing chamber music on a cello and violin. Another servant woman poured drinks and more served us dinner. We sat at a long table, lit with candles, our only light. It all looked positively colonial.
"George" meanwhile, explained his history ... how he was one of seven siblings and that by the time he came along, there wasn't money for a fancy education. So while his much older half brother Lawrence went to a fine school in England, George was home schooled and eventually trained as a land surveyor.

By the time George and Lawrence arrived, Barbados was one of the largest cities in the "British Atlantic." It had been settled in 1627 and became one England's most profitable colonies.

"Dinner with George" dinner theater at home he occupied in Barbados. Photo by Peter Stevens
While Lawrence tried not too successfully, to recover, George was introduced to many (perhaps a couple dozen) eligible young ladies. He actually became smitten with one he knew only as Miss Roberts and came up with Julia in his journal to give her a first name. He did take her to see fireworks, also mentioned in his journal. But, alas, family duty called. He returned home and found a nice wealthy widow to marry. Martha brought with her 10,000 acres of land.
Along the way, George outlasted not only Lawrence but Lawrence's wife and daughter and, so, inherited the family plantation, Mount Vernon.
Back at the mansion with our group of visitors, while "George" shared his past, we lit into dinner.
It was as authentic as possible ... made only with foods colonists would have had then, prepared in ways they might have prepared it.
| | | | | |
| --- | --- | --- | --- | --- |
| | | | | |
| | | Colonial split pea soup | | |
First - split pea and eddo soup. Eddo, we learned, is a root vegetable, kind of like a potato. The soup was nice and green tasting. Then something billed as "dolphin and yam pie with plantains." Not Flipper, of course, but rather a fish somewhat like mahi mahi. Plantains, another tropical vegetable, look like large bananas but taste more like potato. They make great chips.
| | | | | |
| --- | --- | --- | --- | --- |
| | | | | |
| | | Colonial lamb stew | | |
The main dish, lamb stew with barley, sweet potatoes, carrots and celery, is pretty much what anyone today would find in their bowl. It was nice and meaty and delicious.

All followed by bread pudding, a sweet that's popular to this day.
"George" took time out to eat a bit, then launched back into his story.
His teeth later in life were not wood, as some histories tell. Actually, they were real teeth from, sadly, slave cadavers.
Tooth problems came much later, but on Barbados, as depicted at this dinner, young George wanted to meet and win over Julia. Which is when the dinner theater produced the fictional Pompey, "George's" friend but also personal slave.
As we sat, spooning in our lamb stew, Pompey entered. He and "George" joked around, then Pompey whispered in "George's" ear, leading "George" to go around the table to a local woman also in colonial dress and whisper in her ear, which was followed by shy giggles on both sides.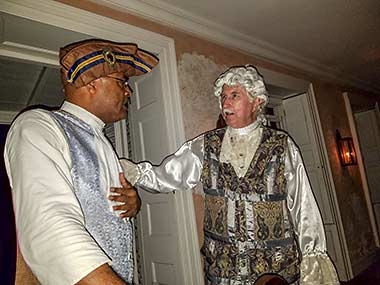 Pompey and George
And so the evening went, with "George" telling more of his history.
Yes, he broke Julia's heart by returning to Virginia.
No, poor Lawrence didn't last long, dying hardly seven months later.

And oh yes, just weeks into his stay, George came down with smallpox, which had been rare in Virginia but was widespread in the Caribbean. His bout was mild but, in a piece of luck, it gave him immunity which probably saved his life during the Revolutionary War when smallpox was rampant among the rebels.

As for our "George," he is actually Karl Watson, who has a doctorate in history, traces his family on Barbados back to the founding colony in 1627, and has made George Washington's life information a personal project. He has now played George at dinner theater events for five years, since they started.

And so, with a bit of music, much chewing and swallowing along with good wine and gentle chatter, the evening ended.

Karl Watson playing George Washington
INFO

"Dinner with George" is offered every Monday during Barbados' winter (meaning dry) season from January to early April. Price of $135 US per person includes transfers from your hotel. There's a limit of 29 people and the evening lasts about three hours.

Barbados Information

Dinner with George cast
Photo by by Andrew Hulsmeier

George Washington's Barbados home
Photo by Peter Stevens