Taos and Santa Fe are magical names, names that evoke images of cities rich endowed and influenced their human history and geography in northern New Mexico's Sangre de Cristo Mountains. A dictionary's worth of adjectives are often used to describe these places of wonder, but one word says it best - enchanting.

Both Santa Fe and Taos are attractions by themselves, with unique shops, art galleries, celebrated restaurants and historic sites. But Larry Turner, other friends and I had a different focus – downhill skiing at trio of legendary ski areas - Ski Santa Fe, Taos Ski Valley and Angel Fire Resort.
| | | |
| --- | --- | --- |
| | Skiing sun-brightened slopes at Taos photos by Dino Vournas | |
And ski we did. Our snowy pilgrimage began with two nights in the state capitol, Santa Fe. The morning after arriving it was to Ski Santa Fe, just 16 miles from town. After shifting to Taos, for another two sun-filled days we rode the 20-mile shuttle to Taos Ski Valley, mostly skiing from opening to closing time, but pausing long enough to be appreciate the enchanting scenery while testing all varieties of runs tucked within the boundaries of the soaring Hondo Valley. We finished our too quick-trip with a final day of more skiing at nearby Angel Fire.

People ask, which was best? My answer, whichever area we'd skied that day.

Ski Santa Fe was a great way to begin our blitz-ski. With 83 trails – 20 percent easy, 40 percent intermediate and another 40 percent expert – there's something for everyone. And it helps that 36 trails are groomed daily. With a base elevation higher than the tallest peaks in many states – 10,350 feet above sea level at its village, Ski Santa Fe is breathtaking in more ways than one. Two chairlifts offer peak views, with the Millennium rising to a lofty 12,075-feet.

| | | | | |
| --- | --- | --- | --- | --- |
| | | | | |
| | Snowboarding at Santa Fe photo by Larry Turner | | Santa Fe ski patrol hut photo by Larry Turner | |

We toured the mountain in groups, with mine focusing on intermediate and expert groomers like Upper and Lower Broadway, Thunderbird, Gayway, Burro Alley, Highline, Sunrise, Sunset and more, including the wide, corduroy groomed Parachute.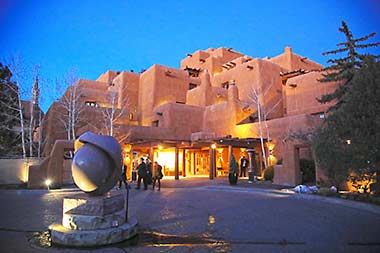 Inn at Loretto photo by Larry Turner
Making our in-town Santa Fe stay comfortable was the iconic Inn & Spa at Loretto, a captivatingly beautiful, multi-story lodging done in the style of a pueblo. It was just a short walk to the Palace of the Governors and the many amenities at the Santa Fe Plaza.

We spent the following two days skiing at Taos Ski Valley, which spans 1,294 acres with 110 named trails. Unusually, the majority – 51 percent – are expert while 25 percent are intermediate and 24 percent are beginner. Many of the black diamonds are double-black diamond, true "expert" runs with steep chutes, rocky chutes and alleys of massive moguls. Adding to its challenge is it elevation – the base area elevation is 9,200 feet while its highest lift-served elevation is a breath-taking, literally and physically – 12,450 feet.

| | | | | |
| --- | --- | --- | --- | --- |
| | | | | |
| | Don't panic! photo by Larry Turner | | Getting ready to ski photo by Larry Turner | |
Entering the village, one of the first sights is Lift 1 and, underneath it, the seriously steep Al's Run. But, as a sign declares, Al's Run represents just one 30th of Taos' terrain.

| | | | | |
| --- | --- | --- | --- | --- |
| | | | | |
| | Studying the trail map photo by Larry Turner | | Maxie's Terrain Park photo by Larry Turner | |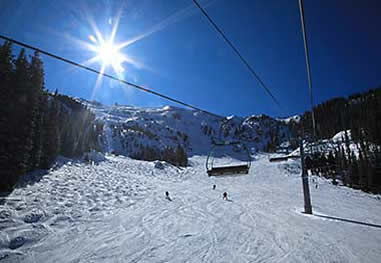 Wide open runs photo by Larry Turner


Other, better skiers tested the theory that diamonds are forever, but I stayed on easier blacks and intermediate runs, including several that would rate as black diamonds at other ski areas. After a day with a knowing guide, the next morning friends and I sampled runs Taos's western slopes, happily focusing on groomed cruisers like Lower Stauffenberg and Firlefanz off Lift 8 and Bambi, Upper Powderhorn and Porcupine.

By late morning we moved to other runs off Lift 2, which also provides access to Highline Ridge and intermediate runs like Upper and Lower Totemoff, Maxie's Terrain Park, Lone Star, Baby Bear, then shifted to Lift 4 for groomed runs on Shalako, Upper Patton and others. That afternoon, after a sumptuous lunch at the mid-mountain Bavarian Restaurant, we burned off our meal on newly minted "old favorites" before working our way to the Lift 7 double chair that provided us access to a series of runs before returning to the village.

| | | | | |
| --- | --- | --- | --- | --- |
| | | | | |
| | The Bavarian Restaurant photo by Larry Turner | | Bavarian waitresses photo by Larry Turner | |
| | | | | |
| --- | --- | --- | --- | --- |
| | | | | |
| | Pretzel and dip photo by Larry Turner | | Pouring suds photo by Larry Turner | |
Among the lures of downhill skiing is that chairlifts provide access to otherwise be unseen viewpoints. At Taos there are googolplex opportunities to stop and soak in its lush geography, from its old growth forests to wide-open bowls with forever views of the soaring, high-rising valleys that encase the ski area. Except for the black and double black diamonds runs at Kachina Peak and along the Highland Ridge, most of Taos' trails are tucked in steep-walled valleys. Because of its geographic limitations, Taos' mantra is better, not bigger.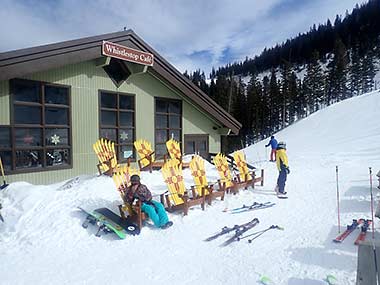 Taos' Whistlestop Café photo by Larry Turner


That mantra applies to more than skiing. Taos' owners are injecting millions of dollars into improvements, from adding the village's high-speed chairlift to upgrading village services and lodging options. Unusually, the area is adding low cost, non-stop flights through Taos Air. Because nearly a third of Taos skiers and riders are from Texas, flights are offered from Austin and Dallas along with Hawthorne-Los Angeles and Carlsbad-San Diego in Southern California.
Other projects that are part of the multi-year $300 million upgrade include developing a cross country trail system, creating a mountain bike park and trails, and adding a "via ferreta," or protected climbing routes, while also promoting the area as a venue for weddings, conferences and fly fishing.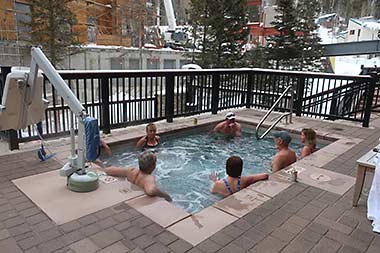 Pool at The Blake photo by Lee Juillerat 


| | | | | |
| --- | --- | --- | --- | --- |
| | A village highlight is The Blake, which has 65 rooms and 15 suites, with such offerings as an outdoor pool, hot tubs, spa, weight room, fine dining and beautiful paintings and other works of art by such Southwest artists as the legendary Georgia O'Keeffe. | | | |
| | Georgia O'Keeffe artwork | | More art at The Blake | |
We stayed in Taos at El Monte Sagrado Living Resort, another beautiful facility with such unique amenities as bronze sculptures and an indoor pool-hot tub in an exotic garden setting.

| | | | | |
| --- | --- | --- | --- | --- |
| | | | | |
| | The El Monte Sagrado | | The El Monte pool | |
photos by Larry Turner
For our final day of skiing we were shuttled 24 miles to the Angel Fire Resort. Many years ago, during my first New Mexico ski visit, the 2.1-mile Chili Express from the village was a long, show ride. But several years ago it was replaced with a high speed quad that rising from the 8,600-foot village more than 2,000 feet at a drop-off point that offers broad choice of runs. Of Angel Fire's 80 named runs, 56 percent are intermediate while 21 percent are beginner and 23 percent are expert.

| | | | | |
| --- | --- | --- | --- | --- |
| | | | | |
| | Checking the possibilities | | Greg Snow carving turns | |
photos by Larry Turner
| | | | | |
| --- | --- | --- | --- | --- |
| | | | | |
| | Skiing the trees | | Let 'er rip! | |
photos by Larry Turner

From the Chili Express we took runs that accessed the Southwest Flyer, ripping along intermediates like Hully Gully and Fire Escape that zip directly to the Southwest Flyer, another high-speed quad that accesses a maze of intermediates. That afternoon we explored a maze of groomed, fun rolling blue runs off the front side like Bodacious, Leon's Lane, Gusto Grande, Jaspers, Free Flight and Prospector.

All three areas – Angel Fire Resort, Taos Ski Valley and Ski Santa Fe – are inspiring, rich with opportunities for skiers and snowboarders of all abilities. And, of course, enchanting.

If You Go
A helpful guidebook to New Mexico ski areas and their nearby cities in "Skiing New Mexico: A Guide to Snow Sports in the Land of Enchantment," by Daniel Gibson. From unmpress.com.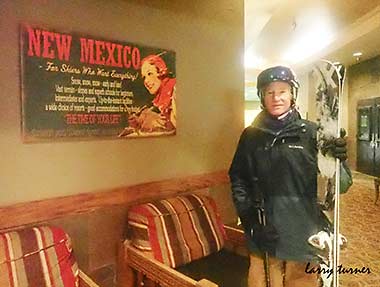 Author Daniel Gibson photo by Larry Turner
For information on the mentioned ski area visit the following websites: Ski Santa Santa Fe at skisantafe.com; Taos Ski Valley at www.skitaos.com; and Angel Fire Ski Resort website at www.angelfireresort.com. For information on the Inn and Spa at Loretto visit www.hotelloretto.com and the El Monte Sagrado at elmontesagrado.com.

About the Author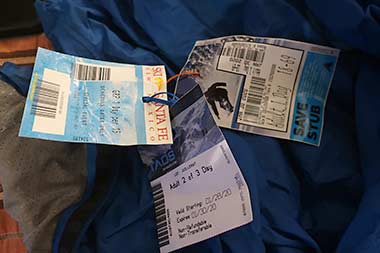 Trio of tickets
Lee Juillerat is a semi-retired writer/photographer who lives in Southern Oregon. His travel, outdoor and other stories appear in newspapers and magazines, including Alaska Beyond, Range, and the AG Mag. He is the author of books about Crater Lake National Park, Lava Beds National Monument and, most recently, "Ranchers and Ranching: Cowboy Country Yesterday and Today." He can be reached at 337lee337@charter.net.