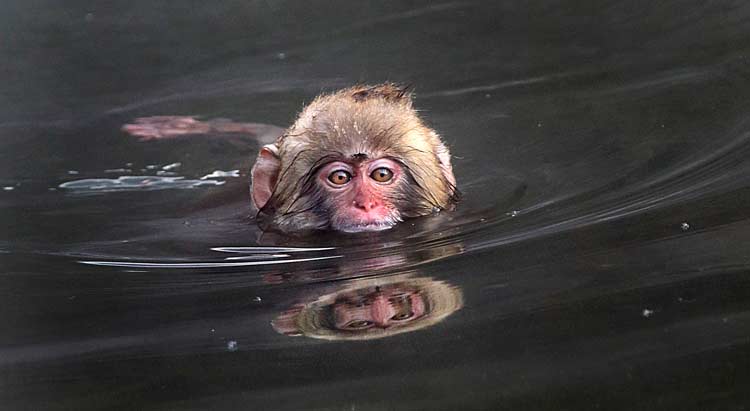 A baby Snow Monkey treads water in the hot spring at the Jigokudani Monkey Park in Yamanouchi.
What am I to do with my last five days in Japan? How about eliminating some bucket list items! Watching TV coverage of the 1998 Winter Olympics whetted my appetite for the host city of Nagano and its environs.

The area offers several fascinating attractions including, at its center, the 1,400-year-old Zenko-Ji Buddhist Temple, a stunning wooden structure with an opulent gilded interior, priceless artifacts and an intriguing history. There is a hidden Buddha here that has purportedly been seen by only two people since its installation in the 7th Century A.D.

Inside, after witnessing a religious service, we walked down a pitch-black tunnel groping for a hidden key that promised enlightenment on touch, and hopefully we would emerge as reborn, purified people. A mirror at the end of our trek allowed us to check our spiritual progress.

Afterwards, we wandered down the walking street to explore gardens, statues, Shinto religious shrines and a myriad of shops and eating-places.
| | | | | |
| --- | --- | --- | --- | --- |
| | | | | |
| | Visitors photograph the 1,400 year old Zenko-Ji Buddhist Temple in the center of Nagano, Japan. | | A Buddhist priest finishes a ceremony inside the 1,400 year old Zenko-Ji Buddhist Temple. | |
| | | | | |
| --- | --- | --- | --- | --- |
| | | | | |
| | A couple await their wedding at the Zenko-Ji Temple in Nagano. | | An elaborate meal hit the spot at the Yambuki Restaurant in Nagano. | |
Our explorations found the 100-year-old Takamura Miso Brewery close-by, where a Japanese food staple is created. Mr. Moteki showed us how a blend of soybeans, salt and a special mold called koji is transformed into an ingredient for soups, vegetables and other eatables.
| | | | | |
| --- | --- | --- | --- | --- |
| | | | | |
| | Mr. Moteki at the Takamura Miso Brewery shows the ingredients that go into the production of a very popular Japanese food ingredient. | | Women prepare greens for miso-inspired foods at the Takamura Miso Brewery in Nagano. | |
After a hearty lunch, we drove into the mountains to Yamanouchi and hiked a short trail to visit the very popular Joshinetsu Kogen National Park/Jigokudani Monkey Park and its fabled snow monkeys. These Japanese Macaques, the northern-most ranging primates, come down from their forests to bathe in the park's hot springs here.
At first glance, the hot springs area is quite unnatural, with fences, a backhoe, cables and an artificial pool altering the landscape. But all of those concerns disappear as the monkeys cavort in the pool and groom each other. Babies play and adults contemplate their surroundings, while being very cute and ingratiating all the while. You could photograph for days here and we begged our beleaguered guides for more time. Prime time to visit here is in winter when falling snow adorns their furry heads.

A family outing of snow monkeys makes an appearance at the hot springs at the
Jigokudani Monkey Park.

A wary snow monkey eyes the human crowd at the Jigokudani Monkey Park hot springs.


A group of photographers shoot pictures of the snow monkeys at the Jigokudani Monkey Park in Yamanouchi.



Sunset comes to the mountain surrounding Nagano from Yamanouchi near the
Jigokudani Monkey Park.


Back down in the town, we settled in for the night at the popular Yudanaka Onsen Yoroduya, a traditional Japanese Ryokan inn and onsen (hot spring). There are some 19,000 hot springs in-country and about 3,000 onsens. Our onsen had two natural outdoor pools that alternated between being women-only, men-only. Nationally, with few exceptions, bathing suits are not allowed, tattoos must be hidden and visitors need to adhere to the rituals of cleansing their bodies before entering the pools.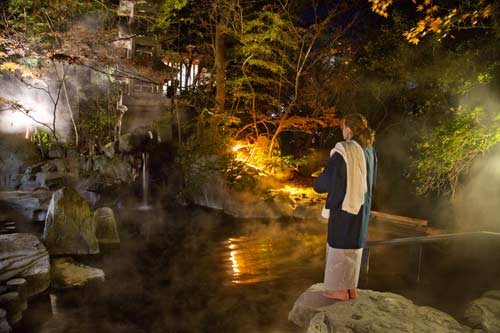 A visitor checks out the natural onsen pool at the
Yudanaka Onsen Yoroduya in Yamanouchi near Nagano.
Rested and rejuvenated, we settled back on our "magic-carpet" Shinkansen train to Tokyo for a taste of this great city. In 1868, the 260-year rule of the Shoguns ended with the re-ascension of the emperor as ruler of Japan. He moved his capital to the city of Edo, which was renamed Tokyo.

If you're into fine Japanese food, this town is the place, scoring the world's most Michelin-Starred restaurants. Take that, Paris! The Shinjuku District should be on everyone's agenda for neon, nightlife, food, bars and good vibes.
| | | | | |
| --- | --- | --- | --- | --- |
| | | | | |
| | A lively and fun crowd hits the evening streets of the Shinjuku District of Tokyo. | | There are many nooks and crannies and narrow alleys to explore in Shinjuku. | |
There are tiny alleys to explore for yakitori and sushi, shops for trinkets and electronics, opportunities for people-watching and even Gojira (Godzilla to us), who appears evening hours above the Toho Cinemas. Satisfy your shopping desires in comfort in the underground Subnade Mall near the train station.
Godzilla appears nightly above
the Toho Cinemas in Shinjuku.

Patrons have a cozy meal in a
back alley of Shinjuku.
| | | | | |
| --- | --- | --- | --- | --- |
| | | | | |
| | | These women take a break from shopping at the Subnade underground mall near the Shinjuku train station. | | |
Want a free aerial view of the city? Ride to the 46th floor of the Tokyo Metropolitan Government Building in Shinjuku, one of eight free city viewing towers.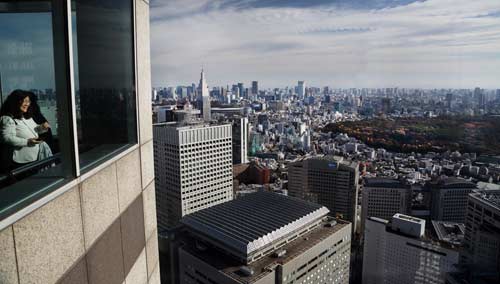 There is a 360 degree view of the dynamic skyline of the city
from the Tokyo Metropolitan Government Building in Shinjuku.
The Ginza should also not be missed. The famous thirty-square-block district is home to most every major clothing, accessories and cosmetics designers and purveyors in the world, housed in fantastic assortments of creative architecture and bathed in multi-hued, vibrant colors and lights. In addition are fine restaurants, bars, entertainment and electronics establishments. One of the main streets, Chuo-Dori, becomes pedestrians-only on weekends in order to handle the mobs of shoppers. It's dazzling, the crowds are a real trip and the people-watching is top-drawer.

| | | | | |
| --- | --- | --- | --- | --- |
| | | | | |
| | | Chuo-Dori Avenue is the place to be in the Ginza shopping district of Tokyo when the street is closed to vehicle traffic on the weekends. | | |
Two of my goals in Japan were to see the iconic Mt. Fuji and the old capital of Kyoto, both of which I accomplished via a Nozomi Bullet train from Tokyo Station. I reserved a window seat on the correct side of the train and, under clear blue skies, was afforded views of the glorious volcano. The country's iconic symbol appeared and rode with me for several minutes.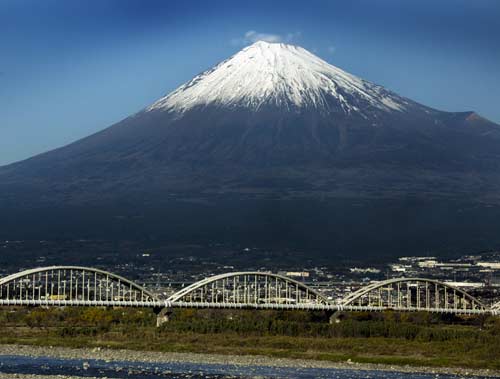 Iconic Mt. Fuji appears to passengers on the Tokyo-Kyoto Shinkansen Bullet train.
Enter Kyoto, one of the great cities of the world and the center of Japanese history and culture. After checking in to my traditional hotel room, I soon hit the sidewalk for a tour of the Gion District, with its several ascending walking streets threading around traditional vintage wooden homes and lined with shops and food. Gion is where Geishas study their art and occasionally appear on the streets, inevitably hounded by paparazzi. Not too many Geishas were walking around during my visit, but a lot of tourists were, doing their impressions with rented accoutrements.

The streets funnel up to the top of the hill and end at the sublime Kiyomizu-dera Temple. The views of the temple and the sunset over the entire city are quite amazing. With over 1,600 Buddhist temples and 400 Shinto shrines in the city, it's difficult to choose where you should go. I managed to see several sights including Sanjusangendo, known for its 1,001 statues of Kannon, the goddess of mercy, and famed Nijo-Jo Castle and the Imperial Palace, but inadvertently missed the Golden Pavilion. Ah, to have one more week!
| | | | |
| --- | --- | --- | --- |
| | | | |
| | | The sunset is nothing short of spectacular as a view of the city of Kyoto unfolds high on a hill at the Kiyomizu-dera Temple in the Gion District. | |
| | | | | |
| --- | --- | --- | --- | --- |
| | | | | |
| | The Kiyomizu Temple grounds are bathed in an extraordinary light at nightfall in Kyoto. | | Shoppers and visitors jam the narrow streets of Kyoto's Gion District with the Yasaka Pagoda looming above. | |
Some closing thoughts on Japan: If you go, make sure your passport is good for at least 6 months. Driving requires a GPS, since signage can be a problem in parts of Tohoku (see part 1), and steel yourself for left-side driving. The Papago phone app is great for translating signs and script using your phone's camera.

I found the Japanese people to be among the most kind, helpful and resourceful anywhere. I heard not one word spoken in anger in 2 weeks time and heard only one horn honk in Tokyo traffic. I felt safe at all hours in every city. Everyone seemed very gratified if you speak a few phrases in their language. Their transportation system makes the U.S. system appear primitive. I didn't find Japan to be all that expensive but you should try to be diligent when searching for goods and services. They tend to invent things you never thought you needed but now can't live without. And oh, those toilets!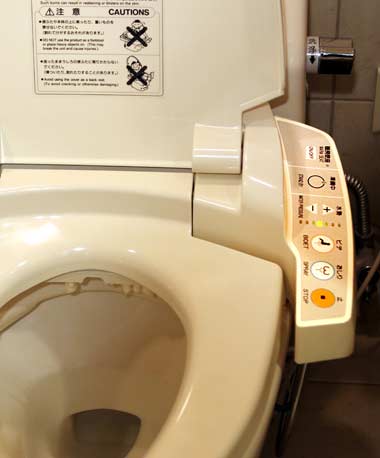 The Japanese love their electronics including these electric toilets
that perform just about every function including a heated seat, bidet and shower all in one.
For more information, please visit:

Official Government website
Japan National Tourism Org. (JNTO)
24-year-old website on Japan Tourism
Tokyo Convention & Visitors Bureau
Off beat Tokyo-Shinjuku site
Excellent Kyoto guide
Mt. Fuji and Yamanashi area
| | | | | |
| --- | --- | --- | --- | --- |
| | Dino Vournas was a newspaper photojournalist in the San Francisco Bay Area for 40 years with stints at the Hayward Daily Review, Oakland Tribune and the San Francisco Examiner and 8 years as an Associated Press freelancer. For almost as many years, he has been a travel and snowsports writer and photographer with his work appearing in the Bay Area News Group, East Bay Times/Mercury News, Associated Press, Reuters, Getty Images, Tampa Tribune, Outside Magazine and numerous websites and blog posts. He is a member of the Society of American Travel Writers (SATW) and the North American Snowsports Journalists Association (NASJA). | | | |